NY Knicks Must Develop Underdog Mentality Instead of Front-Runner Expectations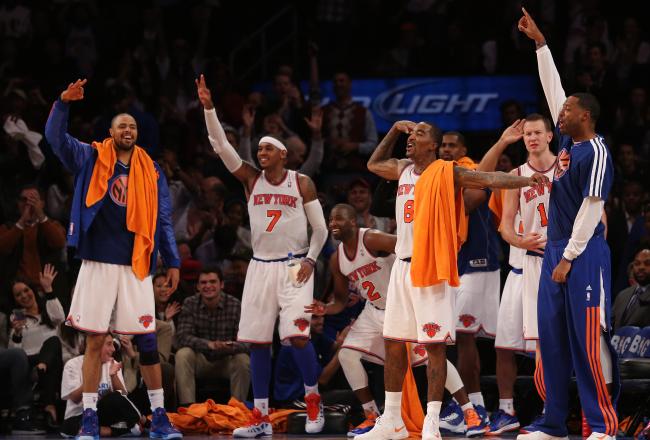 Nick Laham/Getty Images
The 2012-13 New York Knicks are burning rubber, leaving Atlantic Division and Eastern Conference foes in the dust right now. They're off to a blistering start, their best since the 1993-94 season that resulted in a trip to the NBA Finals 19 years ago.
They ran the Miami Heat from start to finish in game one, jacked the Philadelphia 76ers at home and on the road, then dispatched the Dallas Mavericks.
They're armor-plated: The Knicks have the best defense in the NBA so far, choking opponents to a mere 87.5 points per game.
They put the pedal to the metal too: The Knicks sport the third best offense in the league, running over opponents for a Mike D'Antoni-like 104.5 points a game.
That adds up to a 17-point differential, which is unheard of, and almost twice as big a differential as second-best Miami's 9.5.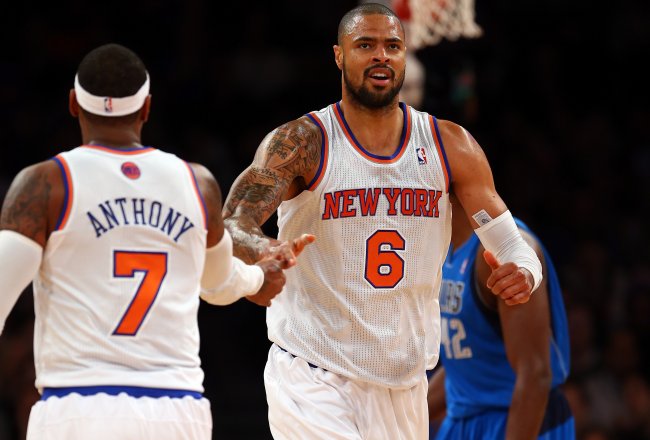 Offense + Defense = 17-Point Differential
Elsa/Getty Images
Carmelo Anthony has been lights out, the top-scorer of either team in all Knicks' contests to date. He leads the league in scoring, putting up over 30 points twice already.
ESPN is branding J.R. Smith the Knicks' "biggest surprise [and] one of New York's best all around players early on." He has started the season with the best three-point percentage in the league.
Raymond Felton has quickly left Linsanity a speck in the Knicks' rear-view mirror. The Knicks turn the ball over less than any other team (10.5 TO a game), have the best steal-to-turnover ratio in the league and also are the only team with an assist-to-turnover ratio over two.
And you can thank Jason Kidd for that, as well, who continues to show there's enough left in his tank to drive this team by contributing 20 minutes per game.
Kidd's ex-coach, the Mavs' Rick Carlisle, had this to say about the future Hall of Famer's impact on the Knicks this year, per the New York Post:
[He] has got them very highly focused. I definitely see a difference with the resolve of their guys with the look in their eye and he has that effect on teams...It's clear to me from watching three games on film that Jason Kidd has had a great influence on their overall toughness, awareness as a team and just how they do things.
Kidd has ably shifted gears to starting at shooting guard—Mike Woodson lining him up aside Felton in what is looking like a genius move by the second year coach.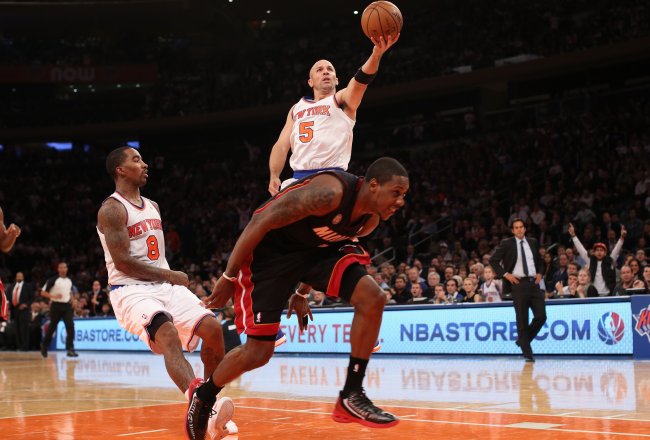 J.R. Smith, Jason Kidd (and Raymond Felton) Are Proving a Formidable Backcourt Trio
Nick Laham/Getty Images
Woodson is easily the best Knicks coach since Jeff Van Gundy. Better? Too soon to say, but don't forget, Woodson finished off 18-6 last year, which makes him 22-6 overall—a sensational .785 winning percentage steering the club.
He also showed a little faith in Rasheed Wallace, who's proving there's some mileage left in his tires. The normally cantankerous Wallace has also proven especially likeable and helpful to his teammates, as J.R. Smith told the Post:
People have the wrong impression of him, 100 percent...People just see him talking, yelling, screaming. They just think he's just a wild person. He's just a mild-mannered person trying to get everyone involved. That definitely should be expressed to everybody. He's one of the smartest players I've ever played with. He's making myself, [Carmelo Anthony] smarter and hungrier — the way he talks to us in the huddle, pulls us aside individually.
There's more.
Ronnie Brewer is playing out of his head, putting up a career line and topping off nicely at the three, freeing up Anthony to play power forward, where everyone knows Carmelo excels.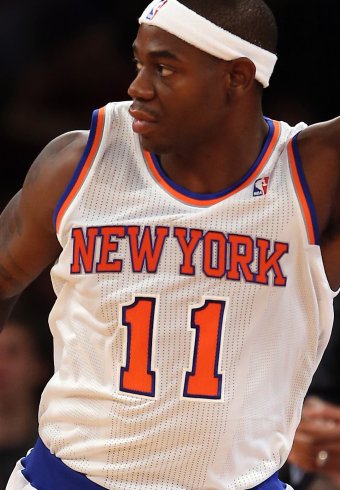 Ronnie Brewer Has Been Great - And Makes Carmelo Anthony Better
Elsa/Getty Images
As BucketsOverBroadway.com's Greg Kaplan notes, Anthony "has absolute control of the offense when he's running freely as the team's power forward...Carmelo Anthony having free reign inside is a matchup nightmare for almost every team in the NBA."
With Kidd at the two and Anthony at the four, the mini-Knicks are tough to beat.
Pablo Prigioni, Kurt Thomas and even Chris Copeland are all contributing, too.
And finally, Steve Novak is pumping those threes again, joining Smith and the Knicks in putting together the best three-point shooting team in the NBA today.
The 2012-13 New York Knicks are truly firing on every cylinder. They are literally dominating almost every phase of the game right now.
And two of the Knicks' better players haven't even stepped on the court yet. Can you imagine the offense once a healthy Amar'e Stoudemire comes back—and the defense with the return of Iman Shumpert?
Plus, All-Defensive back-up center Marcus Camby is just getting started, returning from a bum calf.
The Knicks look like they are cruising to the NBA Finals. They could win it all!
Hold up. Let's tap the breaks for a second.
Now is a good time for us, and the Knicks, to gain a little perspective. Those teams in the Knicks' mirror are closer than they appear to be.
One can just as quickly deconstruct what the Knicks have going.
To begin, that Heat game may have been an anomaly. On one hand, the Knicks and the Garden crowd were thirsty for a hometown victory in the wake of Superstorm Sandy. New York played inspired basketball. Miami was ill-prepared. The Heat expected the game to be cancelled, as reported by Sports Illustrated.
[Dwyane] Wade was so sure the game would be postponed that he never even packed until after practice Thursday...the Heat flew from Miami on Thursday afternoon and arrived in their New York hotel after a three-hour bus ride from nearby Newark, N.J.
Meanwhile, two of the Sixers and Mavericks best players, Andrew Bynum and Dirk Nowitzki respectively, were sidelined with injuries.
Amar'e Stoudemire's return could very well wind up being a wrench in the Knicks' works. If New York continues to win without him, shouldn't he come off the bench upon his return?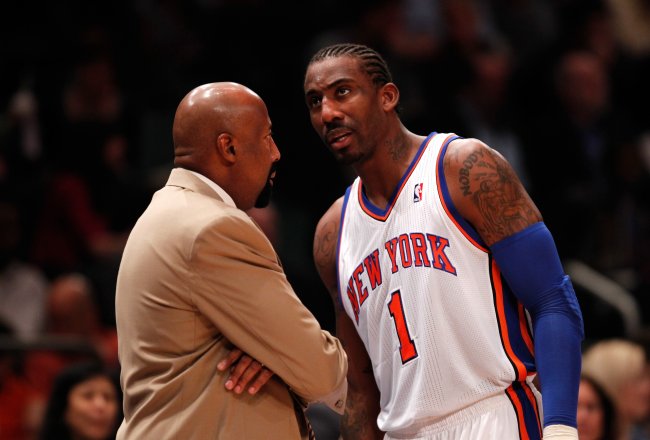 "Psst. We Need You to Come Off the Bench"
Jeff Zelevansky/Getty Images
This lineup also hasn't been tested in the clutch. Every game has been a runaway. The Knicks need to win some down-to-the-wire dogfights as a test of their mettle.
And obviously, there have only been a handful of games from which to draw any conclusions. New York has been on the cusp of greatness so many times in the last three years over similar small sample sets.
But things always break down.
The Knicks individual and team statistics, however, may be pointing to them finally getting over that hump. Those numbers recounted above are way out there, outdistancing other teams' more than at any time in recent memory.
Still, the true Knick fan knows to wait and see, to "trust, but verify." There is good reason for optimism, but keep it in check.
I, for one, won't believe any of this until I see this play last over a longer period of time. Beat the Heat again, take down the Mavs with Dirk in Dallas, deal with the upcoming San Antonio Spurs, expect to win every night—all of it—and I will believe. Until then, the Knicks are the underdogs.
And they should embrace that role. They need to maintain a humble, underdog mentality instead of front-runner expectations simply because they aren't the front-runners. They are still underdogs to the Miami Heat in the East, and still haven't proven they can take out Doc Rivers' Boston Celtics in the playoffs. And who knows about the West and the L.A. Lakers and Oklahoma City Thunder?
Let the pressure be on those teams. They have been the favorites; they are the ones that need to live up to the odds.
The Knicks are overachieving. They have something to prove to the "better teams" in the NBA. They're playing like underdogs, and winning like them, too.
Keep it that way, and keep playing this way, and the Knicks might be on the road to the Finals again. It's possible.
This article is
What is the duplicate article?
Why is this article offensive?
Where is this article plagiarized from?
Why is this article poorly edited?

New York Knicks: Like this team?