Rams vs. 49ers: Self-Inflicted Wounds Hold St. Louis Back as Game Ends in a Tie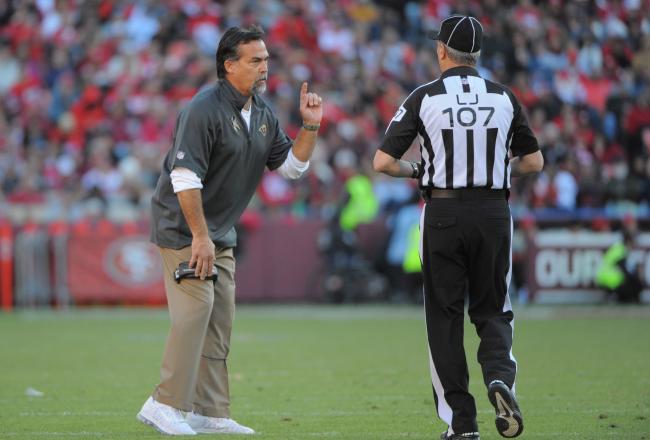 Kyle Terada-US PRESSWIRE
Today marked the first time since 2008 when an NFL game ended in a tie. It also marked the first time since 1976 that the Rams ended a regular-season game in gridlock.
St. Louis arguably played its best game of the season against the best team in the NFC. On offense they rushed for 159 yards on 37 carries and piled up 299 yards through the air. The Rams' 299 yards passing marked the highest output against Vic Fangio's defense this season.
Not to mention the 159 yards the 49ers surrendered on the ground was also a season high. Surprisingly enough, today's 458-yard output from Sam Bradford and company marked St. Louis' third game of 400 yards of total offense just this season.
The last time a Rams offense managed to put together three 400-yard plus games in one season was in 2006. While the touchdowns and wins aren't there right now, there's no doubt that Brian Schottenheimer is doing special things, especially considering the lack of talent on offense.
So, you may be thinking, if the offense didn't kill today's game, what did? Penalties, penalties and more penalties—that's what killed Jeff Fisher's club today. By game's end, his club managed to rack up 13 penalties for 85 yards, and they always managed to come at the least opportune time.
A couple of the biggest blows came in the fourth quarter and overtime. Let's just start with the Rams' first offensive possession in overtime. Schottenheimer decided he wanted to take a shot on first down, and take a shot he did.
Under center, Bradford got the look he wanted. Wide receiver Danny Amendola was split out wide right with Carlos Rogers defending at left cornerback. Up until then, Amendola had had his way with Rogers—on the day, No. 16 ended up with 11 catches for 102 yards, and he torched any defender that got in his way.
As the ball was snapped, Bradford saw man-to-man coverage with no help on the back end, so what did he do? He placed a perfectly thrown ball right in front of Amendola for the 80-yard catch-and-run. The catch advanced the ball to the San Francisco two-yard line. All St. Louis had to do was punch it in from two yards out, and they would have won.
But wait, a late flag was thrown, and the Rams were pegged with an illegal formation penalty, as Brandon Gibson was not lined up on the line of scrimmage. Luckily, the 49ers pushed a field goal wide left, and St. Louis retained possession at its own 31-yard line with 8:07 left to play.
Bradford's arm and the run game advanced the ball 29 yards before rookie kicker Greg Zuerlein trotted on the field to attempt a 53-yard field goal from the middle of the field. Zuerlein had plenty of leg behind it, but of course the game couldn't end there. Instead, the Rams were called for a delay of game that moved the kick back five yards.
Zuerlein then kicked a 58-yarder—unfortunately for Rams fans, he pushed it right. It had the distance, but he never could get it to straighten out. That proved to be St. Louis' last true shot at a victory.
The Rams ended up getting the ball one more time with 1:36 left to play, but poor clock management and the bad officiating proved to negate any momentum Bradford and the offense had mounted.
All in all, a tie is just a strange way to end a game—no winner, no loser, just an awkward-looking "1" in the third column next to the number of losses. If the Rams would have indeed won, they would have moved into third place, considering the fact they beat Arizona earlier in the season.
St. Louis will head home to the Edward Jones Dome for the first time since Week 7 and host the New York Jets. The Jets are currently 3-6 and as vulnerable as ever, so look for Coach Fisher's club to get an easy win back at the Ed, where they are currently 3-1.
Follow @TysonNFL on Twitter.
This article is
What is the duplicate article?
Why is this article offensive?
Where is this article plagiarized from?
Why is this article poorly edited?