Every NFL Team's Top Fantasy Stud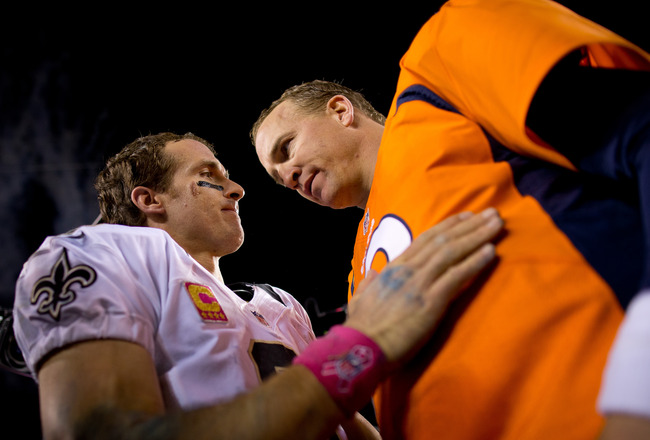 Justin Edmonds/Getty Images
Tom Brady, Jimmy Graham, Roddy White.
What do they all have in common? Well they are all fantasy football studs and dominate on a consistent basis, but none of them are even the best fantasy players on their own team.
With 10 weeks of the NFL season gone, here is a list of every NFL team's top fantasy football stud.
Arizona Cardinals- Larry Fitzgerald
Jonathan Daniel/Getty Images
If Larry Fitzgerald had a legit quarterback that could get him the football he would be the best wide receiver in fantasy football.
The fact is though, Fitzgerald is stuck with Kevin Kolb and John Skelton. Let's face it, neither of those guys deserve to be starting quarterbacks in the NFL.
Though Fitzgerald has only 585 receiving yards and four touchdowns this season, he ranks third in the NFL with 94 targets.
Atlanta Falcons- Matt Ryan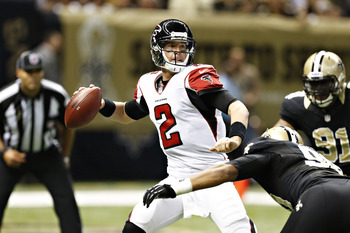 Wesley Hitt/Getty Images
Matt Ryan has finally broken out this year when it comes to fantasy football.
With the Atlanta Falcons' new pass-heavy offense, Ryan has quickly become a legit No.1 fantasy quarterback. With receivers Roddy White, Julio Jones and Tony Gonzalez, it is no wonder that Ryan is second in the league for passing yards and fourth for passing touchdowns.
Baltimore Ravens- Ray Rice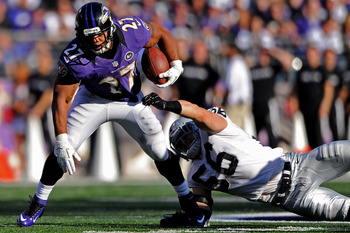 Patrick Smith/Getty Images
No surprise here, as Ray Rice continues to be the Baltimore Ravens' entire offense.
Though he has only had two games with more than 20 carries, Rice has still scored seven touchdowns and recorded 941 total yards from scrimmage.
Buffalo Bills- Fred Jackson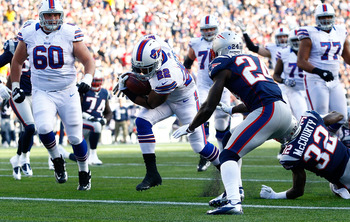 Jared Wickerham/Getty Images
Whoever is the Buffalo Bills' starting running back, is their most dangerous weapon.
In the beginning of the season it looked like C.J. Spiller was on his way to become a fantasy football stud. However, Fred Jackson has taken back his spot as the Bills go to running back.
Though the two of these players are studs, they cannot coexist in the same backfield. Fantasy football owners never know what to expect from them on a consistent basis.
Sure, Jackson had two touchdowns this past Sunday, but over the last three games he only had 31 carries. Not exactly going to make you feel comfortable to start him every week.
Carolina Panthers- Cam Newton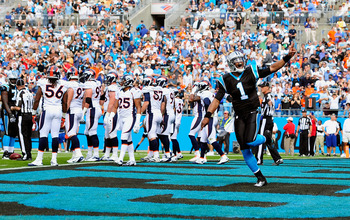 Grant Halverson/Getty Images
Cam Newton has had a down year, but the fact is the Carolina Panthers have no one else that is doing any better.
They have no running game in DeAngelo Williams or Jonathan Stewart, and the only way Steve Smith can put up numbers is if Newton performs well.
After an amazing rookie season, Newton needs to get back on track if he wants to stay a top-10 fantasy quarterback.
Chicago Bears- Brandon Marshall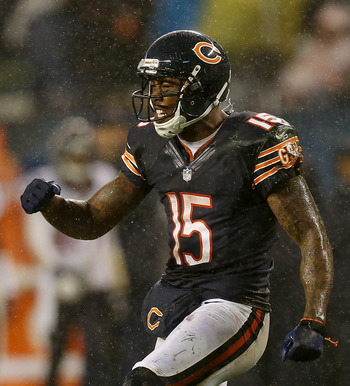 Jonathan Daniel/Getty Images
Reunited with Jay Cutler this season, Brandon Marshall has become a top-three fantasy football wide receiver.
With over 900 receiving and seven touchdowns through 10 weeks already, Marshall should finish out 2012 with his best statistical season in his career.
Cincinnati Bengals- A.J. Green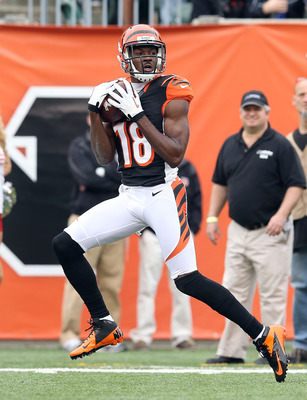 Andy Lyons/Getty Images
After a Pro Bowl season as a rookie, A.J. Green has solidified himself as the best receiver in fantasy football this year.
Green has been unstoppable, scoring a touchdown in eight straight games. Expect him to be a first round pick in your league's fantasy football draft for years to come.
Cleveland Browns- Trent Richardson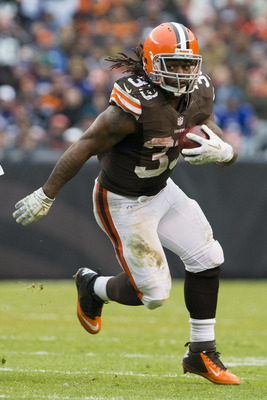 Jason Miller/Getty Images
With no wide receivers for Brandon Weeden to throw to, Trent Richardson has become the Cleveland Browns' entire offense.
Richardson has had a great rookie season, combining for 815 total yards from scrimmage and six touchdowns. He will definitely be a first round pick in next year's fantasy football drafts.
Dallas Cowboys- Tony Romo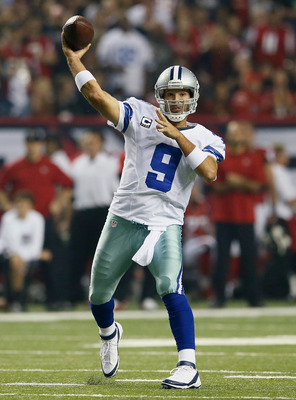 Kevin C. Cox/Getty Images
I know he has thrown 13 interceptions this season, yet Tony Romo is still the best fantasy football player on the Dallas Cowboys' roster
Romo has thrown for over 2,600 yards this season, even with an underachieving supporting cast. Dez Bryant continues to underachieve and before DeMarco Murray got injured, he proved that he could not match his 2011 season.
Denver Broncos- Peyton Manning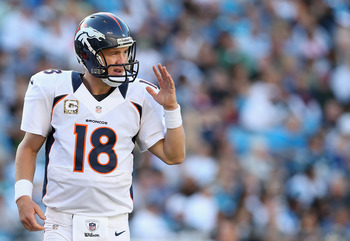 Streeter Lecka/Getty Images
Not only has Peyton Manning proved that he is still one of the best fantasy quarterbacks, but he has a great shot of being the NFL MVP this year.
Manning looks just as good as he did with the Indianapolis Colts, throwing for 21 touchdowns and over 2,700 yards.
Detroit Lions- Calvin Johnson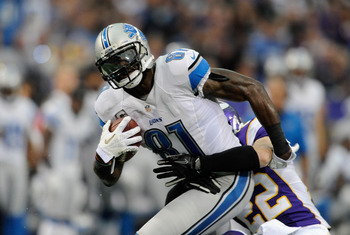 Hannah Foslien/Getty Images
Despite only scoring two touchdowns so far this season, Calvin Johnson still leads the NFL in receiving yards.
I know he has not lived up to the expectations he had as a first round fantasy draft pick, but it appears that Megatron is destined to have a huge second half of a season. In his last two games, Johnson has 19 receptions, 336 receiving yards and a touchdown.
Green Bay Packers- Aaron Rodgers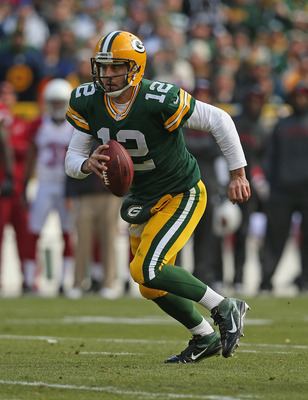 Jonathan Daniel/Getty Images
Being the quarterback for the Green Bay Packers, Aaron Rodgers continues to be one of the most dominant players in fantasy football.
After struggling early on in the season, Rodgers is tied for first in touchdown passes with 25. With one of the best receiving corps in the NFL, expect him to throw for more than 40 touchdowns.
Houston Texans- Arian Foster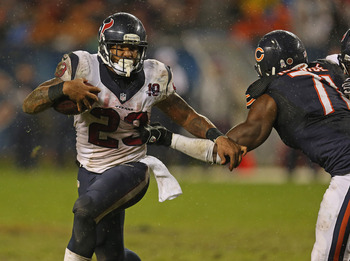 Jonathan Daniel/Getty Images
If you weren't convinced that Arian Foster was the best player in fantasy football heading into this season, then you have to be by now.
Foster has scored in every single game this season and is guaranteed double digit fantasy points each week. If you have the first pick in your fantasy draft next year, make sure it's Foster.
Indianapolis Colts- Reggie Wayne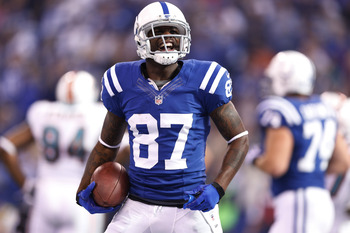 Joe Robbins/Getty Images
There has not been a better sleeper pick this year than Reggie Wayne.
In most fantasy football drafts, Wayne wasn't drafted until the later rounds. Turns out that since he is the only legit receiver on the Indianapolis Colts' roster, Wayne is once again a No.1 fantasy receiver. With over 900 receiving yards and a league leading 69 receptions, Wayne should definitely be considered for Comeback Player of the Year.
Jacksonville Jaguars- Maurice Jones-Drew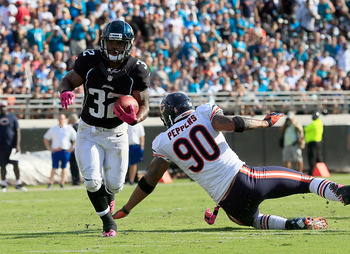 Sam Greenwood/Getty Images
Even though Maurice Jones-Drew is injured right now, is there anyone else on the Jacksonville Jaguars that is worthy of being named the team's best fantasy player?
Rashad Jennings has been decent at best, but assuming MJD returns this season, fantasy owners will quickly drop Jennings from their roster.
Kansas City Chiefs- Jamaal Charles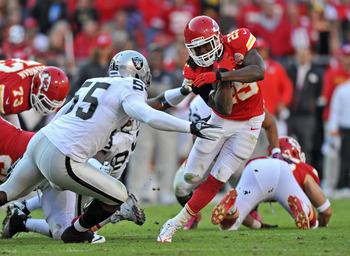 Peter Aiken/Getty Images
In the two games in which Jamaal Charles has carried the ball at least 20 times this season, he has combined for 373 rushing yards.
You think Romeo Crennel would notice this, yet in the Kansas City Chiefs' last three games, Charles only had 29 carries.
Miami Dolphins- Reggie Bush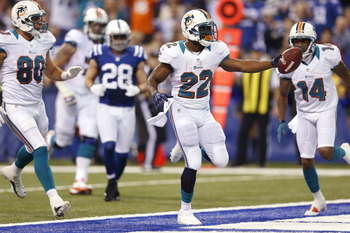 Joe Robbins/Getty Images
Reggie Bush has not been spectacular this year, but he has turned out to be a very solid flex option.
Through 10 weeks, Bush has recorded over 700 total yards from scrimmage and four touchdowns. His numbers aren't so flashy, but he has great fantasy value because he touches the ball about 20 times per game.
Minnesota Vikings- Adrian Peterson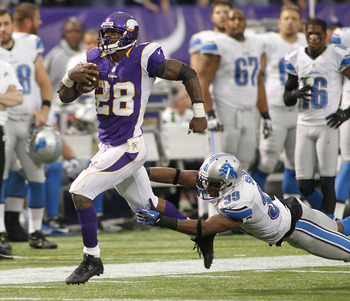 Andy King/Getty Images
Adrian Peterson losing a step? Yeah right.
Peterson has been a fantasy stud this year after coming off a severe knee injury. Only 10 weeks through the season and he has already rushed for a league leading 1,128 yards.
Fantasy football owners will remember not to ever doubt Peterson heading into next season.
New England Patriots- Rob Gronkowski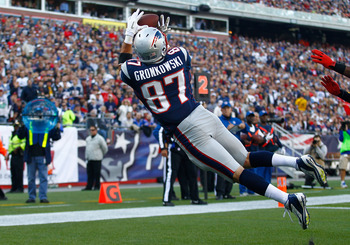 Jared Wickerham/Getty Images
Rob Gronkowski didn't get off to a hot start, but watch out. Over his last three games, Gronkowski has 255 receiving yards and five touchdowns.
Whether he is getting healthier or more involved in the New England Patriots offense, one thing for sure is that Gronkowski has been performing like he did in 2011.
New Orleans Saints- Drew Brees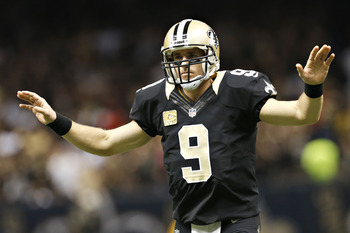 Wesley Hitt/Getty Images
Year after year, Drew Brees is one of the most dominant fantasy quarterbacks.
Not only does he lead the league in passing yards with 2,847, but Brees also leads the league with 25 touchdown passes.
New York Giants- Victor Cruz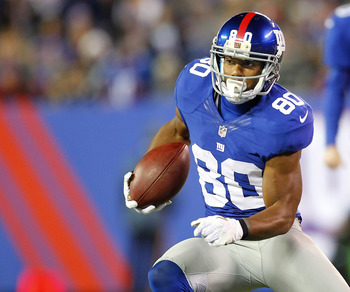 Rich Schultz/Getty Images
Victor Cruz has shown that his 2011 season was no fluke.
Being Eli Manning's favorite target (104 targets), Cruz has caught 60 passes for 743 yards, while scoring seven touchdowns.
New York Jets- Shonn Greene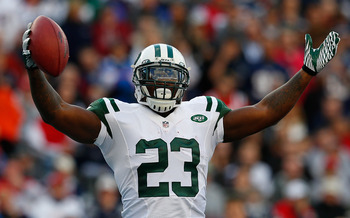 Jim Rogash/Getty Images
Is there any competition for Shonn Greene to win this award?
Santonio Holmes is out for the season, Mark Sanchez is atrocious and Tim Tebow never touches the field.
Oakland Raiders- Carson Palmer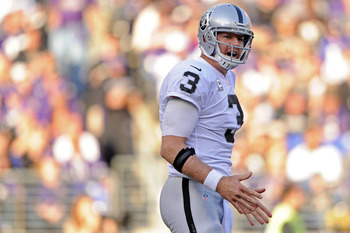 Patrick Smith/Getty Images
Though he was taken late or undrafted in most fantasy drafts, Carson Palmer has quietly had one of the best seasons in his career.
Palmer has thrown for the third most passing yards this season, with 2,723, while also throwing 15 touchdown passes.
Philadelphia Eagles- LeSean McCoy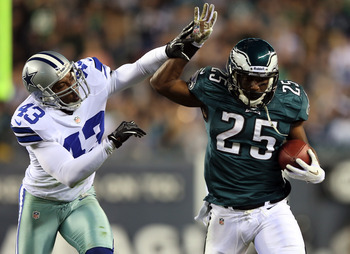 Elsa/Getty Images
LeSean McCoy hasn't been as dominant as he was last year, but he has still been reliable.
Though McCoy has only scored five touchdowns so far, he has still recorded over 800 total yards from scrimmage. If Michael Vick has to miss any more games, McCoy will get significantly more touches.
Pittsburgh Steelers- Mike Wallace
Jeff Zelevansky/Getty Images
Mike Wallace has not been spectacular this year, but expect him to be one of the best fantasy wide receivers over the next couple of games.
With Antonio Brown out with an injury, Wallace is the only legit wide receiver the Pittsburgh Steelers have. Look for Ben Roethlisberger to be targeting him a significant amount.
St. Louis Rams- Danny Amendola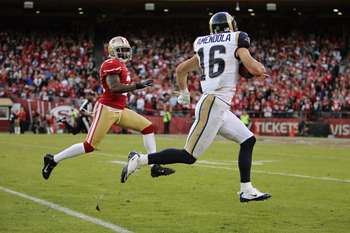 Brian Bahr/Getty Images
Despite missing time because of a shoulder injury, Danny Amendola has picked up right where he left off.
Amendola came back this past week and recorded 11 catches for over 100 yards. Heading into next year, he will be drafted as a No. 3 fantasy receiver, and possibly higher in PPR leagues.
San Diego Chargers- Malcom Floyd
Al Messerschmidt/Getty Images
Ryan Mathews hasn't done a thing and Philip Rivers' career appears to be on the decline.
Malcom Floyd isn't anything special, but being the No.1 receiver for the San Diego Chargers, he gets his fair share of targets. With 572 receiving yards on the season, it appears that Floyd should make a solid No. 3 fantasy receiver for next season.
San Francisco 49ers- Frank Gore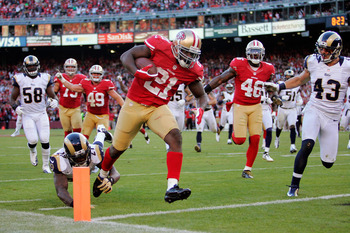 Brian Bahr/Getty Images
When is Frank Gore going to stop producing? Since 2006, he has been one of the most reliable fantasy running backs.
This season, Gore has the eighth most rushing yards (753) while also scoring five touchdowns.
Seattle Seahawks- Marshawn Lynch
Otto Greule Jr/Getty Images
Beast Mode has been on display all season.
Through 10 weeks, Marshawn Lynch has already rushed for over 1,000 yards, while scoring five touchdowns. From here on out, Lynch needs to be considered a No. 1 fantasy running back.
Tampa Bay Buccaneers- Doug Martin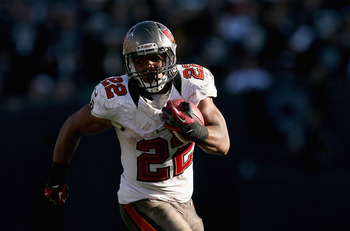 Ezra Shaw/Getty Images
After just an average first six games, Doug Martin has broken out and become one of the best players in all of fantasy football.
In his last three games, Martin has scored six touchdowns while recording a total of 605 yards from scrimmage. He has definitely placed himself in the top-10 for fantasy running backs and will only continue to improve.
Tennessee Titans- Chris Johnson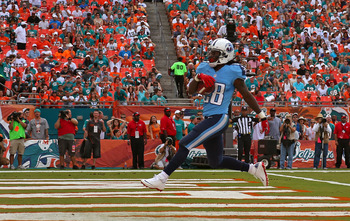 Mike Ehrmann/Getty Images
Well it is about time.
In his first five games, Chris Johnson ran for only 210 yards and zero touchdowns.
Since then, Johnson has regained his old form and been sensational. Not only has he scored four touchdowns, but he has not run for less than 91 yards.
Washington Redskins- Robert Griffin III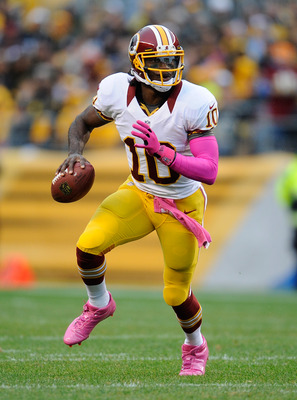 Joe Sargent/Getty Images
Robert Griffin III has been nothing short of amazing this season.
Not only can he shred defenses with his arm, but RG3 is also on pace to rush for close to 1,000 yards this season.
With his ability to throw and run, it appears that RG3 has a chance of being a top-5 fantasy quarterback heading into next season.
Keep Reading