NFL Player, Coach Stock Report After Week 10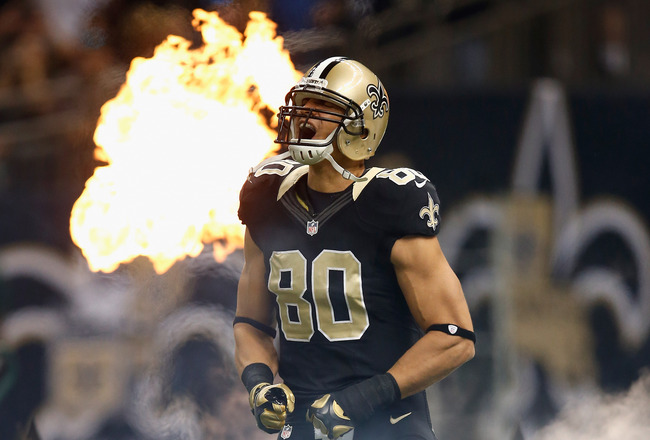 Chris Graythen/Getty Images
Yet another week of the 2012 NFL season is in the books. Like any other week, Week 10 had some pleasant surprises and, uh, unpleasant surprises.
In the NFL, a player or coach's status is constantly evolving. These surprises from Week 10 led to several such changes in status.
So, after this latest week, whose stocks have gone up, and whose have gone down?
Stock Up: Demaryius Thomas, WR, Denver Broncos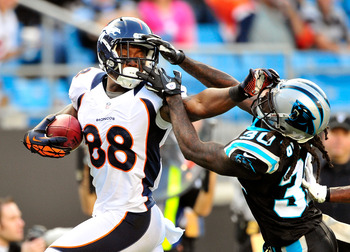 Grant Halverson/Getty Images
With nine catches for 135 yards, Demaryius Thomas came up big for the Broncos as they trampled Carolina. Thomas has always had big-time ability, but he's just now really breaking out with Peyton Manning at quarterback.
This isn't Thomas' first big game of the year, but it is a sign of his growing consistency. The physical freak's stock continues to rise as he puts together more huge games.
Stock Down: Michael Vick, QB, Philadelphia Eagles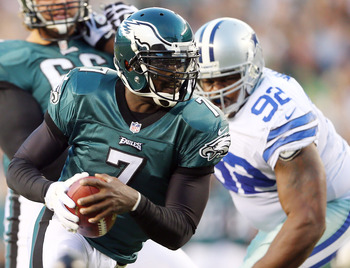 Elsa/Getty Images
Like the 2011 season before it, 2012 has been a rough time for Michael Vick. Vick was struggling more than the stats suggested when he left Philadelphia's contest against Dallas with a concussion.
Now, Vick will likely miss at least one week, though he could be out for a while. Odds are the time off won't help him improve, as Vick's stock continues to fall.
It seems likely that Vick won't be starting for the Eagles in 2013, and he may struggle to find a job anywhere.
Stock Up: Chris Johnson, RB, Tennessee Titans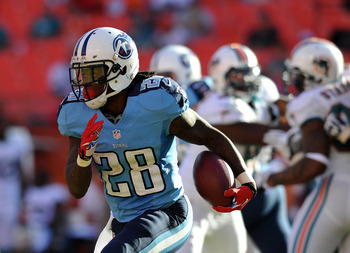 Steve Mitchell-US PRESSWIRE
Chris Johnson got off to a slow start in 2012, leaving many to label him as done. Johnson has undergone quite the turnaround, though, putting together his fifth straight game of over 90 yards. In fact, Johnson has averaged 6.1 yards per carry over that stretch.
So, with his midseason rejuvenation, Johnson is again looking like a premier running back. This is the highest his stock has been since his CJ2K days.
Stock Down: Eli Manning, QB, New York Giants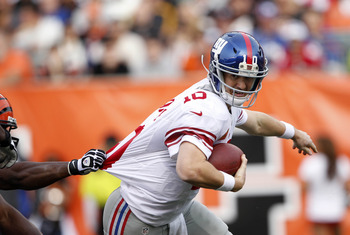 Frank Victores-US PRESSWIRE
Eli Manning has been dreadful as of late, posting quarterback ratings below 60 each of the past three weeks. Over that stretch, he has thrown zero touchdowns to four interceptions.
It's hard to say what Manning's problem is right now, but something clearly is not right. Instead of leading the Giants to victory, he is clearly holding the team back.
After overcoming his inconsistencies, Manning had been fantastic the past few years. This latest turn is leading fans and analysts to forget all of that.
Stock Up: Matthew Stafford, QB, Detroit Lions
Bruce Kluckhohn-US PRESSWIRE
Matthew Stafford's 2012 season got off to a rough start, largely because he was throwing too many interceptions and too few touchdowns. Stafford's recent success is because of the exact opposite reason.
The young flamethrower has posted quarterback ratings above 90 each of the past three weeks, throwing six touchdowns to two interceptions.
With yet another 300-yard performance against Minnesota, Stafford has proved he can still play. There may be some more growing pains, but for now, Stafford appears to be back on the upswing.
Stock Down: Ryan Tannehill, QB, Miami Dolphins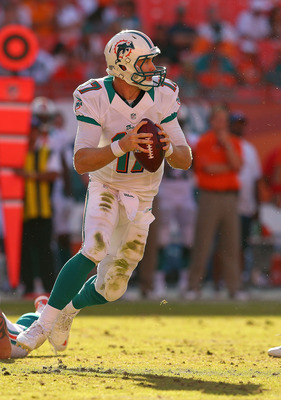 Mike Ehrmann/Getty Images
Ryan Tannehill had been playing excellently, frequently posting quarterback ratings in excess of 80. In Week 10, however, Tannehill was awful, gaining just 217 yards on 39 attempts, while throwing three interceptions.
So, while Tannehill still has potential, this was a bit of a reality check. The rookie isn't yet a consistent, reliable starter. He needs time and work.
Tannehill's long-term stock is mostly unchanged by this latest performance, but fans' expectations should be cooled a bit for the immediate future.
Stock Up: Jimmy Graham, TE, New Orleans Saints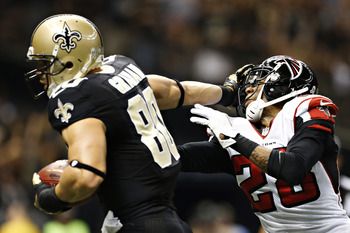 Wesley Hitt/Getty Images
Jimmy Graham had been one of 2012's biggest disappointments, as he struggled with injuries and didn't really impress while on the field. This all changed in Week 10.
Graham's seven catches for 146 yards and two touchdowns seemed to tell the world he was back. Just as the Saints turn around their season, Graham is doing the same.
With Graham seemingly over his ankle injury, his stock is again soaring. He should once again be the league's dominant receiving tight end.
Stock Down: Matt Schaub, QB, Houston Texans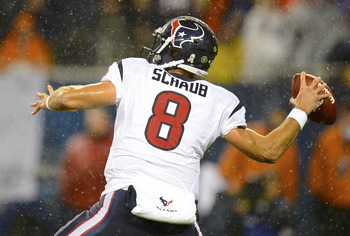 Mike DiNovo-US PRESSWIRE
The weather and Chicago's elite defense were clear factors in Matt Schaub's Week 10 struggles, but they go further. Schaub made several ill-advised throws, leading to two interceptions.
The interceptions would be understandable if Schaub had made some big plays, but no, he averaged just 3.7 yards per attempt and threw but a single touchdown pass.
After two excellent performances, this could simply be a fluke that resulted from hazardous weather and excellent competition. It could also be a sign of Schaub's inconsistency returning, and his stock takes a hit as a result.
Stock Up: Danny Amendola, WR, St. Louis Rams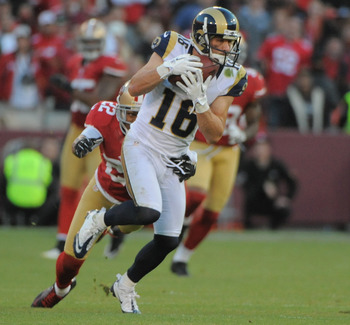 Kyle Terada-US PRESSWIRE
After over a month off, Danny Amendola left no room for doubt.
He's back.
Amendola dominated against the 49ers, catching 11 passes for 102 yards. No one really knew what to expect from Amendola as he returned, but he made quite the impression here.
Clearly, Amendola is ready to rack up the catches as he was doing earlier this year. He seems poised to put together a big rest of the season.
Stock Down: Mark Sanchez, QB, New York Jets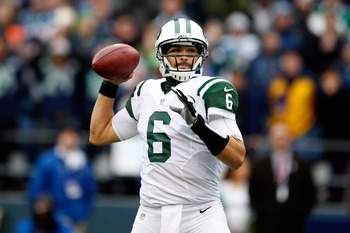 Kevin Casey/Getty Images
It's hard to imagine Mark Sanchez' stock actually falling further, right? But it did.
Against the Seahawks—who admittedly have a well-above-average defense—Sanchez completed just nine of 22 passes for 124 yards with no touchdowns and an interception. That is taking bad to a new level.
At this point, Sanchez has established that he isn't a starting quarterback. The Jets need to replace him, even if it's with Tim Tebow.
Now, Sanchez' stock may have finally hit rock bottom.
Stock Up: Jeff Fisher, HC, St. Louis Rams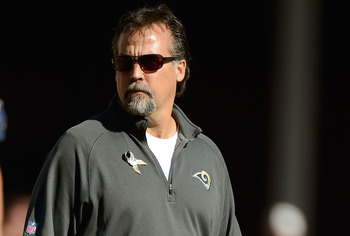 Thearon W. Henderson/Getty Images
Jeff Fisher always has the Rams ready to compete. Playing against a much more talented 49ers team, St. Louis put up a valiant effort, ending the game in a gridlock.
While this wasn't the victory Fisher was certainly hoping for, it was much better than the loss people were expecting. Anytime a team overcomes a talent gap this big to make a competitive game, there was some impressive coaching going on.
Fisher's aggressive decision-making helped the Rams make it to overtime, but his preparation is what really made the difference.
Stock Down: Rex Ryan, HC, New York Jets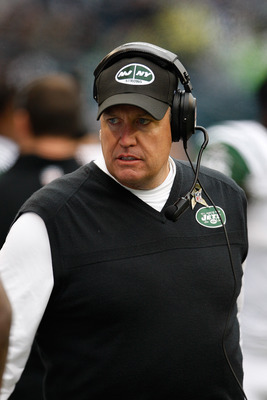 Kevin Casey/Getty Images
The honeymoon is over.
Rex Ryan's first two years in New York led to many bestowing enormous amounts of praise.
Now, it's looking like that praise was undeserved.
Ryan's Jets have struggled all year long, and they were just stomped on by the Seahawks. Seattle may have been a better team, but New York is talented enough to at least compete against them.
Right now, it's looking like Ryan's days with the Jets could be numbered. He will have to turn around the season in order to avoid the pink slip.
Stock Up: John Harbaugh, HC, Baltimore Ravens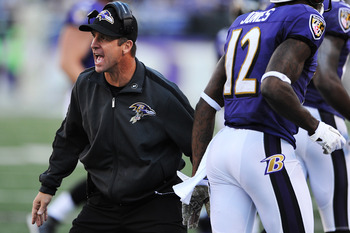 Patrick Smith/Getty Images
Whenever a team wins 55-20, the coach on top deserves some credit. John Harbaugh is leading an aging Ravens team, but Baltimore put on the beating of a lifetime against Oakland.
The Ravens are probably better than the Raiders are, but there isn't nearly a 35-point gap between the two teams. Harbaugh got Baltimore out in front to a quick lead, and he refused to lose it.
There was creativity on both sides of the ball, and the Ravens even mixed in a fake field goal for a touchdown. This was a relentless effort from Baltimore led by its resilient head coach.
Stock Down: Joe Philbin, HC, Miami Dolphins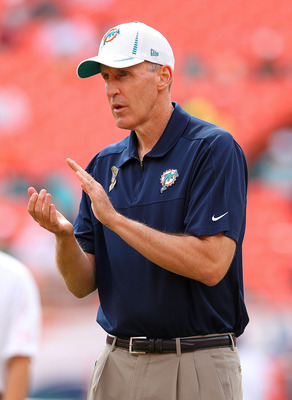 Mike Ehrmann/Getty Images
Joe Philbin hasn't done a bad job this year, but when a team loses to the Titans by 34 points, the losing coach probably deserves some criticism.
Philbin's offense was noticeably ineffective against Tennessee, as Ryan Tannehill struggled to avoid turnovers and make plays. Miami also lacked any run game to speak of.
This was an all-around ugly game for the Dolphins. The team's defense failed to contain the Titans offense, and its offense seemed woefully unprepared for what, in all honesty, is a pretty bad defense.
Miami simply wasn't ready for the Titans.
Stock Up: Pete Carroll, HC, Seattle Seahawks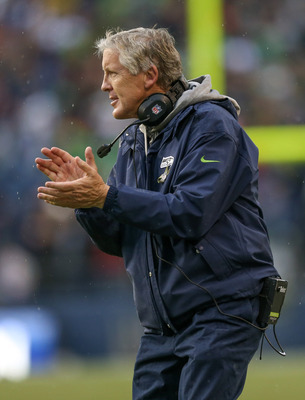 Otto Greule Jr/Getty Images
What Pete Carroll has done with the Seahawks is nothing short of incredible. He turned a bottom-feeding team into a legitimate playoff contender in seemingly no time at all.
Playing against an admittedly inferior Jets, Seattle dominated in all aspects of the game. Part of this was talent, sure, but the Seahawks were the better-coached team, and it showed.
Seattle was efficient on offense and surrendered nothing on defense. Carroll clearly had his team prepared.
Keep Reading