6 Improvements the Minnesota Vikings Must Make During Bye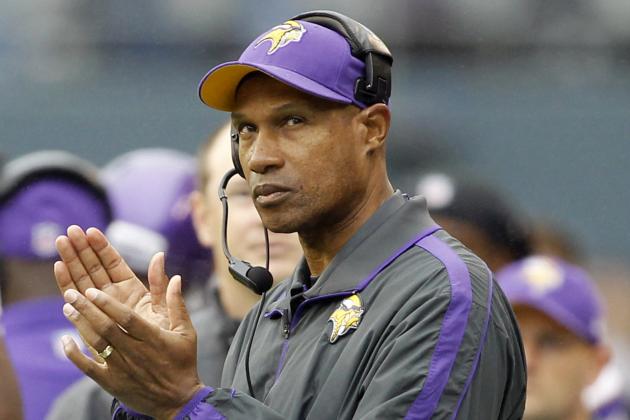 Joe Nicholson-US PRESSWIRE
Leslie Frazier's team is 6-4 entering its bye week and very much in the NFC playoff picture.
It was a game the Minnesota Vikings needed to win. It was a game where Minnesota needed to show improvements in multiple areas of play. And it was a game the team needed to suffer no injuries in.
Check. Check. Check.
The Vikings defeated the Detroit Lions, 34-24, on Sunday and enter their bye 6-4 and very much in the NFC playoff picture.
But while the Vikings righted the ship on many fronts on Sunday, they still have plenty to improve upon and ways in which they can build off of what they've done in the first 10 games.
These are six things the Vikings should work on during the bye to improve their chances of reaching the postseason over their final six games.
Begin Slideshow

»
Brace Hemmelgarn-US PRESSWIRE
Kyle Rudolph is second on Minnesota in receptions (34), third in receiving yards (306) and first in touchdown receptions (six).
Through the first 10 games the Minnesota Vikings have had one game where three receivers recorded five or more receptions, three games with two receivers, three games with one receiver and two games where NO receiver caught at least five passes.
That's a problem.
Minnesota's receiving corps is weak, but the unit must do a better job moving forward. It's working with a second-year quarterback who's going to go through his ups and downs, but the receiving corps must find a way to improve its play.
Kyle Rudolph is the No. 1 culprit. He cannot allow himself to go through stretches where he catches two passes in three games, as was the case prior to Sunday. The 2011 second-round pick is too talented to go through stretches like that regardless of his quarterback's play.
On Sunday Jarius Wright showed glimpses of playmaking abilities and a reason for optimism after his NFL debut with three catches for 65 yards and a score.
Michael Jenkins, Devin Aromashodu and John Carlson are veterans who haven't ever been serious playmakers, but they do have average abilities.
The Vikings are 6-4 with limited productivity from the corps as a whole. But that was the easy part of the schedule. Minnesota faces Green Bay and Chicago twice and the Houston Texans in their final six games. Those are teams that have the personnel to limit Percy Harvin and Rudolph (they'll still make plays, but the rest of the group must step up).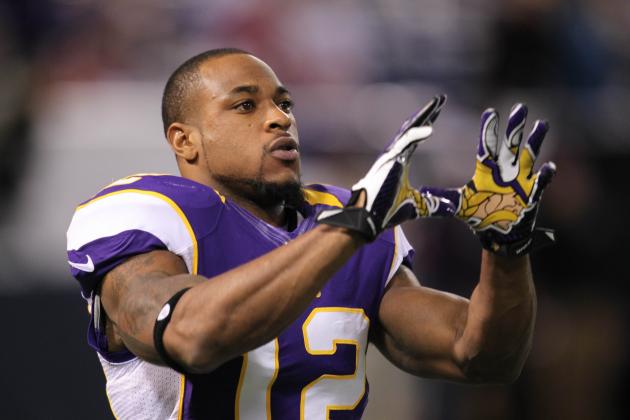 Brace Hemmelgarn-US PRESSWIRE
Percy Harvin is the No. 2 option in Minnesota's offense but often goes far too long without a touch.
It's no secret who Minnesota's No. 1 offensive weapon is today. Any sober man would easily acknowledge Adrian Peterson's place atop the offensive hierarchy.
But close behind is Percy Harvin. Harvin, despite missing Sunday's game, is still on pace for just under 100 receptions and is currently second in the NFL with 62 receptions. Given the limited talent on the receiving corps beyond Harvin, that is unacceptable.
Harvin proved early this season that he can handle an expanded role where he consistently lines up in the backfield and takes handoffs while still playing as the game's greatest threat in the flats.
He should average five rushes and 10 targets per game. He's that good and his peers are that inconsistent. That plateau hasn't been reached this season, although it was close against Jacksonville (eight targets, five rushes).
The former Florida Gator has proven he's the best at operating in the flats. We get it. It's understandable why he gets so many targets around the line of scrimmage.
But Harvin is more than just a flats guy. He has the speed to be a burner down field. The Vikings just don't unleash him. He hasn't had a ball thrown to him beyond 21 yards. And you wonder why Minnesota doesn't have a reliable deep game.
If Leslie Frazier and Bill Musgrave unleash Harvin down field, then it forces defensive backs to respect his ability to burn them deep while still worrying about his ability to make them look silly in the flats.
It's a win-win situation. It just needs to be enacted.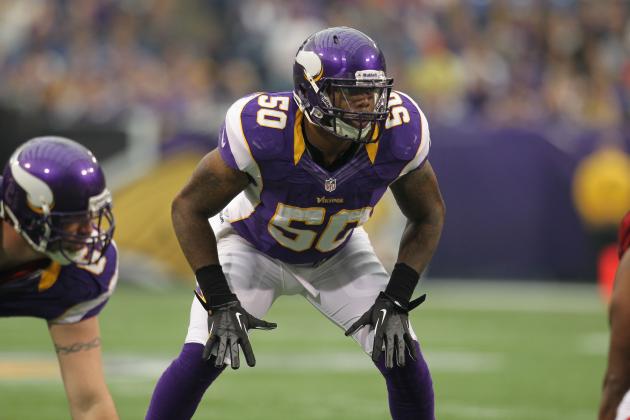 Brace Hemmelgarn-US PRESSWIRE
Erin Henderson hasn't posted a double-digit tackle performance since Week 2.
During Minnesota's 4-1 start the entire linebacking corps was playing about as well as any in football.
Erin Henderson and Jasper Brinkley played at a level that validated their status as starters, and Chad Greenway was playing at a level that earned him praise as one of the game's best linebackers.
What's happened since?
Brinkley allows himself to be easily blocked far too often and Henderson doesn't pursue well. Brinkley's known for his run-stuffing abilities, yet the Vikings run defense tapered off while the Vikings lost three of four games and allowed an average of 132.6 yards per loss.
He's recorded double-digit tackles just twice this season. He's currently on pace for just under 100 tackles, which is good for a first-year starter, but his play hasn't reflected a player on pace for that total. No one expects him to be a superior pass defender, but they should expect him to be strong against the run. It is his forte.
Henderson hasn't been the same since coming back from a concussion. He hasn't recorded double digit tackles since Week 2 (12). He has only once recorded more than four tackles (eight against Seattle).
He's a more versatile linebacker who's very similar against the run and the pass and is solid against both, although his play over the past five weeks hasn't mirrored that. He's on pace for just under 74 tackles, not bad considering he missed two weeks, but his tackle total hasn't been reflected in his play.
Greenway hasn't made game-changing plays like he did during the first five games but is still a sound tackler who makes many plays beyond the line of scrimmage. He's on pace for just under 159 tackles.
If the linebackers are more active it eases the pressure on an injury-ridden secondary and allows the defensive linemen to focus on taking on blockers to free up the linebackers.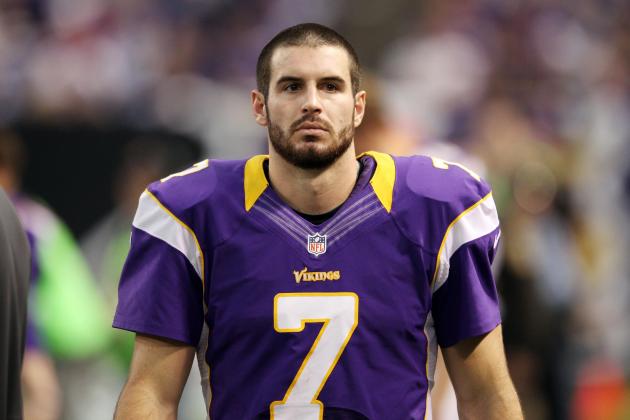 Brace Hemmelgarn-US PRESSWIRE
Prior to Sunday's zero-interception performance Christian Ponder had thrown at least one interception in five straight games.
More so than anything else on this slide, it's easier said than done.
If this were a quick fix, then the coaching staff would have improved Christian Ponder's play prior to Minnesota's 34-24 victory over Detroit on Sunday. Ponder was 24-of-32 (75 percent completion rate) for 221 yards, two touchdowns and no interceptions.
Prior to Week 10 Ponder had thrown at least one interception in the last five games and had thrown two three times. That's unacceptable for the quarterback of a playoff contender.
Ponder began the year 143 attempts without an interception. He completed at least 60 percent of his passes in each of the first six games.
When Minnesota lost three of four between Week 6 and Week 9 he failed to complete 60 percent of his passes in three of the four games.
He was a wreck over that stretch and had no semblance of an NFL quarterback.
In Week 10 he still looked uncomfortable moving around the pocket, but his passes were much more accurate, as demonstrated by his completion percentage. He still throws some pretty bad passes, but not as many as in the past four games.
Part of Ponder's problem is a limited receiving corps. He has two players that would make an impact on most playoff-caliber teams.
The other problem is Ponder proving unable, thus far, to adjust to defenses.
It's on the coaching staff and him to fix his play for the stretch run.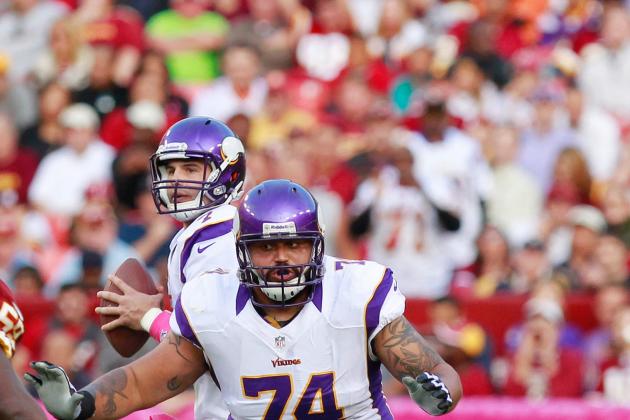 Geoff Burke-US PRESSWIRE
Charlie Johnson and the Minnesota Vikings offensive line have allowed 24 sacks in 10 games (2.4 sacks per game).
The quarterback play has taken a hit over the past four games prior to Week 10.
In Week 6 through Week 9 Ponder was sacked a total of 14 sacks over four games (3.5 per game). Against Detroit in Week 10 the Vikings allowed one sack.
On the season the Vikings have allowed 24 sacks (2.4 per game), the eighth most. The Vikings need to work that towards a manageable two sacks per game.
For comparison, the Houston Texans have allowed the fewest sacks (1.25 per game), and the Arizona Cardinals have allowed the most (4.6 per game).
The main culprits of the slacked off play have been left guard Charlie Johnson and Phil Loadholt. Matt Kalil's play has regressed since he opened the season, but it's tough to overly criticize him as rookie.
But Loadholt and Johnson are veterans.
Loadholt doesn't have anyone chomping at the bit to start, but Johnson could see his role stripped from him with Joe Berger and Geoff Schwartz waiting in the wing.
I don't see a switch happening. But if it were to happen, now would be the time.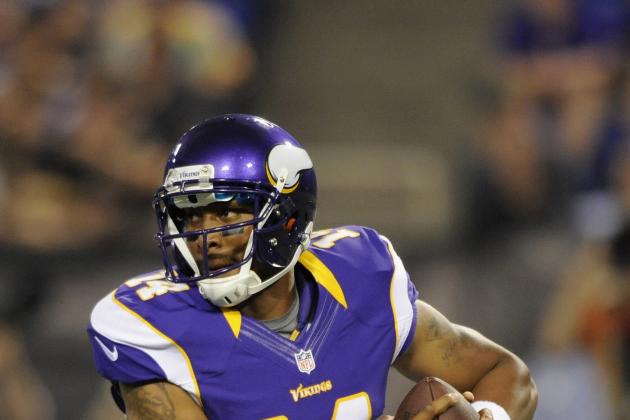 Hannah Foslien/Getty Images
Joe Webb is an extremely talented athlete whose talent is wasted sitting on the sidelines.
This is a debate that I'm passionate about.
Joe Webb is a talented athletic specimen. The man stands 6'4" and weighs 220 pounds.
At his pro day at UAB he bench pressed 225 pounds 21 times, which bested any wide receiver at the 2010 combine. He posted a 4.43 second 40-yard dash, which would have been fifth best at the combine. His vertical leap measured 41.5 inches, which would have tied him for the best among wide receivers at the combine.
In his NFL draft bio on NFL.com it reads, "Webb has incredible athleticism, and will likely move from quarterback to receiver in the pros. ... It may take him a while to learn the receiver position, but he has the physical ability to eventually make an impact."
Now, the Vikings moved him back to quarterback after drafting him. That made sense when the team was in search of its franchise quarterback.
Since then it's used its 2011 first-round pick on Christian Ponder. The Vikings will stick with him throughout this season and next.
By that time Webb will be 27 years old and going on 28.
For now he's a backup waiting his time out on the sideline. Why waste that 4.43-second speed on the sideline? Why waste that 41.5-inch vertical on the sideline? Why waste that strength on the sideline?
Minnesota should take the bye to acclimate Webb back to the wide receiver position. It's not like the team has four studs like the Green Bay Packers do. Minnesota trots out the likes of Devin Aromashodu, Stephen Burton and Michael Jenkins week after week; however, there's a much more talented player wasting his talents on the sideline.
Now some will say Webb can injure himself at receiver. Agreed. It's very possible. But until Ponder gets injured, he's not going to play anyway.
Keep Weeb familiar with the offense as a quarterback, but focus him at wide receiver. It provides the offense the opportunity to have a legitimate playmaker downfield for the first time since 2009.