Updated Playoff Odds for Every Team After NFL Week 10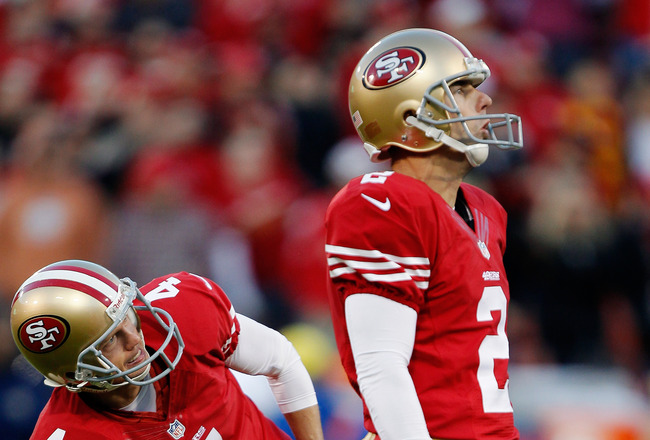 Brian Bahr/Getty Images
There have been nearly 1,000 NFL regular season games played since the last tie. What were the odds that Sunday would bring another one? What were the odds that the tie would take place between a first and last-place team in the NFC West?
Well, it happened Sunday at Candlestick when the St. Louis Rams played some inspired football that led to a draw with the San Francisco 49ers.
Maybe we should just throw all odds out the window right about now, as the playoff race promises to be a bit complex in the NFC moving forward.
Meanwhile, the AFC seems a bit more clear after Sunday's slate of Week 10 games. The Houston Texans proved themselves to be the class of the conference following a sloppy win over the Chicago Bears in a rain-soaked Soldier Field.
The New England Patriots and Denver Broncos, meanwhile, seemed to break away from the pack in their division.
As has been the case every week this season, I am going to give you my playoff odds in this article. Expect a bit of a shakeup at this point.
Denver Broncos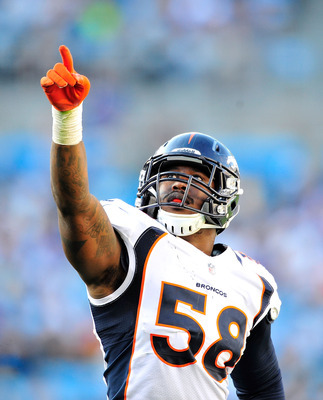 Grant Halverson/Getty Images
Record: 6-3
Postseason Chances: 80 Percent
What Peyton Manning and company are doing here is nothing short of amazing. The Denver Broncos have now won four consecutive games after wiping the floor against the Carolina Panthers on Sunday.
The future Hall of Fame quarterback has completed 75 percent of his passes for nearly 1,900 yards and 16 touchdowns compared to three interceptions in his last five games. That equates to an absurd 119.9 quarterback rating.
More importantly, Denver is two games up in a mediocre AFC West with seven games remaining. It is pretty much assured to maintain the top spot throughout the duration of the regular season as well. Denver has only two games remaining against teams currently over .500.
A 12-4 record doesn't seem too unlikely at this point.
San Diego Chargers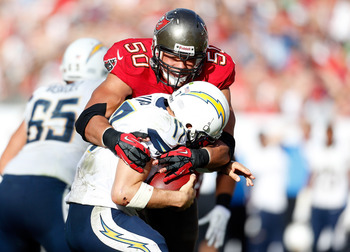 J. Meric/Getty Images
Record: 4-5
Postseason Chances: 30 Percent
Disastrous would probably be the best word for the San Diego Chargers' performance on Sunday in their 34-24 loss to the Tampa Bay Buccaneers.
More inopportune mistakes by Philip Rivers put the game out of reach late. The struggling quarterback threw a pick six early in the fourth quarter with San Diego driving to take the lead. That gave Tampa Bay a 10-point lead, something it would never relinquish.
San Diego now sits at 4-5 and two games out of the AFC playoff race through 10 weeks. The Chargers now have four tough games in a row against the Denver Broncos, Baltimore Ravens, Cincinnati Bengals and Pittsburgh Steelers.
There remains a possibility that they could be 4-9 or 5-8 after that stretch. If so, you can say goodbye to head coach Norv Turner and general manager A.J. Smith.
As it is, this team will probably be watching the postseason from its cushy homes in Southern California.
Oakland Raiders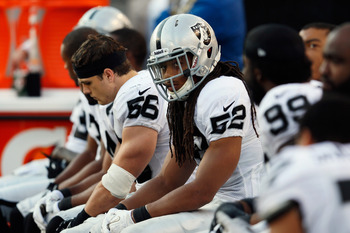 Rob Carr/Getty Images
Record: 3-6
Postseason Chances: Five Percent
Well, that happened. The Oakland Raiders were absolutely embarrassed by a vastly superior opponent yesterday. They allowed 55 points against the Baltimore Ravens in a game that has to be construed as a total meltdown in both sides of the ball.
They made Joe Flacco look like a reincarnation of Joe Montana in this one. The enigmatic Baltimore quarterback threw for 341 yards and three touchdowns in just over three quarters of play before Tyrod Taylor took over in garbage time.
This performance cannot be placed solely on the shoulders of one particular play or player. Oakland just stunk it up in every possible way. That says something considering that Carson Palmer probably had his best performance of the season, throwing for over 350 yards and two scores.
Oakland is now three games back in the AFC West and has already lost to the Denver Broncos. Its season might not be over, but it is pretty damn close to getting to that point.
The Raiders now take on the New Orleans Saints and Cincinnati Bengals in their next two outings. We are probably looking at 3-8 when December hits.
Kansas City Chiefs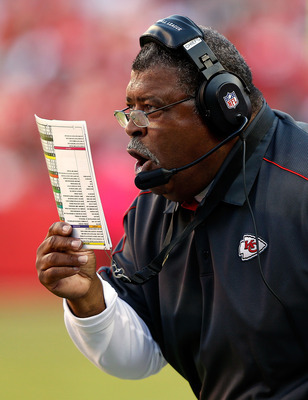 Jamie Squire/Getty Images
Record: 1-8
Postseason Chances: One Percent
Wow, that has to be one of the most disheartening losses for a team in the National Football League this season. The Kansas City Chiefs played some really good football throughout regulation before Matt Cassel threw an interception to start overtime, Kansas City's first turnover of the game, led to a chip shot Pittsburgh Steelers victory.
Kansas City now sits at 1-8 and completely out of the AFC Playoff race. It committed some key and questionable penalties on both sides of the ball. A holding call that called back a Dwayne Bowe touchdown as well as a horrible offensive pass interference penalty on Tony Moeaki late in the fourth quarter.
Either way, it seems that everything is working against this team right now. Look for the No. 1 overall pick conversation to start relatively soon.
Houston Texans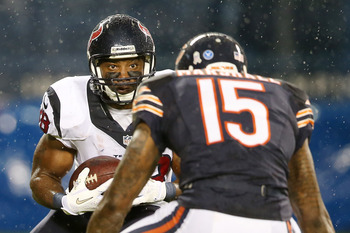 Jonathan Daniel/Getty Images
Record: 8-1
Postseason Chances: 98 Percent
That sure wasn't the most well-played game in the world, but the Houston Texans came out on top against one of the better teams in the NFL on the road on Sunday Night Football. You simply cannot overstate just how big of a win this was for Houston, who are now tied with the Atlanta Falcons for the best record in the NFL.
Arian Foster put up 102 yards on the ground and scored the only touchdown of the game on a short pass from Matt Schaub. Foster vastly outplayed another top running back, Matt Forte, in this one as well.
Meanwhile, Houston's defense forced four turnovers and allowed a total of eight first downs against a Chicago Bears offense that had been clicking recently.
Houston maintained its two-game lead in the AFC South and are now pretty much a lock to earn a postseason spot. It has the best all-around team in the NFL as well.
Definitely Super Bowl contenders here.
Indianapolis Colts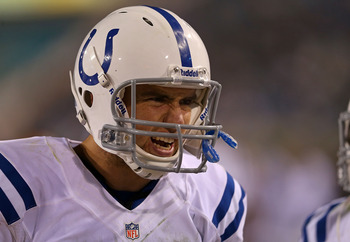 Mike Ehrmann/Getty Images
Record: 6-3
Postseason Chances: 65 Percent
It is simply amazing just how much the Indianapolis Colts have improved from the 2011 season to mid-November. They have now won four more games than all of last season and are doing so by only adding a few veteran cogs and a talented draft class.
The reason for this turnaround is two-pronged. Andrew Luck is playing out of his mind as a rookie, probably the best first-year performance that we have seen from a quarterback in generations. Indianapolis is also playing with fire and passion, mostly due to the cancer battle that its first-year head coach, Chuck Pagano, is going through.
Or, it could just be that this is a damn good team. I am not 100 percent sure where to go with this. What I will say is that the Colts have an inside track for one of the two wildcard spots in the AFC through 10 weeks.
With that in mind, Indianapolis has a tremendously difficult schedule moving forward. It has to go up against the Houston Texans (twice), New England Patriots and Detroit Lions over the course of the final seven weeks.
Tennessee Titans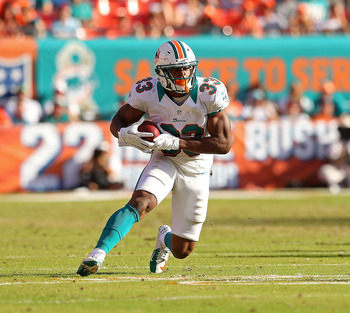 Mike Ehrmann/Getty Images
Record: 4-6
Postseason Chances: 10 Percent
That might have been an impressive victory for this Tennessee Titans team against the Miami Dolphins on Sunday. You simply don't win 37-3 on the road in the NFL against a team that was at .500 without playing some damn good football.
Tennessee is still under the proverbial eight ball. It needs to win five of its final six games to even be in contention for a postseason spot come January.
I just don't see that happening with the Houston Texans, Indianapolis Colts and Green Bay Packers remaining on the schedule. The Titans' early-season struggles might have cost them in the long run this season. It really is that simple.
Jacksonville Jaguars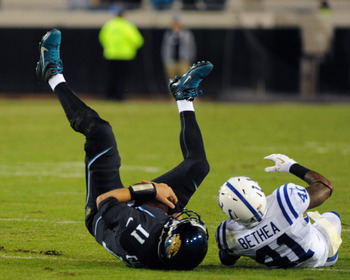 Al Messerschmidt/Getty Images
Record: 1-8
Postseason Chances: One Percent
Blaine Gabbert and company are just not a good football team right now. The Jacksonville Jaguars were blown away for the fifth time in five home games this season when they lost to the surprising Indianapolis Colts 27-10.
Jacksonville has now been outscored by an average of 21.8 points in its five home games. Talk about embarrassing.
Gabbert completed just 18-of-31 passes for 209 yards and an interception. He has now thrown just 21 touchdowns in 23 career starts. That really isn't going to get it done.
Reality check here. Jacksonville doesn't have the talent or coaching to be competitive on a consistent basis. It just needs to get more players that can actually suit up and perform on Sunday's. Until then, the Jaguars will be nothing more than a bottom-feeder.
Baltimore Ravens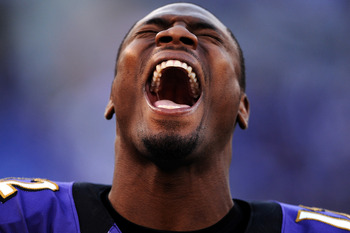 Patrick Smith/Getty Images
Record: 7-2
Postseason Chances: 85 Percent
The Baltimore Ravens cannot get too cocky after the 55-20 beating they handed the Oakland Raiders yesterday. They need to know exactly who they were playing: the Oakland Raiders!
It is important to remember that Baltimore was coming off two bad performances in a row, a 43-13 loss to the Houston Texans in Week 7 and a close victory against the Cleveland Browns last week.
Baltimore is just a different team on the road than it is at home. In order for this team to be considered legit contenders to win the AFC, it needs to actually start performing better away from home. Baltimore will get its chance against the second-place Pittsburgh Steelers next week in Heinz Field.
As it is, the Ravens are 7-2 and in second place in the AFC. Not bad for a team with a whole host of injuries on the defensive side of the ball.
Pittsburgh Steelers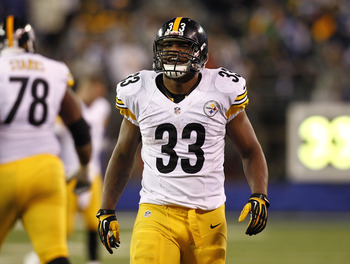 Jeff Zelevansky/Getty Images
Record: 6-3
Postseason Chances: 66 Percent
What an ugly win for the Pittsburgh Steelers tonight. More importantly, Ben Roethlisberger went down with an apparent shoulder injury that seems to be relatively serious.
This is one contending team that cannot afford to lose its starting quarterback. Roethlisberger is the heart and soul of the Steelers in every possible way. Simply put, they are not going to make the postseason with Byron Leftwich starting for an extended period of time moving forward.
We need to figure out the extent of this injury before drawing any more conclusions about Pittsburgh's playoff chances at this point in the season.
Cincinnati Bengals
Andy Lyons/Getty Images
Record: 4-5
Postseason Chances: 40 Percent
We all saw this coming. Andy Dalton and company laid the smackdown against the defending Super Bowl Champs at home on Sunday as the Cincinnati Bengals defeated the New York Giants, 31-13.
Cincinnati's defense forced three Eli Manning turnovers as Dalton outplayed his counterpart in every imaginable way.
More importantly, Cincinnati broke a four-game losing streak and remained in the AFC playoff picture for one more week. It now has some relatively easy games against the Kansas City Chiefs and Oakland Raiders in the next two weeks.
If the Bengals can get to 6-5 heading into December, they may be in a good position to earn a second consecutive postseason berth.
Cleveland Browns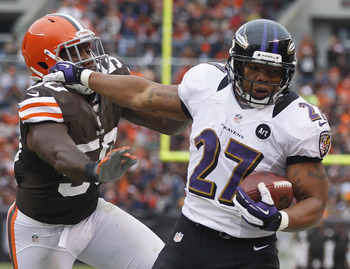 Matt Sullivan/Getty Images
Record: 2-7
Postseason Chances: Two Percent
The Cleveland Browns were on a bye this week and sit at 2-7 through 10 weeks. Needless to say, they are going to miss the playoffs for a fifth consecutive season.
It is all about building blocks here. Cleveland has a talented young core on the offensive side of the ball in the form of Brandon Weeden, Trent Richardson and Josh Gordon.
The future is definitely bright here. I am just not sure how the Browns' current coaching staff figures into the equation. New owner Jimmy Haslam might be on the verge of blowing this whole thing up. Can't say I disagree with that concept, as Pat Shurmur has been an utter disaster as a head coach since the start of the 2011 season.
New England Patriots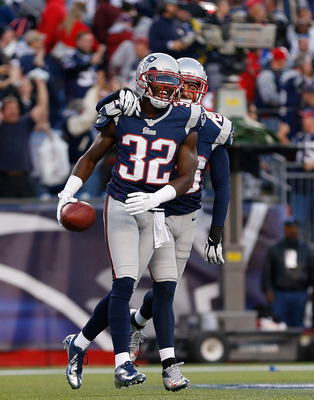 Jim Rogash/Getty Images
Record: 6-3
Postseason Chances: 80 Percent
One thing that I came away with in watching the New England Patriots' narrow 37-31 victory over the Buffalo Bills on Sunday is the fact they are nowhere near the unbeatable squad that many had expected they would be back in August.
Before turning the ball over on an interception in the end zone, Ryan Fitzpatrick was literally picking apart what has to be considered a weak Patriots secondary. In fact, New England made him look like Jim Kelly back there.
This cannot be good for a New England team that has Super Bowl expectations. How is this defense going to preform against the likes of the Houston Texans and Denver Broncos in the postseason?
With that in mind, we are still talking playoffs here. New England now has a full two-game lead in a mediocre AFC East and should end the season with another division title.
Offensively, New England is stacked. It is now up to its defense to turn the corner and stop being a reason why some just don't take this team too seriously in terms of championship contention.
This needs to happen in the next few weeks or the Patriots will be forced to play a wildcard game. It really is that simple.
Miami Dolphins
Mike Ehrmann/Getty Images
Record: 4-5
Postseason Chances: 25 Percent
I guess we should have expected this type of game by a Miami Dolphins team relying on a rookie quarterback to make plays on a consistent basis.
Ryan Tannehill struggled as much as I have seen this season. He was inaccurate to the outside, lacked pocket awareness and just struggled all-around.
The rest of Miami's team didn't help the rookie out either, but the three interceptions that Tannehill threw sure didn't help out the cause.
Miami is now 4-5 through the first 10 weeks and on the outside looking in as it relates to the AFC playoff picture. With that in mind, Miami does have two winnable games against the Buffalo Bills and Seattle Seahawks before having to take on the New England Patriots and San Francisco 49ers.
In order to have a realistic shot at the playoffs, Miami needs to go 3-1 in these four games. If not, it has to be considered nothing more than a young team on the rise.
New York Jets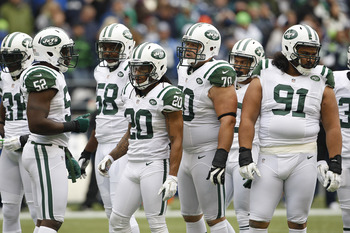 Kevin Casey/Getty Images
Record: 3-6
Postseason Chances: Five Percent
Absolutely disgusting. That term pretty much sums up the New York Jets' performance on Sunday. They went into a hostile environment in the Pacific Northwest against the Seattle Seahawks and ended up embarrassing themselves to the tune of a 28-7 defeat.
Mark Sanchez completed just 9-of-22 passes for 122 yards and an interception. This represented the fifth game that the struggling quarterback has failed to complete 50 percent of his passes. That just isn't excusable in the NFL.
More importantly, New York has now lost five of six games and is off to its worst start since 2007. It stands three games behind the New England Patriots in the division and is all but out of the playoff race.
Is it finally "Tebow Time?"
Buffalo Bills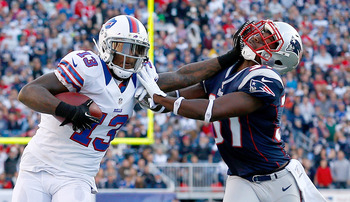 Jim Rogash/Getty Images
Record: 3-6
Postseason Chances: Seven Percent
The Buffalo Bills put up a valiant effort against a superior New England Patriots team, but just couldn't pull it off at the end.
Ryan Fitzpatrick, who played great ball for the most part, threw a key interception late in the fourth quarter that might have cost Buffalo any hopes of earning a playoff spot this season.
It now stands at 3-6 with two pretty tough games on the horizon against the Miami Dolphins and Indianapolis Colts. In reality, Buffalo needs to win both to even go into December with a shot at the postseason.
At this point, it appears that Buffalo will just play out the string and figure out what to do when the regular season concludes. Most notably, its head coaching position and Chan Gailey.
San Francisco 49ers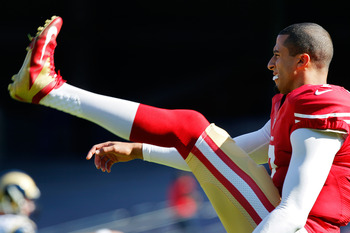 Brian Bahr/Getty Images
Record: 6-2-1
Postseason Chances: 70 Percent
So, that happened. The San Francisco 49ers, coming off a bye, laid another egg against a lesser opponent at Candlestick on Sunday. This represents the third time in nine games that the 49ers just didn't show up to start a game.
Alex Smith went down with a concussion after another hot start. This left the inexperienced Colin Kaepernick behind center. After early struggles, he came through when it counted.
San Francisco's defense yielded over 450 total yards against a weak St. Louis Rams offense, missing, from my estimation, a dozen tackles in the process.
In all, San Francisco was lucky to get out of this one with a tie.
It now has a tough two-game stretch against the Chicago Bears and New Orleans Saints. While it is too early to hit the panic button, the 49ers need to get the ship righted in short order because they didn't look like Super Bowl contenders on Sunday.
Seattle Seahawks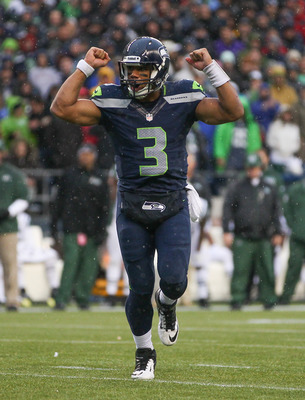 Otto Greule Jr/Getty Images
Record: 6-4
Postseason Chances: 50 Percent
Russell Wilson had one of his worst games of the season, but it didn't really matter, as the Seattle Seahawks destroyed a horrible New York Jets team at home on Sunday.
I am not sure what to make out of this performance because New York just played so damn bad.
What I will say is that Seattle is now 6-4 through 10 weeks and would be in the playoffs if they started today. This is something we probably couldn't have said following its loss to the San Francisco 49ers just a few weeks back.
Seattle must now get to work on the road if it wants to be viable contenders in the NFC West moving forward. Again, that is a broken record at this point in the season.
Arizona Cardinals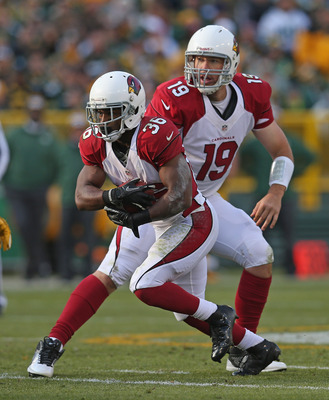 Jonathan Daniel/Getty Images
Record: 4-5
Postseason Chances: 10 Percent
The Arizona Cardinals were off on Sunday, but nothing that happened in the NFC West benefited them. They are still three games behind the San Francisco 49ers in the loss column and tied with the St. Louis Rams for last place in the NFC West in that category.
Arizona's season is probably done at this point. It has lost five straight games and appears to be returning to early 2010 form after a solid 13-game stretch. Whether it is Kevin Kolb or John Skelton behind center, it just cannot get enough time to pass the ball.
Moreover, the Cardinals defense has just stunk it up recently. If that side of the ball continues to play this way, I don't envision this team winning more than two games the remainder of the season.
St. Louis Rams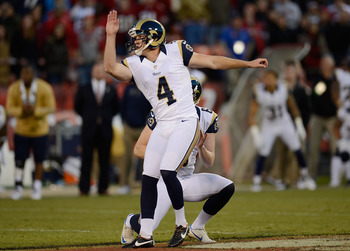 Thearon W. Henderson/Getty Images
Record: 3-5-1
Postseason Chances: 10 Percent
The St. Louis Rams have to be disheartened following their inspired performance on Sunday. To come away with a tie in a game where they completely outplayed their opponent has to be sickening.
That being said, the Rams have no one to blame but themselves. You simply cannot commit 13 penalties on the road against a first-place San Francisco 49ers team and expect to come away with a W. This is the situation that St. Louis found itself in when the clock hit zero and the score was tied at 24.
With just three wins through 10 weeks it is pretty damn easy to count the Rams out of the NFC Playoff picture. They are going to need come up with wins against the New York Jets and Arizona Cardinals over the next two weeks in order for their Week 13 matchup against the 49ers to mean anything.
Atlanta Falcons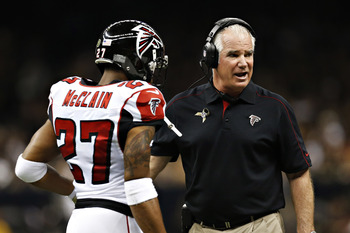 Wesley Hitt/Getty Images
Record: 8-1
Postseason Chances: 95 Percent
The Atlanta Falcons were on the verge of losing a couple games over the course of the past few weeks. In fact, this team has not played a complete game since the 27-3 dismantling of the San Diego Chargers in Week 3.
They let New Orleans stick around on the road and came up with their first loss of the season. Their defense couldn't stop Drew Brees and company, while their offense struggled generating long drives until late in the third quarter. They gained a total of five yards in a four drive stretch spanning the second and third quarters. That isn't acceptable against the worst defense in the NFL.
With all this said, Atlanta still boasts the best record in the NFL and are clear favorites to grab home-field advantage throughout the postseason.
Note: I agree with my readers in the past who suggested a 100 percent chance for Atlanta didn't make much sense. No team should have those odds until they actually clinch a playoff spot. So, I stand corrected.
Tampa Bay Buccaneers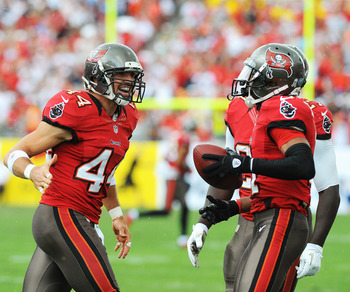 Al Messerschmidt/Getty Images
Record: 5-4
Postseason Chances: 40 Percent
Just like that the Tampa Bay Buccaneers are right back in the playoff picture after winning their third consecutive game on Sunday. Talented young cornerback Leonard Johnson sealed a 34-24 victory in what was a one-score game with an 83-yard interception return for a touchdown against Philip Rivers and the San Diego Chargers.
Doug Martin gained 119 total yards and set the tone early by gaining solid yardage in the first quarter. Meanwhile, Josh Freeman continued playing stellar ball, completing 70 percent of his passes for two scores.
Tampa is now just a half-game out of the playoffs after 10 weeks. It has a winnable game against the Carolina Panthers next week before embarking on a difficult final six-game stretch against the likes of the Atlanta Falcons (twice), Denver Broncos and New Orleans Saints.
Greg Schiano and company have to win four of their final seven games in order to be serious contenders for a postseason spot. That definitely isn't out of the realm of possibility.
New Orleans Saints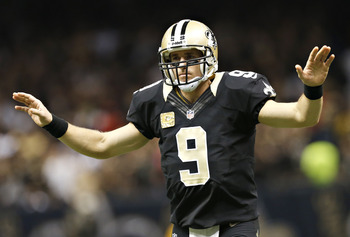 Wesley Hitt/Getty Images
Record: 4-5
Postseason Chances: 20 Percent
What a mighty impressive victory for a New Orleans Saints team that has quickly made itself playoff contenders after a disastrous start.
I have to give credit where credit is due here. The Saints' defense has stepped up a great deal the last couple weeks after downright disgusting performances through the first seven games of the season. If their defense can continue to play like this, there is no doubt in my mind that the Saints will be in contention through December.
It is just hard to imagine that unit playing this type of football on a consistent basis moving forward.
At the very least, New Orleans was able to knock off a previously undefeated Atlanta Falcons team and extend its playoff aspirations another week.
Carolina Panthers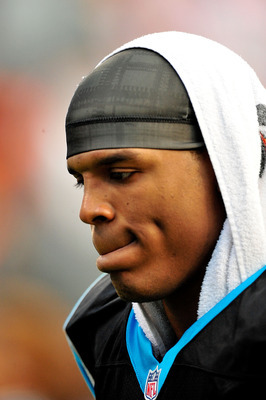 Grant Halverson/Getty Images
Record: 2-7
Postseason Chances: Five Percent
You can see it in the stats; Cam Newton is in the midst of one of the worst sophomore slumps in the recent history of the National Football League. Looking beyond basic statistics, he just seems to have regressed a great deal in terms of field awareness and mechanics. This needs to get straightened out, or Carolina will be looking at a top-three pick in April's draft.
Equally as important, the Panthers aren't playing good football all the way around. The running game struggled to the tune of 52 yards on 21 carries, and Newton threw two more crucial interceptions.
Defensively, it wasn't much better. Peyton Manning threw for 300 yards, while Demaryius Thomas accumulated nine receptions for 135 yards on 11 targets.
Needless to say, Carolina isn't making the playoffs barring some type of amazing run in the final seven games. Even an undefeated record from here on out probably wouldn't get the Panthers in the playoffs.
Back to the drawing board for this talented young team.
Chicago Bears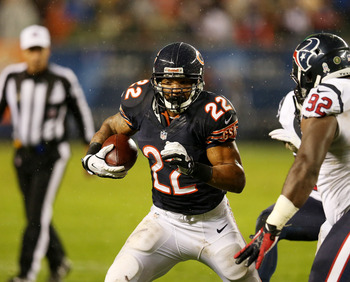 Jonathan Daniel/Getty Images
Record: 7-2
Postseason Chances: 75 Percent
The Chicago Bears' loss to the Houston Texans on Sunday night probably doesn't tell us a whole lot about this team. It had to deal with a Jay Cutler injury and some horrible weather, not to mention one of the best defenses in the NFL.
The result was a 13-6 loss and the end of a six-game winning streak.
It remains to be seen whether Cutler will be able to play next Monday night against the San Francisco 49ers after suffering a concussion. Either way, that game is going to be crucial for both teams in terms of playoff seeding.
Chicago is nearly assured of a postseason spot at this point. It is all about where it is going to be at the end of the season that tells us whether Chicago will contend for the NFC Championship.
As it is, this team is one of the best all-around units in the NFL through 10 weeks.
Green Bay Packers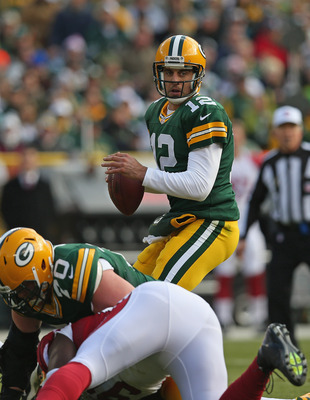 Jonathan Daniel/Getty Images
Record: 6-3
Postseason Chances: 60 Percent
The Green Bay Packers were on a bye this week, but got a tremendous amount of help after the Houston Texans defeated the Chicago Bears last night.
Green Bay now sits just one game behind Chicago in the NFC North and has already won a game against them with one more remaining.
It does have a tough stretch of games moving forward. Green Bay must take on the Detroit Lions (twice), New York Giants, Minnesota Vikings and Chicago Bears in the next five games. Even a 3-2 record during that span should be good enough to get the Packers into the postseason.
Minnesota Vikings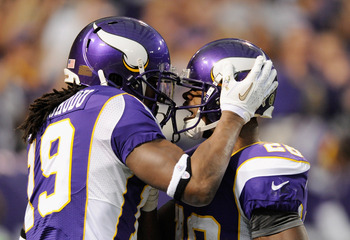 Hannah Foslien/Getty Images
Record: 6-4
Postseason Chances: 30 Percent
That was what you call a "must win" game for both the Detroit Lions and Minnesota Vikings on Sunday. In the end, Minnesota came out on top to break a two-game losing streak.
Christian Ponder returned to early-season form by throwing for 221 yards and two touchdowns in the 34-24 victory. Meanwhile, Adrian Peterson continues to play some ridiculous ball at running back. He now leads the NFL with 1,128 rushing yards and has compiled at least 100 total yards in his last eight games.
Some crazy stuff right there.
Minnesota does, however, have one tremendously difficult schedule moving forward. It must go up against the Chicago Bears and Green Bay Packers twice each, as well as the Houston Texans. Do you see three wins there? If not, the Vikings will be on the outside looking in come the playoffs.
Detroit Lions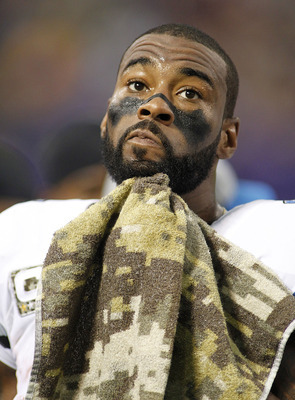 Andy King/Getty Images
Record: 4-5
Postseason Chances: 15 Percent
One could easily come to the conclusion that the Detroit Lions' playoff hopes ended yesterday when they lost to the Minnesota Vikings 34-23. This is a team that now sits in last place in the NFC North and has a whole host of teams to jump in order to make the postseason.
Matthew Stafford got off to yet another slow start before picking it up big time in the second half. Just imagine where Detroit would be if he actually played a complete game this season.
Meanwhile, the Lions defense yielded over 400 yards to a Minnesota offense that was without Percy Harvin. That just isn't going to get it done.
Detroit now has the Green Bay Packers and Houston Texans in its next two games. Anything less than a win against both teams would probably put a nail in the Lions' coffin.
New York Giants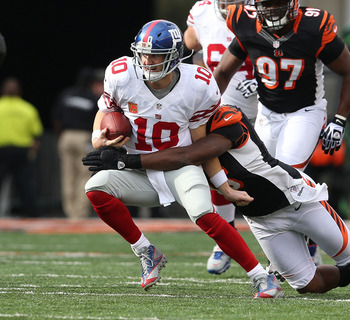 Andy Lyons/Getty Images
Record: 6-4
Postseason Chances: 60 Percent
November just isn't a good month for Eli Manning and company. The New York Giants are 4-10 in this month since 2009. That is simply crazy.
Manning had one of his worst performances of the season, throwing two interceptions and losing a fumble in the 31-13 loss to the Cincinnati Bengals. New York needs him to play good football if it expects to contend for the Super Bowl this season. If not, this is just a mediocre football team.
With that in mind, the Giants are 6-4 and sit two games ahead of the Dallas Cowboys in the win column. Expect them to get back to brass tax during the bye week with Tom Coughlin grabbing his team by the jockstraps.
Dallas Cowboys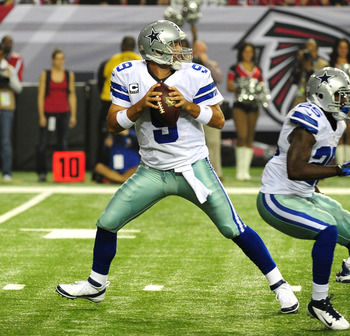 Scott Cunningham/Getty Images
Record: 4-5
Postseason Chances: 40 Percent
If there was ever a must-win for Tony Romo and the Dallas Cowboys, their game against the Philadelphia Eagles on Sunday was one.
Romo came through big time, as did the Cowboys' special teams and defense. This represented one of the best all-around performances for Dallas in the last two or three seasons, and just like that, it is right back in the playoff race.
No one has ever questioned the talent that Dallas possesses. It was all about getting the best out of that collection of talent and making it play like a team. The Cowboys did that yesterday.
With games against the Cleveland Browns and Washington Redskins in the next three weeks, Dallas could become legit playoff contenders when December starts.
Philadelphia Eagles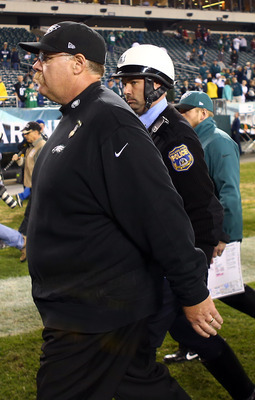 Elsa/Getty Images
Record: 3-6
Postseason Chances: 10 Percent
Done, stick a fork in them. Andy Reid is entrenched on the hot seat, and Michael Vick may no longer be considered their No. 1 quarterback after getting concussed against Dallas.
More importantly, there are going to be wholesale changes sooner rather than later for Philadelphia. It has lost five consecutive games after starting the season 3-1.
Not much more to say here.
Washington Redskins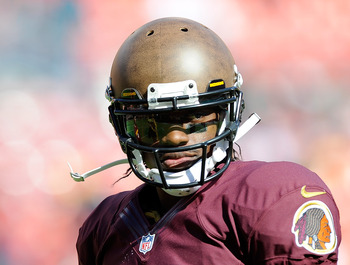 Patrick McDermott/Getty Images
Record: 3-6
Postseason Chances: 10 Percent
The Washington Redskins were on a bye this week, but following their Week 9 loss to the Carolina Panthers, they are clearly out of the NFC Playoff race.
At this point, it is all about getting experience for the youngsters and building an identity throughout the final seven games of the season.
I absolutely love what Washington is building here. It has that franchise quarterback in Robert Griffin III, a strong young running back in the form of Alfred Morris and a solid young core on the defensive side of the ball.
While the future is bright in D.C., the future isn't right now. They are a year or two away from realistic contention in the NFC East.
Follow me on Twitter @VincentFrankNFL
Get your fantasy sports fix over at eDraft
Keep Reading