The Biggest Knock on Each 2012 Heisman Trophy Contender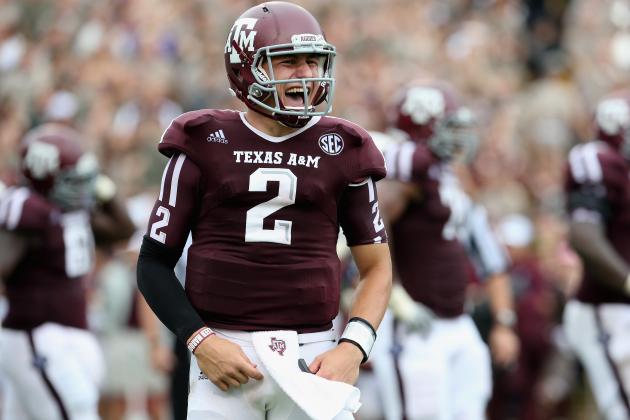 Ronald Martinez/Getty Images

It is only a matter of time before those Heisman ballots are to be turned in. We have seen many brilliant performances throughout the year, and like many years past, this season's Heisman race is as wide open as it has ever been.
The great thing about this year's candidates is that there are a variety of players from which to choose. While recently it has been quarterbacks who have won the award, this season features younger players, a defensive guy, a running back and even a wide receiver.
You can certainly make a case for each and every one of these players, but you can also find a reason why they shouldn't walk away with the hardware.
We have heard all of the positives for the candidates all season long. Here is the one knock on each Heisman candidate for the 2012 season.
Begin Slideshow

»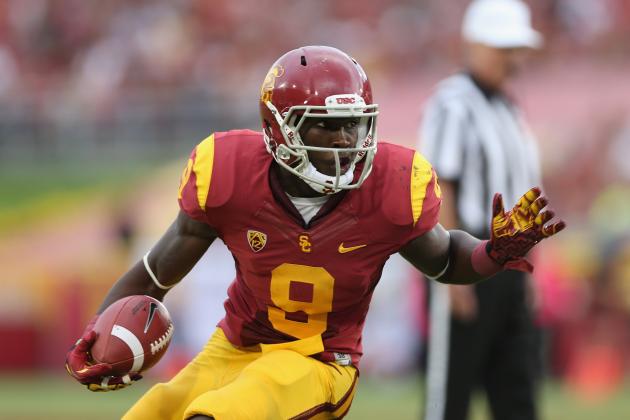 Jeff Gross/Getty Images

Key Stats This Season: 98 receptions, 1,447 receiving yards, 13 touchdowns; 677 kick return yards; 110 rushing yards
Biggest Knock: Team has lost three games
The last wide receiver to win Heisman was Desmond Howard back in 1991, but if there was ever a time to break that streak, it begins with the Trojans' Marqise Lee. Not only does he lead the country in receiving yards and stand third in receiving touchdowns, he also broke single-game Pac-12 records in receiving and kick return yards.
The problem is that USC hasn't even come close to living up to expectations this season, losing three games on the year. This is a team that was not only the favorite to win the conference, but the Trojans were supposed to compete for the BCS National Championship.
It is not only about terrific stats; the team also has to be a winner, and the Trojans haven't been that in 2012.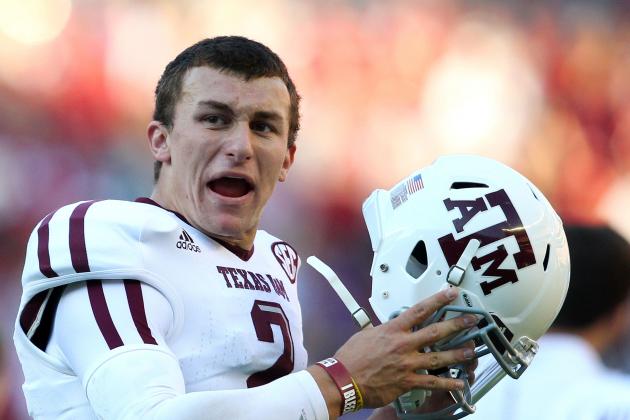 Mike Zarrilli/Getty Images

Key Stats This Season: 67.6 completion percentage, 2,780 passing yards, 1,014 rushing yards and 33 total touchdowns
Biggest Knock: He is a freshman
We have seen many things in Heisman history, but we've have never seen a freshman win the award. Voters try their best to avoid giving the Heisman to a first-year player because he still has time to earn the prestigious hardware.
"Johnny Football" has been nothing short of remarkable this season, and he led the Aggies to a victory over the No. 1 Alabama Crimson Tide, but the conversation ends when everybody finds out that he is a freshman. Former Oklahoma running back Adrian Peterson was a freshman back in 2004 and broke nearly every first-year rushing record known to man, and he still finished second behind quarterback Matt Leinart.
Simply put, it is tough for the young guys to win this award.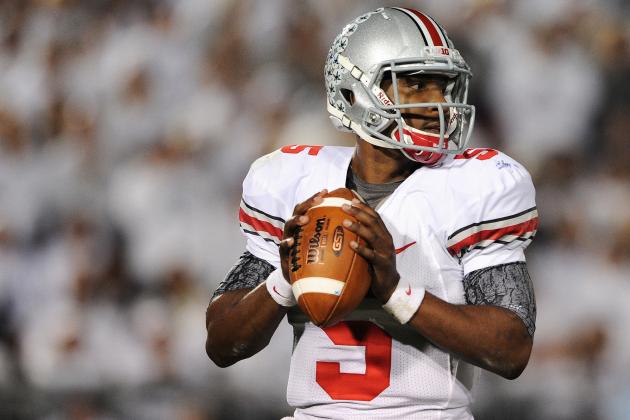 Patrick Smith/Getty Images

Key Stats This Season: 56.9 completion percentage, 1,753 passing yards, 1,166 rushing yards and 27 total touchdowns
Biggest Knock: Not enough attention to his school
The sophomore quarterback makes this Buckeyes offense go.
Not only has he improved his completion percentage a few notches from a year ago, he is also the fourth-leading rusher in the Big Ten, making him one of the top dual-threat quarterbacks in the entire country.
But with Ohio State suffering a one-year bowl ban, the attention isn't on Miller the way it usually would be. The Buckeyes are one of a few undefeated teams, but nobody cares because the team won't be there in the end. You kind of get the same vibe with Miller, as he really isn't receiving the same amount of credit as the rest of the guys on this list.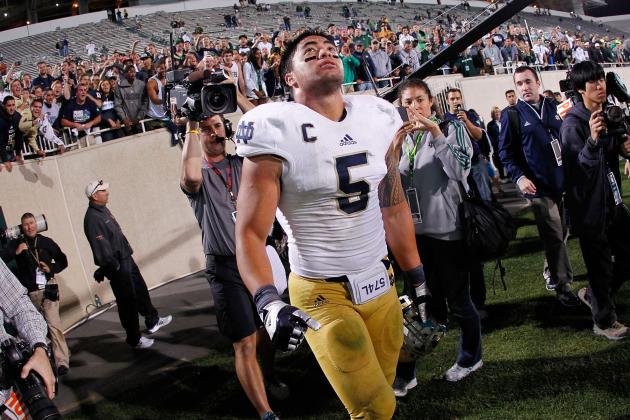 Gregory Shamus/Getty Images

Key Stats This Season: 92 tackles, six interceptions, 1.5 sacks and a fumble recovery
Biggest Knock: He plays defense
Te'o is a terrific player and the leader of this Notre Dame defense, which is the reason the Irish are where they are at the moment in the BCS rankings. He comes up with big plays each and every game and is the ultimate difference-maker on the defensive side of the ball.
However, there has only been one primarily defensive player to ever win the award. Charles Woodson accomplished the feat back in 1997, but the star cornerback also made plays on special teams and offense to help him stand out to the voters.
The senior linebacker only contributes on defense, which makes many believe he won't be treated fairly when it is time to fill out those ballots.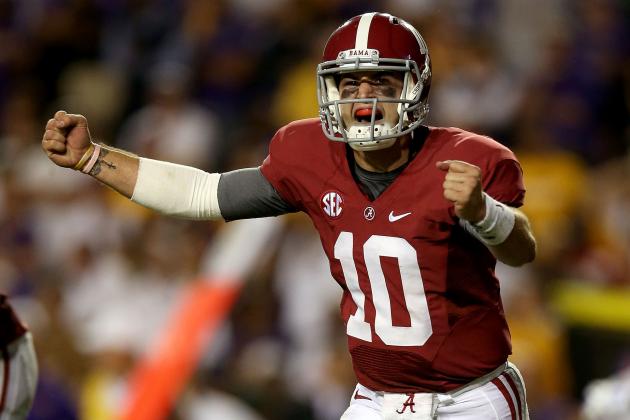 Matthew Stockman/Getty Images

Key Stats This Season: 66 percent completion rate, 2,158 passing yards, 20 passing touchdowns and two interceptions
Biggest Knock: Numbers aren't sexy enough
McCarron has made tremendous progress since last year, as he is completing a high percentage of passes and making far fewer boneheaded decisions with the football. But voters want to see the eye-popping numbers, and the second-year starter simply doesn't have them.
There have been five games where he hasn't thrown for over 200 yards and four where he threw for fewer than two touchdowns, and he threw two interceptions in the Crimson Tide's only loss of the year. His numbers are buried among SEC quarterbacks, let alone the entire competition at the position.
The junior has been great for this Alabama offense, but he isn't blowing anybody away with his performances.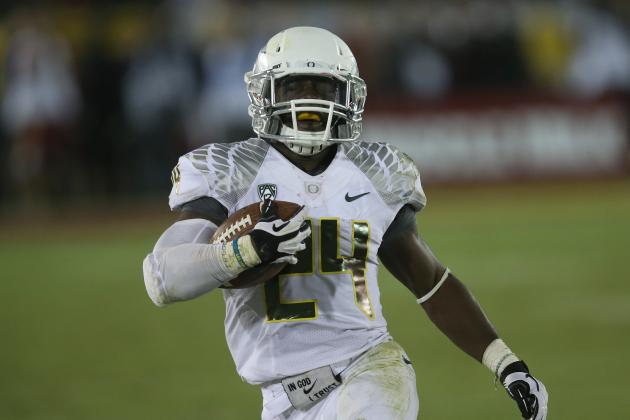 Stephen Dunn/Getty Images

Key Stats This Season: 1,360 rushing yards, 19 touchdowns; 219 receiving yards, one touchdown
Biggest Knock: A product of his team's system
Barner set a new Oregon school record with 321 yards on the ground in the game against USC. He is fourth in the country in rushing yards, and his 19 rushing touchdowns are tied for the second most in all of college football.
But while he may be the most productive player on this Oregon team, he is a product of the Ducks' spread offense. Put anybody in the backfield with head coach Chip Kelly calling the shots, and that player will have off-the-chart numbers as well. We saw it with LaMichael James, Jeremiah Masoli and anybody else who has touched the ball the last four years at Oregon.
Barner is having a season for the ages—he has also produced 81 first downs this year—but his production is really because he is in the right system.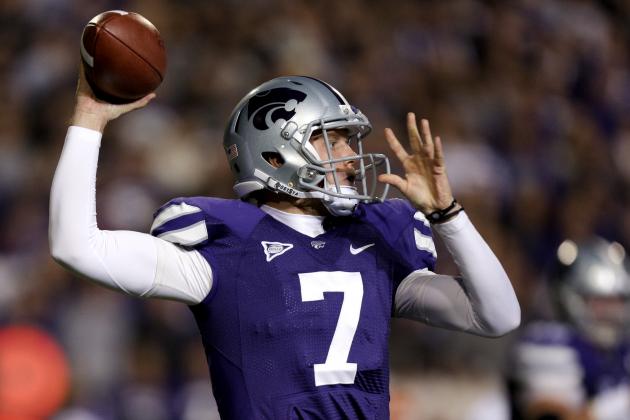 Ed Zurga/Getty Images

Key Stats This Season: 69.7 completion percentage, 2,020 passing yards, 748 rushing yards and 31 total touchdowns
Biggest Knock: Passing numbers could be better
Klein is the Wildcats' entire offense and has produced 31 total touchdowns this season. However, he only has 12 touchdown passes on the year and has gone five games where he hasn't thrown for over 200 yards. The senior quarterback hasn't proven to be consistent with his arm, and that may rub a few voters the wrong way.
Klein is a terrific playmaker, and he has gone six games with at least three total touchdowns, but a few old-fashioned voters may prefer their quarterback to have better numbers in the air than what the Kansas State starter has.