Full Report Card Grades for Colin Kaepernick vs. Rams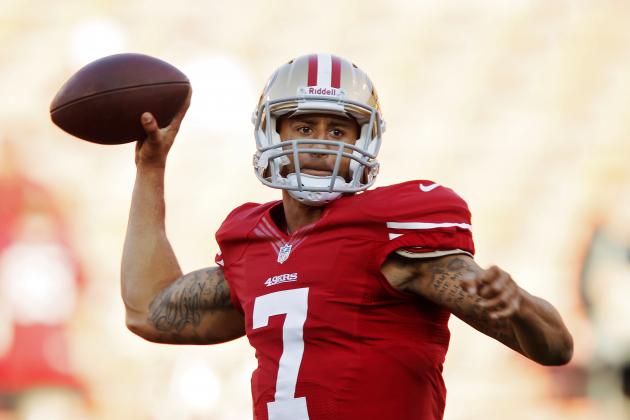 Brian Bahr/Getty Images

Colin Kaepernick was called upon to fill in for Alex Smith on Sunday as the San Francisco 49ers battled the St. Louis Rams.
Smith exited the game with a concussion, and Kaepernick at first did not look prepared to enter the contest.
His first three drives resulted in punts, and San Francisco's offense stalled. Then things turned around, and Kaepernick settled into a rhythm.
The dynamic playmaker led a solid comeback in the second half en route to a 24-24 tie.
Here we will examine full report card grades for Kaepernick's relief efforts.
Begin Slideshow

»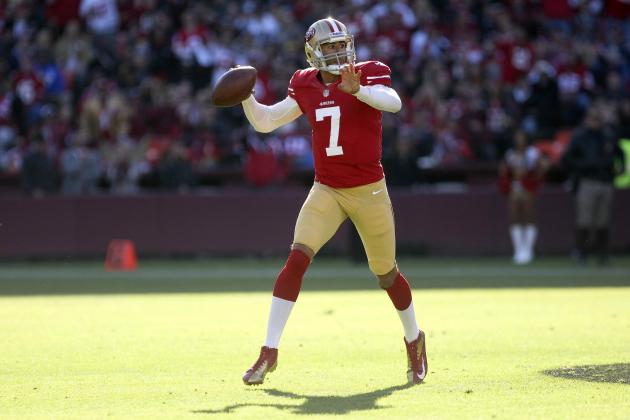 Kelley L Cox-US PRESSWIRE

Kaepernick's accuracy was a true tale of two halves. He began the game 3-of-8 and was throwing the ball behind open receivers.
Apparently, all Kaepernick needed to do was settle in, though, because he proceeded to lead a valiant comeback effort and became a much better passer.
At no point did Kaepernick look like he could be a true pocket passer with a penchant for tough throws over the middle, but he did not make boneheaded plays that cost San Francisco drives or field position.
He averaged only 6.2 yards per completion, so head coach Jim Harbaugh was not letting him air it out too often, but Kaepernick completed the throws he needed to. His accuracy improved greatly as the game wore on.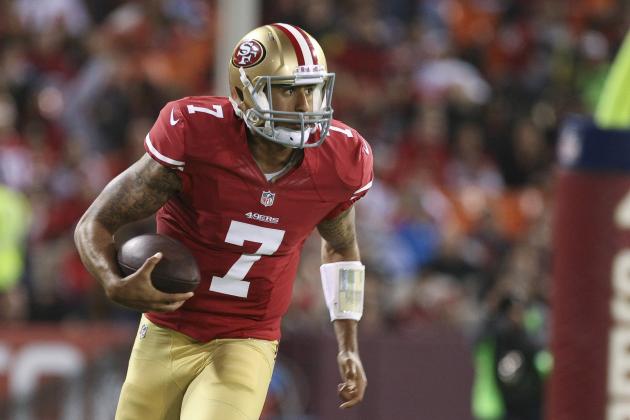 Kelley L Cox-US PRESSWIRE

This grade was quickly headed towards an F, and even that would have been generous after Kaepernick's first three drives.
However, Kaepernick refused to get rattled. He calmly led San Francisco on a scoring drive and then watched as Frank Gore scored after a turnover.
Kaepernick did have four rushes for 21 yards, but he never seemed to be relying on his legs to make plays for him. Under the pressure of a close game in the fourth quarter, the former Nevada star stepped up accordingly.
He led enough drives to get the game to overtime and then played well in the extra time despite not getting the win.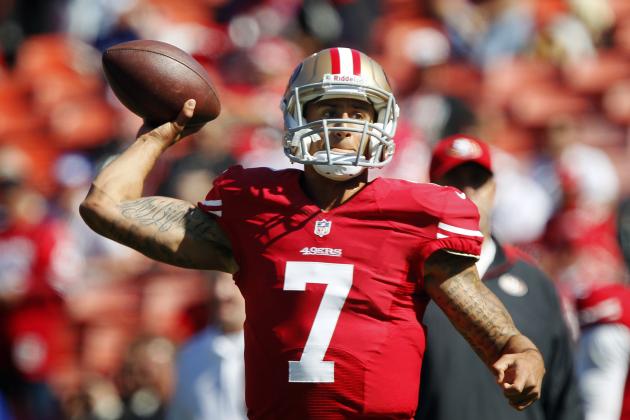 Brian Bahr/Getty Images

What Kaepernick never did was make the type of throw that made you beg for Alex Smith to return to the field.
Is Smith the best option for this team at QB?
Absolutely, but Kaepernick showed a firm grasp of the offense and did not turn the ball over or make poor decisions.
He made some mistakes early, but rebounded nicely and was counted on to produce late in the game.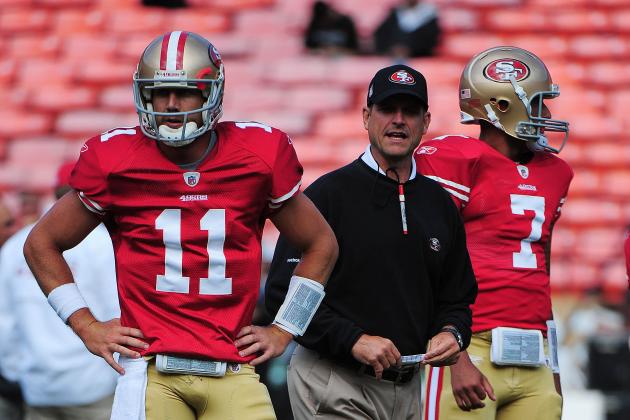 Kyle Terada-US PRESSWIRE

An 11-play 81-yard touchdown drive in the fourth quarter showcased Kaepernick's ability to step up in the most clutch of situations.
He continued his clutch ways in overtime as he led a ground-and-pound drive that ultimately resulted in a missed David Akers field goal.
Kaepernick was not perfect, but he was near it in the clutch moments with the game hanging in the balance. It may not have ultimately resulted in a win, but Kaepernick proved that he can learn from mistakes and play his best football with the game on the line.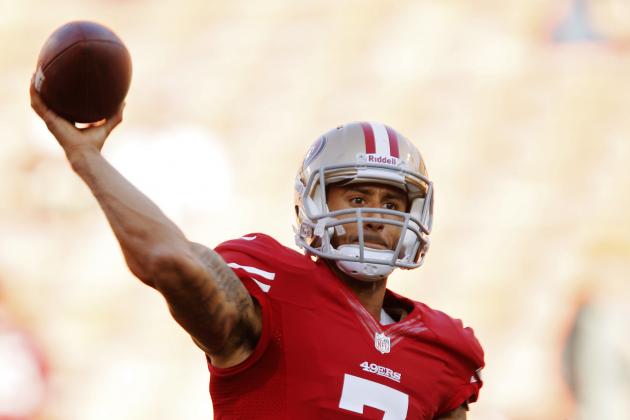 Brian Bahr/Getty Images

If you were judging Colin Kaepernick solely on his first-half performance, you would not be happy.
Luckily, football games have four quarters and Kaepernick made the most of the final two. His 64.3 completion percent was impressive, and so was his ability to run for 21 yards and a touchdown when the opportunity presented itself.
Smith is and should be San Francisco's starting quarterback, but the 49ers have to be pleased with what they saw out of their backup on Sunday.