Syracuse Basketball: Which Players Should Take the Last Shot?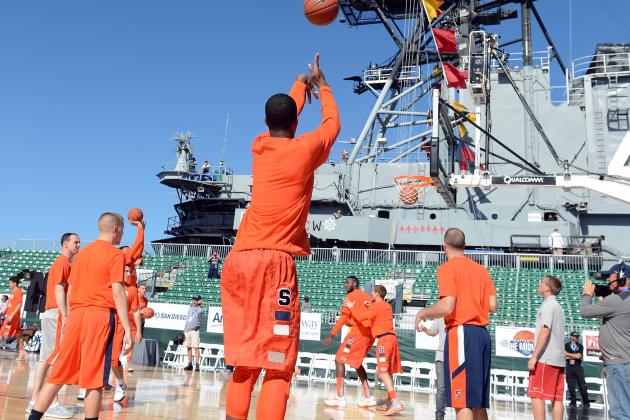 Harry How/Getty Images

Ranked at number nine to start the 2013 season in both the USA Today and AP polls, Syracuse finds themselves in the top ten despite the exit of four of their best players from the previous season. Fortunately for the Orange, the departure of their top gunners has not derailed Syracuse from their quest to capture their second national championship.
Despite the player exits, the Orange maintain their most valuable asset: depth. The Orange have nine players who can come into a game and have the potential to score between 15-20 points. But it is very hard to say which player is the star of the team.
This list will analyze Jim Boeheim's best options when the game is on the line.
Begin Slideshow

»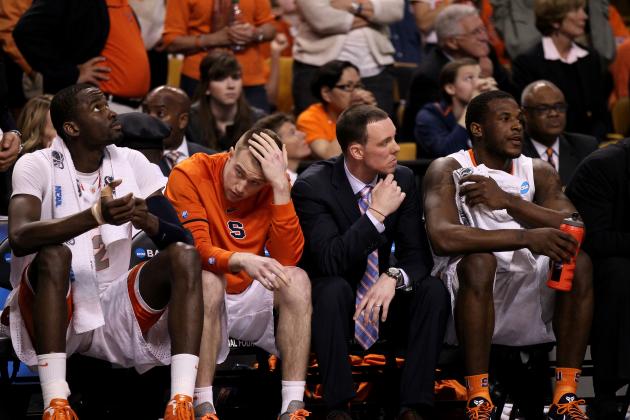 Elsa/Getty Images

After making an intelligent decision to save a year of eligibility by redshirting his freshman year, Trevor Cooney is ready to come in and be a knockdown shooter for the Orange
Cooney has a very one-dimensional game, but he is a shooter. With some experience under his belt, Cooney can evolve into a premier deep threat. Having a consistent shooter roaming the perimeter is a valuable weapon.
Cooney did not shoot while playing only four minutes in the Battle on the Midway. Boeheim will have to give him some more playing time if he wants Cooney to develop his shot.
Even though he is a pure shooter, I would be more comfortable putting the ball in the hands of a more dynamic player with some experience. Cooney could benefit from a few designed plays that would give him some separation.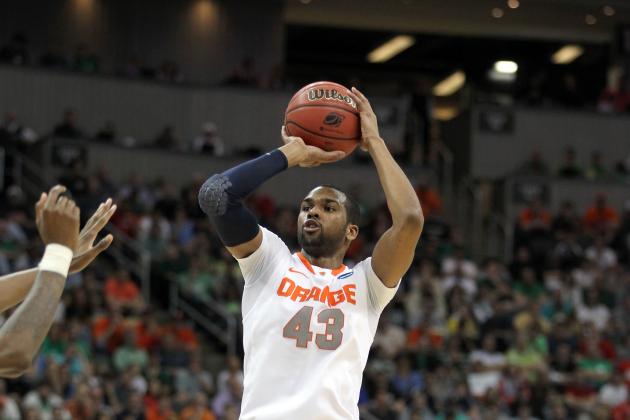 Gregory Shamus/Getty Images

Senior James Southerland has been showing signs of leadership. While everyone's eyes have been on Michael Carter-Williams and C.J. Fair, Southerland has been quietly working his way up Jim Boeheim's trusted list.
In the first preseason game, Southerland led all scorers with 18. That's something the 6'8'' forward is not used to, as he's averaged fewer than seven points throughout his career.
While Southerland has shown some signs of improvement, I would not look to him to be more than an above average role player.
Harry How/Getty Images

Now in his senior year, Brandon Triche has played in his fair share of intense Big East basketball games. Although Triche has been quiet for most of his career, allowing players like Jonny Flynn, Dion Waiters and Scoop Jardine to carry most of the backcourt load, Triche is finally ready for some leadership and responsibility.
Triche is not a bad shooter, but he is not the man to give the ball in the final seconds. Triche's skills are more applicable for penetrating a defense and dishing the ball to a slashing big man, or back out to a perimeter shooter. He is not much of an isolation player or a spot-up shooter.
Nonetheless, Triche is a scrappy player that would make the most out of any opportunity.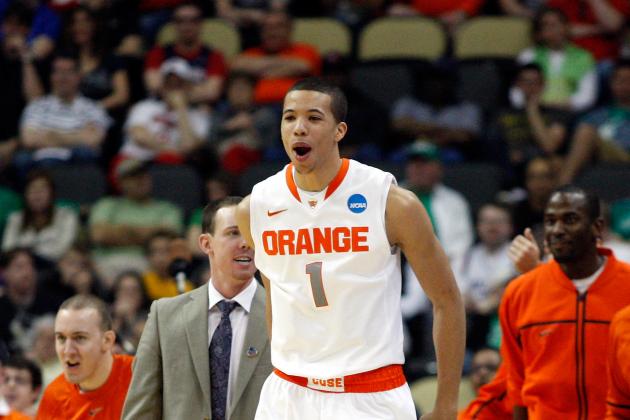 Jared Wickerham/Getty Images

Michael Carter-Williams should be the next breakout player for Jim Boeheim, following Jonny Flynn and Wes Johnson.
MCW has been able to use his great size and athleticism to penetrate defenses and get to the rim, scoring 17 points in the opener against San Diego State. Although he has not had much experience, MCW has shown signs that he will be a very talented player.
MCW still has a lot to prove if he wants to be considered a quality crunch time player. It is quite possible that he will work his way up to number one on this list as the season progresses, but for now, MCW still has some work to do.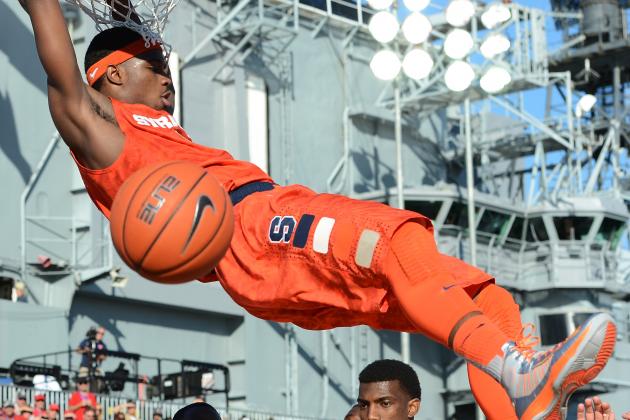 Harry How/Getty Images

C.J. Fair is the most dynamic player on the Syracuse roster.
With the ability to knock down a perimeter shot, Fair can make a move and drive to the rim. Fair can attack on all levels, making him an invaluable weapon for Jim Boeheim. In his third season, Fair has done more than prove himself.
As of right now, Boeheim should make sure the ball is in Fair's hands if it comes down to the last shot.