Unluckiest College Football Teams of 2012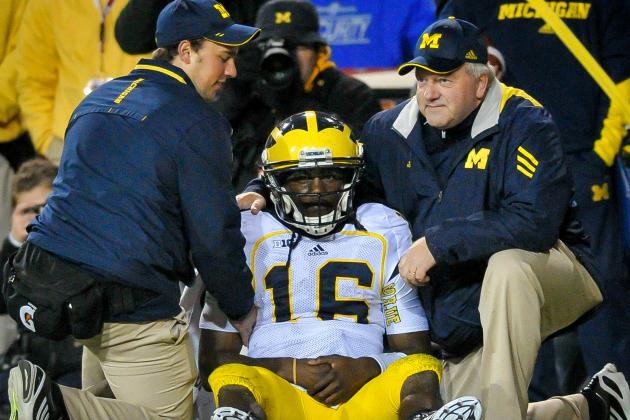 Eric Francis/Getty Images

Several college football programs have endured some unlucky circumstances that have ruined their seasons.
Injuries, tough schedules and upsets can all contribute to a team failing to live up to expectations. Even a star player who has underachieved this season can be the culprit of an unlucky season.
Unlucky circumstances can happen at any point during the season, and the following seven teams probably wish they had a second chance at 2012.
Begin Slideshow

»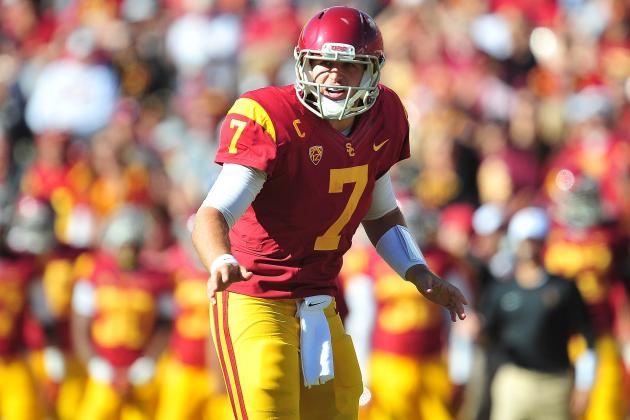 Gary A. Vasquez-US PRESSWIRE

Record (7-3)

Losses Stanford, Arizona, Oregon
Injuries DT Cody Temple, T David Garness, LB Scott Starr, CB Brian Bauchman, CB Isiah Wiley, DE Devon Kennard, DE DeVante Wilson
The Trojans have failed miserably to live up their preseason No. 1 ranking. A 21-14 loss to Stanford in mid-September must have spooked their confidence level because the road has been shaky for the men of Troy.
At 7-3, USC continues to fill a spot in the BCS standings but Matt Barkley's intention of winning the big one before his NFL career begins is pretty doubtful at this point in the season.
Barkley hasn't had as great of season like he did in 2011 when he threw 39 TDs and just seven interceptions. The senior QB has 33 TDs and 13 interceptions on the season, nearly doubling his turnovers from a year ago.
The wide receiver tandem of Marqise Lee and Robert Woods has put up big numbers statistically, but the rest of the offense has contributed hardly anything. The running back trio of Silas Redd, Curtis McNeal and D.J. Morgan have accounted for just 12 TDs on the ground.
Six season-ending injuries and an ineligible player have also contributed to USC's lackluster season.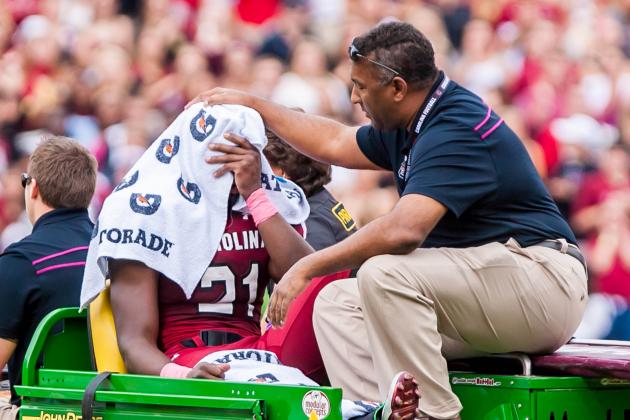 Jeff Blake-US PRESSWIRE

Record (8-2)
Losses LSU, Florida
Injuries RB Marcus Lattimore, T Mike Matulis, RB Brandon Wilds, RB Shon Carson
The Gamecocks started out the season as the No. 9 team in the nation, and a BCS title was not an impossible feat with junior RB Marcus Lattimore running the rock. Sadly, Lattimore suffered a season-ending knee injury against Tennessee, thus ending South Carolina's chances at the title.
Strength of schedule also contributed to South Carolina's unlucky season as they faced off against three top-ranked teams in Georgia, LSU and Florida back-to-back-to-back. the Gamecocks dropped two of three during that three-game skid, forcing South Carolina to take a back seat in the BCS standings.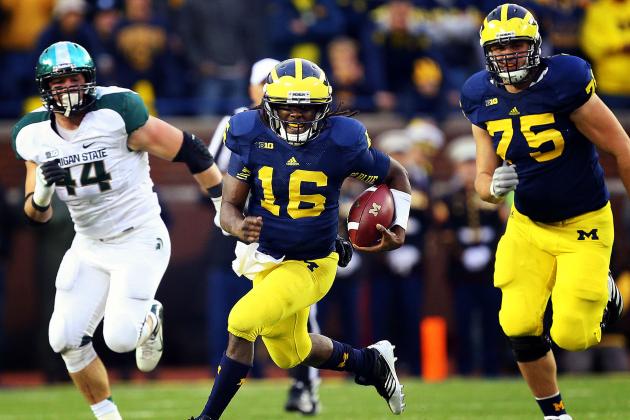 Mike Carter-US PRESSWIRE

Record (7-3)
Losses Alabama, Notre Dame, Nebraska
Injuries DT Nathan Brink, DB Blake Countess, LB Kaleb Ringer, DE Chris Wormley, OL Chris Bryant, LB Antonio Poole
Michigan had the stiff task of opening their season against Alabama, and a 41-14 loss to the Crimson Tide gave the Wolverines a rude awakening to start 2012. On top of that, inconsistency throughout the season led to three losses and less than impressive victories.
Senior QB Denard Robinson has fallen way short of the numbers he racked up last season. Robinson has thrown just nine TDs and rushed for six. A recent injury has also held the Michigan QB out two games since the loss to Nebraska.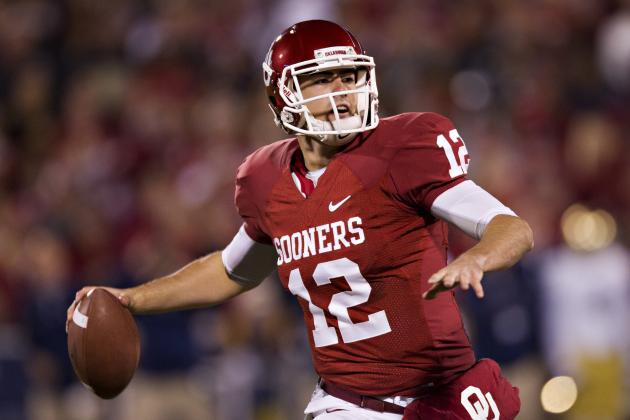 Wesley Hitt/Getty Images

Record (7-2)
Losses Kansas State, Notre Dame
Injuries TE Taylor McNamara, OL Nila Kasitati, FB Marshal Musil, DE Chaz Nelson, OL Tyler Evans
Suspensions WR Chaz Reynolds, DB Trey Franks
The Sooners had a pretty favorable schedule heading into 2012. Little did they know that Kansas State and Notre Dame would be their toughest opponents of the season.
Oklahoma's only losses came against two of the top five teams in the nation, dropping them to the middle of the pack in the BCS Standings after the 30-13 loss to Notre Dame.
Senior QB Landry Jones has severely underachieved this season with the numbers he's been putting up. Jones threw 29 TD passes in 2011 and 38 TDs in 2010. This season, Jones has thrown just 18 TD passes, making 2012 an off year for him.
The Sooners now have the added trouble of facing West Virginia, Oklahoma State and TCU to finish out their season. That list has Oklahoma upset written all over it.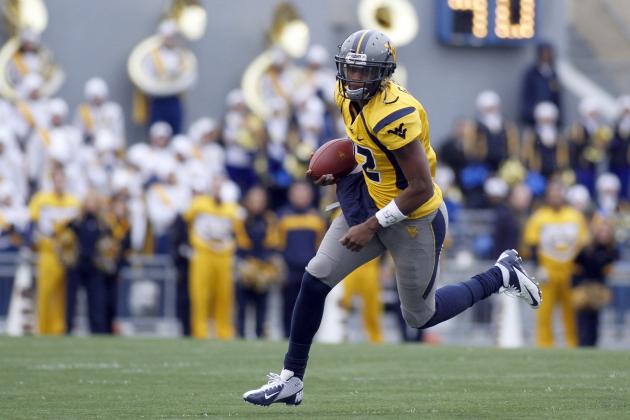 Justin K. Aller/Getty Images

Record (5-4)
Losses Texas Tech, Kansas State, TCU, Oklahoma State
Injuries S Travis Bell, DL Jewone Snow, CB Avery Williams
The Mountaineers were rolling at the start of the season, annihilating their first five opponents with some shocking point totals. However, their season crumbled when they lost Texas Tech 49-14.
West Virginia followed its loss to Texas Tech with three more losses in a row. Since then, the buzz on West Virginia has cooled off immensely.
This team initially looked like it would dominate the FBS, especially with Heisman hopeful Geno Smith making the plays that he does, but the Mountaineers' defense has done nothing to preserve wins.
The defense has allowed an average of 41.4 points a game this season, making nearly every matchup of the season a shootout.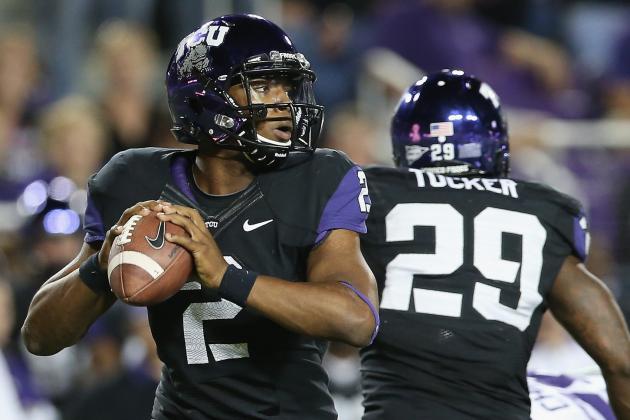 Ronald Martinez/Getty Images

Record (6-4)
Losses Iowa State, Texas Tech, Oklahoma State, Kansas State
Injuries DT David Johnson, C Michael Thompson, RB Waymon James, LB Danny Heiss, DE Ross Forest
Suspensions QB Casey Pachall
TCU had all the makings of a contender with junior QB Casey Pachall under center, but a suspension following a DUI arrest forced the former TCU star to leave the Horned Frogs' season in the hands of a freshman QB Trevone Boykin.
Boykin hasn't played terrible this season, but his lack of experience has prevented the Horned Frogs from coming out on top. With the second half of their season being the toughest yet, the Horned Frogs figure to give Boykin as much experience as possible.
Streeter Lecka/Getty Images

Record (9-1)
Losses North Carolina State
Injuries RB Chris Thompson, DE Chris Casher, DT Jacobbi McDaniel, DB Colin Blake, DE Brandon Jenkins, OL Daniel Foose, TE Dan Hicks, RB Mario Pender
Florida State hasn't performed below standards but one unlucky loss against North Carolina State may have wrecked the Seminoles' season. At 9-1, Florida State's only loss is the 17-16 last second loss to the Wolfpack.
Bryan Underwood's two-yard TD pass to Mike Glennon which upset the Seminoles on Oct. 6 may be the only reason Florida State isn't sitting with the big boys of the FBS in the BCS Standings. The Seminoles still have a chance to be BCS contenders if some major upsets occur in the next few weeks, but that's a discussion for another time.