Fantasy Football's Biggest Winners and Losers from NFL Week 10
Andy King/Getty Images
It's the 10th week of the 2012 NFL season, and if there was one prevailing theme in this week's games from a fantasy football standpoint, it can be summed up with one word.
Drat.
No, wait. That was my fantasy teams, and you fine folks don't care about that.
I meant wow.
There were any number of huge games in Week 10, including a pair of tight ends in the Big Easy that traded punches all day while their fantasy owners giggled with glee.
However, that isn't to say that there weren't a few clunkers as well. So, as we do every week here at Bleacher Report, here's a look at the biggest winners and losers from Week 10 in fantasy football.
Matt Ryan and the Winners at Quarterback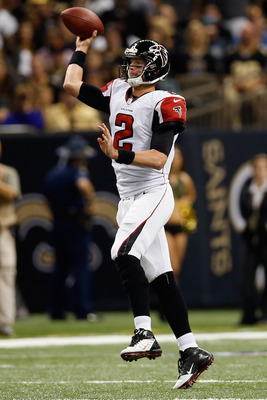 Chris Graythen/Getty Images
The Atlanta Falcons were knocked from the ranks of the unbeaten in a wild 31-27 loss at the hands of quarterback Drew Brees and the New Orleans Saints, but blame for that defeat can hardly be laid at the feet of quarterback Matt Ryan.
Forced into catch-up mode, the fifth-year pro racked up some very nice numbers at the Superdome, throwing for 411 yards and three touchdowns on the afternoon.
Honorable Mentions: Andy Dalton, Cincinnati Bengals (199 passing yards, 4 touchdowns); Joe Flacco, Baltimore Ravens (341 passing yards, 3 touchdowns, 1 rushing touchdown); Matthew Stafford, Detroit Lions (329 passing yards, 3 touchdowns)
Eli Manning and the Losers at Quarterback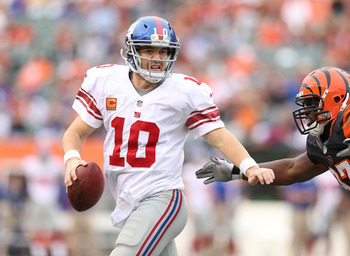 Andy Lyons/Getty Images
Make all the jokes you want about the New York Giants being uncomfortable with a big lead in the NFC East, but if there's one player on that team that's looked uncomfortable of late, it's quarterback Eli Manning.
For the third straight game the two-time Super Bowl MVP failed to throw a TD pass in the Giants' lopsided loss to the Cincinnati Bengals, and the 31-year-old's three turnovers against the Bengals give him five over the woeful three-game stretch.
(Dis)Honorable Mention: Ryan Tannehill, Miami Dolphins (217 passing yards, 3 interceptions)
Adrian Peterson and the Winners at Running Back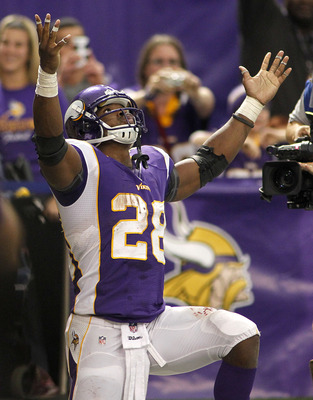 Andy King/Getty Images
If there was any question whatsoever as to who the best running back in the National Football League is, Adrian Peterson of the Minnesota Vikings stiff-armed it in the face in Sunday's win over the Detroit Lions.
The sixth-year veteran rolled for over 170 rushing yards for the second straight week, and the NFL's leading rusher has now gained at least 100 yards with a touchdown in four straight games as he continues his miraculous recovery from last December's torn ACL.
Honorable Mentions: Fred Jackson, Buffalo Bills (115 total yards, 2 touchdowns); Chris Johnson, Tennessee Titans (126 rushing yards, touchdown); Marshawn Lynch Seattle Seahawks (151 total yards, touchdown); Danny Woodhead, New England Patriots (41 total yards, 2 touchdowns)
Reggie Bush and the Losers at Running Back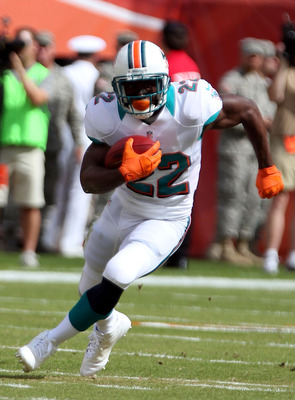 Marc Serota/Getty Images
Heading into the matchup with the Tennessee Titans, the table seemed to be set for Miami Dolphins running back Reggie Bush to have a strong game, as the Titans had allowed the most fantasy points per game to RBs this year.
However, the Dolphins got behind quick and were forced to completely abandon the run game in a 37-3 blowout loss. The end result was a game in which Bush touched the ball all of five times before being benched from a lost fumble.
(Dis)Honorable Mentions: Pierre Thomas, New Orleans Saints (5 carries, 10 yards); Michael Turner, Atlanta Falcons (13 carries, 15 yards); Reshad Jennings, Jacksonville Jaguars (13 carries, 27 yards)
Calvin Johnson and the Winners at Wide Receiver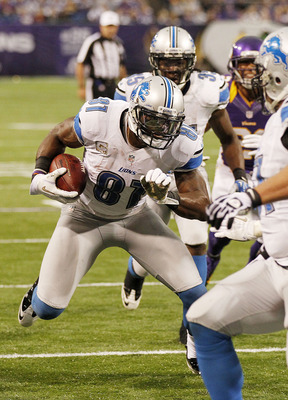 Andy King/Getty Images
It's been a very disappointing year for fantasy owners of Detroit Lions wide receiver Calvin Johnson, who has battled injuries and the Madden curse all season. He still had yet to catch a touchdown pass from Matthew Stafford this year.
Until Sunday, that is.
Not only did the 27-year-old catch that first score from Stafford, but Megatron eviscerated the Minnesota Vikings to the tune of 12 catches for 207 yards in a 10-point loss.
Honorable Mentions: Cecil Shorts, Jacksonville Jaguars (6 catches, 105 yards, touchdown); Torrey Smith, Baltimore Ravens (2 catches, 67 yards, 2 touchdowns); Demaryius Thomas, Denver Broncos (9 catches, 135 yards)
Eric Decker and the Losers at Wide Receiver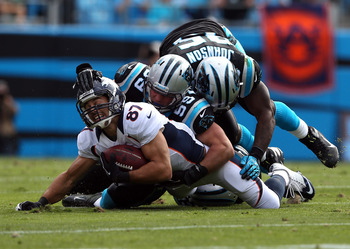 Streeter Lecka/Getty Images
Denver Broncos wide receiver Eric Decker was one of the hottest player at wideout in the league over the past several weeks, racking up five straight games with a touchdown and seven total scores over that stretch.
That all came to a screeching halt in Sunday's win over the Carolina Panthers. While teammate Demaryius Thomas enjoyed a very good game, Decker was all but shut out of the box score, managing only two catches for 15 yards.
(Dis)Honorable Mentions: Steve Smith, Carolina Panthers (1 catch, 19 yards); Victor Cruz, New York Giants (3 catches, 26 yards)
Tony Gonzalez and the Winners at Tight End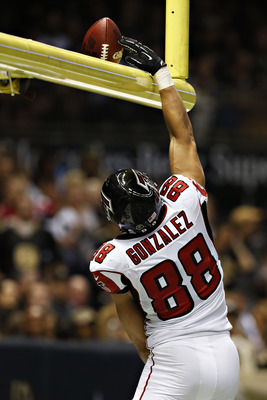 Wesley Hitt/Getty Images
What a week for tight ends.
There were any number of rock-solid fantasy performances by TEs this week that won't even make the cut here, due in large part to the ridiculous numbers put up by two players in the Big Easy.
Jimmy Graham and Tony Gonzalez put on a show in their matchup in New Orleans. And while the Falcons may have come up short on the scoreboard it was Gonzalez that came out on top between the two, posting a gaudy 11 catches for 122 yards and two touchdowns.
Honorable Mentions: Jimmy Graham, New Orleans Saints (7 catches, 146 yards, two touchdowns); Greg Olsen, Carolina Panthers (9 catches, 102 Yards, 2 touchdowns); Kyle Rudolph, Minnesota Vikings (7 catches, 64 yards, touchdown)
Vernon Davis and the Losers at Tight End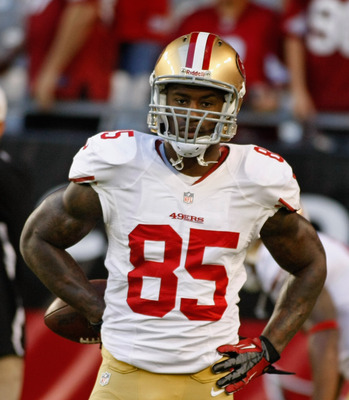 Ralph Freso/Getty Images
It's hard to find any fantasy "losers" at tight end in Week 10, as this was one of the best weeks the position had in quite some time. Even middling options such as Brandon Myers of the Oakland Raiders and Dennis Pitta of the Baltimore Ravens had decent games.
However, the recent slump that tight end Vernon Davis of the San Francisco 49ers has been in extended into Sunday's contest against the St. Louis Rams. While quarterback Alex Smith getting knocked out of the game with a concussion didn't help matters any, that's of little consolation to Davis' fantasy owners.
(Dis)Honorable Mention: Marcedes Lewis, Jacksonville Jaguars (3 catches, 36 yards)
Keep Reading