Lions vs. Vikings: Detroit's Biggest Winners and Losers from the NFL Week 10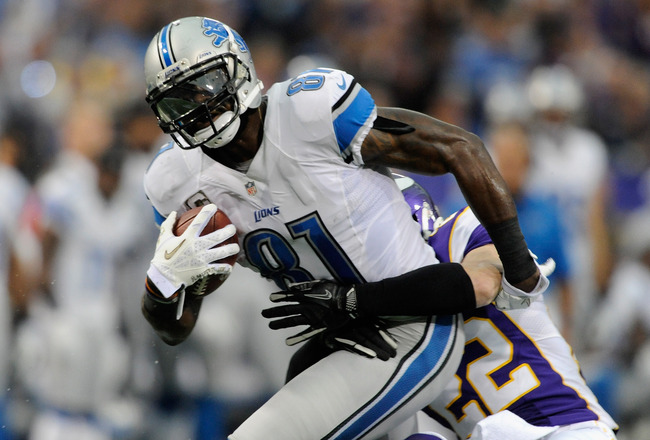 Hannah Foslien/Getty Images
Before the start of the regular season, it was unthinkable that the Detroit Lions would lose both their games to the Minnesota Vikings. Yet as the final seconds ticked off the clock in the Hubert H. Humphrey Metrodome, the unthinkable became reality.
The Lions lost 34-24, and for the second time this season, they were defeated by a Vikings team outperforming their preseason predictions.
The Lions have underperformed theirs, and for that reason, are left to contemplate their playoff chances. They fell to one game under .500 and distanced themselves further from the wild card.
Detroit failed to keep its momentum from last week's victory at Jacksonville. It jumped out to a quick lead against the Jaguars, scoring three touchdowns in the first half. That trend was short-lived, though. Against the Vikings, it trailed by 10 points at halftime and never found its second-half mojo.
Minnesota rolled by giving the ball to Adrian Peterson, and he put the game out of Detroit's reach. The Vikings also took advantage of Detroit's depleted secondary despite missing their biggest weapon, Percy Harvin.
The Vikings controlled the game from start to finish and earned a decisive victory. The only thing the Lions earned was a long flight home. Maybe they'll use the time to figure out how to play a complete game against a quality team.
Loser: Lions Secondary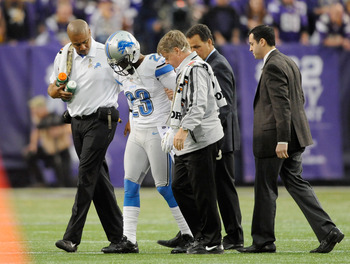 Hannah Foslien/Getty Images
The Lions secondary has been haunted by injuries all year. So it was no surprise to see Eric Coleman, Ricardo Silva and Jacob Lacey in the starting lineup against the Vikings.
It was no reason for alarm either as their backups have been effective. Detroit's passing defense is ranked in the top-10 in the NFL.
It didn't look like it against the Vikings, though. Coleman gave up a 54-yard pass to Jarius Wright in Minnesota's first drive. Three plays later, Chris Houston was late getting to Wright, who scored the first touchdown of the game.
It was all downhill from there for Detroit's depleted secondary. It was on its heels all day and gave up big plays to Kyle Rudolph all game. Minnesota's big tight end looked like Tony Gonzalez against it and racked up seven receptions for 64 yards and a touchdown.
They also failed to get a turnover against Christian Ponder. The Vikings' young quarterback started the season hot, but over the last five games, had thrown eight interceptions.
Against Detroit, he had one of his best games of the season.
To make matters worse, Detroit's best cornerback, Chris Houston, was injured late in the game and did not return. For the Lions, the hits (to their secondary) just keep on coming.
Winner: Nick Fairley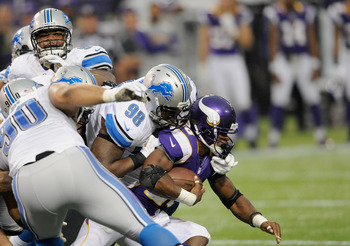 Hannah Foslien/Getty Images
He's been maligned most of the year, and not just for his offseason troubles. Nick Fairley has been criticized for perceived immaturity, lack of discipline and poor work ethic.
Against the Vikings, he was the Lions' best player defensively. Thrust into the starting lineup because Corey Williams was ruled out, Fairley came out hot. He tackled Adrian Peterson for a -twoyard loss and recorded the Lions' first, and only, sack of the game.
He finished with four tackles (three for a loss), a sack and two quarterback hits.
If he strings more performances like this together, he might start living up to his first-round pedigree.
Loser: The Running Game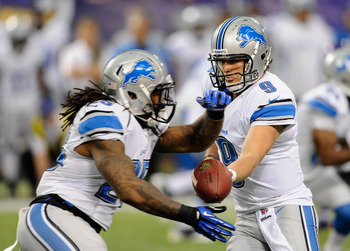 Hannah Foslien/Getty Images
Granted, the Minnesota Vikings defense is probably better against the run than their NFL ranking (18th) suggests. However, it had given up over 100 yards rushing in four straight games entering its matchup against Detroit.
The Lions were coming off their best rushing performance in a very long time. Against the Jaguars, Mikel Leshoure and Joique Bell combined for 143 yards and four touchdowns.
It seemed like the perfect opportunity for Detroit to continue its success on the ground.
It certainly tried. During the first half, it gave Leshoure the ball 11 times, but he ultimately ran into a brick wall.
The Vikings defense only allowed him 43 yards on 3.3 yards per carry.
It wasn't all Leshoure's fault. The Lions offensive line couldn't consistently maintain blocks and made it very difficult to get anything going on the ground.
They could learn something from watching Minnesota's unit. Adrian Peterson ran roughshod over the Lions in the fourth quarter, and the holes his offensive line opened up for him were huge.
Leshoure can only hope he'll be that lucky someday.
Winner: Titus Young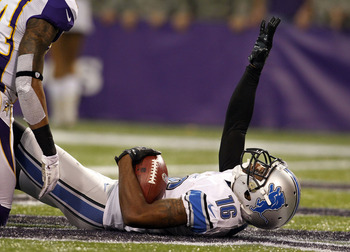 Bruce Kluckhohn-US PRESSWIRE
Titus Young continued to rebound from his slow start by having a solid game against the Vikings. He was targeted seven times, and although he only caught four of those targets, he did not blatantly drop any of them.
He finished the game with four receptions, 35 yards and a touchdown. Not outstanding, but effective.
The biggest win for Young was his touchdown. It came in the fourth quarter, and it was absolutely clutch. His score brought the Lions within a touchdown with over 10 minutes left in the game. It gave them the momentum and set them up another fourth-quarter comeback.
It wasn't meant to be. The Vikings promptly went out and put the game away, but that's not the point.
Young came through when the Lions needed him to. Given his early-season troubles, they can't ask for more than that.
Loser: Calvin Johnson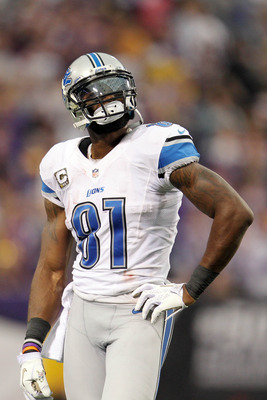 Brace Hemmelgarn-US PRESSWIRE
Calvin Johnson had a monster game against the Vikings. He tallied 207 yards and a touchdown and was the Lions' best player despite his nagging injuries.
Ultimately, he didn't do enough to help his team win, though. In fact, many would argue that his mistake cost the Lions a chance to win the game.
Adrian Peterson had just scored on a 61-yard run to put the Vikings ahead 31-17, and there was over eight minutes left in the fourth quarter. For the Lions, that was plenty of time to mount another late-game comeback.
On the first play of their drive, Matthew Stafford connected with Johnson over the middle for 20 yards. However, on the way down, Johnson let the ball slip out, and the Vikings recovered it.
It was a momentum killer. Worse yet, Minnesota kicked a field goal and increased its lead because of it.
While Stafford connected with Johnson for a touchdown six minutes later, it was too little, too late. The Lions needed to score earlier to have a realistic chance to win,
Despite his huge day, it was Johnson who fumbled the Lions' chances away. In the end, that is all that matters.
Keep Reading

Detroit Lions: Like this team?