Week 2 Report Card Grades for Every Boston Celtics Player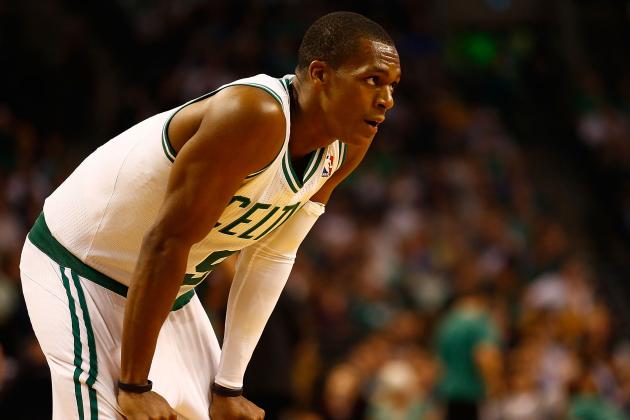 Jared Wickerham/Getty Images
The Boston Celtics have been plagued by inconsistency to start the 2012-13 season.
For a team with sights set on a trip to the NBA Finals, the Boston Celtics have had a rough start to the 2012-13 season. A 3-3 start to the season, with home losses to Milwaukee and Philadelphia, was probably not what the team, or most fans, envisioned for the Celtics.
The good news is that it is a full NBA regular season. Last year's lockout impacted, abridged 66-game schedule is gone, and in its place is the traditional 82-game regular season schedule.
That leaves more time for the Celtics to make adjustments, get healthy and ultimately come together to form a squad that can make a run at the NBA Finals.
The bad news is that the Knicks are already 4-0. The Atlantic Division is tougher, with both Brooklyn and Philadelphia now performing like potential playoff teams. Even the Toronto Raptors have a roster that could gel as the season progresses and mesh into a tough opponent.
Two weeks into the season the Celtics are a mix of good, bad and in-between. How does each individual player grade at this early juncture? Let's take a look.
All stats accurate as of 11/12/12 via espn.com
Begin Slideshow

»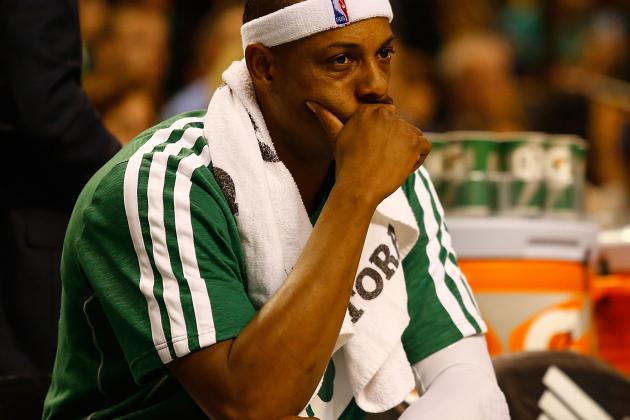 Jared Wickerham/Getty Images
Paul Pierce has struggled from the floor this season.
The numbers look good: 20.8 points, 6.8 rebounds and 3.3 assists per game.
Upon closer inspection a few things stand out.
First of all, the field-goal percentage is bad. It's not "okay." It is bad. Pierce is shooting just 39.4 percent from the floor. For a guy who is a career 44.8 percent from the floor the drop-off has to be a concern for both Pierce and his teammates.
The 6.8 rebounds are a nice looking number, but Pierce is averaging only 0.5 offensive rebounds per game. Players that don't play under the basket and shoot the ball frequently are usually not the best offensive rebounders, but Pierce's average of only 0.5 per game is very weak.
That number's significance is magnified when one considers that the Celtics are currently dead last in the NBA in offensive rebounds per game as a team.
In fact, the team that struggled on the glass all through the 2011-12 season has unfortunately picked up where it left off. The Celtics are 29th out of 30 NBA teams in rebounds per game this season.
Pierce needs to hit some more shots, and if he's not going to hit his shots, then he better start to follow them, or crash the boards on his teammates' attempts, because the Celtics are really struggling on the offensive boards.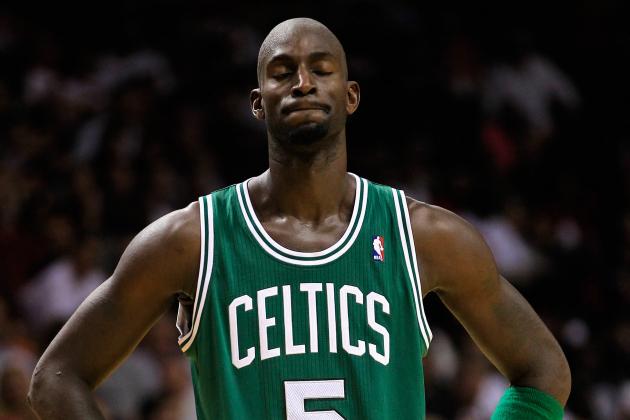 Chris Trotman/Getty Images
Kevin Garnett might not be happy with his team's record, but his play has been pretty solid.
Kevin Garnett is about as important a player as anyone on the Celtics roster.
The team needs Garnett to have a very good season if it hopes to accomplish its lofty goals.
So far, Garnett has been pretty good. In fact he's been about as good as can be expected.
Garnett is averaging 16 points, 8.7 rebounds and 1.17 blocks per game. All solid numbers for a player who has assumed the role of starting center to begin a season for the first time in his 18-year career.
Garnett is putting those numbers up in only 30.5 minutes per game. As with the rest of his team, his offensive rebounding numbers could be better. Garnett only averages 1.0 offensive boards per game.
To his credit he's shooting 50 percent from the floor, making his 16 points per game a fairly efficient and tidy number.
The defense is not what it used to be, but Garnett still plays very tough defense and he does so without picking up a ton of careless fouls. Garnett is averaging only 1.8 fouls per game; that's a good number for a starting center that plays solid defense.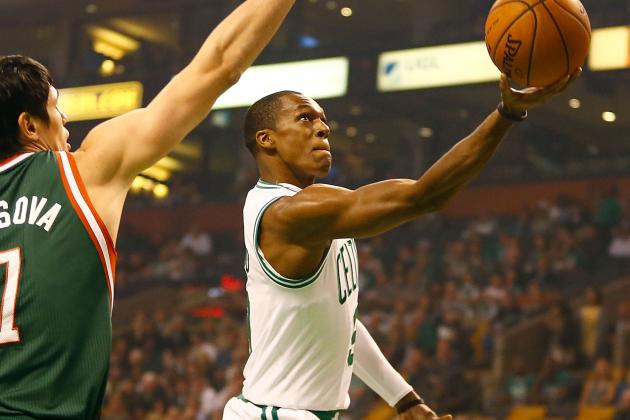 Jared Wickerham/Getty Images
Rajon Rondo is one of the toughest players to defend in the NBA.
Rajon Rondo displayed just how tough a player he is to defend when he almost single-handedly beat the Miami Heat in Game 2 of the 2012 Eastern Conference finals.
He's being counted on to be both a present and future star of the Boston Celtics.
So far in this young season Rondo has been pretty darn good.
His 13.3 assists per game lead the NBA. Rondo is averaging 14.7 points, 4.5 rebounds and 1.8 steals per game as well. Furthermore, he's the team's iron-man, who plays 41.3 minutes per game and Rondo is clearly one of, if not the best Celtics on the floor most nights.
Are there any negatives? Well, Rondo might need to shoot the ball a bit more. He's hitting 50.7 percent from the floor. That's an outrageously good rate for a point guard. Perhaps he should be more aggressive on offense?
Another downside, Rondo continues to struggle from the free-throw line. He is shooting just 55 percent from the charity stripe, making trips to the line less than charitable.
Overall, Rajon Rondo continues to be one of the NBA's best point guards, and one of the best all around players as well.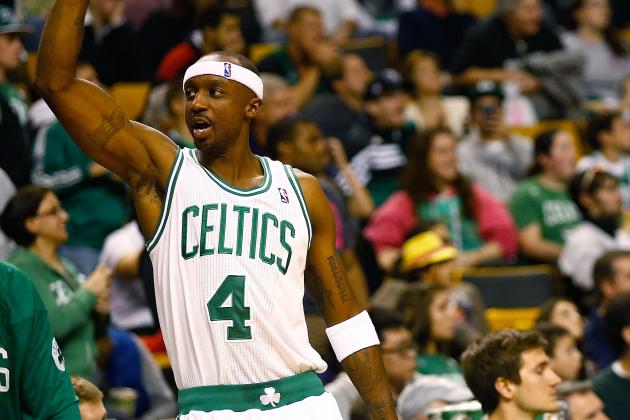 Jared Wickerham/Getty Images
Jason Terry has struggled at times in the early part of the 2012-13 NBA season.
Jason Terry was brought to the Boston Celtics to help fill the hole left behind by the departed Ray Allen.
He may very well end up being as good as or even better than Allen would have been in Boston this season. For now he's struggling to adjust.
Some of the numbers aren't terrible. He's averaging 11.7 points and 2.0 assists per game. Those aren't bad, but Terry is averaging only 0.8 rebounds and .67 steals per game. Terry plays 25.2 minutes per game, and those numbers are too weak for a player who is on the floor for more than half the game.
He is shooting the ball well from the field, the free-throw line and even from beyond the three-point line. The Celtics expect more, though. Terry has to pick it up defensively, and like nearly every single one of his teammates, he needs to hit the glass a bit more.
No one expects Terry to be a force on the boards, but to average less than one rebound a game on a team that really needs rebounding is not acceptable.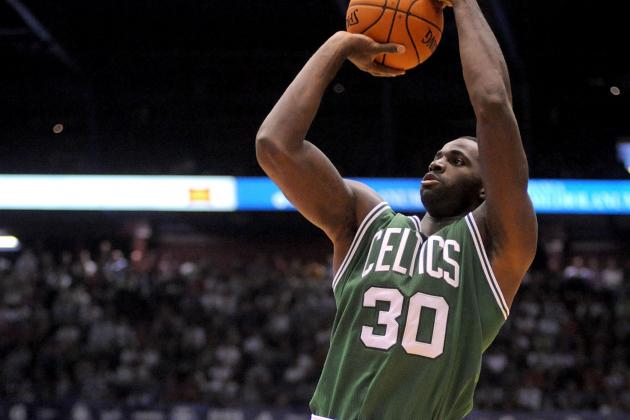 Roberto Serra/Iguana Press/Getty Images
Brandon Bass continues his solid, but unspectacular play.
Brandon Bass is a solid role player. If a team is counting on Brandon Bass to be a nightly scoring or rebounding leader, then that team is in trouble.
If a team is counting on Bass to provide some timely scoring and grab a few rebounds every night, then that's a good sign.
What makes Bass more valuable is that every now and then he'll explode and put forth a stat line that could make a casual fan think Bass is some sort of star.
So far this season he hasn't had that type of night.
Bass has been the team's best offensive rebounder, but his 2.3 offensive rebounds per game are more indicative of how weak the team is in that department than of Bass's offensive rebounding prowess.
Bass has been steady and unspectacular. Sort of like the Celtics as a team.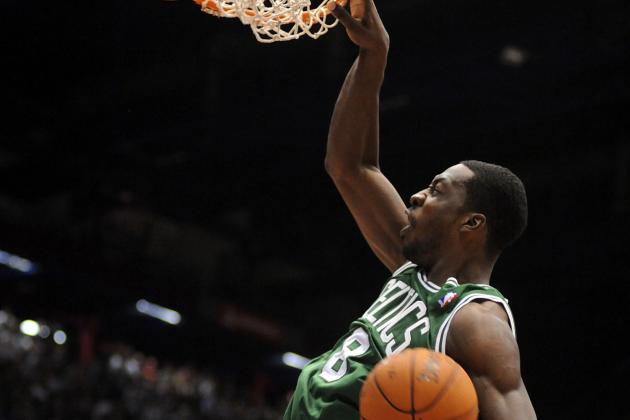 Roberto Serra/Iguana Press/Getty Images
Easy baskets like this, have been tough to come by for Jeff Green this season.
At some point the Boston Celtics are going to need Jeff Green, but will he deliver for them?
Right now it doesn't look like he will.
Or perhaps, Green's performance on Saturday night against the Milwaukee Bucks was a sign of things to come? Green hit some key shots down the stretch to help lead the Celtics to a needed win.
Kevin Garnett has expressed his own opinion as to why Green doesn't produce enough while on the court.
For now, Green continues to contribute a few points, but not enough to make Doc Rivers think about giving him more playing time. Not with a 40.5 percent accuracy rate from the field.
When you add in Green's lack of contributions on the glass or in the assist column, you end up with a talented player who has underperformed in the early going this season.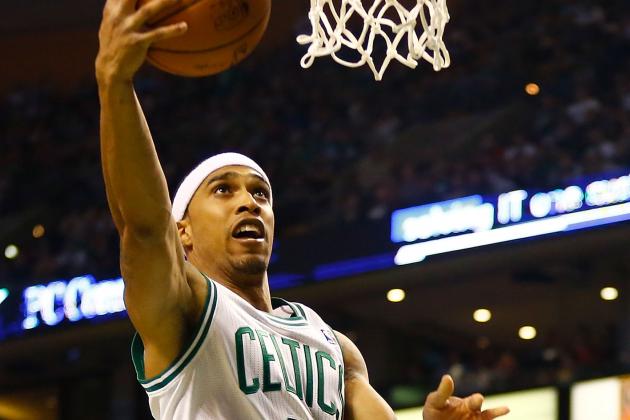 Jared Wickerham/Getty Images
Courtney Lee has had his ups and downs in this young season.
Courtney Lee and Jason Terry are both guards whom the Celtics acquired over the summer, and both players have struggled to adjust to their new surroundings.
Lee has actually started five of the six games this season; his minutes are nearly identical to Terry's. Unfortunately, his production is not as good.
Of the seven players on the Celtics who are averaging more than 20 minutes per game, Lee has attempted the least number of shots. He has the weakest overall stats of any Celtic playing that many minutes.
Lee is averaging a paltry 5.0 points per game, and he's shooting only 41.9 percent from the floor.
If one had to pick a player who would suffer a major loss of minutes when Avery Bradley returns from injury, Lee would be the guy as of now.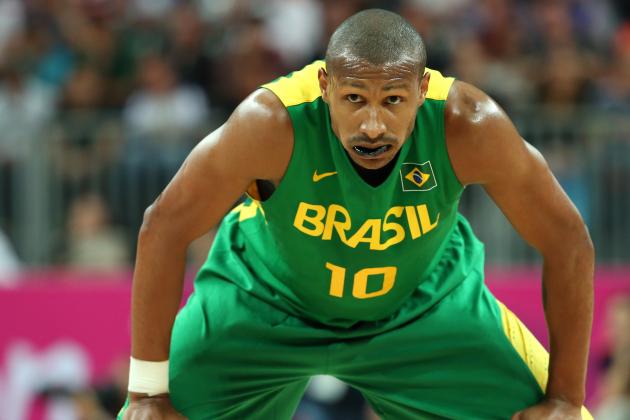 Christian Petersen/Getty Images
Leandro Barbosa spent the summer of 2012 playing for Brazil's Olympic Squad.
It's tough to be too critical of Barbosa's performance.
After all, he was signed by the Boston Celtics on October 18th. That's less than two weeks before the team's first game against the Miami Heat.
If you think about how much time guys like Terry and Lee had to learn the Celtics' system, and how they've struggled in the early going, it is easy to understand why Barbosa's minutes and impact are so limited this early in the season.
Barbosa's grade is more of a reflection on his ability to learn and produce down the road, and not on what he's done so far.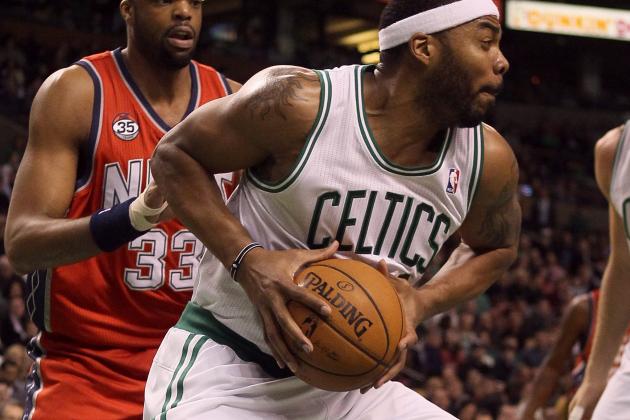 Elsa/Getty Images
It has been encouraging to watch Chris Wilcox bounce back from heart surgery that caused him to miss the second half of last season.
Chris Wilcox is only playing 8.2 minutes per game, so naturally his stats aren't going to impress anyone.
It has been nice to watch Wilcox reemerge as a viable NBA player following season-ending heart surgery last spring.
That story doesn't change the fact that while he has been on the court he's been very limited in his production. Wilcox is part of a large group of Celtics who have yet to play like a cohesive unit while on the court.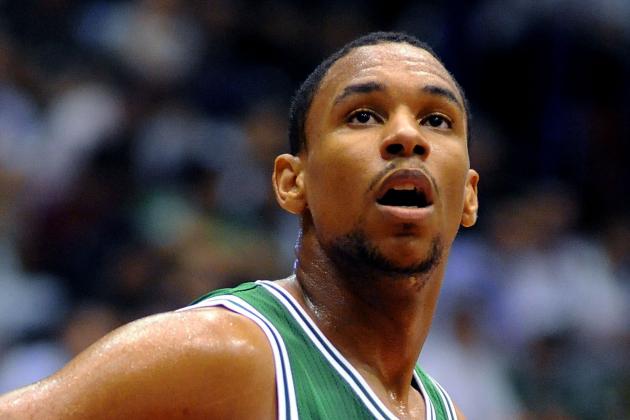 Roberto Serra/Iguana Press/Getty Images
Jared Sullinger has played like a rookie, but he's also started three games.
When one watches Jared Sullinger play, there's little doubt that he's a rookie.
In spite of his lack of experience, Sullinger has already started three games for the Celtics. That's no small feat considering head coach Doc Rivers' traditional hesitance to allow rookies to play meaningful minutes.
Sullinger has started at power forward, and while he's not cleaning the glass the way people ultimately expect him to, his rebounding numbers of 4.5 per game in just 17.8 minutes per contest translate to 12.1 per game in 48 minutes.
Those are very solid rebounding numbers, and playing on a team that is desperately in need of a player to make rebounding his number one priority, Sullinger may be a rookie in the right place at the right time.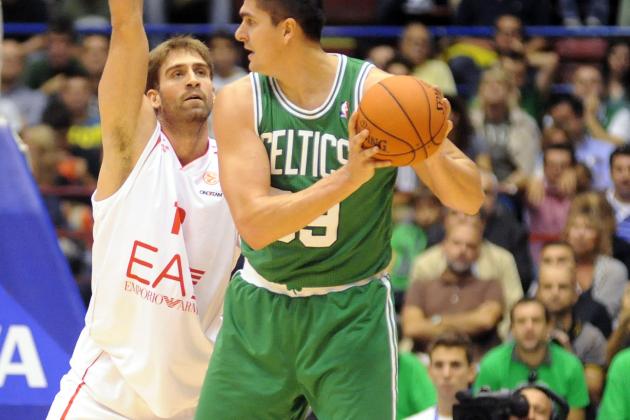 Roberto Serra/Iguana Press/Getty Images
Finding Darko? Not yet, Darko has only played a total of five minutes this season.
Kris Joseph was the Celtics' second-round pick in the 2012 NBA draft.
Darko Milicic was the No. 2 overall pick in the 2003 NBA draft. He was drafted by the Detroit Pistons but he never became the player he was hyped to be when he was selected with such a high pick.
Both players arrived in the NBA with vastly different expectations, but right now they're both just trying to keep their spots on the Celtics' roster.
Combined, the two players have amassed a total of eight minutes.
After a total of six games, the two players just haven't played enough to warrant a grade. For now the two players will continue to ride the pine in hopes of seeing some playing time.