Another week, another display of disgusting offensive football from the New York Jets.
In a winnable game that could have turned around the Jets' entire season, Mark Sanchez and the offense laid one egg after another as they failed to register a single point against a good Seahawks defense.
The Jets were trailing just 14-7 going into the fourth quarter, but the seven-point deficit might as well have been a 70-point hole.
After Sanchez's interception at the 10:55 mark of the second quarter, the Jets advanced the ball past the Seahawks' 45-yard line just one time. That drive ended with a Sanchez fumble.
The foul play by the team's offense overshadowed a strong effort by the defense. The Jets' pass rush finally showed up and was led by Muhammad Wilkerson and Quinton Coples. It was encouraging to see the two fledgling defensive lineman flash the potential that made them first-round picks.
However, that's just a small silver lining in an otherwise pitiful performance.
With the Jets' season hanging on by the last fiber of the thinnest thread, here's a deeper look at the Instant Impact from the 28-7 loss.
Champ of the Game: Muhammad Wilkerson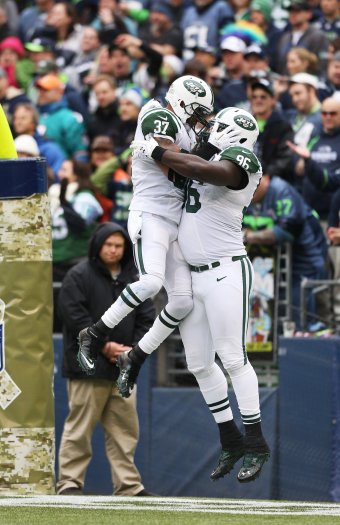 Otto Greule Jr/Getty Images
It wasn't the same as Joe Namath guaranteeing a Super Bowl II win, but at least give credit to Wilkerson for backing up his words. On Friday, Wilkerson said the Jets defense would rattle rookie quarterback Russell Wilson and then he went out and backed up his claim.
Wilkerson led the way as the Jets defensive line put together their best performance of the season. He finished with seven tackles and also had a number of early big plays. He scooped up a Wilson fumble and returned it for his first career touchdown to get the Jets their first touchdown.
Wilkerson also forced a fumble and made plays from sideline to sideline all day. It was a performance befitting a first-round draft choice and hopefully something he can build off of.
Chump of the Game: Mark Sanchez
This wasn't the performance Sanchez needed after his putrid display in Week 8 against the Dolphins, to say the least. Sanchez again looked scared and rattled against an aggressive Seahawks defense. The Jets struggled to protect Sanchez, but even when they gave him time, he didn't do anything with it.
The biggest killer of the afternoon was his goal-line interception when this was still a game. Not only was Dustin Keller initially open in the play, but Stephen Hill was wide open in the end zone as well.
On top of his awful statistics, Sanchez for the first time looked visibly frustrated at being removed constantly for Tim Tebow.
The Jets don't play a defense as good as this for the rest of the season, so this is the last time there is any excuse for a performance like this.
Defensive Star: Mike DeVito
DeVito looked very active and refreshed coming off the Jets' one-week vacation after their loss to the Dolphins. DeVito sacked Russell Wilson and forced a fumble that was recovered by Wilkerson. It was just DeVito's second solo sack of his career.
DeVito finished with five tackles, including two in the backfield.
Offensive Star: Tim Tebow
Mark Sanchez Instant Impact approval rating
Tebow saw extensive action today and was even allowed to throw the ball a few times. He completed all three of his passes for eight yards and ran four times for 14 yards. The fact that someone with 22 total yards was considered the offensive star of the game tells you just how disgusting the offense was in Week 10.
Special Teams Star: Robert Malone
Thanks to the Jets disastrous offense, Malone saw a lot of action today. He had seven punts and finished with a 45.9 yard average. Malone showed his versatility again, booming punts when he needed and pinning the Seahawks inside their 20 with short, high punts when the situation called for that.
Malone had a long punt of 56 yards and put four punts inside the 20-yard line.
Key Injuries
Bilal Powell suffered a concussion in the fourth quarter. His status for next week's game against the Rams is likely to be doubtful
Turning Point of the Game
Believe it or not, up until the 11:00 mark of the second quarter, the Jets were actually outplaying the Seahawks. The Jets defense was matching the Seahawks' aggression and had come up with two big takeaways. Marshawn Lynch was bottled up to that point, and Wilson was running for his life on almost every play.
With the Jets about to take the lead on Seattle, Dustin Keller committed a false start on a third-and-one, forcing the Jets away from a run and into a pass. On the next play, Sanchez double-clutched when trying to get the ball to an open Keller in the end zone. The hesitation allowed Richard Sherman to step in front of the pass for the pick.
Sanchez was never the same after that play.
The Rookie Report
Quinton Coples played one of his better games of the season today. Although he had just two tackles, one went for a three-yard loss as the Seahawks were looking to tack on points at the end of the first half.
Coples also had a key play that didn't turn up in the box score. On Lynch's fumble, Coples pushed his blocker into Lynch and into Wilkerson, who was credited with the forced fumble. The Jets defensive line had a presence in the Seattle backfield today, and Coples was a big part of it.
Stephen Hill had a couple of targets but no catches. All of the Jets wide receivers, including Hill, had trouble getting any separation against the big Seahawks secondary.
Best Coaching Move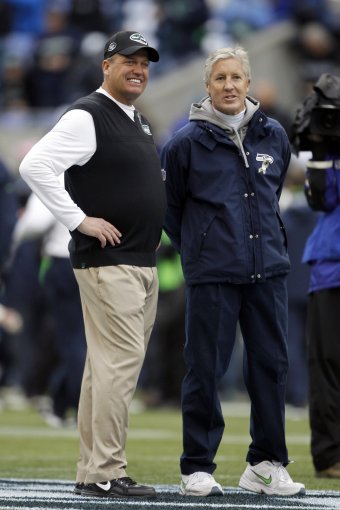 Joe Nicholson-US PRESSWIRE
You have to reach back early into this game for any kind of positive from the coaching staff. On fourth-and-one on the first drive of the game, Rex Ryan chose to go for it to try to establish some momentum for his offense.
The decision itself was a good one, but it was ruined by an atrocious play call from Tony Sparano. Instead of running behind Nick Mangold, D'Brickashaw Ferguson or Matt Slauson, Sparano instead ran behind Jason Smith and Lex Hilliard. Predictably, the play was stopped for a loss.
NFL Personality Tweet of the Game: Trey Wingo, NFL Live
we'd like to thank the Jets for their participation in the 2012 regular season, and wish them all the best in their future endeavors

— trey

wingo

(@wingoz) November 11, 2012
Joe Namath Tweet of the Game:
A combination of good coverage and pass rush led to Wilkerson's touchdown. Nice goin defense!

— Joe Namath (@RealJoeNamath) November 11, 2012
Great Quote From the Booth
"The only issue you have is that once you make the switch [to Tebow], you can't go back. If you do make the switch, it's such a departure from who they are as an offense. You have to have a complete package of plays. I'm not talking about 15, I'm talking about 80 or 90 or 100 plays for Tim Tebow. I just don't see them making that switch."—Rich Gannon, CBS color analyst.
The Refs Blew This One
Although it came with less than five minutes left in the game and didn't have any bearing on the game, Yeremiah Bell was flagged for an illegal blow to the head on a defenseless receiver.
First, Bell could have completely laid out Robert Turbin, but let up to avoid such a penalty. Second, he didn't lead with his head, leap off the ground or do anything else that even resembled any kind of malicious intent.
It was just a run-of-the-mill play with a defender breaking up a pass with minimal aggression.
Mark Sanchez Instant Impact Approval Rating
Week 8: 36.1 (Dolphins)
Week 7: 72.9 (Patriots)
Week 6: 87.0 (Colts)
Week 5: 65.7 (Texans)
Week 4: 24.3 (49ers)
Week 3: 66.7 (Dolphins)
Week 2: 72.4 (Steelers)
Week 1: 98.9 (Bills)
Did you Notice?
Sanchez was named a game captain as a birthday gift from Rex Ryan.
On the Jets failed fourth-and-one conversion, they tried to run behind Jason Smith, Lex Hilliard and Austin Howard. Every one of them was pushed backward, including Smith, who ended up on the ground.
The Jets' failed fourth-down conversion was just the second time they didn't convert a fourth down in eight attempts this year.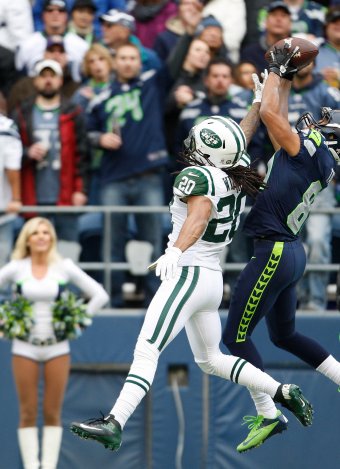 Kevin Casey/Getty Images
On Golden Tate's first quarter touchdown, the Jets sent six defenders at Wilson, but none got close to getting any pressure.
Wilkerson's fumble recovery was the first of his career, as was his touchdown.
Bart Scott had his first sack of the season in the first quarter. Wilkerson was a step behind him in case Scott missed the opportunity.
Calvin Pace whiffed on a potential sack on the play after Scott's sack. It was a good thing he did though. Pace's miss allowed DeVito to step in and force the fumble that resulted in the Jets' only touchdown of the game.
When Jeremy Kerley fumbled his punt, both Ellis Lankster and Aaron Berry ran past the play. Lankster had an excuse, as he stuck with the man he was blocking as he went past Kerley. Berry however was caught in no-man's land and relegated to being a bystander on the play. Kam Chancellor, the player Berry should have been blocking, recovered the fumble.
Antonio Cromartie used his tremendous closing speed to break up a flea-flicker attempt by the Seahawks. Cromartie didn't bite on the initial run, but he did relax his coverage sightly. Sidney Rice had a three-yard lead on Cromartie when the ball was thrown, but Cromartie recovered to break up the play.
Wilson made a tremendous play on a screen to help set up the Seahawks' second touchdown. Wilkerson, Coples and Bryan Thomas all closed incredibly quick on the rookie quarterback and looked like they would record the sack. However, Wilson flipped the ball out to Lynch, who took it 27 yards to the Jets' 20-yard line.
On Bruce Irvin's second sack of Sanchez, Hilliard and Austin Howard had a miscommunication, allowing Irvin a free run at Sanchez. The Jets had three blockers on the right side of their line against one pass rusher, and the pass rusher won.
Scott took a poor angle on Lynch, allowing him to break off a 17-yard run to start the fourth quarter. Sidney Rice caught a touchdown pass on the next play.
Just as they did on Golden Tate's touchdown catch, the Jets rushed six defenders at Wilson on Rice's touchdown and didn't get there.
Calvin Pace was fooled so badly on a read-option by Wilson that he ran right past the ball carrier and attempted a tackle on Lynch, who didn't even have the ball.
What This Means Now
The questions that arose after their loss to the Dolphins will become more intense leading up to their game next week against the Rams. Ryan has already stated that there won't be a change at quarterback, so the angry mob will keep getting angrier.
The Jets likely need to go on a 6-1 stretch to make the playoffs. If they can somehow beat the Rams next week in St. Louis, the Jets would stand at 4-6. That would be the identical record they had in 2009, Ryan's first year with the Jets.
Things don't look good at all, but teams have bounced back from worse.
Next Week
The Jets travel to St. Louis next week to take on their old buddies Brian Schottenheimer, Wayne Hunter and the Rams. Kickoff is set for 1 p.m. ET. The Rams are coming off a rare tie against the San Francisco 49ers and haven't won a game since October 4. The Rams have given up a combined 99 points in their past three games, so if the offense can't do anything next week, they never will.
Look for RC Cos' Instant Impact immediately following every Jets game this year. For even more analysis and for all Jets' breaking news, follow the B/R Jets Report on Twitter: @BR Jets_Report.