Chelsea vs. Liverpool: Rating Both Sets of Players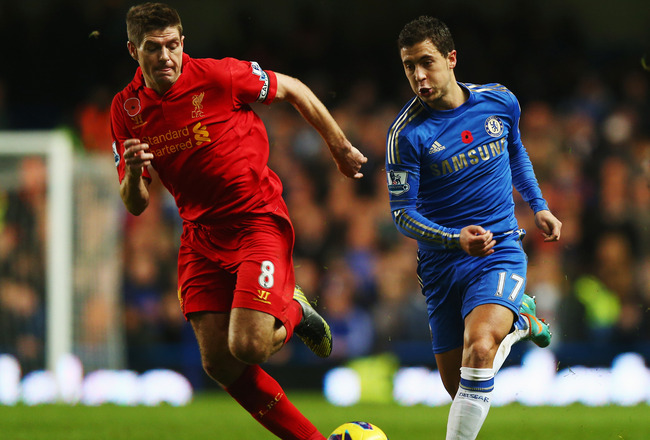 Clive Rose/Getty Images
Chelsea and Liverpool tied 1-1 in their Premier League match at Stamford Bridge.
Neither side was completely dominant in this game and two goals from set pieces provided the end result.
John Terry returned to lead out the Chelsea side and it was his header that put the home team in front, but he eventually came off the pitch with what looked like a very serious injury.
Luis Suarez equalized late in the second half for Liverpool after Jamie Carragher flicked on a corner.
Here are the ratings for players on each team.
Chelsea Player Ratings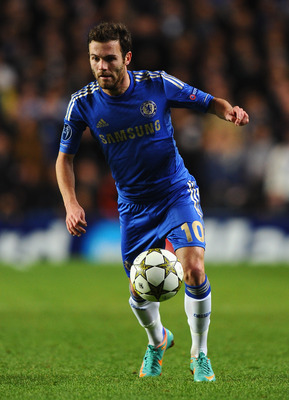 Mike Hewitt/Getty Images
Petr Cech: 7
Cech really didn't have much to do throughout the game, but did make two important saves in the second half. He read the game well and cleared the ball after Luis Suarez was sent through and he made a good save at his near post for Jose Enrique's effort late on.
Cesar Azpilicueta: 6.5
Azpilicueta was okay defensively for the majority of his game. His attacking work wasn't that great, however, as many of his crosses were either over-hit or blocked by defenders.
Branislav Ivanovic: 7
Ivanovic had a solid game and wasn't really troubled by Suarez throughout the game.
John Terry: 7
In his short time on the pitch, John Terry led the defense and the team as a whole. He marked his return with a well-taken header.
Ryan Bertrand: 7
Much like his fullback counterpart, Rayan Bertrand did well on the defensive side, but was better on the attacking end. His cutbacks didn't always find a target, but he cannot be faulted for his teammates' unwillingness to make the near post run.
Ramires: 7
Ramires showcased plenty of energy and was all over the place for Chelsea. He provided good moments for his side offensively and defensively, but should have done better with Suarez for the equalizer.
John Obi-Mikel: 6.5
John Obi-Mikel did a decent job helping Chelsea keep possession, but didn't have any other notable contribution.
Oscar: 6.5
Oscar had one or two good moments with his passing and dribbling, but wasn't a great threat for Liverpool. He could have scored early on for Chelsea.
Juan Mata: 7.5
Mata wasn't as bright as he has been in some recent games for Chelsea, but he was important nonetheless. He provided the assist from the corner and had one or two long-range efforts as well as some nice pieces of possession.
Eden Hazard: 7
Eden Hazard ran at the Liverpool defense time and again and provided some threatening moments either by his individuality or working with teammates.
Fernando Torres: 6
Torres worked hard throughout the game and tried to conjure chances, but he was not effective.
Substitutes:
Gary Cahill: 7
He came on early in the first half and picked up where John Terry left off and provided a solid central partnership with Ivanovic.
Victor Moses: 6
Not able to influence the game much when he came on.
Daniel Sturridge: 6
Not able to influence the game much when he came on.
Liverpool Player Ratings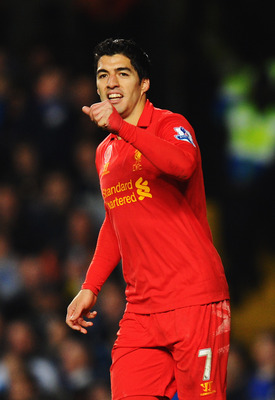 Mike Hewitt/Getty Images
Bradley Jones: 7
Jones was solid throughout the game and was strong when his team needed him to be.
Andre Wisdom: 6.5
Wisdom had his nervy moments and had some good ones as well. He wasn't completely overrun by Bertand and Hazard and picked his moments going forward.
Jamie Carragher: 7
Jamie Carragher was okay in his first Premier League start this season. Speed was an issue as expected, but for the most part Carragher was in the right place at the right time and especially so when he flicked on the ball for Suarez's equalizer.
Daniel Agger: 6.5
Agger was the most comfortable on the ball of the back three and it showed with his passes and movement going forward. He lost Terry on the header for the opener, but had a decent outing otherwise.
Glen Johnson: 7
Johnson always provides a solid attacking threat for Liverpool and did so again in this game.
Jose Enrique: 7
Jose Enrique had some great energy down the left flank and was solid on either end of the pitch. A number of offside calls and an inability to completely dominate his opponent made it a less spectacular night than it might have been.
Nuri Sahin: 6.5
Sahin certainly knows how to keep possession, but wasn't penetrative enough for his side. Subbed for Suso as the team looked for more offensive input in the second half.
Joe Allen: 6.5
Joe Allen wasn't his usual composed self in the midfield and lost on the ball quite a few times for Liverpool.
Steven Gerrard: 7
Did some extremely good work for Liverpool on the defensive end and did enough in possession to help his team offensively.
Raheem Sterling: 7
Wasn't as effective when he started off the game in a central position, but did some good work defensively. Sterling became a bigger threat when he moved back out wide and helped change the game for Liverpool.
Luis Suarez: 7.5
Suarez looked like he would have a similar outing to his fellow forward Torres with lots of hard work, but nothing to show for his efforts. He came into the game the longer it went on and popped up with the all-important equalizer.
Substitutes:
Suso: 7
Suso had an almost immediate impact, as it was his delivery that led to the equalizer. He was solid in possession and helped create some good attacking moments for his side.
Keep Reading