Week 2 Report Card Grades for Every NY Knicks Player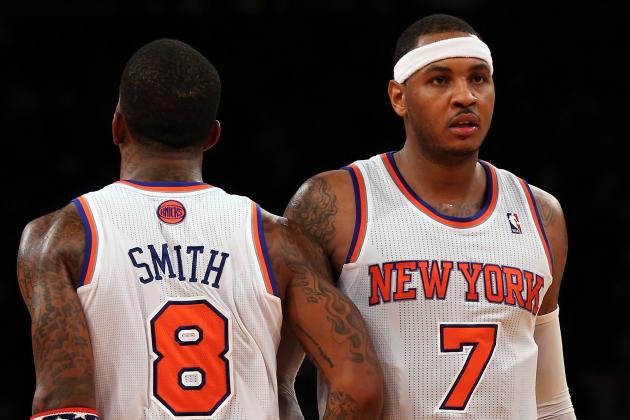 Elsa/Getty Images

After coming out of the gates strong in the first week, the New York Knicks have continued to show us some positive signs at this early stage in the season.
The second week has seen some strong playoff-level opponents both at home and on the road, with the Knicks still looking strong entering week three.
Of course, not all contributions to the team have been equal, so let's take a look at the individual report card grades for each player during the second week of the season.
Begin Slideshow

»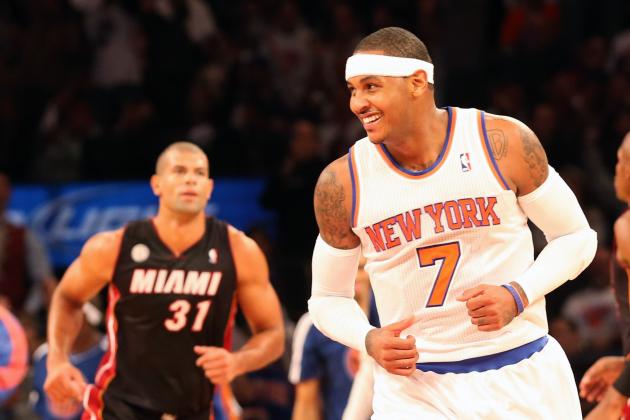 Anthony Gruppuso-US PRESSWIRE

You never want to give a player an A+ grade at such an early point in the season, but frankly Carmelo Anthony deserves it for his play so far.
If MVP votes were to be taken today, Melo would be your likely winner, as he's the most impressive player on what has been the best team in the league.
As you'd expect, Anthony is doing some real damage on offense, creating major match-up problems for the opposition as he plays the 4.
He's benefited greatly from not having the burden of being used as a point forward, and instead is being set up with great looks by the Knicks' new set of point guards.
That said, Anthony has always been an elite scorer; what's really astonishing is that he's now playing like an elite defender, too.
Melo is now doing some serious work on the defensive end, and though he hasn't matched up with many elite power forwards just yet, his effort has been tremendous.
The Knicks really needed him to step up and be a leader as he entered his first full season with the team, and he's done that, setting the example by diving onto the floor and into the stands for loose balls.
Anthony is also blocking shots at an increased rate, and is generally looking like a great all-around player.
It will take an entire season's worth of work for Anthony to shake off his bad reputation, but he's certainly headed in the right direction.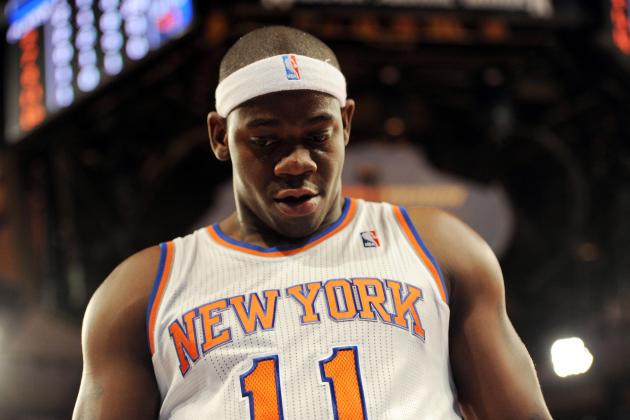 Joe Camporeale-US PRESSWIRE

Former Chicago Bulls guard Ronnie Brewer is quickly establishing himself as one of the better signings of the offseason, taking the role of the all-important "glue guy" on this Knicks team.
Brewer is an underrated passer, and though it's easy to look at the point guards as the reason for New York's great ball movement, Brewer has been getting a lot of hockey assists.
Like Landry Fields did when he was here, Brewer has also been making strong cuts to the basket, always providing a second option on the offensive end.
Surprisingly, Brewer's jump shot has also improved, as he's making the most of the great looks he's getting within the Knicks' offense.
Defense has always been a strong point for Brewer, and this season has been no different. With his body and athleticism, he's pretty much the ideal wing defender, and is doing a great job of covering for Iman Shumpert.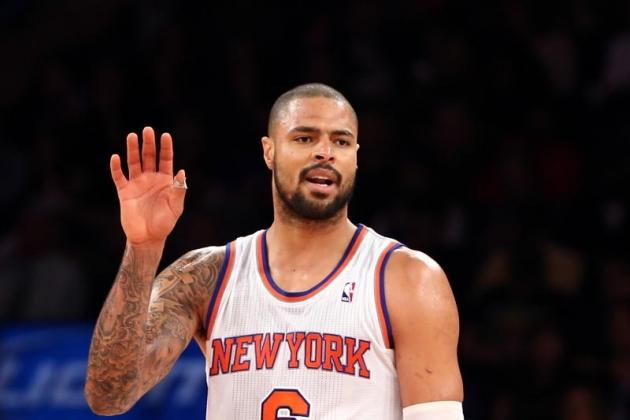 Debby Wong-US PRESSWIRE

Reigning Defensive Player of the Year Tyson Chandler managed to shake off his illness in the second week of the season, and as a result is looking much more like the player we've come to know.
Chandler's minutes are increasing as he's returned to full health, and he's used the extra time to continue playing efficient offense and dominant defense.
The ex-Dallas Maverick did a great job in particular against his former team on Friday, scoring 14 and grabbing nine boards in yet another Knicks win.
Though Chandler has been a little bit off, at the end of the day you have to credit him for being the heart and soul of what is the league's best defense so far.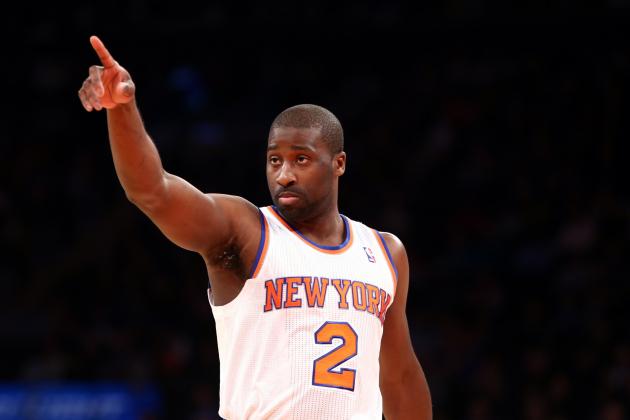 Debby Wong-US PRESSWIRE

Point guard was a real issue for the Knicks last season, but the addition of Raymond Felton has made that a thing of the past.
Some fans were skeptical of him replacing the more popular Jeremy Lin, but Felton has shown us he's just as good.
Weight is no longer an issue for Felton, and he's looking like a completely different player from the one that came into the season overweight in 2011-12.
Felton is penetrating, dishing, shooting and everything in between, proving himself to truly be an all-around point guard.
He's not a superstar by any means, but with his ability to do such a variety of things, he's been one of the league's best point guards.
Calling him the best, as he did before the season, is a bit of a stretch, but so far you could make a case for him at least being in the top 10.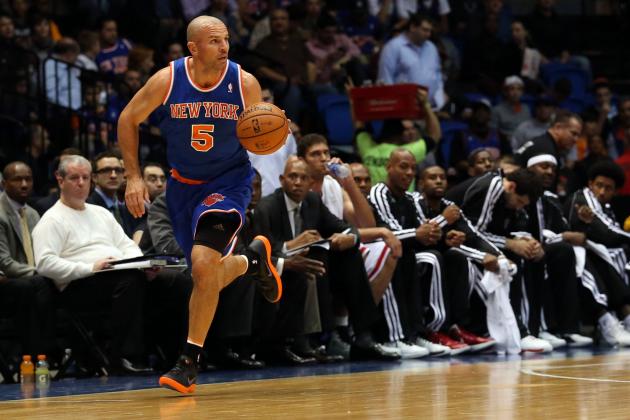 Anthony Gruppuso-US PRESSWIRE

What can you say about Jason Kidd?
Even though he's been much less productive during the season's second week, his leadership qualities have made sure that he's still been a huge part of the team's early success.
When it's asked of him, Kidd is hitting his jump shots, posting ridiculous shooting numbers early in the season. So far he's hitting 59 percent of his shots, and 50 percent from deep.
Kidd is also having success defending at the 2 rather than at the 1, and has done an admirable job of slotting into the starting lineup with Amar'e Stoudemire injured.
Using the mid-level exception on him in the summer may have been questionable at the time, but so far he's proving Glen Grunwald right with his intangible contributions to the team.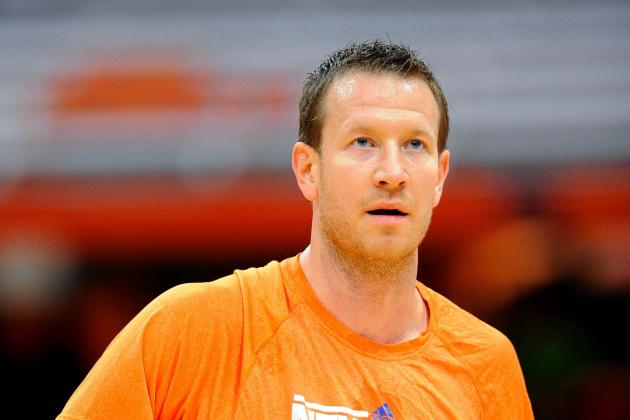 Rich Barnes-US PRESSWIRE

Steve Novak's sole job on the Knicks is to hit threes, so when he has a cold shooting week it's hard to give him a very high grade.
Novak went 1-of-6 on the week, but it's not like he's really hurting the team with his performance.
His defense is still not great, but if nothing else it's improved, and he's much less of a liability than he has been.
Moving forward, we should expect Novak's shooting to average out, and come season's end he may just lead the league in three-point percentage again.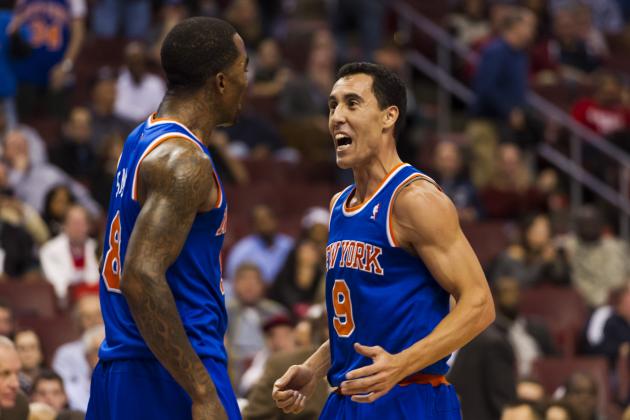 Howard Smith-US PRESSWIRE

Even at age 35, Pablo Prigioni showed some rookie jitters during his first week of the season, but his performance has improved as he's gotten used to the NBA.
With his style of play, and the simple fact that he's a third-string point guard, Prigioni's numbers were never going to be flashy, but he's still provided a nice spark off the bench.
Prigioni just has the ability to see things that most players can't, making some great assists on offense, and also causing some trouble with his defense.
Though he hails from Argentina and has only just made it to the NBA, Prigioni clearly knows the abilities of his teammates, and will continue to put them in positions to make big plays like this throughout the season.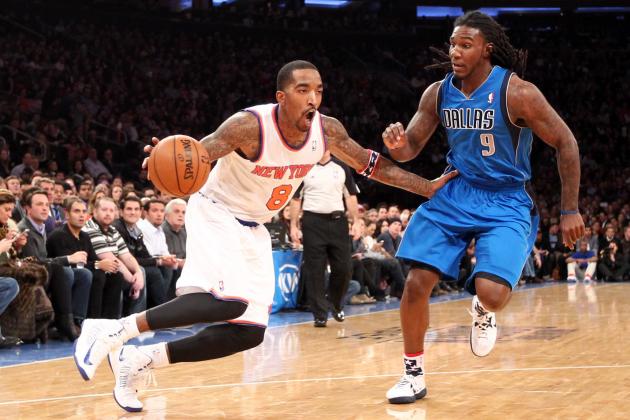 Debby Wong-US PRESSWIRE

When you look at J.R. Smith, it's clear to see that he's always had fantastic talent as a basketball player.
For some reason, though—mainly due to some bad habits—he hasn't quite been able to capitalize on those talents, and be the player that we all know he can be.
Under Mike Woodson, we've seen Smith approach the game a lot differently, and he's now making smart plays on both ends of the floor.
No longer will you see him jacking up terrible early shots; instead he looks to drive to the basket, create plays and most importantly be more conservative with his shot selection.
The result of these changes is a 17.5 points per game scorer, who's also been putting up five assists each night. Those are James Harden-caliber numbers, and at this point you'd have to consider Smith as the front-runner to take Harden's crown as the Sixth Man of the Year.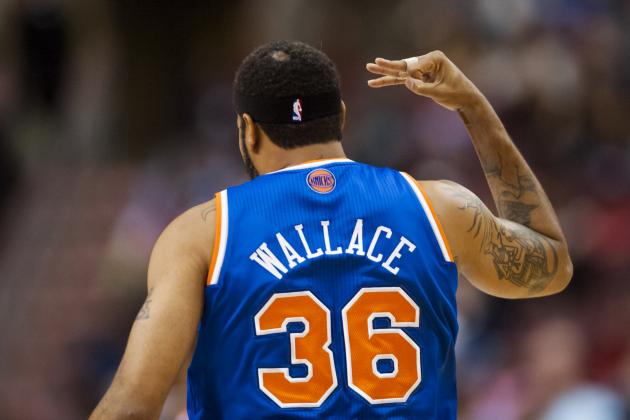 Howard Smith-US PRESSWIRE

A lot has been made of Rasheed Wallace taking a "Brian Scalabrine role" with the Knicks, but he's genuinely been a solid contributor to this point.
For a player who's been out of the league for a couple of years, he's not showing too many signs of rust at all.
He gives the Knicks an extra shooter and a physical presence down low, and that's really all you can ask of a player who's not yet in full shape.
As Sheed returns to 100 percent fitness, expect his minutes to go up, and for him to possibly start if and when the Knicks decide to go big.