UFC 154: Georges St-Pierre vs. Carlos Condit Head-to-Toe Breakdown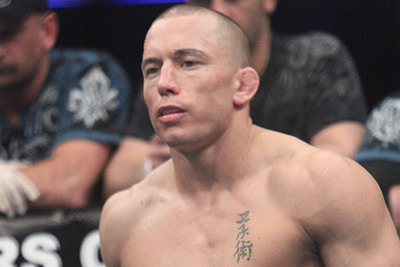 Ken Pishna/MMAWeekly.com
Georges St-Pierre has been out of commission for more than 18 months.
During that time, the welterweight division has undergone massive changes. Most notably, Carlos Condit became interim champion with a victory over former Strikeforce champion Nick Diaz.
Despite defeating Diaz in February, Condit too has remained inactive for a lengthy period of time, though not due to injury. Condit has waited for his chance to merge the UFC's 170-pound titles in a highly-anticipated fight against the greatest welterweight in MMA history.
As the biggest welterweight fight of 2012 draws near, let's take a look at which fighter has the upper hand in each aspect of the matchup.
Begin Slideshow

»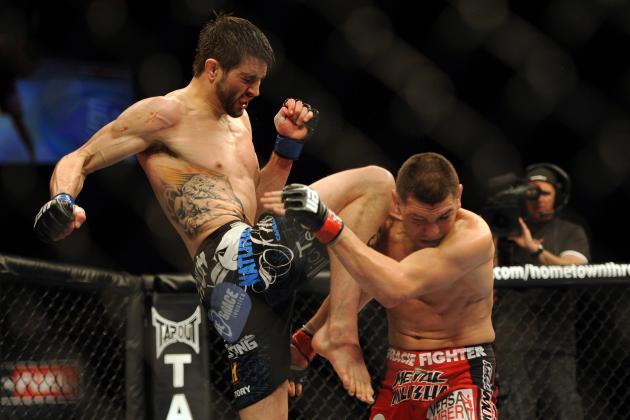 Kelvin Kuo-US PRESSWIRE

Carlos Condit's rise to the interim welterweight title was due in large part to his striking. Three of Condit's past five fights ended in knockout wins, and the 28-year-old landed a whopping 159 strikes in his belt-clinching victory over Nick Diaz.
Georges St-Pierre is no slouch on his feet, either, having utilized his jab to perfection in a title defense against rival Josh Koscheck. Still, unlike Condit, the Canadian titleholder has been knocked out and has not shown the same finishing ability as his UFC 154 opponent.
While Condit may not have a significant advantage over St-Pierre in the striking department, there's no doubt he'll be much more pleased than St-Pierre if this bout stays standing.
Edge: Condit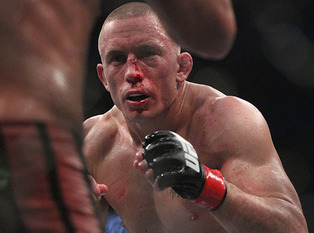 Ken Pishna/MMAWeekly.com
Despite having no wrestling experience prior to his MMA career, Georges St-Pierre has become known by many as the best wrestler in the sport.
St-Pierre has scored multiple takedowns in every fight since his shocking loss to Matt Serra in April 2007. The long-time champion has also only been taken down by Josh Koscheck during that time, but he still out-wrestled Koscheck in both of his meetings with the former NCAA champion wrestler.
Conversely, Carlos Condit has been taken down in all but one of his UFC appearances, and that may only be because Dan Hardy never attempted a takedown against the Greg Jackson-trained fighter.
Ultimately, St-Pierre is going to take this fight to the ground with ease if that is the game plan he opts to employ.
Edge: St-Pierre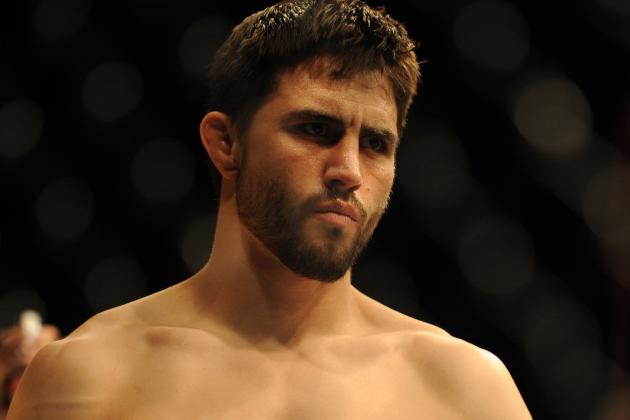 Kelvin Kuo-US PRESSWIRE

Carlos Condit has secured more than a dozen submissions in his MMA career, but he is still looking for his first inside the Octagon. If you're trying to achieve something for the first time in the UFC, Georges St-Pierre probably isn't the opponent it will happen against.
While Condit has been submitted a few times, St-Pierre only has a pair of submission wins in his long stay with the UFC, and none since December 2007.
If (read when) St-Pierre takes this fight to the ground, he won't be taking many risks from the top position against an opponent as dangerous as Condit. While Condit will actively look for submissions off his back, St-Pierre has only been submitted once, and he's improved vastly since that loss to Matt Hughes.
Edge: Push
Ken Pishna/MMAWeekly.com
As long as he's waited for this fight, Carlos Condit has still been much more active than Georges St-Pierre. The interim titleholder also doesn't have to worry about the stability of a previously injured knee like St-Pierre does heading into this bout.
Condit isn't the type to be overwhelmed by the magnitude of this fight, either. "The Natural Born Killer" has plenty of experience and is as cool as they come inside and out of the cage.
If there's a time for Condit to dethrone St-Pierre with the help of outside forces, that time is now. After such a long time away from competition, it's impossible to determine whether St-Pierre will be the same fighter he once was.
Edge: Condit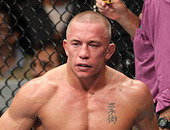 Scott Peterson/MMAWeekly.com
If Georges St-Pierre is smart—and he is—then he will take Carlos Condit to the ground early and often in this matchup. Had Nick Diaz done the same, we might have been getting ready for a bout between St-Pierre and the controversial Stockton, Calif. native.
Based on the takedown defense Condit has shown in the past and the excellent wrestling skills possessed by St-Pierre, the Canadian shouldn't face much resistance when shooting in on the interim champion.
Grappling with Condit won't be any sort of picnic, but St-Pierre avoided being submitted by a B.J. Penn who was at the top of his game, so we shouldn't expect him to be forced to tap in this one either.
Prediction: St-Pierre defeats Condit by decision