English Premier League: Picking the Best Player from Every Club in EPL Week 11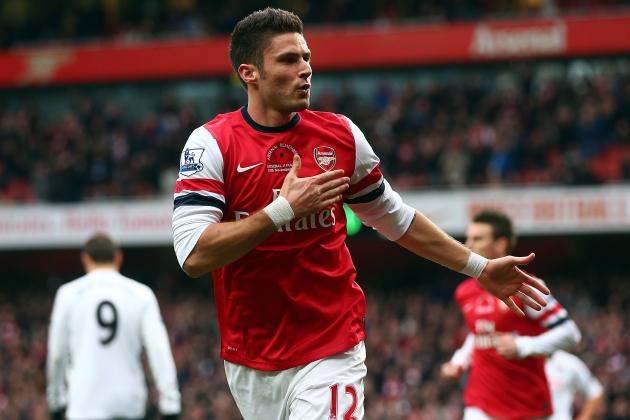 Clive Rose/Getty Images

Once again, we were treated to an absolutely wonderful weekend of football with memorable goals and thrilling comebacks dominating the headlines.
From Manchester City and Manchester United's come-from-behind victories to West Ham's stunning upset over Newcastle United at home, the English Premier League proved once again to be of the highest quality and one of the top leagues in world football.
None of that would have been possible, however, were it not for several incredible performances from different teams right across the league. The players earned the results and the comebacks, and it was their performances that left us fondly remembering the weekend that was.
Who were the standout players of Week 11? Here's the best player from every team this weekend. (Note: All statistics courtesy of WhoScored.com)
Begin Slideshow

»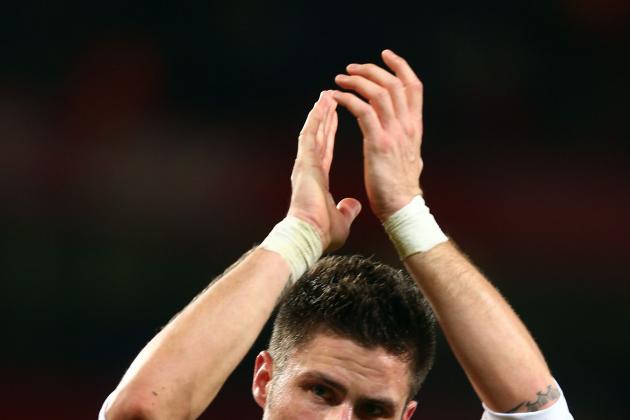 Clive Rose/Getty Images

Arsenal might have blown their chance at victory against Fulham on the weekend, but that must take nothing away from the excellent performance from French international Olivier Giroud.
Giroud has been heavily criticized for not scoring enough goals since his move over the summer transfer window, but with two goals in this one as well as a shot that hit the woodwork, he clearly demonstrated to the non-believers that he is the real deal this season.
He was the dominant striker that Arsenal need him to be this season—leading in total shots, shots on target and, most importantly, goals scored—and will give Gunners fans great hope despite another poor showing on the scoreboard this week.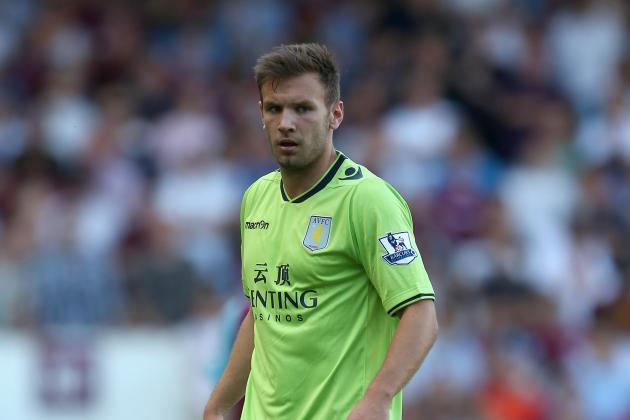 Warren Little/Getty Images

Despite playing league leaders Manchester United, Aston Villa managed to build a two-goal lead into the second half and almost pulled off one of the upsets of the season—thanks largely to the attacking brilliance of Andreas Weimann.
The 21-year-old struck twice to give his side a 2-0 lead, and whilst they were ultimately overrun by the attacking brilliance of the Red Devils, Weimann was still a dominant force and for me, Aston Villa's best player throughout the match.
Not too many players can say they've netted a brace against the league leaders this season. Andreas Weimann is one of them, and he almost won Villa the match because of it.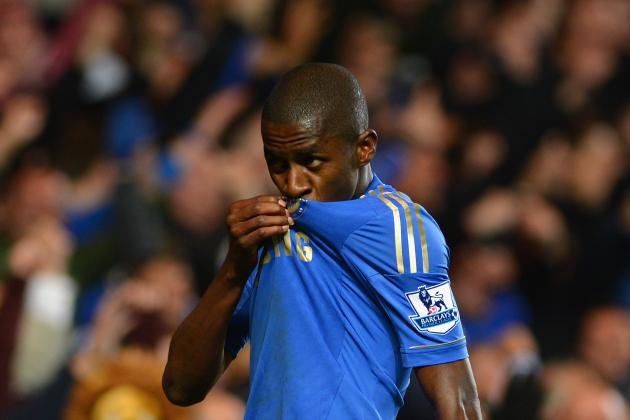 Shaun Botterill/Getty Images

Filling the shoes of someone like Frank Lampard is never easy, but Ramires was excellent once again for Chelsea in their 1-1 draw to Liverpool on the weekend.
The Brazilian was able to provide the link between the Blues' defense and their attack on numerous occasions and was potent on both sides of the ball.
Ramires finished the match with a team-high seven tackles and two interceptions, and also recorded the highest passing accuracy in this one. Against a strong Liverpool midfield, Ramires simply was stronger, and kept his side in this match because of it.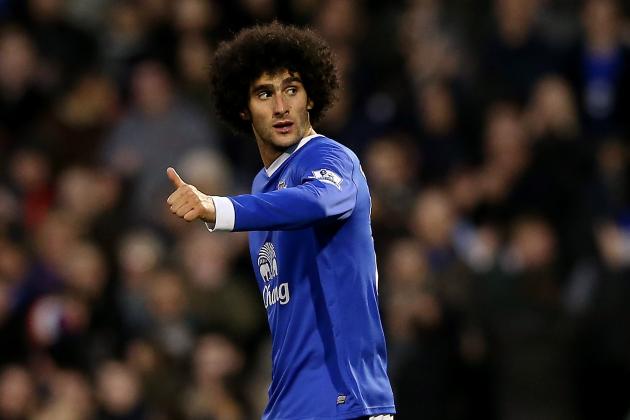 Scott Heavey/Getty Images

Marouane Fellaini has been one of the top players through the Premier League this season, and he continued his fine form with a game-winning performance for Everton against Sunderland.
The Belgian international netted a goal and set up the other as Everton came from behind to beat the Black Cats, but what was most impressive was the work-rate that the attacking midfielder got through against Martin O'Neill's men.
Kevin Mirallas was forced off with a hamstring injury after 30 minutes, meaning that Fellaini instantly became the go-to target in attack. He seemed always to be marked by one, two or sometimes even three defenders, and yet he still managed to win the game for his side.
Simply brilliant.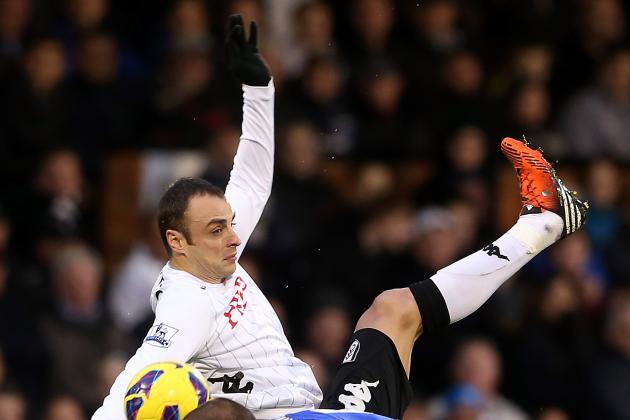 Scott Heavey/Getty Images

Few could dispute the inclusion of Dimitar Berbatov here, who turned in arguably his best performance for Fulham since his summer move to the club.
The veteran striker scored two goals and set up the third in Fulham's thrilling 3-3 draw with Arsenal at the Emirates—showing that he still has what it takes to be a dominant force in the Premier League this season.
With no Moussa Dembele in midfield anymore, Berbatov also dropped back an awful lot to help build the attack and bring his teammates into the game—a sign of a truly great player and one who will become indispensable to his team this year.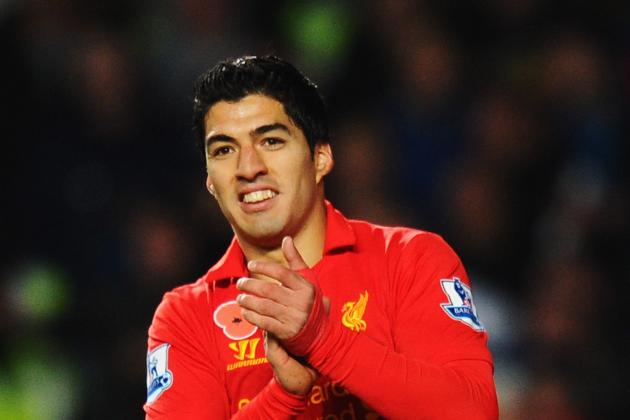 Mike Hewitt/Getty Images

Luis Suarez is Liverpool.
The enigmatic Uruguayan international might rub a few (thousand) people up the wrong way, but at the end of the day, there is no doubting the skill and sheer attacking talent that he brings to the Merseyside club—and just how important he has become to them as a result.
Again Suarez netted the Reds' goal as they picked up a valuable point at Stamford Bridge, giving him eight goals on the season to date, and we're only just over a quarter of the way through.
A candidate for Premier League Player of the Year? On what we've seen this year, the answer would simply have to be "yes."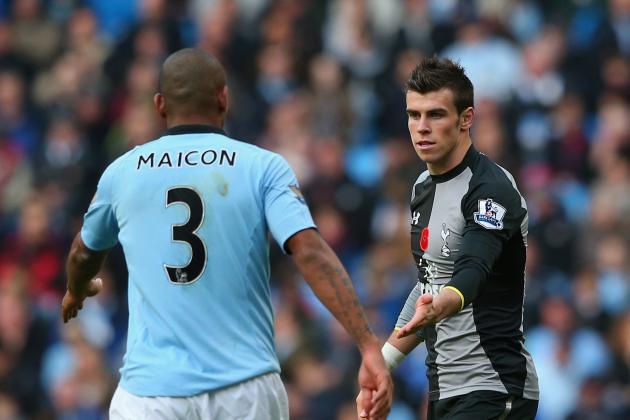 Alex Livesey/Getty Images

I might be going for a little bit of an outside prospect here, but Maicon was, for me, the person who won the game for Manchester City against Tottenham Hotspur on the weekend.
He didn't score the late winner like Edin Dzeko and he didn't make the final pass, but his inclusion into the match with just over half an hour to play was the difference between City leaving with three points and City leaving with none.
His inclusion allowed the defending champions to play with width and purpose, and his work-rate down the right flank was tremendous in creating chances and sparking attacking raids through the middle. He won't get the credit and it won't show up on the stat-sheet, but Maicon was truly magnificent for City this weekend.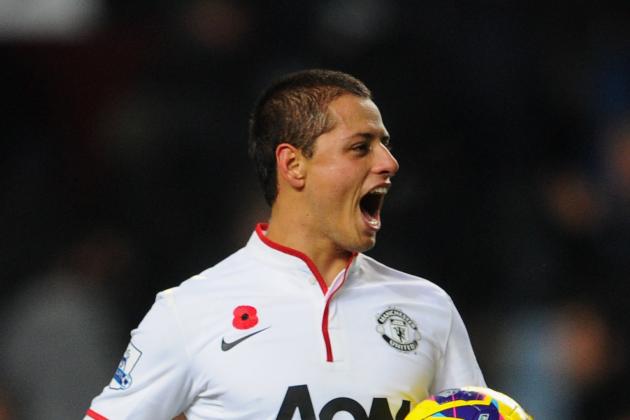 Michael Regan/Getty Images

At any other club, Javier Hernandez would be the go-to striker every week. At Manchester United, he's third, or potentially even fourth, in line for striker roles every week.
But the Mexican international proved this weekend why he must continue to get starting time alongside the likes of Wayne Rooney and Robin van Persie with a three-goal game—well, technically a two-goal game—that brought the Red Devils back from defeat against Aston Villa.
Hernandez was brought in at half time for Ashley Young on the left flank and instantly made an impact—netting two goals in five minutes to tie the match—before finding the winner in the final few minutes.
He saved United in the Champions League not long ago and did the same this weekend against Villa—proving to be one of their best players of late.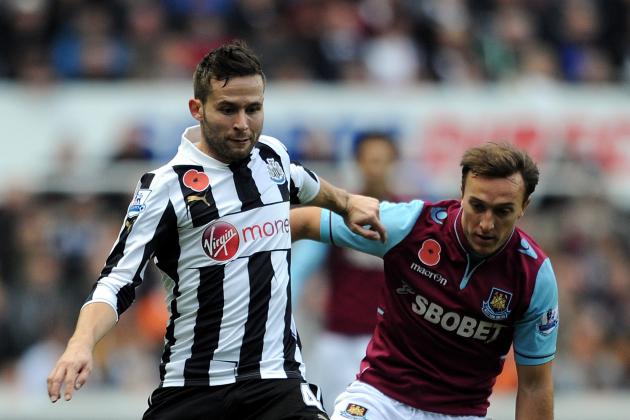 Chris Brunskill/Getty Images

There weren't too many highlights from a disappointing Newcastle United side against West Ham on the weekend, but Yohan Cabaye again proved to be the Magpies' most important player—dominating the match in midfield in both attack and defense.
The French international led Newcastle in almost every category—shots, shots on target, attacking chances created, passes completed, passes attempted, tackles and interceptions—and whilst he couldn't get that all-important goal for his club, he did show why he's one of the more underrated players in the Premier League at the moment.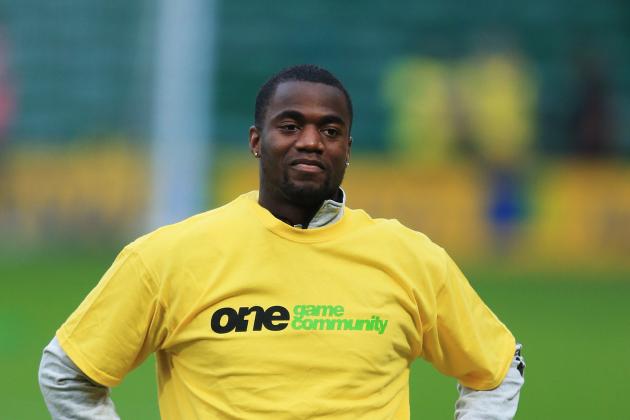 Richard Heathcote/Getty Images

Speaking of disappointing performances, what about the bore-fest that Reading vs. Norwich City turned out to be this weekend? Three shots on target combined in 90 minutes really didn't make for the most gripping entertainment the league's seen all year.
Anyway, the pick was clearly Norwich defender Sebastien Bassong, who was simply a giant at the back for the Canaries. The defender led his team in interceptions, but also chalked up double figures in both clearances and aerial duels won in order to keep a clean sheet for the away side.
It wasn't pretty, but a strong performance from Bassong nonetheless.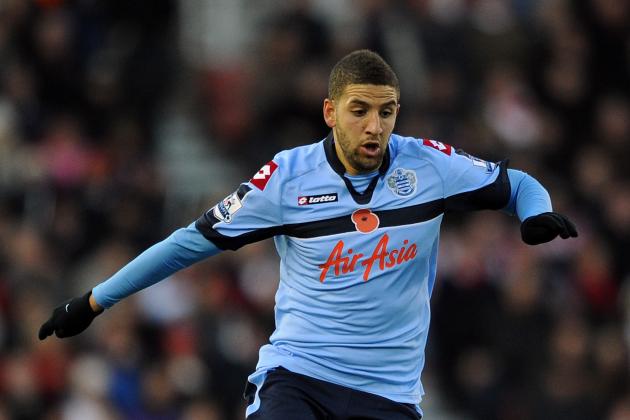 Chris Brunskill/Getty Images

Adel Taarabt was the pick of Queens Park Rangers' players this weekend simply because he could do what few players managed to do against Stoke—attack.
The Potters defense was once again strong, but Taarabt did everything he could to keep his side in the match—chalking up seven attempts on goal and creating three goal-scoring opportunities for his teammates, both of which were team-highs.
In an ultimately disappointing QPR side, he was the rare highlight. If the Rangers are ever going to win this season—and at the moment, that's an "if," not a "when"—surely it will be on the back of a strong performance from Adel Taarabt.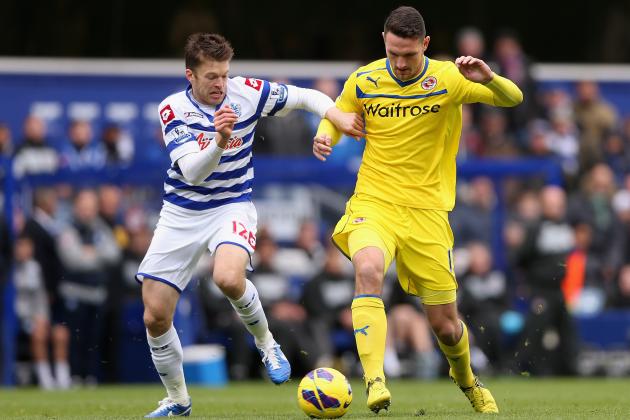 Scott Heavey/Getty Images

A defensive struggle that failed to produce many goal-scoring opportunities means that it's likely a defender was the best part of a team's performance.
And whilst having a 0-0 draw at home to Norwich means there aren't too many strong points to write home about, Sean Morrison gets the nod—simply as the best of a lackluster bunch.
Several important clearances and solid long balls from Morrison kept his side looking for opportunities to break the deadlock whilst still maintaining their defensive focus, but there really wasn't a whole lot else for Reading worth noting.
So Morrison it is.
Christopher Lee/Getty Images

Morgan Schneiderlin definitely flies under the radar for Southampton, with much of the attention going to the likes of Gaston Ramirez or Rickie Lambert, but the midfielder certainly showed what he is capable of producing this year with an excellent showing against Swansea City.
After netting the Saints' opening goal, Schneiderlin would continue to cause trouble for the Swans in midfield as he sparked several good attacking raids down the left with Adam Lallana and through the middle with the man mentioned before, Ramirez.
His work defensively was also huge in the Saints earning a valuable point—leading in tackles and interceptions like a good central midfielder should do. Definitely a player to keep track of this year.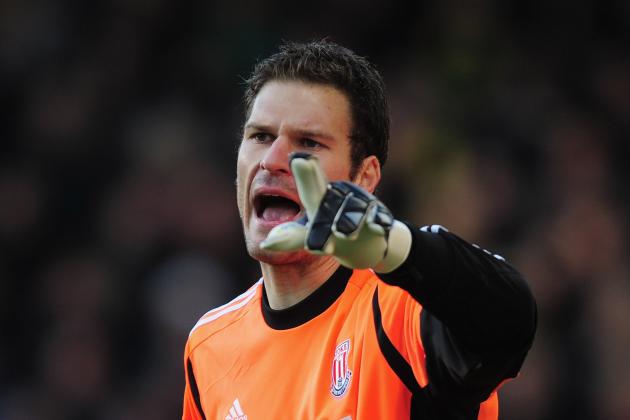 Jamie McDonald/Getty Images

Stoke City earned a hard-fought 1-0 victory over Queens Park Rangers on the weekend, but anyone who watched the game or even simply read the headlines the following morning knows that they would not have done it without a brilliant performance from goalkeeper Asmir Begovic.
Begovic currently leads the league in clean sheets and produced another one here courtesy of some incredible saves—particularly later on in the match—against QPR.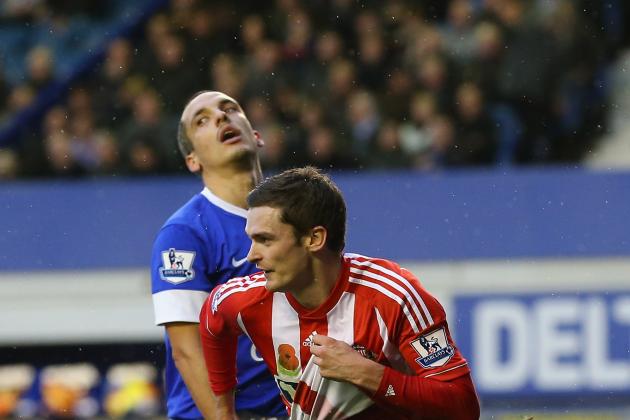 Alex Livesey/Getty Images

Let there be no mistake, Everton completely dominated the match against Sunderland from the moment the opening whistle blew and nearly didn't get the scoreline they deserved for their efforts.
The Toffees were all over the Black Cats, but courtesy of a strong finish from Adam Johnson just before half time, Sunderland did hold a 1-0 lead that seemed like it could nearly carry them to a very improbable victory against the Merseyside club.
It wasn't to be ultimately, but Johnson was still Sunderland's best option in attack, and with the winger throwing in a clearance off the line also, he wasn't too bad defensively either.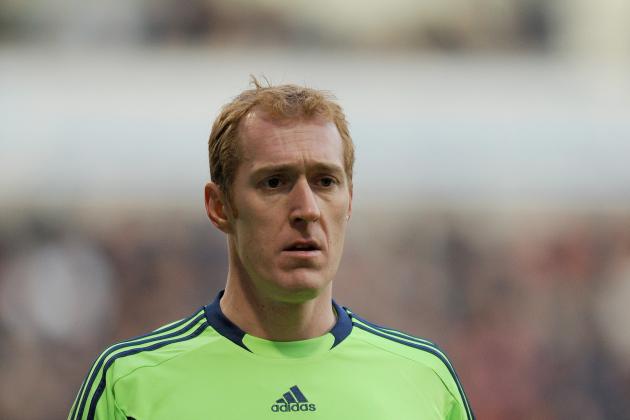 Clint Hughes/Getty Images

The man with perhaps the greatest name in the Premier League this year—Gerhard Tremmel—gets rewarded for his strong showing in goals with selection as Swansea's best player against Southampton in his team's 1-1 draw.
Tremmel wasn't fantastic, but neither were any other Swansea players, and he did what was required of him on all but one of the 16 shots that Southampton laid on during the match.
Which, at the end of the day, is all you can really ask of him.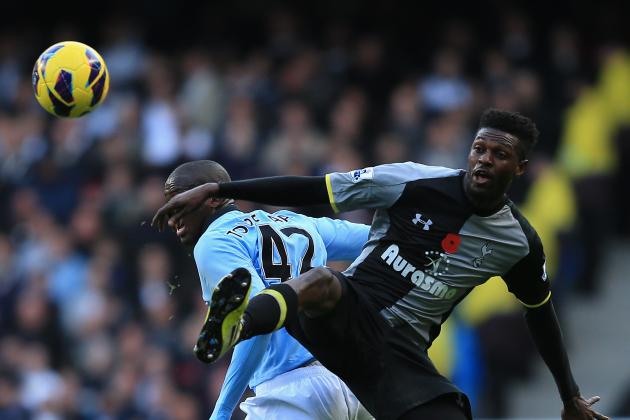 Richard Heathcote/Getty Images

The decision by manager Andre Villas-Boas to play former Manchester City striker Emmanuel Adebayor against his old club was an interesting one, but one that turned out to be a brilliant move—and almost claimed competition points in the process.
Adebayor was everywhere in attack for Spurs, sparking chances with his strong running game and very nearly laid Tom Huddlestone in after a decisive move down the left flank.
He will be crowded out at White Hart Lane due to the sheer depth of talent that Spurs have in attack this year, but this week, Adebayor deserved his spot in the starting side and as the club's top player of the week.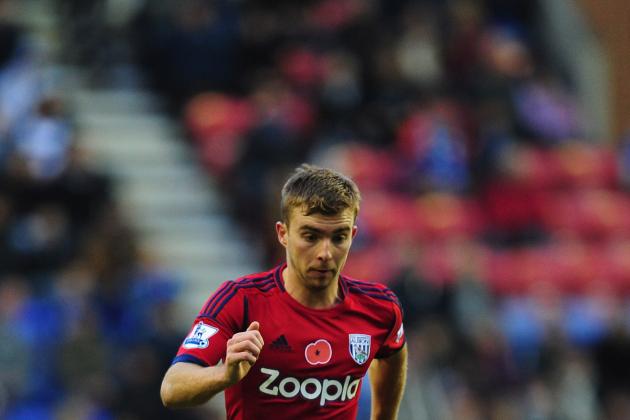 Stu Forster/Getty Images

James Morrison continued West Brom's strong start to the season with an excellent performance in the Baggies' 2-1 victory over Wigan Athletic.
Morrison netted the opening goal for the visitors and continued to cause problems for the Latics all afternoon—creating a team-high four goal-scoring opportunities for his teammates and completing his passes at a phenomenal 96 percent completion rate.
In a severely underrated midfield, Morrison was a star, and the reason why the Baggies walked away from the DW Stadium with all three points.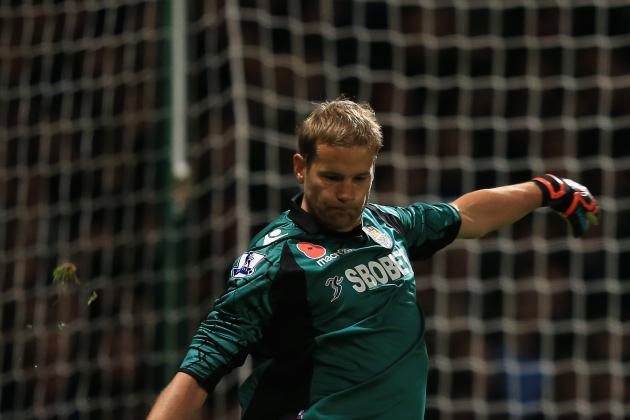 Richard Heathcote/Getty Images

The stars were plentiful in West Ham's surprising 1-0 victory over Newcastle United, but few more so than goalkeeper Jussi Jaaskelainen.
Jaaskelainen turned in arguably his best performance of the season to keep the likes of Demba Ba and Papiss Cisse at bay, despite Newcastle dominating possession and attacking opportunities.
The Magpies would finish with over double the amount of shots on target as the Hammers, but did not pick up anything to show for their efforts—something the away side can certainly thank Jaaskelainen for.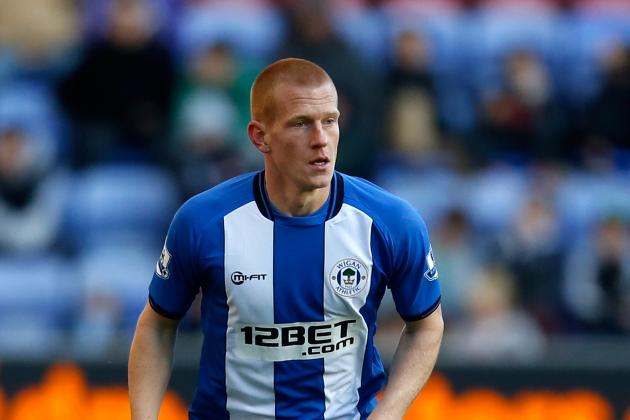 Paul Thomas/Getty Images

Wigan Athletic fell 2-1 to West Brom on the weekend, and had they managed to peg back that one-goal margin and get some points for their efforts, it would surely have been through Ben Watson.
The midfielder was easily the best player in a losing side—dominating in attack and defense—and commanding the game right from the word go.
Watson finished with a staggering 121 touches of the football; perhaps even more remarkable was the fact that he completed those passes at a whopping 92 percent completion rate.
He put more shots on target than any other player and led his team in tackles and interceptions, but couldn't quite pull his side back into the points.
Agree or disagree on any? Who were your best players?
Comment below or hit me up on Twitter: Follow @dantalintyre