Texas Football: Grading All 22 Starters from the Iowa State Game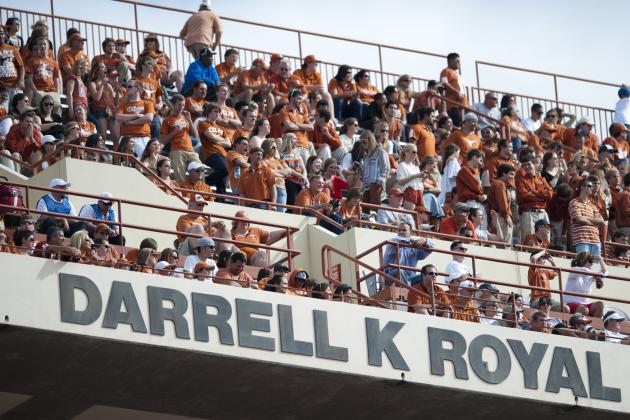 Cooper Neill/Getty Images

In what has been an uplifting few weeks of recent play, the Texas Longhorns (8-2, 5-2) have strung together an encouraging set of four straight wins, with the most recent coming in a 33-7 memorial win against Iowa State.
Honoring the late Darrell K Royal, the Longhorns put in their best performance yet, outdoing their efforts from a weekend ago.
With a dominant offensive performance, coupled with shaky, but effective, defense, Texas looked in control right from the get-go, highlighted by a double-pass out of the Wishbone on their first offensive snap.
Strong outings from David Ash, Mike Davis, Jaxon Shipley and Alex Okafor top the report card, but there were plenty of other Horns who provided great efforts.
Begin Slideshow

»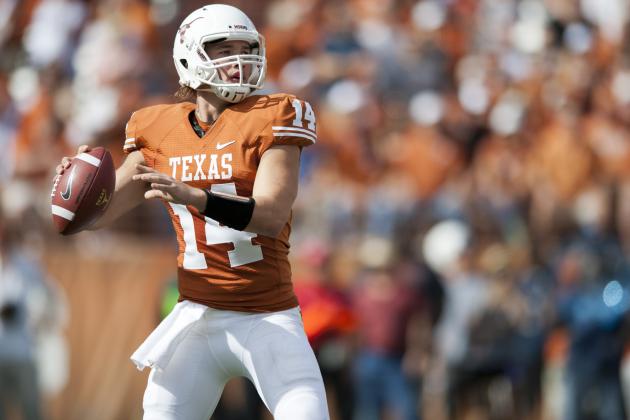 Cooper Neill/Getty Images

ASH: A
The junior quarterback posted one of his best performances of the season, throwing for 364 yards and two touchdowns on 25-of-31 attempts for an 81 percent completion rate.
Most importantly, Ash looked comfortable and confident in an offense that keeps getting stronger.
Sure, Iowa State is no juggernaut, but there is no question that the Longhorns are playing some of their best football of the season at the right time.
And Ash is a big catalyst for that on offense.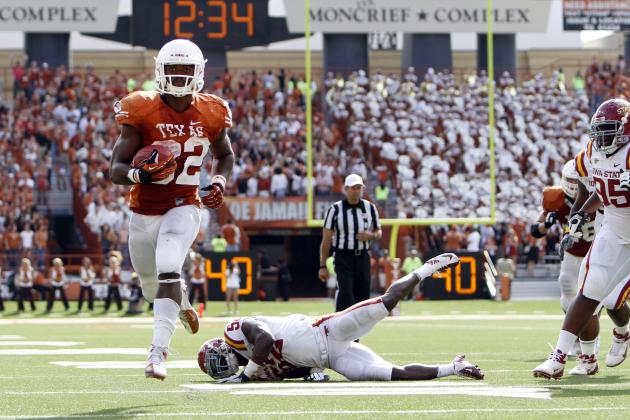 Brett Davis-US PRESSWIRE

GRAY: A-
Although it was no 100-yard game, Gray impressed again Saturday.
His 74 yards and two touchdowns on 14 carries was simply solid in the scheme of the running game.
With Joe Bergeron's game-best 86 rushing yards, Gray served his role as a veteran would. Yet, the true freshman, who also added two catches for 31 yards, is indeed playing as if he had more than a year's worth of experience.
No disrespect to Malcolm Brown, whose impact is arguably second to none, but his injury has opened up the door for Gray to shine, and shine he has.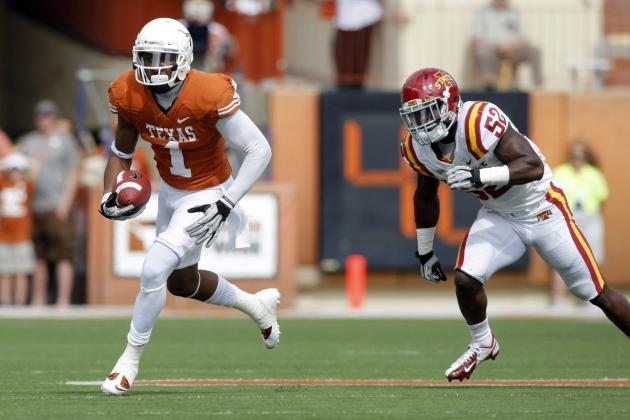 Brett Davis-US PRESSWIRE

DAVIS: A
SHIPLEY: A
GOODWIN: C+
The stars of the passing game were Mike Davis and Jaxon Shipley, combining for 250 receiving yards on 15 catches.
Davis had 113 yards and a touchdown, maintaining his great yards per catch average.
Shipley recorded his best game of the season, picking up 137 yards on eight receptions. Although he did not find the end zone, Shipley's technical abilities all over the field is something that needs to be utilized more often.
As for Marquise Goodwin, the senior has really struggled to get consistent touches since early on in the season, but his ability to support the running game with a willingness to block is an underrated aspect of the speedster's game.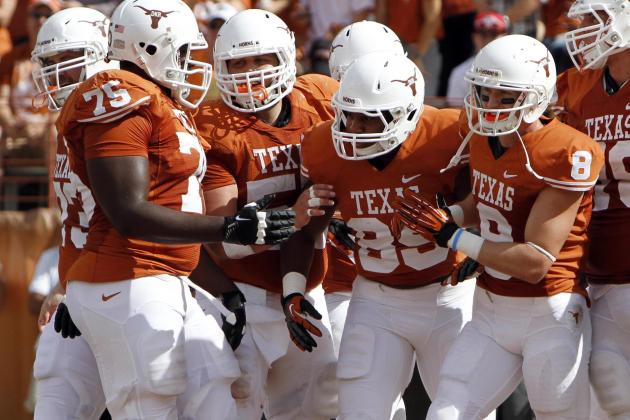 Brett Davis-US PRESSWIRE

OFFENSIVE LINE: A+
The Longhorns did almost everything right on Saturday, especially up front on offense.
Texas posted 609 total yards, including a well-spread 222 yards on the ground.
Dom Espinosa and Trey Hopkins have built a nice rapport along the left side of the line, and the running game has really moved well along that side.
As the weeks go on since the blow up against Oklahoma, the Texas offensive line has been getting better and better.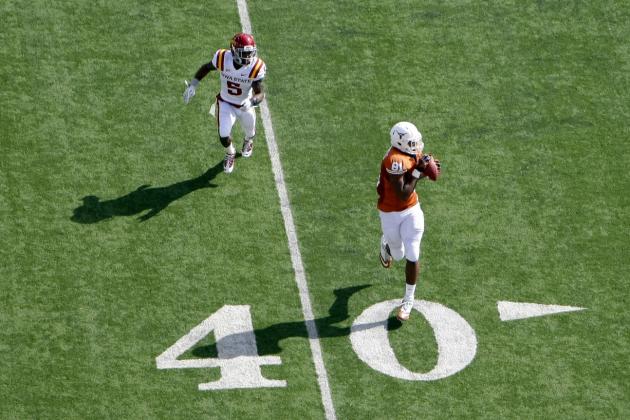 Brett Davis-US PRESSWIRE

DANIELS: B+
Welcome to the 2012 season, Greg Daniels.
The sophomore tight end and former defensive lineman caught two passes on the day, bringing his season total to three.
His numbers may be insignificant to see at the end of the season, but his second catch of the year came with relief and excitement out of the honored Wishbone formation.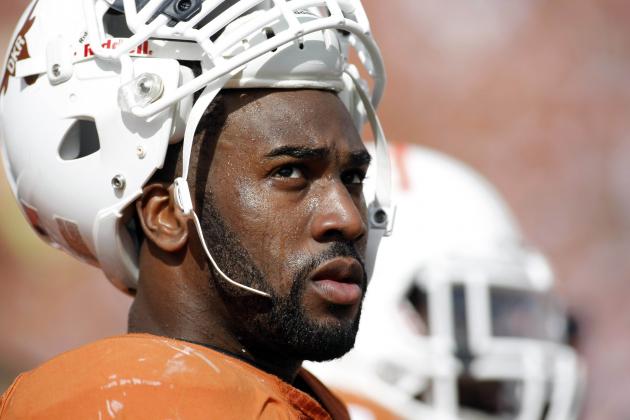 Brett Davis-US PRESSWIRE

OKAFOR: A
REED: B+
Okafor continues to record impress as the season goes on, this time leading the team in tackles with nine on Saturday. The senior added half a sack, two tackles for loss and a quarterback hit, and he has been everything the coaches have expected after Jackson Jeffcoat went out for the year with a torn pectoral.
Opposite Okafor has been a combination of Cedric Reed and Reggie Wilson, and Reed has been a nice surprise. The sophomore end picked up four tackles and three hits on the quarterback.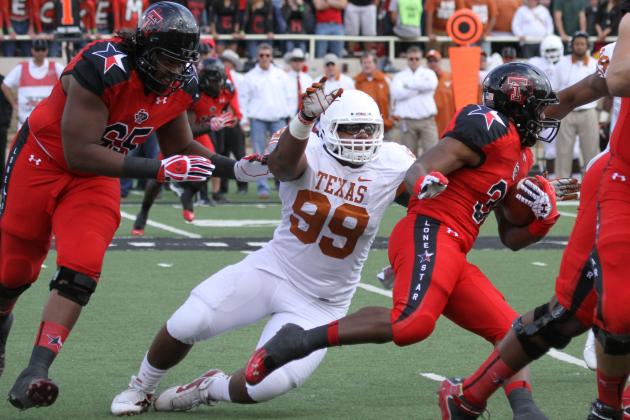 Michael C. Johnson-US PRESSWIRE

JACKSON: B+
MOORE: B
Talent has never been an issue for the Longhorns' interior defensive line, but execution and consistency have come up short in several instances this season.
Jackson put in another solid outing, dropping five tackles, including one for loss.
Moore, meanwhile, showed flashes of his capabilities in getting disruption, but Texas will need much more of it down the stretch.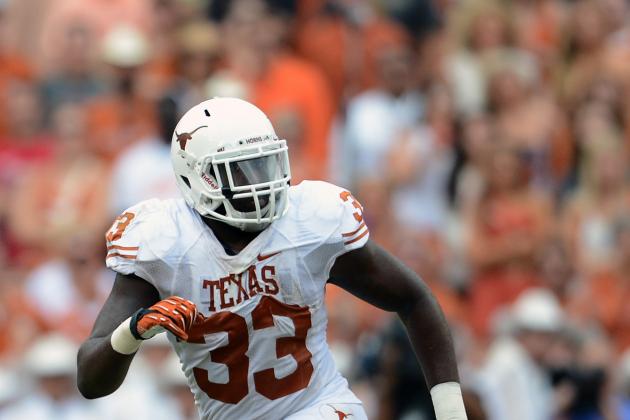 Matthew Emmons-US PRESSWIRE

EDMOND: A-
JINKENS: B+
It seems now that Edmond is turning the corner.
The sophomore is putting together some consistently strong play, which is a complete 180 from his inconsistencies early on. Six tackles, one for loss, and a sack was the line for Edmond on Saturday, and defensive coordinator Manny Diaz's schemes are finally coming together with strong play at middle linebacker.
With the concussion to Kendall Thompson, who sat out as a precaution, true freshman Peter Jinkens got his card called to start alongside Edmond.
Jinkens's six tackles, with one for loss, were a big piece of his simply solid performance. The first-year player did little to give up the big play and he made a few of his own to secure some potential depth at the position.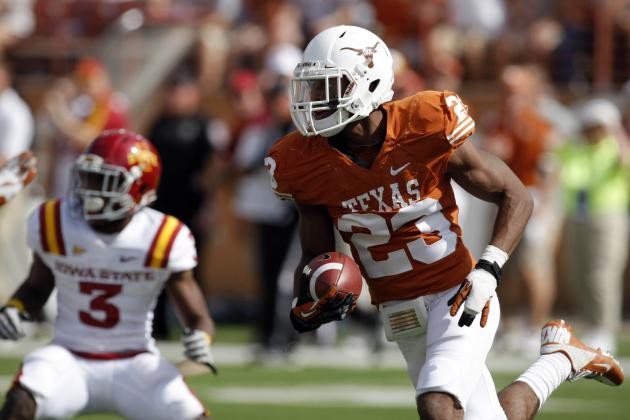 Brett Davis-US PRESSWIRE

BYNDOM: A-
DIGGS: B
THOMAS: B-
The early parts of the season had the cornerbacks really struggling with big wide receivers, and their performance was not helped by strings of poor positioning and worse tackling.
But in recent weeks, the efforts and outings have improved tremendously, especially from the junior Byndom. He is slowly beginning to look more like the Byndom of last season where his presence is influential on the big play. Byndom added an interception to his season tally.
Diggs is never one to shy away from a physical battle, but his size has definitely played a part in causing him some trouble this season. Like Byndom, Diggs has improved his performance over the last few weeks, and we are seeing less miscues from the powerful sophomore.
The true freshman Duke Thomas has put in time as the nickelback, and his steady play as definitely contributed to the overall improvement of the secondary.
Importantly, these three corners were critical in holding ISU to just 133 receiving yards, taking 29 throws and 15 completions to get there.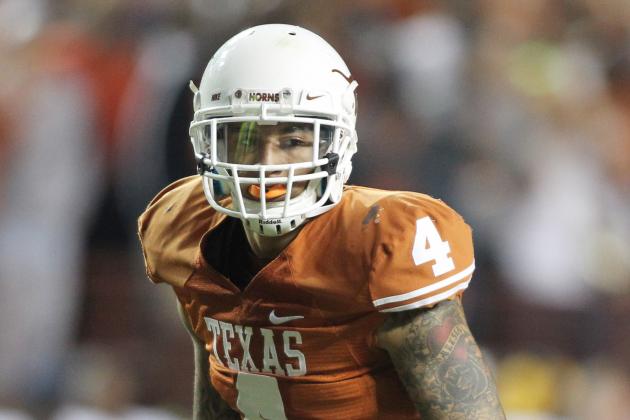 Tim Heitman-US PRESSWIRE

VACCARO: B+
PHILLIPS: B+
The senior safety Vaccaro has hardly matched the expectations set by his 2011 season, but he has been nothing short of solid.
Vaccaro added four tackles, one pass break-up and a quarterback hit to his numbers, but it is his mere presence that adds great value to an improving secondary.
Phillips has improved by some margin, being the biggest factor in missing tackles early on. The sophomore as seemingly buckled down in his fundamentals, though, adding six tackles to his season on Saturday.