Heisman Trophy 2012: Week 10's Best and Worst Showings in Heisman Hunt Sunday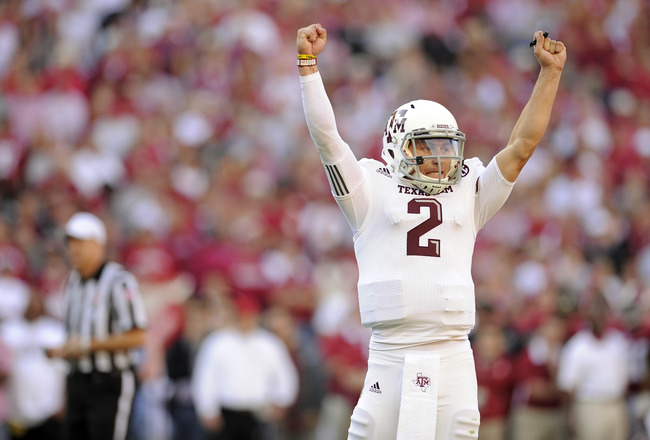 John David Mercer-US PRESSWIRE
In the race for the Heisman Trophy, the best way to win it is to have a great game late in the season. Voters are always going to focus on the narrative, even if it comes at the expense of the player who was better statistically all season.
For instance, Kansas State quarterback Collin Klein has been the front-runner for the award basically since the start of October. Nothing in his performance up to this point suggests that he is not the best and most outstanding player in the sport.
However, Texas A&M quarterback Johnny Manziel just had one of the most impressive single-game performances of any player in the country on the road against the No. 1-ranked team in the country. He had 345 yards of total offense and two touchdowns in the Aggies' upset victory over Alabama.
So, what are the voters going to do?
Those aren't the only two Heisman candidates in action in Week 11, nor were all the performances so electrifying that it moved players up the board.
Here is a look at the best and worst performances from the top Heisman candidates following Week 11.
Best: Texas A&M QB Johnny Manziel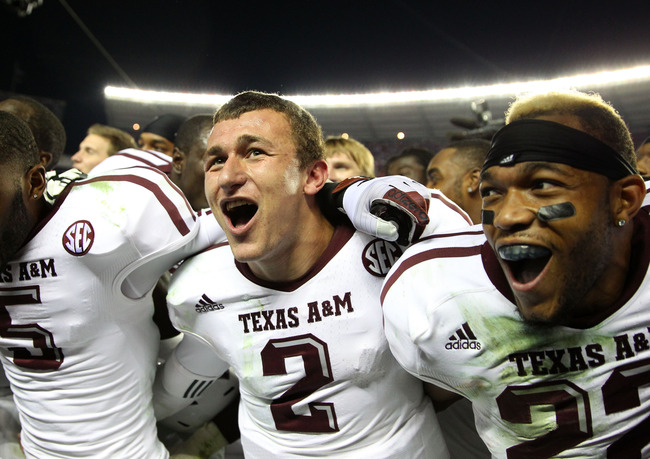 Mike Zarrilli/Getty Images
Week 11 Stats vs. No. 1 Alabama
24-of-31, 253 yards, 2 TD; 18 carries, 92 yards in 29-24 victory
2012 Season Stats
227-of-336, 2,780 yards, 18 TD, 6 INT, 151.2 QB Rating; 156 carries, 1,014 yards, 15 TD
Heisman Candidacy
Johnny Manziel has been lying in the weeds virtually all season as the Heisman race is concerned. His numbers keep getting better, which is exactly what you want from a freshman quarterback, and he just led his team—which is still in contention for a spot in the SEC championship game—to a victory over Alabama.
However, as much Heisman talk as there will be about Manziel right now, don't forget that he does have one clunker on his resume. Against LSU, he went 29-of-56 with 276 yards passing, 27 yards rushing, no touchdowns and three interceptions.
Plus, he has to overcome the ridiculous stigma that voters have about selecting a freshman for the award. Manziel had a great game and should be one of the finalists for the Heisman Trophy when they are announced, but it is not likely to happen this season.
Worst: Kansas State QB Collin Klein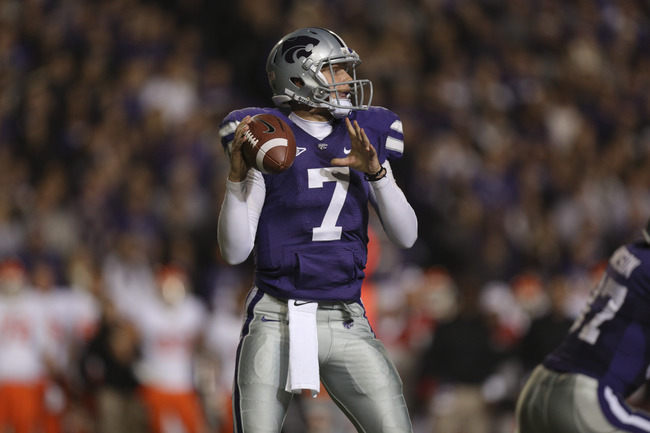 Ed Zurga/Getty Images
Week 11 Stats vs. TCU
12-of-21, 145 yards, 0 TD, 1 INT; 15 carries, 50 yards, 2 TD
2012 Season Stats
145-of-208, 2,020 yards, 12 TD, 3 INT, 167.4 QB Rating; 154 carries, 748 yards, 19 TD
Heisman Candidacy
Collin Klein picked the worst week of the season to have a bad game. But it should be pointed out that, even in a poor week, he still had two touchdowns, so that's something.
No one really knew what to expect from Klein against TCU because Kansas State head coach Bill Snyder was so secretive about the injury that the quarterback suffered in Week 10. We saw exactly what Klein had to offer with just 195 yards.
Even with a poor performance, Klein is still the front-runner. He is the most high-profile player on an undefeated team that will likely be No. 1 or 2 in the BCS standings if the Wildcats remain undefeated the rest of the way, and he has been involved in 31 touchdowns for the Wildcats.
The award seems like it Klein's, although as we know all too well, if another player who was already in the conversation has a brilliant November, anything can happen.
Best: Notre Dame LB Manti Te'o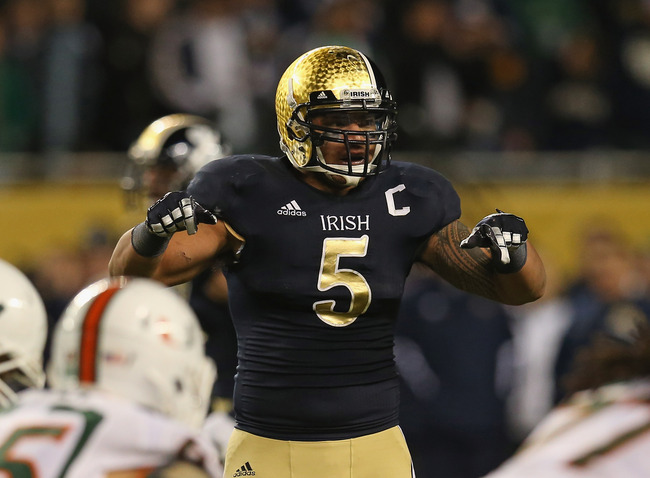 Jonathan Daniel/Getty Images
Week 11 Stats vs. Boston College
5 Total Tackles, 1 INT
2012 Season Stats
92 Total Tackles, 5.5 Tackles For Loss, 1.5 Sacks, 6 INT
Heisman Candidacy
One of the best things that could have happened to Te'o this week was having at least one Heisman candidate stumble while he racked up more stats for the unbeaten Irish.
Te'o did not have his best game of the season against Boston College, far from it, but what he did do was show his defensive playmaking skills.
He moves all over the field in Brian Kelly's defensive scheme, which bodes well for his chances.
The fact that Te'o has so many interceptions on his resume helps tremendously, because it is incredibly hard for a defense-only player to be considered for the Heisman Trophy. It's not a fair process, but the voting populace doesn't know how to welcome in players who change the game by making tackles all over the field.
Te'o deserves to be a finalist, but it will take a huge collapse by two or three favorites in the final weeks of the season to get enough votes to have a shot at winning.
Worst: Oregon RB Kenjon Barner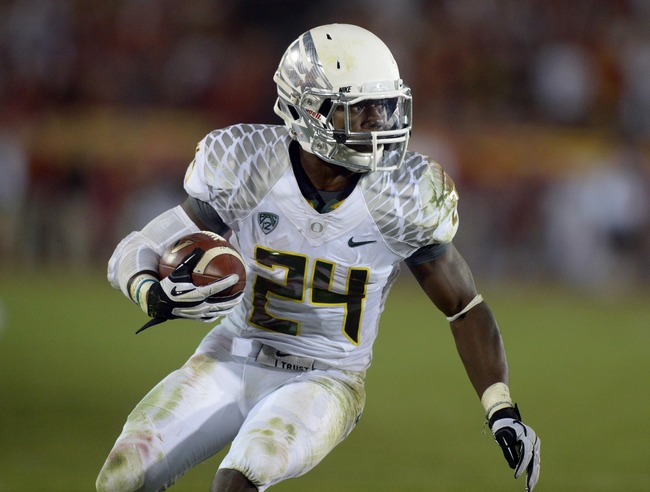 US PRESSWIRE
Week 11 Stats vs. California
20 carries, 65 yards, 0 TD; 3 receptions, 35 yards
2012 Season Stats
199 carries, 1,360 yards, 19 TD; 18 receptions, 219 yards, 1 TD
Heisman Candidacy
It is not very often that you will see the Oregon Ducks put up 59 points with only 180 total rushing yards and not a single player over 100 yards on the ground. Yet that is exactly what Chip Kelly's crew did on Saturday night thanks to the six-touchdown performance from quarterback Marcus Mariota.
Barner's Heisman candidacy had picked up steam as the Ducks continued to steamroll the Pac-12. To his credit, Barner had five straight games of at least 100 yards rushing prior to Week 11 and 321 with five touchdowns against USC the previous week.
One problem Barner was always going to have convincing voters he was a true threat for the honor is consistency. Yes, he looked great for that five-week period, but he has now had four games with less than 100 rushing yards and three without a touchdown.
Best: Oregon QB Marcus Mariota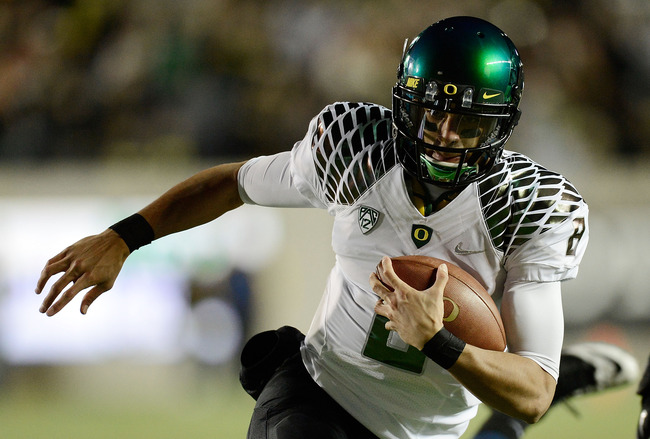 Thearon W. Henderson/Getty Images
Week 11 Stats vs. California
27-of-34, 377 yards, 6 TD; 6 carries, 42 yards
2012 Season Stats
180-of-251, 2,164 yards, 28 TD, 5 INT; 78 carries, 516 yards, 3 TD
Heisman Candidacy
Not a lot of people are talking about Mariota as a legitimate Heisman candidate because the Ducks tend to be more about the run than pass and Mariota is not often asked to do a lot.
However, when Mariota does get tasked with making plays, he steps up in a big way. He had his best game of the season against California, tossing six touchdown passes—the fifth time this year he has had at least three in a game.
One thing working in Mariota's favor is his performance the last two weeks. He has thrown for 681 yards, 10 touchdowns with no interceptions and completed 47-of-57 attempts. November is when Heisman Trophies are won and lost.
Mariota is a long-shot, but he is staring to look a lot better as a potential finalist than he did before the month started.
Worst: Alabama QB A.J. McCarron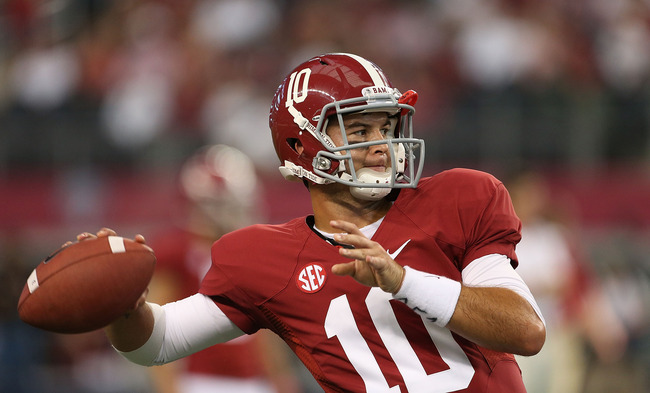 Leon Halip/Getty Images
Week 11 Stats vs. Texas A&M
21-of-34, 309 yards, 1 TD, 2 INT
2012 Season Stats
157-of-238, 2,158 yards, 20 TD, 2 INT, 168.2 QB Rating
Heisman Candidacy
It can be easy to get lost behind a defense as good as Alabama's, but quarterback A.J. McCarron was, and still is, very much in the running for the Heisman Trophy.
In fact, McCarron came just a few yards away from having a defining moment that voters love. He had a chance to throw a game-winning touchdown pass at the end of the game, but Aggies cornerback Deshazor Everett intercepted the ball at the goal line to preserve the victory.
McCarron entered Week 11 with 19 touchdowns and no interceptions—an astounding feat considering the competition the Crimson Tide has had this season.
While his candidacy did take a hit thanks to this loss, McCarron can put himself squarely back in the mix with two more regular season games and, assuming the Tide don't get upset in the next two weeks, the SEC championship game.
Keep Reading