Why Everton Must Not Sell Marouane Fellaini in the January Transfer Window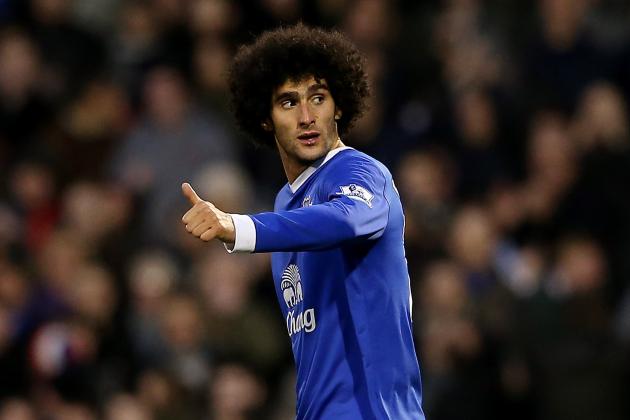 Scott Heavey/Getty Images

If Everton's Player of the Season award was handed out now, it seems unlikely the club would bother setting up an online voting system for fans to have their say.
Because, as Saturday's comeback victory over Sunderland proved, one man has been the driving force behind the Toffees' push towards the upper echelons of the Premier League table.
That's not to say that Everton's impressive form hasn't been the result of a big team effort.
English trio Phil Jagielka, Leighton Baines and Leon Osman have all been consistently excellent so far, summer signing Kevin Mirallas has injected David Moyes' side with much-needed pace and the rest of the squad have all contributed hugely during the opening three months of the campaign.
But it's the giant Belgian, Marouane Fellaini, who stands head and shoulders above his own teammates—and arguably everyone else in the division—after a sparkling start to the 2012/13 season.
Here are five reasons why the Blues must keep hold of their star man if they're to challenge for another shot at the Champions League.
Begin Slideshow

»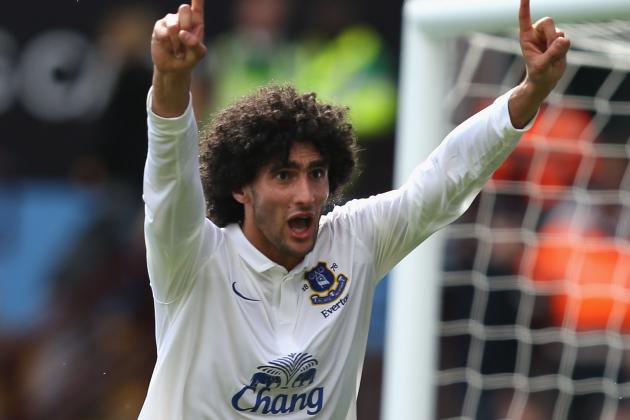 Mark Thompson/Getty Images

Six of Fellaini's last 12 Everton goals came over the course of 79 league appearances. His most recent half-dozen have arrived in just 10 Premier League games this season.
Much of his newfound proficiency in front of goal can be put down to a move further up the pitch.
In his new attacking midfield role, playing just behind striker Nikica Jelavic, Fellaini has found—and relished—a position which allows him to use his best attributes in a more creative manner.
His strength and height, plus an uncanny ability to control almost any ball on his chest, make him a nightmare for opposing defenders, while his shooting technique and effectiveness in the air have improved greatly since he first made the move to Merseyside.
Without Fellaini's goals this season, Everton would be five points worse off and down to 10th in the standings.
A telling statistic.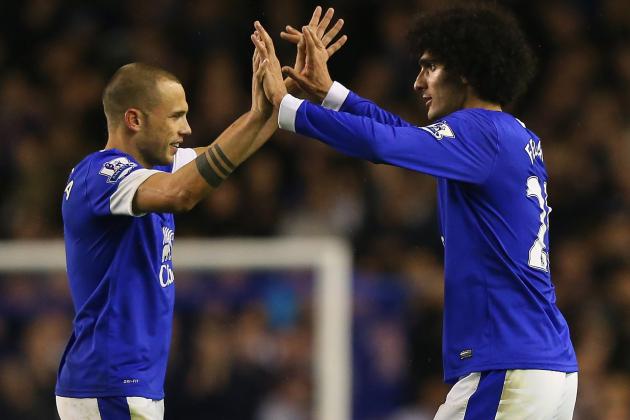 Alex Livesey/Getty Images

Anyone who has watched Everton play this term will have noticed a positive change in their style of play.
While it hasn't been as dramatic as some pundits might have you think, there's no denying that the Blues have played a more quick, stylish and effective brand of football than in recent years.
But when things aren't going quite to plan, or when their play requires a bit of variation, it's always good to have a Plan B.
Fellaini is exactly that.
At almost 6'5", the big-haired midfielder is an ideal target for long balls played up from goalkeeper Tim Howard and the back-four.
Whether he's flicking the ball on for Jelavic to chase or taking it down and bringing others into play, Fellaini's build and ability make him an irreplaceable part of Moyes' game plan.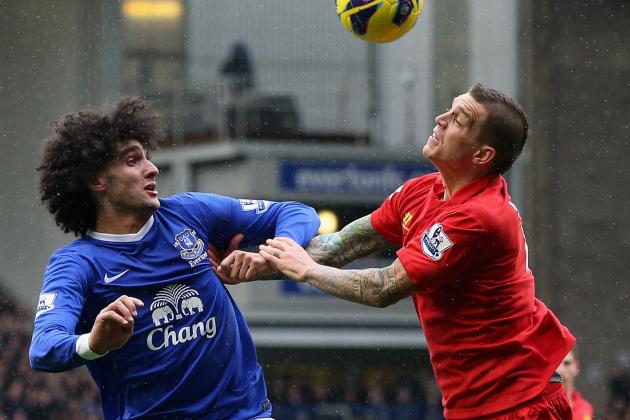 Clive Brunskill/Getty Images

If you're looking for someone that can play anywhere through the centre of midfield, as a lone striker and, probably, as a central defender, look no further than the former Standard Liege man.
Originally bought as a holding midfielder to sit in front of the back-four, Fellaini's development into a more all-around player—combined with a need for him to fill in for injured teammates—means he's now accomplished in a variety of positions.
While playing him behind Jelavic is clearly Moyes' preference, Fellaini's ability to move seamlessly back into the midfield—as he did against Sunderland—is a tactical change the manager can rely on when necessary.
In a squad as small as Everton's, Fellaini's versatility is absolutely vital, particularly when injuries and suspensions take their toll.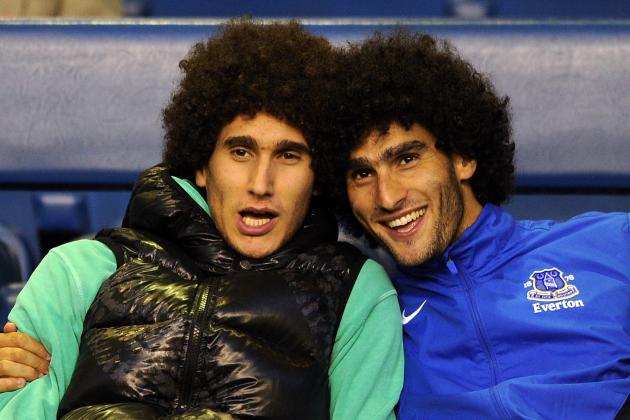 Chris Brunskill/Getty Images

Apart from his almost identical brother, who would Everton replace their £15 million record signing with?
There are plenty of players in Europe capable of playing successfully behind a lone striker, but there's nobody with the unique style of an in-form Fellaini.
Selling the Belgium international and replacing him with a typical attacking midfielder—diminutive, skillful and quick—would completely alter the carefully crafted tactics developed by Moyes in recent months.
The club wouldn't just be losing a highly talented player, they'd be losing the most essential component of a team that looks genuinely capable of breaking back into the Top Four this season.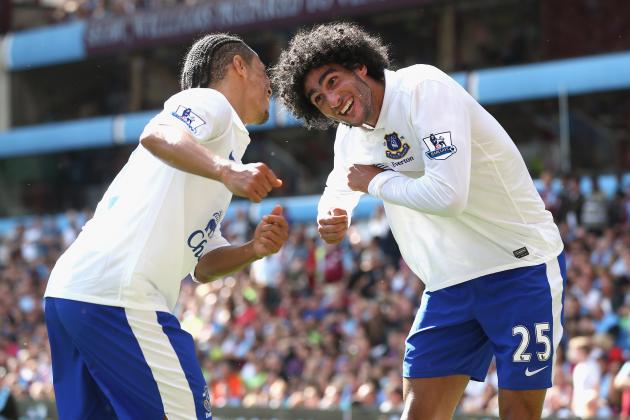 Mark Thompson/Getty Images

The emphasis which David Moyes puts on establishing and maintaining a strong team spirit at Everton has been well documented over the years.
His signings must have the right personality and attitude, both on and off the pitch, to become a success—no matter how talented they might be with a ball at their feet.
After a difficult start to his career at Goodison Park, Fellaini's body language has improved remarkably. Flailing arms of frustration have been replaced with a work-rate and determination to rival anyone in the EPL.
His relationships with teammates and the manager appear, from the outside at least, to be stronger than ever. It all translates into belief and unity when Marouane pulls on the famous royal blue shirt.
The sale of Fellaini wouldn't destroy Everton's spirit, but to see their best player move to pastures new would undoubtedly have a negative effect on the rest of Moyes' squad.