UFC on Fuel 6 Results: Video Highlights from Franklin vs. Le Fight Card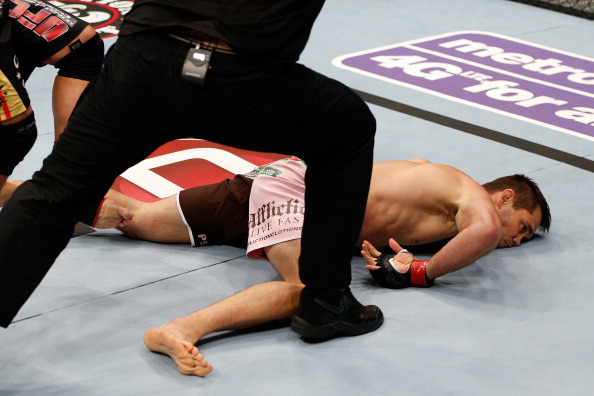 Josh Hedges/Zuffa LLC/Zuffa LLC via Getty Images
The UFC held its first fight card in Macao on Saturday, November 10 and after seven fights it looked as if the promotion was on its way to seeing its first fight card with exactly zero stoppage victories. Alas, the fighters in the co-main event and main event did not cooperate, forcing the UFC to hand out its normal allotment of three "Fight Night" bonus awards.
If you slept on the early morning live card and missed the evening's replay, no worries; we have some video highlights for you from the card, including Cung Le's brutal knockout victory over Rich Franklin.
Enjoy the video highlights as well as the jacket that Gareth Davis is wearing during the interviews.
Begin Slideshow

»
Dong Hyun Kim and Paulo Thiago both entered their bout in Macao coming off first-round losses. Kim fell victim to muscle spasms in his UFC 148 bout against Demian Maia, while Thiago fell flat on his face after tasting the fist of Siyar Bahadurzada.
The two would fight for three rounds on Saturday, but the result was never in question as Kim easily handled Thiago for the duration of the bout, earning a unanimous decision victory (30-26, 30-27, 30-27).
Thiago Silva went into the Octagon on Saturday in need of a win, he was after all 1-3-0-1 in his last five UFC bouts. On the other hand, his opponent, Stanislav Nedkov, had never tasted defeat during his 12-fight professional career.
Nedkov looked good for the first two rounds of the fight, but seemed spent when the third round began. That provided Silva with the opening he needed, and he pounced on Nedkov like the tired animal he was and earned the submission victory.
If you follow UFC president Dana White on Twitter you'll sometimes see a tweet of "Holy Sh**t" (minus the asterisks) when something spectacular happens during a UFC bout.
Well, we got another one of those tweets on Saturday when Cung Le knocked out Rich Franklin with a perfectly placed right hand. In fact, the tweet came complete with all caps and four exclamation points.
If you missed it, you need to check it out. If you did see it, you know you want to watch it again and again and again.