Oregon State vs. Stanford: 10 Things We Learned from Cardinal's Win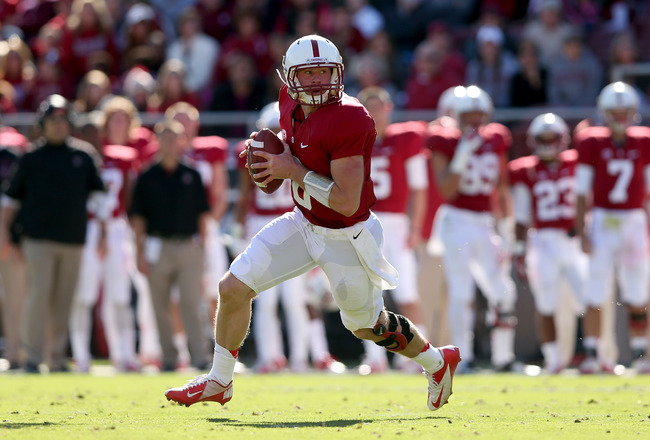 Kevin Hogan won his first career start over a tough Oregon State team.
Ezra Shaw/Getty Images
The game of the week in the Pac-12 lived up to its billing as two hard-nosed programs in Stanford and Oregon State needed every second to decide a winner. The Cardinal overcame 23 straight Oregon State points to win 27-23 and set up a huge game against Oregon next weekend for the Pac-12 North crown.
The stakes were high heading into the big Pac-12 matchup with Stanford and Oregon State. And, both teams played like it. Stanford came out and dominated the first quarter—holding the Beavers to 20 yards of offense in the quarter.
Stanford took a 14-0 lead but a well-coached Oregon State squad rebounded. OSU rattled off 23 consecutive points and looked to have the game under control.
The Cardinal defense came up with some timely stops, limited damage on turnovers and gave the offense a chance. Freshman QB Kevin Hogan did everything his coaches wanted in his first career start—enough for Stanford to come out on top.
Here are ten things we learned about Oregon State and Stanford today.
Oregon State Is No Fluke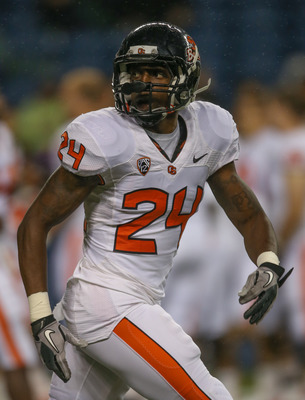 Storm Woods and his Oregon State Beavers are the real deal.
Otto Greule Jr/Getty Images
If there were any Oregon State doubters left in the country after its 7-1 start, there shouldn't be any now. Oregon State forced one of the nation's best ball-control teams into four turnovers and weathered nearly every storm the Cardinal threw at them.
The end result may not be the one that OSU wanted, but they have a solid team this season. QB Cody Vaz played a solid game. Storm Woods is a talented running back.
The defense is talented at every position. If this game is played 100 times, OSU wins at least 50 of them.
Markus Wheaton Could Be the Pac-12's Best Receiver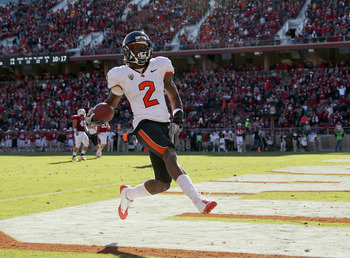 Markus Wheaton might be better than Marqise Lee.
Ezra Shaw/Getty Images
Senior WR Markus Wheaton is explosive. He runs crisp routes. He's fast with good hands and can run every route in the playbook.
Even with USC's Marqise Lee, Wheaton could be the most dynamic receiver in the conference. He turns three-yard gains into 40-yard touchdowns.
Against Stanford's tough defense, he had seven catches for 91 yards and a touchdown. He will be playing on Sundays in the near future.
Cody Vaz Has Some Growing Left to Do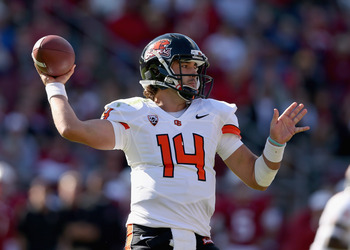 Cody Vaz still has some learning to do.
Ezra Shaw/Getty Images
Junior QB Cody Vaz had a solid day putting up 226 yards on 23-of-38 passing and a touchdown. The Stanford front created some serious problems for the QB that took three sacks.
Still, Vaz made some throws that should have been interceptions. He threw late over the middle, into double coverage on the outside and struggled outside the pocket.
This is the first time he has faced a defensive front as talented as Stanford's and this should provide a solid learning experience for his senior campaign next year.
Mike Riley Should Be the Conference's Coach of the Year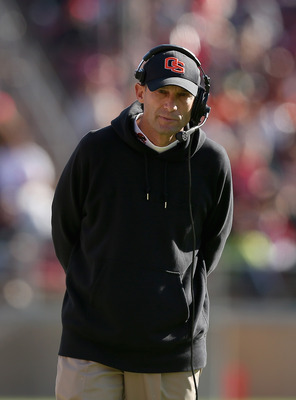 Mike Riley should be the coach of the year for his efforts with OSU.
Ezra Shaw/Getty Images
Mike Riley has done an outstanding job with his program this season. In a very physical, emotional game with a lot of implications, Riley's team kept its composure and maintained a high level throughout the contest.
If it wasn't for Stanford making plays down the stretch, OSU would be preparing for a huge showdown against in-state rival Oregon.
The most impressive statistic from Saturday's loss comes in penalties. The home team, Stanford, was called for eight penalties and 54 yards. Oregon State had two penalties for 10 yards.
A two-loss season may not be the most impressive but Riley deserves credit for the development of his program.
Oregon State Is Going to Be Good Next Season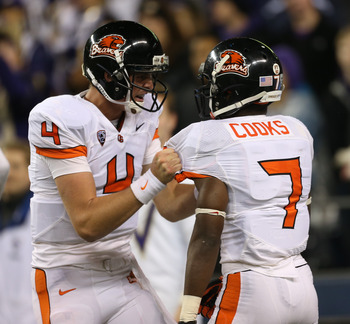 The Beavers return a ton of talent next season. They will be at the top of the Pac-12 next season.
Otto Greule Jr/Getty Images
It's pretty simple: Oregon State returns its QB, running backs and some of the top receivers. They have offensive weapons that will only get better with experience.
On the defensive side of the ball, they return studs like Michael Doctor, Scott Crichton and D.J. Welch. The coaching staff has developed some talented football players in Corvallis and next season should be a great indication of just how good this team can be.
Who would have thought Oregon would become a new mecca of college football?
David Shaw Is a Personnel Genius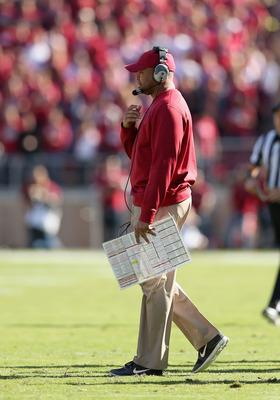 David Shaw pulls all the right strings for his Cardinal team.
Ezra Shaw/Getty Images
As the head coach of a 7-2 football team ranked in the top 25, Stanford head coach David Shaw decided to bench his starting quarterback in favor of a redshirt freshman. His first two starts would be against Oregon State and Oregon, pressure situations for different reasons.
That move could have divided the locker room and easily sent the team spiraling towards a .500 season, but Shaw proved he knows his team better than anyone. Starting Kevin Hogan paid big dividends for the Cardinal against Oregon State.
Quietly, Shaw took one of the best tight ends in the country out of the game (Levine Toilolo). He pulled all the right strings to get his team a win. Shaw is plainly a personnel genius.
Stanford Is a Complete Team
The Cardinal are as complete of team as there is in college football.
Ezra Shaw/Getty Images
The Cardinal didn't have a stellar game against Oregon State, but they proved they were a complete team. The offense complemented the defense. The defense complemented the offense and the special teams tied it all together.
When the defense struggled, the offense stepped up with long drives that allowed for adjustments. When the offense turned the ball over, the defense minimized the damage.
Stanford is a complete team. The performance against Oregon State solidifies that perception.
Stepfan Taylor Is the Real Deal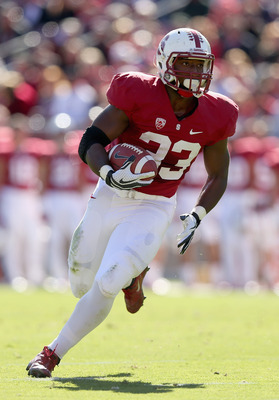 Stepfan Taylor will be playing on Sundays.
Ezra Shaw/Getty Images
Stepfan Taylor faced a very difficult front from Oregon State. The offensive line and tight ends created movement up front and the senior RB took advantage.
Taylor rushed for 114 yards on 19 carries and scored on a big 40-yard reception to bring Stanford within two points at the end of the third quarter.
He caught two passes for 47 yards to complement his solid rushing day. Taylor was a big part of the methodical drives for Stanford as the Cardinal racked up over 31 minutes of possession time.
The Pac-12 Can Play Power Football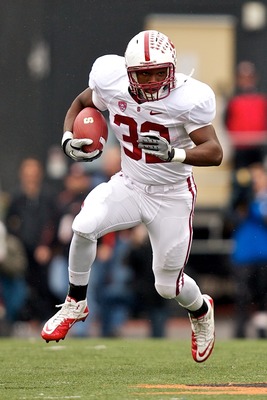 Anthony Wilkerson was just one of the many running backs to pound the football.
Craig Mitchelldyer/Getty Images
The Pac-12 gets national attention for its high-powered offenses and spread formations, but that has hurt the conference to a point. The SEC gets credit for being the power-football conference and they get rewarded perennially with berths to the national championship.
Oregon, USC and even Washington State are known for a "try to outscore the other team" philosophy. The game between Oregon State and Stanford was anything but a typical Pac-12 game.
It was power football.
The teams combined for 67 rushing attempts. They used tight ends. On third-and-short, it was a power running play not a passing play.
This was a game the Big Ten and SEC would have been proud to be a part of.
Kevin Hogan Could Be the Next Andrew Luck (or John Elway)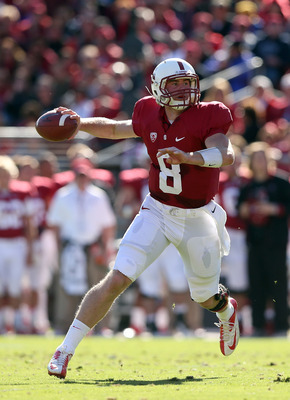 Could Hogan be the next great Stanford quarterback?
Ezra Shaw/Getty Images
Let's be honest, Hogan's performance against University of Colorado wasn't anything to get excited about. Even the most optimistic of fans had to have a little bit of skepticism due to the lack of quality of the Buffs' defense.
Still, in his first career start, Hogan played like a veteran for the majority of the game. Yes, he made a few mistakes and made the wrong read on occasion, but Oregon State's defense is good.
The Beavers brought pressure. They disguised coverages. They zone blitzed. It was a tough test for any quarterback—seasoned or not.
His final stat line:
22-of-29 for 254 yards, three touchdowns and two interceptions
Hogan also rushed for 49 yards on 11 attempts.
Hogan could be the next Andrew Luck or maybe even John Elway. If his win over Oregon State is any indication, he should have a solid career for the Cardinal.
Keep Reading