Giants vs. Bengals: Instant Grades and Analysis for New York
Andrew Weber-US PRESSWIRE

We're final at Paul Brown Stadium, where the New York Giants fell to the Cincinnati Bengals by a 31-13 mark Sunday. Bengals quarterback Andy Dalton tossed four touchdowns, Eli Manning was intercepted twice and the G-Men were held out of the end-zone until the end of the fourth quarter.
Big Blue is now a loser of two straight, while the Bengals end a four-game skid. Check here for final analysis and report card grades for key Giants.
Begin Slideshow

»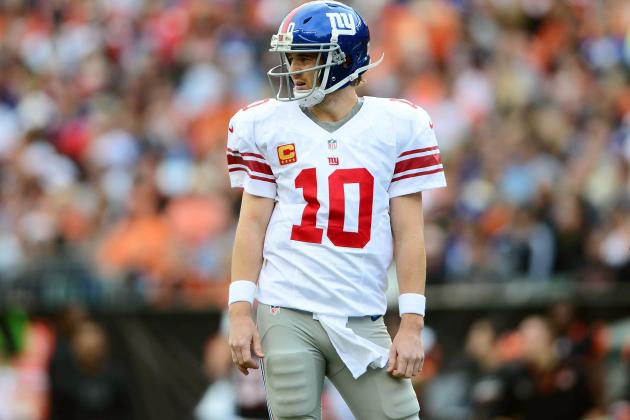 Andrew Weber-US PRESSWIRE

Eli Manning: D-
There's no skirting it: Manning was dreadful Sunday.
Poor reads and a failure to test the vertical game left Manning with a paltry 56.0 quarterback rating. Eli tossed consecutive interceptions in flushed pockets, and struggled to get into a rhythm all afternoon.
Manning's now gone 12 quarters without notching a touchdown, and compiled only 215 yards on a whopping 46 pass attempts. Eli forced balls into double coverage and suffered from a sluggish running game.
While Manning's wideouts couldn't get open for him, Eli's still responsible for a poor outing Sunday. Let's see if he can turn it around after the bye week.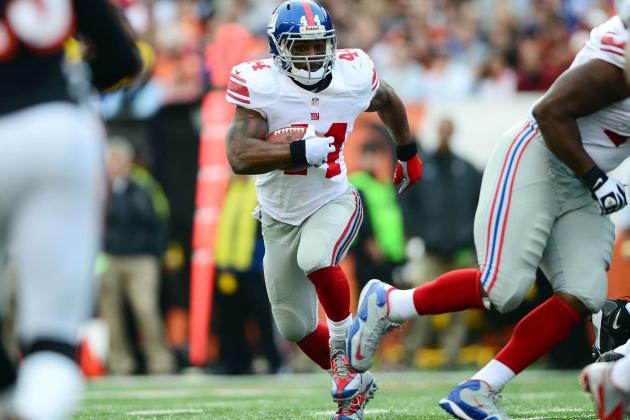 Andrew Weber-US PRESSWIRE

Andre Brown: A
The lone producer for this offense, Brown brushed 10 yards a carry Sunday and came away with New York's only touchdown, his seventh score of the year. Brown has a knack for finding open space, and hit the second level a few times in the fourth quarter.
Brown finished with 65 rushing yards and maxed out on a 29-yard scamper. He came down with 5 catches as well.
Henry Hynoski: A-
Hynoski continues to enjoy a strong 2012, and opened up a few holes for Brown Sunday. He also took one carry for 5 yards.
Ahmad Bradshaw: D+
Bradshaw coughed up his third fumble of the season and was woeful in blitz protection. While he took 10 carries for 57 yards, it was a disappointing Sunday for Bradshaw. With Brown playing so well, it will be interesting to see how carries are delegated in New York's backfield after the bye.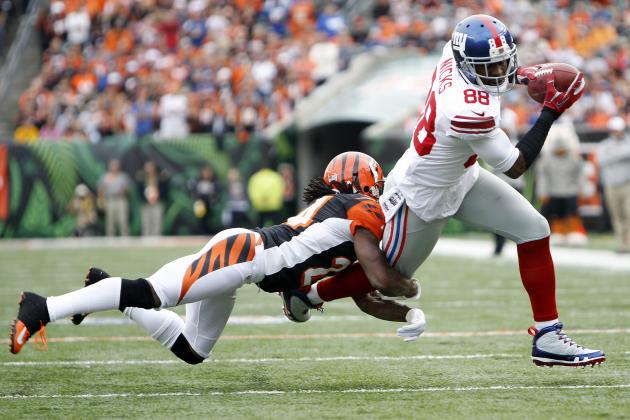 Frank Victores-US PRESSWIRE

Hakeem Nicks: B+
Nicks couldn't stretch the field Sunday, and wasn't the usual big-play threat in this one. Still, he lead the team with 75 receiving yards on 9 grabs, and was targeted 14 times.
After a down month, Nicks stepped up Sunday. Still, less than 10 yards a reception hurts his grade a bit, considering the Giants' deep element vanished early on.
Ramses Barden: C
Barden was a spot fill-in for injured wideout Domenik Hixon, and finished with 22 receiving yards on two catches. He saw three targets.
Rueben Randle: D
Randle had just 4 receiving yards, and continues to be a bit of a disappointment in his rookie season. The Giants could have used a speedy low-level presence with Cruz blanketed.
Victor Cruz: D-
Cruz disappeared Sunday, finishing with just 3 catches for 26 yards. Only targeted 4 times, Cruz struggled to get open and dropped a potential touchdown pass in the fourth quarter.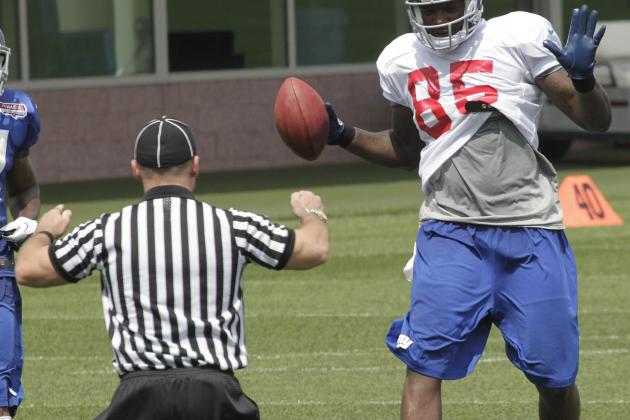 The Star-Ledger-US PRESSWIRE

Martellus Bennett: B-
Bennett dropped a pass on Sunday, and finished with 37 receiving yards. He continues to be a viable asset in run blocking, but there's no denying a drop-off in his receiving play the past month.
Bear Pascoe: B-
Pascoe was held off of the stat sheet, but continues to be a reliable blocker.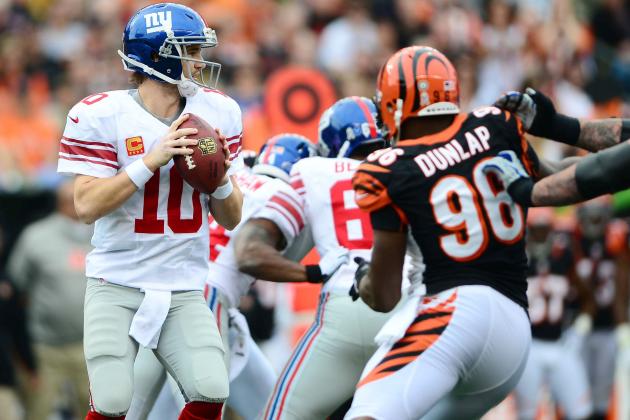 Andrew Weber-US PRESSWIRE

Will Beatty: B
Beatty's left side was stronger Sunday, but he was beat on a few plays in the third quarter. The Bengals' pass rush is one of the NFL's best, and the Giants struggled to keep Manning upright.
Chris Snee: C-
Snee was beat on by tackle Domata Peko for a second-half sack, and he struggled to pick up Cinci's big interior line.
David Baas: D+
Baas was overpowered on gut runs, and struggled to keep Peko in check for much of the game. Baas and Snee had trouble converging in this one as well.
Sean Locklear: D
Locklear couldn't protect the edge Sunday, and his right side was pitiful. Locklear spent time lined up with end Robert Geathers, and fared very poorly.
Kevin Boothe: D-
Boothe continues to struggle on picking up blitzes, and was partially responsible for the closing pocket on both Manning interceptions. Boothe's inability to slide and hold his block on DT Geno Atkins cost the Giants mightily.
David Diehl: D-
Diehl saw reps on the outside as a jumbo tackle, sometimes in a tight end spot, and was man-handled by Robert Geathers on two sacks. With the Giants' offensive line gelling while Diehl was shelved with a knee injury, fans have to wonder what Diehl is doing in there.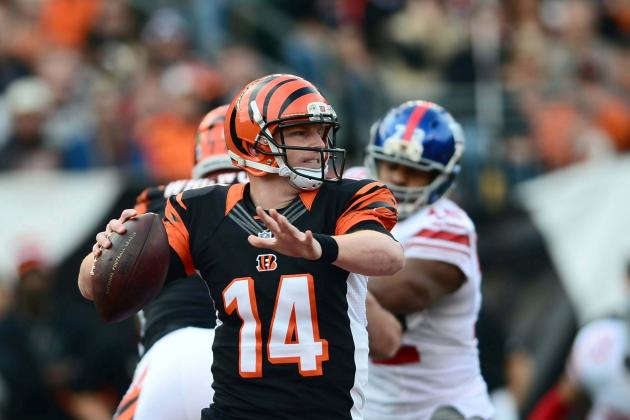 Andrew Weber-US PRESSWIRE

Linval Joseph: B
Joseph had two tackles and a quarterback hit, and did a serviceable job stuffing the middle against Bengals tailback Benjarvis Green-Ellis.
Jason Pierre-Paul: C
With Andy Dalton going practically untouched Sunday, "J.P.P." lead the D-line with five tackles. It was a disappointing day for everyone on New York's pass rush.
Osi Umenyiora: D+
Umenyiora had four tackles, but failed to break the pocket at all Sunday.
Chris Canty: D+
Canty was beat on a few inside runs, failed to make an impact in pass rush and finished with just one tackle.
Justin Tuck: D
Tuck's two tackles and zero QB hurries are a huge step back for his burgeoning 2012 season. The hottest member of this D-line, Tuck was held in check all afternoon.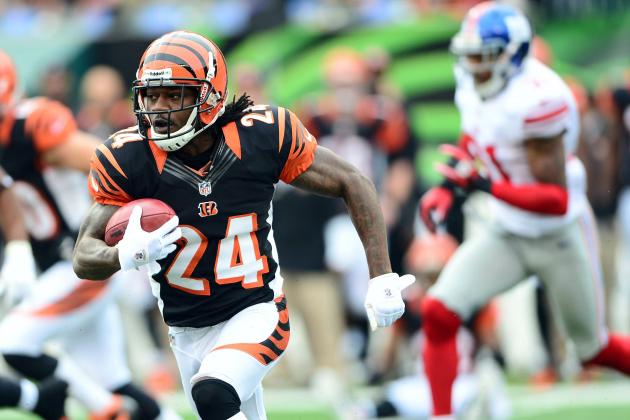 Andrew Weber-US PRESSWIRE

Chase Blackburn: A
Blackburn's 8 tackles were second-highest for the Giants, and the Bengals averaged just 2.7 yards per carry Sunday. It was nice to see Blackburn back in action after missing last weeks' game against Pittsburgh.
Michael Boley: B+
Boley recorded 7 tackles and performed well when lined up against Bengals tight end Jermaine Gresham.
Mathias Kiwanuka: B
"Kiwi" recorded four tackles, although he didn't see much action in pass rush. It's been a relatively quiet season for the 7-year pro.
Spencer Paysinger: B
Paysinger saw some time on Sunday and finished with four tackles.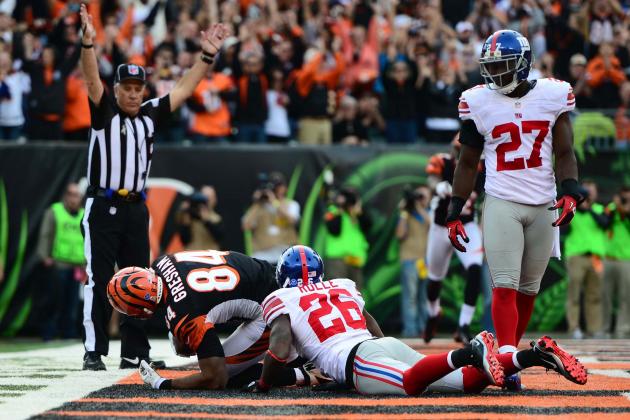 Andrew Weber-US PRESSWIRE

Stevie Brown: B
While Brown had just two tackles, he did a good job playing center field Sunday. Brown continues to impress in an inconsistent secondary.
Antrel Rolle: D+
Rolle was responsible for Jermaine Gresham's touchdown, though he did have six tackles on the day.
Jayron Hosley: D
Hosley was edged by Andrew Hawkins for the game's second touchdown, and continues to be hit-or-miss for this pass defense.
Corey Webster: D-
Webster was gassed--to say the least--by A.J. Green for the game's first touchdown, and allowed 85 yards to Green on the day. It's been a rough year for the assumed No. 1 corner.
Prince Amukamara: D-
Amukamara's team-high 10 tackles reflects just how often he was picked on Sunday. The second-year corner was charged with Mohamed Sanu's touchdown in the third quarter, and struggled defending the sideline all game.
Andrew Weber-US PRESSWIRE

Steve Weatherford: A+
Weatherford booted a 68-yarder and averaged over 50 yards a punt. He was one of the few bright spots on a gloomy Sunday for Big Blue.
Lawrence Tynes: A
Tynes was 2-for-2 on field goal attempts, and was responsible for 7 of New York's 13 points.
Rueben Randle: A
Randle averaged 14 yards a punt return, his highest mark of the season. Unfortunately for Randle, the Giants were unable to force many punts Sunday.
David Wilson: D
Wilson bumbled through kick returns Sunday, averaging just 17.8 yards a return. He failed to even cross the Cincinnati 20-yard line on most of his runbacks.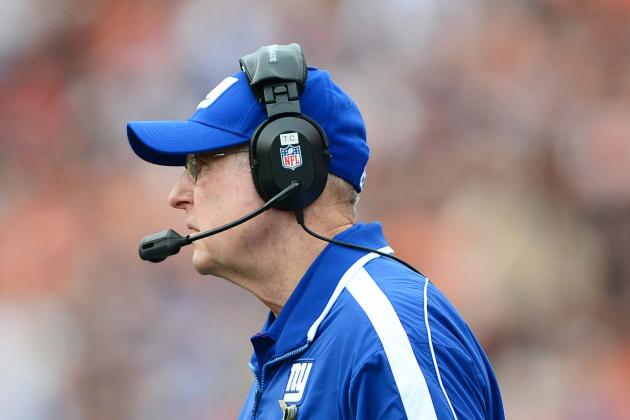 Andrew Weber-US PRESSWIRE

Overall Game Grade: D-
The Giants couldn't adjust defensively, failed to play to their potential and didn't test the big play Sunday. Play-calling was unimaginative, and the G-Men looked unmotivated and sloppy.
With back-to-back losses, the Giants welcome their bye week with open arms.