Idaho vs. Brigham Young: Live Scores, Analysis and Results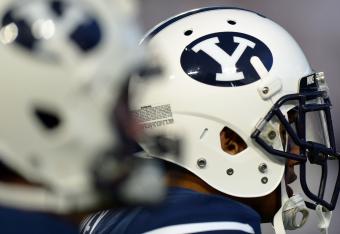 Jake Roth-US PRESSWIRE
FINAL: Brigham Young 52, Idaho 13
The Cougars opened the game with three straight scores on its first three offensive possessions and then never looked back in a dominating performance. The game bogged down with second-team players in the late third quarter through the fourth amid the chilly sub-30 degree temperatures.
Brigham Young had 539 yards of total offense to Idaho's 273 yards, and controlled the game clock by beating the Vandals in time of possession, 35:47-24:13.
Cougar quarterback Riley Nelson was 19-of-31 passing for 236 yards and three touchdowns. Running back Jamaal Williams, finished the first half with 10 carries for 104 yards and two touchdowns. He didn't have a carry in the second half.
Idaho quarterback Logan Bushnell was 19-of-37 for 206 yards, one touchdown and two interceptions. The Vandals only had 61 yards rushing for the game, and had five total turnovers. The Vandals lead the FBS in turnovers.
With the win, Brigham Young becomes bowl eligible and it is expected that the Cougars will receive an invite to the San Diego County Credit Union Poinsettia Bowl.
FINAL: Brigham Young 52, Idaho 13
The Cougars took off in the first quarter and never looked back en route to a lopsided win over the Idaho Vandals. Though Idaho collected a fumble on a punt in the final seconds of the game, the Vandals were outmatched from the beginning.
The win makes the Cougars bowl eligible. BYU is 6-4 on the season while Idaho falls to 1-9.
1:51, Fourth Quarter - FIELD GOAL, Cougars!
Cougars cap a 76-yard drive with a 21-yard field goal. The 52 points scored in this game mark a season high for Brigham Young.
Brigham Young 52, Idaho 10
3:52, Fourth Quarter
Game has really bogged down. Fortunately, the clock is still running.
4:42, Fourth Quarter
Another long drive by the Cougars. Drive aided by roughing the passer penalty. BYU just outside the Idaho 20.
7:59, Fourth Quarter - FUMBLE by Idaho
Bushnell takes off running again, fumbles for fifth turnover of the game for Idaho. Ball was stripped. Bushnell really under the gun all night.
10:45, Fourth Quarter
Idaho converts on third down, just the second third-down conversion of the game in 11 tries.
10:47, Fourth Quarter
BYU has 10 more minutes of offensive possession than the Vandals. Cougars closing in on 500 yards of total offense while Idaho has 224 yards.
12:00, Fourth Quarter - TOUCHDOWN, Cougars!
Lark finds Cody Raymond for a three-yard touchdown reception. Pass was underthrown but Raymond goes down and digs it up before it hits the turf. PAT is good.
Drive went 42 yards in eight plays and consumed more than three minutes of the game clock.
Brigham Young 49, Idaho 10
End of Third Quarter: Brigham Young 42, Idaho 10
Brigham Young has 438 yards of total offense to Idaho's 217 yards. Idaho only has 31 yards rushing. Time of possession heavily in the Cougars' favor: 26:39-18:21.
Brigham Young's offense didn't put any points up on the board in the third quarter while Idaho managed a field goal.
:15, Third Quarter
Play is starting to cool down to match the weather. Temperature sits at 27 degrees.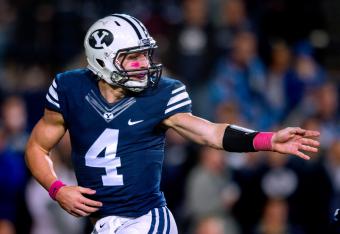 2:07, Third Quarter
Goal line stand for Idaho, turns away Cougar scoring attempt. Idaho gets the ball after a fumble in the end zone on fourth down results in a touchback. Are the Cougars backing off or is the second team's red-zone offense simply not that good? This might be a concern for the Cougars if starters go down.
Of course, the Cougars have Lark at the helm; he is a senior QB playing the last home game of the season.
4:47, Third Quarter - INTERCEPTION, Cougars!
Uani Unga picks off the Bushnell pass. It's the fourth Idaho turnover of the game. BYU back to a ground pound attack inside the Idaho 30.
5:52, Third Quarter
Vandals back to short passing game, find more success moving the ball this quarter, but they are playing mostly against Cougar second teamers.
7:16, Third Quarter
James Lark in at QB for Brigham Young. Almost throws an interception but it is dropped. Cougars have to punt the ball away after drive stalls.
8:22, Third Quarter
Corey Sandberg seeing time on special teams for the Vandals. He is one of two Purple Heart winners playing FBS college football. Usually on practice team, but was put on the roster for the trip to Provo.
8:28, Third Quarter - FIELD GOAL, Idaho!
39-yard field goal by the Vandals. Kick snuck inside the left upright. A good drive that went 48 yards in five plays, but the Vandals couldn't punctuate it with more than the three points.
Brigham Young 42, Idaho 10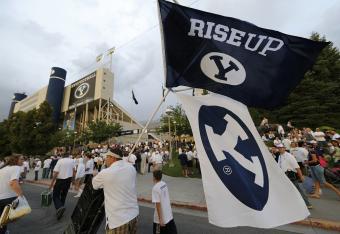 8:51, Third Quarter
A bit of trick-eration that does not quite pan out, but Idaho moving the ball and is deep into BYU territory. But big third down coming up.
10:59 Third Quarters
Add insult to injury, Vandals' tackling is not very good. Arm tackling is not pulling down BYU ball carriers. BYU shoots itself in the foot after a great long opening-half drive, the Cougars turn over the ball on downs.
12:14, Third Quarter
Great run after catch by Hoffman, hurdles and lunges to keep the drive alive with the first-down pickup. Nelson is firing the ball downfield. Hoffman is 6'4", and now Nelson finds Mitch Matthews, a 6;6" wide receiver.
14:21, Third Quarter
Cougars start third quarter with the ball and starters in the game. Shouldn't be long before the subs start rolling in.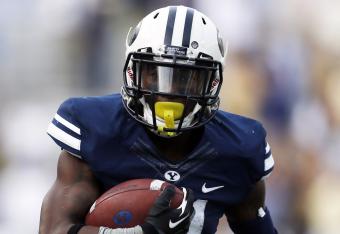 HALFTIME
Brigham Young stats: 367 total yards; Nelson is 16-of-27 for 193 yards and three touchdowns; Williams has 10 carries for 104 yards and two touchdowns; Hoffman has eight catches for 91 yards and three touchdowns.
Idaho stats: 139 total yards of offense; Bushnell 10-of-20 for 113 yards, one touchdown and one interception; Bass with eight carries for 24 yards on the ground; Mike Scott with two catches for 52 yards and Jahrie Level with three grabs for 20 yards.
HALFTIME - Brigham Young 42, Idaho 7
Nelson runs for first down on a fourth and 10 play deep in Idaho territory. A dominating first half aided by a reeling and struggling Vandal team. Idaho had that one good drive that resulted in points but other than that it has been all Cougars.
:25, Second Quarter - FUMBLE!
Idaho fumbles the ball and gives it right back to Brigham Young. Idaho has 30 turnovers in nine-and-a-half quarters. Leads the FBS in that category, but not one that any team wants to lead in.
1:08, Second Quarter
Sustained, methodical drive by the Cougars, eats clock and moves the ball.
Cougars try a field goal, but the kick is driven low and wide - credit a bad snap.
3:42, Second Quarter
Nelson sprints for another big game. Idaho proving its ranking as one of the poorest defenses in the FBS. Brigham Young has well over 300 yards of total offense and still moving the ball.
This article is
What is the duplicate article?
Why is this article offensive?
Where is this article plagiarized from?
Why is this article poorly edited?

BYU Football: Like this team?