WWE Survivor Series 2012: Match-by-Match Breakdown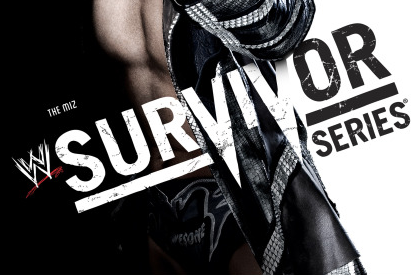 Photo courtesy of WWE.com
The year is coming to a close, and we only have two WWE pay-per-views left before we move on to 2013.
The next PPV is Survivor Series, the stepchild of the "Big Four" PPVs, which takes place this Sunday in Indianapolis.
While the show's card lacks the same luster that many of the previous ones had, it does feature three big matches, the outcomes of which will likely have a major domino effect on the WWE's top storylines.
Even though we're just two days away from the PPV, there seems to be some uncertainty about how it will play out and which stars will walk away victorious on Sunday.
I myself don't really know what know what to expect from Survivor Series, but that's not going to prevent me from trying to predict it anyway.
Here is my match-by-match breakdown of Sunday's Survivor Series pay-per-view.
Begin Slideshow

»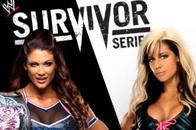 Photo courtesy of WWE.com
Not surprisingly, the buildup to the Divas Championship match between Eve Torres and Kaitlyn has been pretty bad, and as a result, the fans don't seem to care about this rivalry all that much.
Much of the feud has centered around high school-like drama, which isn't a great way to generate interest in it or either of the Divas involved. But hey, I guess this feud must continue because, outside of AJ Lee, these are the only two Divas getting any real TV time as of late.
I think this rivalry shows just how thin the Divas division, which is at an all-time low, has gotten, but it has allowed Eve to step up as the face of the division and thrive as its top heel. I'd like to see AJ feud with her for the title, but since she's too busy with a stupid affair angle, we've got Kaitlyn in this slot.
Kaitlyn has improved a ton over the last year or so, but she still gets a pretty weak reaction from the crowd and probably isn't ready for the Divas title just yet. But she's been chasing the belt for more than two months now, even losing a Triple Threat match for the title last month at Hell in a Cell.
If Kaitlyn loses here, logic says this feud should end, but I don't think the WWE wants to pull the plug on this rivalry just yet because no other Divas really matter at the moment. That's why I think Kaitlyn has to win the belt on Sunday for this feud to continue.
Eve's the better overall talent of the two, but (let's just be honest with ourselves here) does it really matter who walks away with the Divas title at Survivor Series?
The Pick: Kaitlyn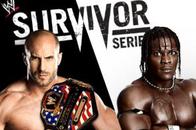 Photo courtesy of WWE.com
What a random feud this is.
It sprung up seemingly out of nowhere after R-Truth saved his former tag team partner Kofi Kingston from a beatdown by Antonio Cesaro, and now all of a sudden, these two are headed for a match at Survivor Series with Cesaro's United States Championship on the line.
Cesaro seems to have a really bright future in the WWE and has settled nicely into his role as the typical anti-American foreigner. It's been done before, but it works for him and at least gives him some character development.
R-Truth, on the other hand, has done next to nothing since dropping the WWE Tag Team Championship, and the creative team came completely out of nowhere with this mini-push of sorts that he seems to be getting.
I honestly don't think that's it more than a short-term thing, though, or that it's really even an actual push.
Quite simply, Truth is a somewhat popular babyface who the WWE has decided to use to help Cesaro get over. In other words, he's someone for Cesaro to beat.
Truth is in his early 40s, and his best days are behind him. Cesaro is in the prime of his career and being groomed to potentially become a top star one day.
The outcome of this match seems rather obvious.
The Pick: Cesaro via The Neutralizer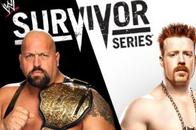 Photo courtesy of WWE.com
I'm not a huge fan of either Sheamus or Big Show, but I have to say that this rivalry has been built up surprisingly well.
Big Show has come across as an unstoppable monster heel, and despite the clean loss at Hell in a Cell, Sheamus has been portrayed as an incredibly tough babyface, which has resulted in a nice feud between the two so far.
Most of us were pretty shocked when Big Show beat Sheamus clean to win the World Heavyweight Championship at Hell in a Cell because Sheamus almost never loses clean, so Big Show looked very impressive when he toppled a guy who has been next unbeatable for the last year or so.
I still think that Big Show will ultimately prove to be nothing more than a transitional champion, but if that's indeed going to be the case, then the next question is when Big Show will lose the title.
Many expected that to happen at Hell in a Cell with Dolph Ziggler cashing in his Money in the Bank briefcase on Show right after he won the World title. That didn't happen, so now, many are expecting it to happen at Survivor Series instead.
I actually don't see Ziggler cashing in on Sunday. I see another heavyweight slug-fest between Sheamus and Big Show, with the giant walking away as the decisive winner for the second straight time.
Not all heels need to cheat to win, and especially after his performance at Hell in a Cell, Big Show proved that he can win simply by knocking a guy out. I think it's possible Sheamus wins the title back, but why take the title off of him in the first place if the plan is just to put it right back on him?
Ziggler is obviously the wild card here, but assuming he doesn't cash in (which I don't see happening), I expect Big Show to look very strong with another decisive and, most importantly, clean victory over "The Great White" at Survivor Series.
The Pick: Big Show via WMD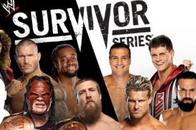 Photo courtesy of WWE.com
Team Foley vs. Team Ziggler is a tough match to try to predict.
With 10 superstars involved and with a guy like The Miz suddenly on the babyface side, there are so many ways this match can go that any prediction I make could wind up being totally wrong. But I guess I'll try to do it anyway.
I think this traditional 5-on-5 match will be used primarily to further feuds between the guys on opposing teams, but also to ignite a push of a superstar or two on the winning team.
That's why I've asked myself: Who is the most likely to be standing stall at the end of this match?
My answer is Randy Orton and The Miz.
It's clear that, with two straight PPV victories over Dolph Ziggler and Alberto Del Rio, Orton is being positioned for another run in the World title/main event scene. Meanwhile, The Miz seems to be turning babyface and also looks poised to reenter the main event picture, but as a good guy for the first time in his career.
Thus, both of these guys could use the rub at Survivor Series, which is precisely why I think they'll be the last two guys standing when the match is said and done. After all, the heels won the 5-on-5 match last year (Team Barrett beat Team Orton, with Barrett and Cody Rhodes standing tall).
I don't think the heels will "repeat," especially in a WWE that's now heavily dominated by babyfaces. My only question is who will be the survivors for Team Foley.
With so much tension between Hell No (after what happened with The Miz on this week's Raw) and Kofi Kingston not figuring to be the shining star of his squad, The Miz and Orton stand out as the two babyfaces most likely to be victorious on Sunday.
After all, we know that, with the way it's currently constructed, the heels almost always lose.
The Pick: Team Foley, with Orton and The Miz as the team's two survivors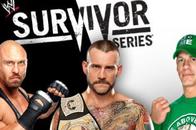 Photo courtesy of WWE.com
After successfully (albeit controversially) defending his WWE Championship against Ryback at Hell in a Cell, CM Punk faces an even bigger challenge at Survivor Series: A Triple Threat match against both Ryback and John Cena.
On paper, the odds are against Punk to retain the WWE title that he's held for almost exactly a year now. In reality? It seems like a lock that that's exactly what he'll do.
While Ryback is currently in the midst of a massive push and, as we all know, losses (especially clean ones) are very rare for Cena, the bottom line is that taking the belt off of Punk would throw too big a wrench into the WWE's future creative plans.
Yes, you could, at least theoretically, take the WWE title off of Punk at Survivor Series, put in on either Ryback or Cena and then have Punk win the belt back at WWE TLC next month. But that would kill Punk's momentum and end the possibility of him walking into the 2013 Royal Rumble for a mega-match with The Rock having held WWE title for more than 400 days.
Is avoiding either a Ryback or Cena loss really worth screwing up the plans for the road to WrestleMania 29? I sure don't think so.
The WWE has kind of booked itself into a corner here once again, but there's an easy solution: A classic Triple Threat finish in which one of the babyfaces hits his finisher on the other face and the heel sneaks in for the victory.
It happened at SummerSlam, and I wouldn't be even slightly surprised if it happened at Survivor Series, with Ryback hitting Shell Shocked on Cena only for Punk to steal the pin and retain his title.
If anyone can afford to get pinned here, it's Cena. Any other outcome has too many negative consequences that would really screw up future creative plans.
The Pick: Punk gets the pin after Ryback hits Shell Shocked on Cena
Drake Oz is a WWE Featured Columnist for Bleacher Report. Follow him on Twitter!