Kansas State vs. TCU: Live Scores, Analysis and Results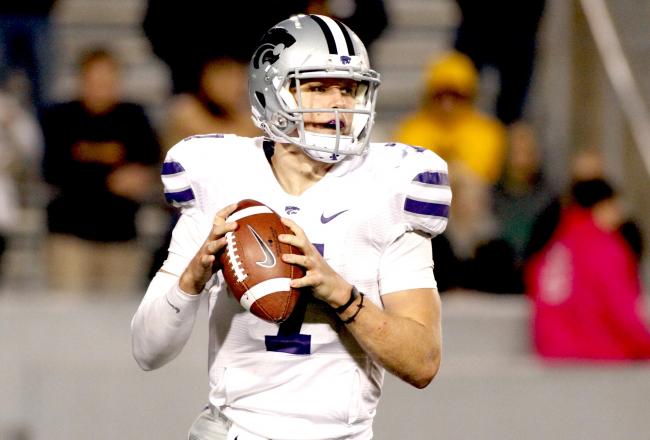 KSU 23 TCU 10 Final

Kansas State didn't exactly roll over TCU with a video game-like score at the end of Saturday night's contest, but the Wildcats may have very well earned the title of the nation's No. 1 team with a score of.
Despite the injury he suffered last Saturday in a win over Oklahoma State, QB Collin Klein took the field against TCU and delivered an another game-winning performance. It wasn't the typical Heisman-like performance for the Kansas State senior, but it was enough to propel his team past a stiff TCU defense.
Klein finished the evening with 145 yards through the air and 50 yards on the ground along with two rushing TDs. Klein's reported head injury didn't seem to bother him as he continuously put his safety on the line with runs right up the middle of TCU's defense. Klein's one mistake of the night was an interception thrown early in the first quarter.
Klein's counterpart, TCU QB Trevone Boykin, struggled to produce offense for his team, but his toughness was showcased as he continued to remain in the game after suffering a shoulder injury early in the first half.
Boykin scraped together 164 yards through the air to go along with his one TD pass, which occurred late in the fourth quarter when a comeback was out of reach.
With the win, Kansas State improves to 10-0 on the season as they await the release of the new BCS standings. Alabama's loss to Texas A&M this Saturday will certainly factor into the new standings, and the implications for the Wildcats will be a No. 1 ranking that they have so patiently waited for.
Kansas State will look to continue their undefeated streak with a road game against Baylor next Saturday and a final home game against Texas. TCU will look to rebound from tonight's loss with home games against Texas and Oklahoma.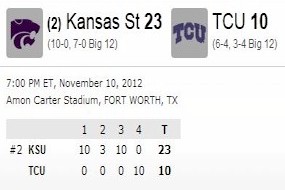 Final Score:
That should do it. K-State hangs on to win 23-10.
Great performance by Collin Klein even though he didn't put up 40-plus points tonight. Just some more fuel to add to the fire in his Heisman campaign. Klein racked up 145 yards through the air, 50 yards on the ground and two rushing TDs.
TD TCU! KSU 23 TCU 10 Late 4th Qtr
TCU continues to fight, but it's already way too late for a comeback.

K-State's defense is playing tough to the final whistle. They really don't want to give up more than three points to this TCU offense.
Alright, alright. Some more good news to soften the blow for TCU fans:
TCU scored in a 252nd consecutive game. It's the 3rd-longest active streak in the nation and 8th in NCAA history.

— Mark Cohen (@tcusid) November 11, 2012
FG good by TCU! KSU 23 TCU 3 Late 4th Qtr
TCU prevents the shutout with that FG by Oberkrom.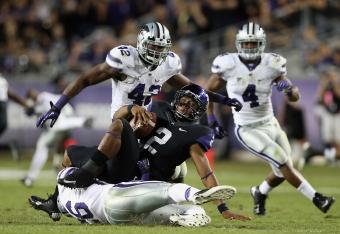 Trevone Boykin continues to put his body through punishment with those runs. He's putting it all on the line after injuring his shoulder in the first half.
Biggest run of the night for John Hubert on the 14-yarder down the sidelines. I guess they didn't need production from him after all. K-State's 23 points should be more than enough to lock up a victory.
That's the end of the third quarter. A comeback seems impossible with the way that TCU's offense has played. K-State's defense is making life very difficult for Boykin and the offense.
You saw the graphic that just went on the screen. TCU has 16 true freshman starting this season. The future should be bright for this young team if they can hang with the No. 2 team in the nation.
Well at least TCU has something to cheer about:
Tonight's attendance of 47,292 is the 4th-largest crowd in TCU history.

— Mark Cohen (@tcusid) November 11, 2012
The wheels/froglegs are coming off for TCU. The new No. 1 in BCS is pulling away 23-0.

— G LeBreton (@gilebreton) November 11, 2012
FG good by K-State! KSU 23 TCU 0 Late 3rd Qtr
Anthony Cantele hits the FG to increase K-State's lead to 23-0.
Credit Boykin for staying in as long as he has:
Boykin appears to be hurt again. #TCU #KSU

— Travis L. Brown (@Travis_L_Brown) November 11, 2012
I have never seen such an athletic play by an offensive lineman on a fumble recovery. Collins pounced on that football and ripped right out of the hands of a K-State defender.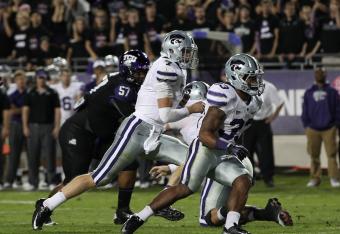 TD K-State! KSU 20 TCU 0 Late 3rd Qtr
Klein with an unbelievable run to the end zone for his 19th rushing TD of the season. Again, not the prettiest looking runner but he's tough to bring down.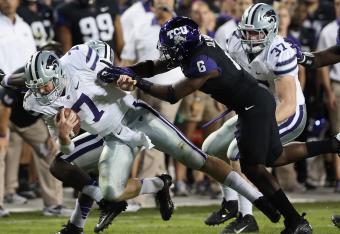 TCU gets to Klein for the third time tonight. As Gus Johnson noted, that's the most sacks against K-State this season.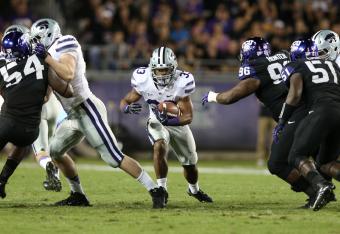 We haven't seen a lot of John Hubert tonight. That last carry was only his sixth of the game. Hubert came into tonight's game with 760 yards to his name and an average of 5.5 yards a carry.
Couldn't have said it better myself:
Frogs will receive the kick-off to start the second half. We need the offense to play as well as the defense is playing! #gofrogs

— TCU Football (@TCUFootball) November 11, 2012
For your viewing pleasure, a humorous clip comparing Collin Klein to James Bond: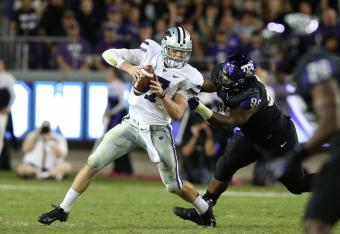 It's been the Collin Klein show in Forth Worth. Klein has 103 yards through the air and 22 yards on the ground.
TCU hasn't been able to get on the board, but they haven't been that far off statistically. TCU racked up 104 total yards compared to K-States 160.
TCU can still get back into this game if their defense continues to play like it has. However, Boykin has to get his team some points if the Horned Frogs plan on keeping up with K-State.
Ty Zimmerman picks off Trevone Boykin for his fifth INT of the season. That really hurts as TCU heads into the locker room.
FG Good by Kansas State! KSU 13 TCU 0 Late 2nd Qtr

Anthony Canetele tacks on another FG. Great stand by the TCU defense. The Horned Frogs are not out of this one yet.

Gary Patterson's defense is not letting up. That last stand near the goal line was incredible. K-State's offense could not punch it in on the ground or through the air.
You have to hand it to TCU's defense tonight. They have been all over Klein despite being down 10-0.
This article is
What is the duplicate article?
Why is this article offensive?
Where is this article plagiarized from?
Why is this article poorly edited?