Detroit Pistons vs. Houston Rockets: Live Score, Results and Game Highlights
The Houston Rockets broke their losing streak with a 96-82 win over the Detroit Pistons. It wasn't a pretty one, but it was a win nonetheless.
Hang out with me for the rest of the night to get live updates, stats, highlights and more throughout the rest of this game.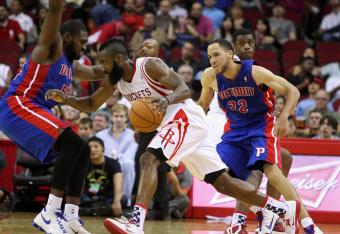 Keys to the game
This wasn't a pretty one in any right, but there are a few things to be taken away from this game.
Houston won primarily because Detroit played terrible basketball. The Pistons absolutely couldn't score in the paint, and every shot the put up was an adventure. Half of that was because of the defensive pressure, mainly from Omer Asik, but the other half was because Detroit is a bad basketball team.
A nice takeaway for Houston is that they didn't miss a free throw until James Harden clanked one in the fourth, and the other four misses came in garbage time from Marcus Morris and Carlos Delfino.
Finally, Houston won this one because Houston's Kelvin Sampson wasn't afraid to play with the rotation. For stretches at a time Harden ran well with Toney Douglas and Jeremy Lin was able to get the big guys involved. The Rockets should be just fine while Keivn McHale is out.
Houston still needs to work on shot selection, and a lot of their offensive problems should be fixed as they play more games together, but for now it'll be a work in progress.
If you watched this one with me, thanks, it was a struggle and you should deem yourselves hardcore basketball fans. Until next time, everybody.
Rockets 96, Pistons 82 Final.
Let's take a look at the stats for each team. First Houston:


And Detroit's:
Rockets 92, Pistons 82 Final
Houston grabs a victory, and a win is a win, but they've got to be concerned that two of their three wins have come against the Detroit Pistons so far this season.
Rockets 96, Pistons 82 Final.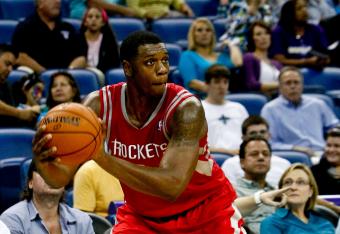 Terrence Jones has been trying to hit it all game long, but he finally hit his first three of his career. He may be one of six from the floor tonight, but by gosh he hit that one.
Rockets 96, Pistons 80 with 0:12 left in the fourth.
It hasn't been a pretty one, but Detroit was a lot uglier than Houston in this one, this pretty much sums it up:
Rockets were on a 22-1 run before that last Detroit bucket. At 84-59 with 5:30 left, it looks like the mini losing streak will be snapped.

— Houston Rockets (@HoustonRockets) November 11, 2012
Houston is on the way to a win, but there's a lot of work left to do.
Rockets 90, Pistons 75 with 1:18 left in the fourth.
I'm not an expert, but it seems to me if Marcus Morris, Greg Smith and Toney Douglas have a +/- of +20 against you, you're gonna have a bad time.
Rockets 86, Pistons 67 with 2:45 left in the fourth.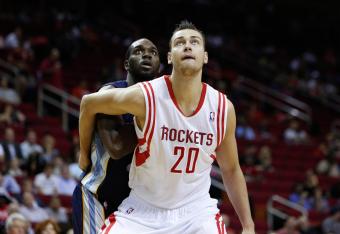 Donatas "Donuts" Motiejunas comes in for his first minutes of his NBA career. He gets the ball in the post, gets fouled and sinks one of two freebies.
Sampson has played all 13 players on the Houston bench tonight, I'm not sure Kevin McHale has gone more than eight deep in a game so far this season.
Rockets 83, Pistons 60 with 4:26 left in the fourth.
Here's a nice fast-break from the Rockets during the third quarter. Jeremy Lin hits James Harden with a bounce-pass in stride for a tough layup.
It's surprising that Harden didn't break his hand when he hit the hoop support after the bucket after the few games he's had.
Rockets 82, Pistons 59 with 5:13 left in the fourth.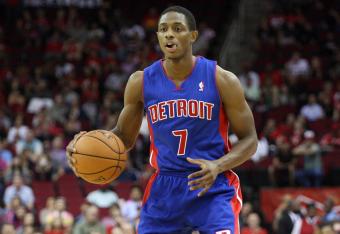 Brandon Knight scores the first Pistons bucket in 11 minutes of basketball. Good golly it's been a long time coming.
Houston 84, Pistons 59 with 5:30 left in the fourth.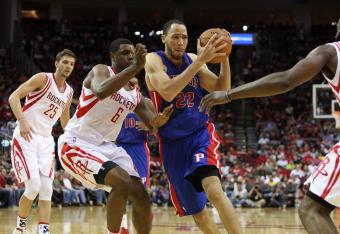 Detroit hasn't made a shot since the five-minutes mark of the third quarter. They've gone a full nine basketball minutes without knocking down a shot.
At this point I'm not wondering about how many games they'll lose this year, I'm wondering about how long it's going to take this team to actually win a game.
Rockets 78, Pistons 57 with 7:46 left in the fourth.
Houston's broadcast crew is ready to proclaim that Harden is "back" but I'm not sure if a six for 14 night really constitutes being "back" especially when it comes against Detroit.
Even still, enjoy the crowd going nuts for a big three from Harden.
Rockets 78, Pistons 57 with 8:01 left in the fourth.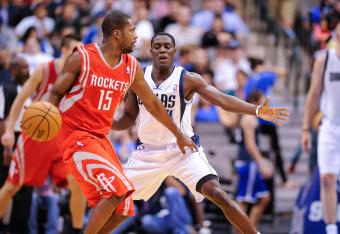 It seems like somebody has taught the Rockets point guards the art of "jumping in the air for no reason and wildly passing after deciding at the last second not to shoot the ball," because Jeremy Lin and Toney Douglas both do it a few times each game.
Needless to say, it's not a viable offense to run.
Rockets 78, Pistons 57 with 9:45 left in the fourth.
You know something is going wrong if you're shooting 39 percent like the Pistons are, and your opponents are shooting worse (Houston is on a 36.9 percent clip for the game) but you're still losing.
It's been an ugly one all around in the Toyota Center.
Rockets 75, Pistons 57 with 10:14 left in the fourth.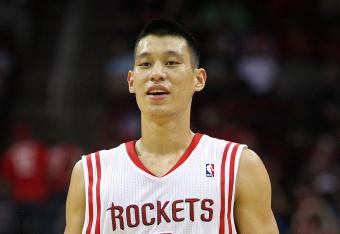 James Harden is up to six of 14 shooting after a good half with 20 points in all. Meanwhile, Jeremy Lin is putting together a decent all-around game with seven points, four rebounds and seven assits.
Detroit is foundering on the other side with only two players, Greg Monroe and Tayshaun Prince, in double-figure scoring so far tonight.
Houston 72, Rockets 57 at the start of the fourth.
Here's a nice little wrap of the first half highlights from the Rockets-Pistons.
Rockets 72, Pistons 57 after the third.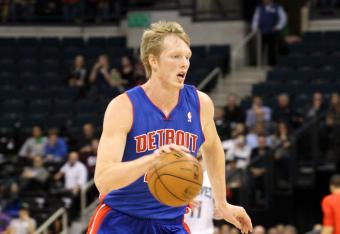 This just in: Kyle Singler can't guard James Harden.
Rockets 72, Pistons 57 with 1:17 left in the third.
Clyde Drexler seems to think that anybody in the restricted zone should just get up and dunk the ball, regardless of who they are.
I'm waiting to here, "I don't know what Jeremy Lin's doing trying to lay that one in, he just needs to get up there and flush it. Just do it like Shaq did it!"
Rockets 71, Pistons 57 with 1:52 left in the third.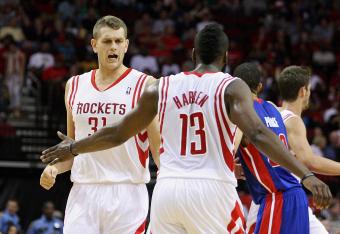 The crock pot is bubbling and the Rockets are on fire. James Harden has made all three shots he's taken this quarter to the tune of nine points.
Rockets 69, Pistons 56 with 3:20 left in the third.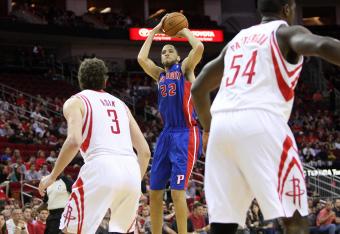 Put this one on your list of mildly interesting things happening in this game:
Milestone alert: Tayshaun needs just 2 more points to tie Grant Hill for 8th all time on the #Pistons career scoring list.

— Detroit Pistons (@detroitpistons) November 11, 2012
I'll let you guys know when the shot falls and Tayshaun breaks out the bubbly.
Meanwhile, Houston is going out on a run.
Rockets 66, Pistons 56 with 4:03 left in the third.
There's a game of volleyball going on here in Houston. Hands are hitting the ball left and right, sending it going in every direction. Nothing in this quarter has looked pretty.
Rockets 60, Pistons 56 with 5:08 left in the third.
Houston's Twitter account is great at summing things up nicely, and this really gives us a look at what James Harden's past three games have gone like:
Harden bobbles a pass and says, whatever, I'll just hit a 3 from here. 13 for @jharden13 as Rockets lead 58-49 with 7:36 in 3rd.

— Houston Rockets (@HoustonRockets) November 11, 2012
His possessions don't look pretty, and they're not wise at times, but shots fall every once in a while regardless.
Rockets 58, Pistons 54 with 6:31 left in the third.
Check out Jeremy Lin's underneath pass to James Harden for an easy lay-in.
Once these two really get together and find some consistent chemistry things are going to come up roses for the Rockets every game they play.
Rockets 53, Pistons 47 with 8:39 left in the third.
This pretty much sums up James Harden's season so far with nothing really left out:
James Harden: 41.0 PPG, 63.6 FG pct, 42.9 3-pt FG pct in first 2 games. In his past 3, 19.0 PPG, 29.8 FG pct and 11.8 3-pt FG pct.

— ESPN Stats & Info (@ESPNStatsInfo) November 10, 2012
Unfortunately for Harden, it's been more of the latter tonight, even though Houston is playing relatively well.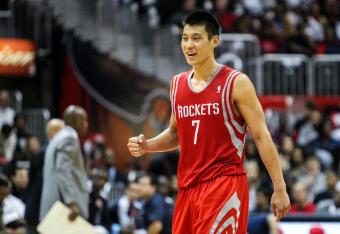 We're back on it here and this one's looking a lot more physical. Jeremy Lin got tackled on a terrible jumper from Jeremy Lin.
Rockets 49, Pistons 43 with 10:41 left in the third.
Here's a look at the nice tic-tac-toe fast break from Houston earlier in the second. Terrence Jones blocks a shot, Omer Asik outlets it, Jeremy Lin dips it in and James Harden slams it home.
Of course, it all wouldn't be complete without the man in the stands with a mustache and a backward's Rockets hat (seemingly) drunkenly approving.
This article is
What is the duplicate article?
Why is this article offensive?
Where is this article plagiarized from?
Why is this article poorly edited?

Houston Rockets: Like this team?