New York Jets vs. Seattle Seahawks: Live Score, Highlights and Analysis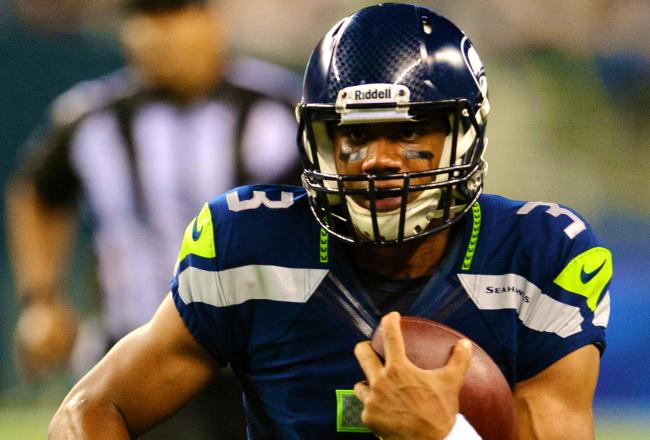 Final Score: 28-7 Seahawks
Scoring plays:
1.
Golden Tate
38-Yard Pass From Russell Wilson (SEAHAWKS)
2. Muhammad Wilkerson 21-Yard Fumble Return (JETS)
4. Sidney Rice 31-Yard Pass From Russell Wilson (SEAHAWKS)
5. Sidney Rice 23-Yard Pass From Golden Tate (SEAHAWKS)
Thanks for joining me today!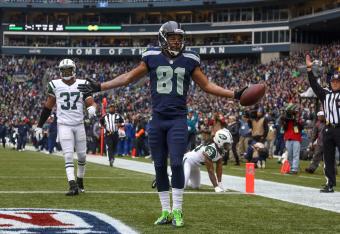 "When you have athletes like we have, there is always a chance of a special play" - @petecarroll on @showtimetate's TD pass

— Seattle Seahawks (@Seahawks) November 12, 2012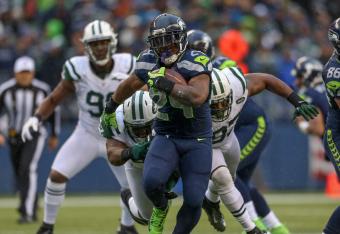 "For the whole football team to see Marshawn get to 1000 yards makes us proud" - @petecarroll

— Seattle Seahawks (@Seahawks) November 12, 2012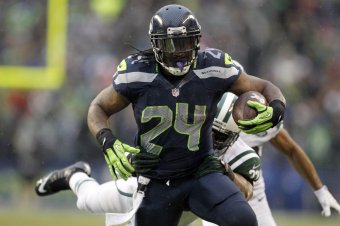 Joe Nicholson-US PRESSWIRE
Stats that tell the tale:
Total Yards:
Seahawks: 355
Jets: 185
First downs:
Seahawks: 20
Jets: 11
3rd Down Conversions:
Seahawks: 5-14
Jets: 2-11
QB Comparison:
Russell Wilson: 11-17 177 yards, 2 TDs
Mark Sanchez: 9-22 124 yards, 1 INT
Turnovers:
Seahawks: 2
Jets: 3
Defensive Sacks:
Seahawks: 3
Jets: 4
Bottom line:
This game further proved the point that the Jets are a mess as an organization, and the Seahawks are really good at home. Something everyone already knew.
Seahawks QB Russell Wilson has shown so much maturity in the last several weeks is really astounding. From his pocket manipulation, to his ability to maintain proper eye level as he escapes pressure the growth is a great sign for this young Seattle Seahawks squad.
The Seahawks defense has also been a joy to watch but need this bye week to regroup. I think fatigue and K.J Wright's injury has led to some run fit break downs and this time off gives the team time to get refreshed for the playoff push.
For the Jets, the writing is on the wall. They are not doing anything well on the offensive side of the ball and the blame is on a select few. Offensive coordinator Tony Sparano has installed a gimmick filled scheme and refuses to allow Mark Sanchez to play with a rhythm.
Tim Tebow should either start, play running back, or hold a clipboard. This QB swap approach is killing the Jets season by taking valuable practice time away from the Jets base offense. Going to be a long season for the Jets.
Message for you: Thanks for joining me today! It's been fun as always
This game has turned into a pre-season like environment. Game is over and all the players know it.
What a great play call! The reverse receiver throw to a wide open Sidney Rice. The Jets have no answer today. .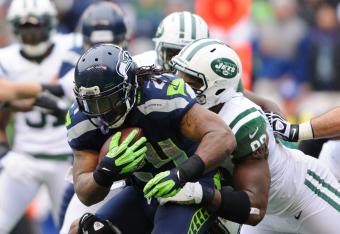 Marshawn Lynch over 1000 yards for the season. The Seahawks really struck gold with his addition to the team.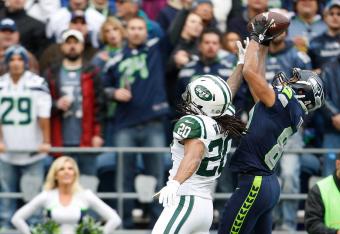 Golden Tate really is showing off the capabilities that led the Seahawks to draft him. Fun to watch.
Strip-Sack-Fumble recovery.. The Jets aren't capable of getting out of their own way. That was a gross pass protection breakdown. Great work by Seahawks DT Jason Jones.
Why on earth would you put Tim Tebow in now? Your starter needs to be in when the team needs a comeback.
I'm going to call it: Jets time of death 13:33 fourth quarter.
What an absolute beautiful throw from Wilson to Rice for six. I'll challenge anyone that tells me Russell Wilson is not going to be "the guy" in Seattle for years to come.
Marshawn Lynch with the biggest run of the day. The Seahawks are in finish mode now.
Seahawks need to put this game out of reach right here. The Jets are just laying there in their own offensive misery. The humane thing to do is put them down.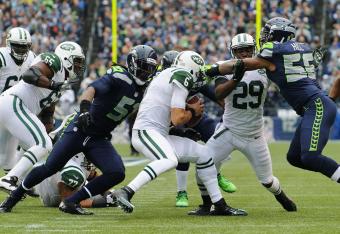 Bruce Irvin 2, Quinton Coples 0
The Seahawks are playing this game on an empty tank yet are still winning. This game shouldn't have been so close.
Marshawn Lynch and the entire offensive line just pushed the pile for nine yards but then fail to get one yard for the conversion. Head scratching.
Russell Wilson has developed such patience in the pocket.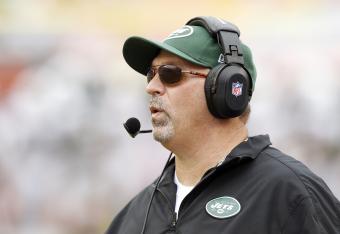 Even when the Jets get a good offensive look, they simply can't execute. This is what happens when you spend valuable practice time on gimmicks and QB swaps over your base offense and fundamentals.
Tony Sparano has single handedly sunk the Jets season. Yep, I said it.
Seahawks need to be wary of the middle screen. Feel like a big opportunity for the Jets has emerged with the Seahawks penetration success.
I've never been a fan of the third down empty sets by Seattle. Not particularly affective. Seahawks go three and out and punt the ball away to open the half.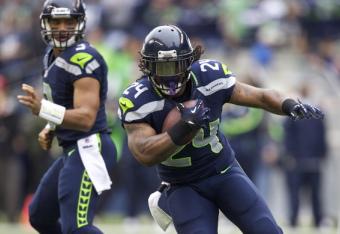 Forgot to mention the Seahawks run game issues. Front side penetration forcing Lynch into the cut back lane where a Jets defender is waiting eagerly. 2.8 yards per carry is not going to get it done. Must improve in the second half.
Halftime Stats:
Passing:
Russell Wilson: 6/10, 104 yards 1 TD
Mark Sanchez: 5/14, 67 yards 1 INT
Rushing:
Marshawn Lynch: 14 Carries, 39 yards 1 TD (2.8 YPC)
Shonne Greene: 9 Carries, 33 yards (3.7 YPC)
Time of possession:
Seahawks: 15:25
Jets: 14:35
First Downs:
Seahawks: 7
Jets: 4
Bottom Line:
The Jets defense has actually played pretty well today but the story of the game is the putrid Jets offense. Without the Russell Wilson fumble return for a score the Jets would have nothing on the score board.
In my opinion, Mark Sanchez's time as the starter should come to and end. It's just not working anymore.
Seahawks getting beat a lot in pass protection. Play calling may be an issue but I'd submit execution is the biggest issue.
This article is
What is the duplicate article?
Why is this article offensive?
Where is this article plagiarized from?
Why is this article poorly edited?

Seattle Seahawks: Like this team?