Florida Football: 10 Things We Learned from the Gators' Win vs. ULL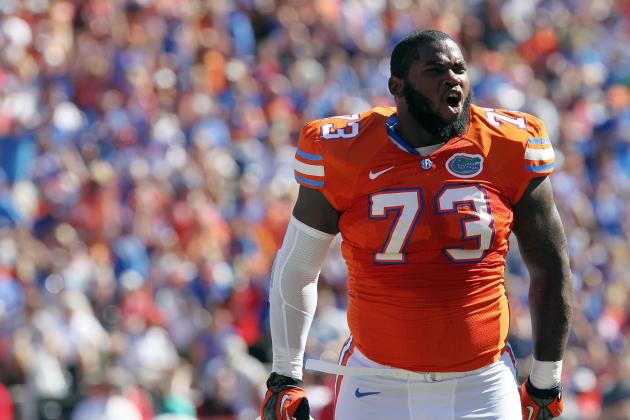 Kim Klement-US PRESSWIRE

OK, so maybe I overreacted last week when I said that the Gators "survived in the Swamp." After all, Florida scored the go-ahead touchdown with 14:55 against Missouri, and it took a blocked punt returned for a touchdown with just :02 left on the clock today.
Florida truly survived today. In a game that Louisiana did almost enough to come away with what would have been the biggest upset in school history, they deserved to win today. The Ragin' Cajuns outplayed the Gators. Florida's offensive line couldn't stop a four-man rush from UL, and it resulted in Jeff Driskel and Jacoby Brissett running for their lives.
Driskel went down late in the third quarter with an apparent ankle injury. After the game, Will Muschamp said that the training staff informed him that Driskel would be unavailable the rest of the game. Muschamp doesn't believe that there is a break in the ankle, just a sprain, but the severity of the sprain has yet to be determined.
It was a hard-fought, grind-it-out type of win in a game that the Gators were favored by 27 points and should have been able to win easily. You find out a lot about a team in close games and even more when they have to overcome adversity to earn a victory. Let's take a look at what we learned form the win over Louisiana-Lafayette.
Begin Slideshow

»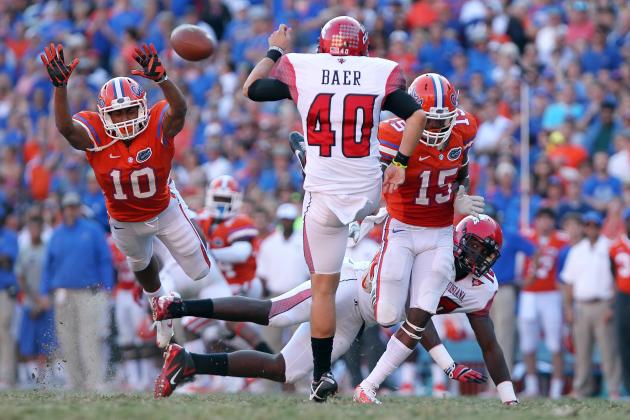 Kim Klement-US PRESSWIRE

All season long, Florida's special teams have bailed the offense out and kept Florida in close games.
Today, the special teams did that, but they also came up with the game-winning play.
Kyle Christy was back to his normal self, averaging 45.6 yards per punt, and the coverage teams did their job, downing kicks and preventing anything in the return game. Caleb Sturgis was back from an injury that caused him to leave the game last week and was a perfect 2-of-2 on field-goal tries and 3-of-3 on his extra -oint attempts.
It was with :13 seconds left in the game when the special teams came up with the play of the game. Loucheiz Purifoy came off the edge, from a spot, where Chris Rainey made blocking punts commonplace for the Gators, and was able to get a hand on the punt.
Florida got a lucky ricochet, and the ball landed right in Jelani Jenkins lap with nothing but orange shirts in front of him. Jenkins was able to return the block for a touchdown with just :02 left on the clock to win the game.
Florida's special teams have been great all season, but they were special on Saturday.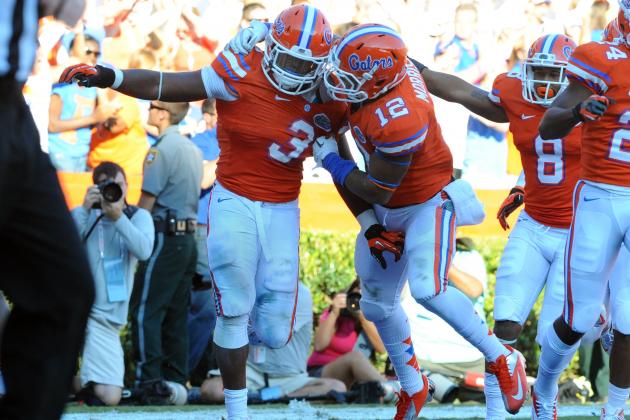 Al Messerschmidt/Getty Images

In his opening press conference after accepting the head coaching job at Florida, Will Muschamp promised to build a physically and mentally tough football team.
Check that mentally tough off as a promised kept.
The Gators have trailed at halftime in six of their 10 games this season. This team never gives up and plays tough until the fat lady is singing the chorus for the second time.
Jeff Dillman coined a phrase over the offseason, "FNB." It stands for "Florida Never Breaks," and the team has taken that saying to heart.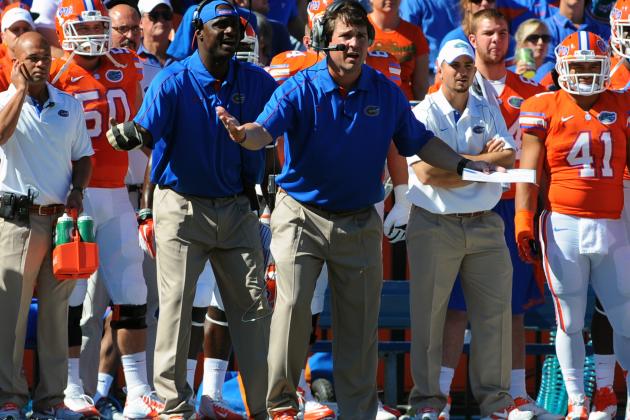 Al Messerschmidt/Getty Images

Florida hit double-digit penalties on Saturday, but it wasn't just how often they were penalized but when the flags came. Florida watched a touchdown get called back because of a holding penalty, had a pass interference in the end zone and extended two UL drives with defensive penalties on third down.
Matt Elam was called for a blatant late-hit penalty, but that's what you get with Elam. He plays like his hair is on fire, and you take the good with the bad because the good far outweighs the bad.
The offensive line's holding penalties, illegal shifts and illegal formations are penalties that seemingly happen every week. The coaching staff and players need to get a handle on them.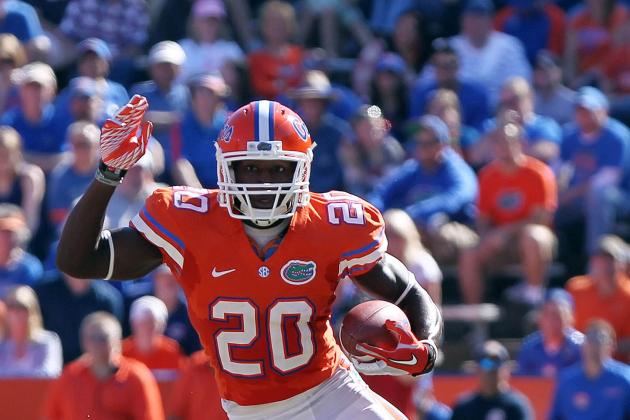 Kim Klement-US PRESSWIRE

He's a jack of all trades and master of none, but he needs to touch the ball more.
Omarius Hines has played tight end, wide receiver, running back and now plays the "F" or H-Back position for the Gators.
Hines has great speed and size and creates mismatches with linebackers, which is the main reason he was moved into the backfield. He carried the ball three times for 37 yards and caught three passes for 29 yards. Six touches is not enough for Hines. He needs to be around 10 touches a game.
The Gators haven't been able to find a wide receiver who can be counted on, and Hines can pick up the slack. His versatility should be taken advantage of. Hines could start in the backfield and motion out wide or vice versa.
He can line up at tight end and motion out wide. The pre-snap motion with Hines would force the defense to show their hand and could help the offense get something going this season.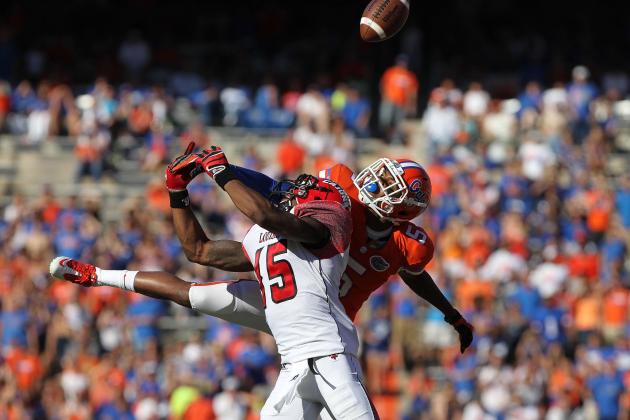 Kim Klement-US PRESSWIRE
Marcus Roberson was called for holding on this play.
You play with five offensive linemen. So when a team can rush just four linemen and get pressure on the quarterback and close up running lanes, something is wrong.
The Gators offensive line, a unit that was praised by the coaching staff early on in the season, has struggled mightily all season long.
Despite the unit being banged up, Jessamen Dunker is eligible for a redshirt, and the coaching staff seems reluctant to burn that redshirt to let Dunker fill in at guard. That left Ian SIlberman starting at left guard and Kyle Koehne filling in for him later in the game.
The fine linemen who started and played today couldn't get the job done, but neither have the other two players who were replaced by them. Florida needs to think of their future and keep playing their younger linemen. If they can give you the same level of production as the seniors, then why not play for the future by getting Humphries experience?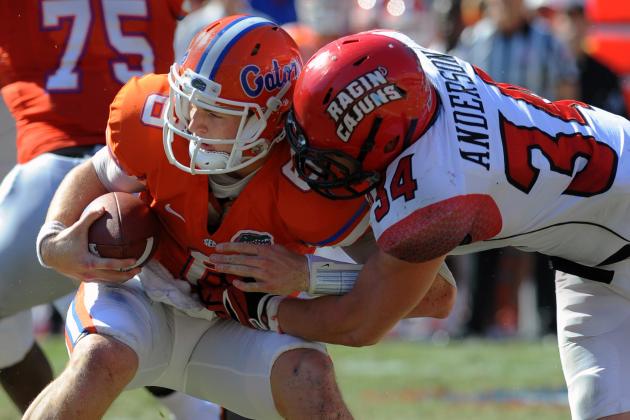 Al Messerschmidt/Getty Images

After the Gators beat LSU, I, along with a lot of other bloggers, columnists and experts, claimed that the Gators were "back."
It's time to pump the brakes on that statement.
Yes, Florida is 9-1, and the only stat that matters is winning games, but the way Florida has looked for the better part of a month shows you that, while they are improved, they are definitely not back yet.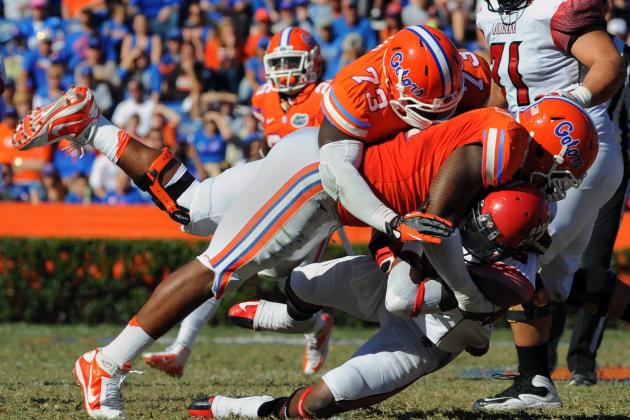 Al Messerschmidt/Getty Images

Florida's defense embodied Jeff Dillman's phrase "Florida Never Breaks."
At one point in the game, UL scored 17 straight points, but when the defense needed to step up, they did.
The defense held UL to just three points in the fourth quarter and came up with three huge stops in the quarter.
The first was holding the Ragin' Cajuns to three points and keeping it a one-possession game at the start of the fourth quarter. The next two came late in the fourth quarter to give the Gators offense the ball back for the eventual tying-touchdown drive and holding UL to a three-and-out before the game-winning blocked punt.
Despite giving up the most points they have given up all season, Florida held UL to under 100 yards rushing, just 267 total yards and made stops when they absolutely had to.
The man who wears Tim Tebow's number might have made the biggest play any Gator has since Tebow was wearing that same jersey. He's been one of the Gators' best cover corners this season and their best gunner on special teams all season long.
With :13 left in the game, Purifoy came off of the edge and got his hand on a punt that ended up being the difference in the game. Purifoy came up big in the biggest moment of the game.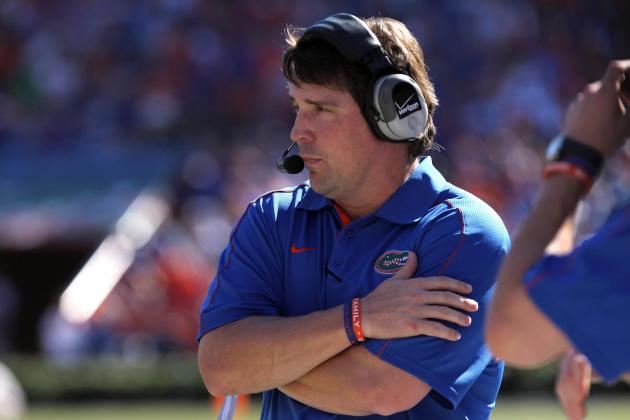 Kim Klement-US PRESSWIRE

Florida still has a chance to play for the SEC championship. But, they don't deserve to.
Florida controlled their own destiny going into the Georgia game, and the Gators laid an egg. In the two games following that one, they have had to sweat it out against two inferior teams.
Championship teams would have taken out their pain and frustration from losing to Georgia against Missouri. A championship team would have played their second-string players more against Louisiana today rather than needing a blocked punt at the end of the game to squeak out a win.
Florida is good, and they will be even better next season, but they are not a championship-caliber team this season.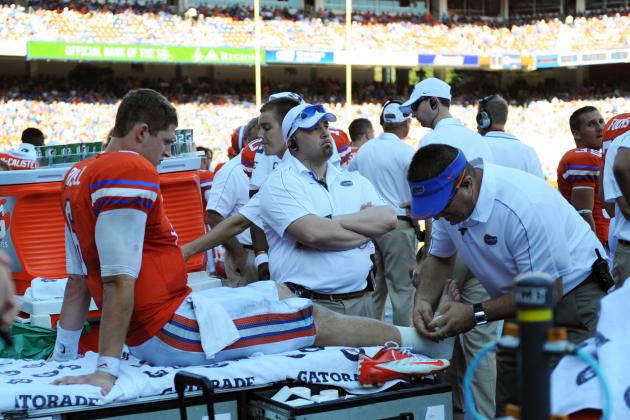 Al Messerschmidt/Getty Images

You thought it was over, but it's baaaaaaaaaaaaack.
With Jeff Driskel going down with an ankle injury in the third quarter, Jacoby Brissett took over and threw his first passes since the season opener.
Brissett started off slow but did lead the eventual game-tying drive. Brissett finished the day 6-of-8 for 64 yards and a score. The touchdown pass came when the pocket collapsed, Brisset rolled to his right, kept his eyes in the end zone and found Quinton Dunbar in the back of the end zone.
It was a great play for Brissett and couldn't have come in a bigger moment.
Driskel doesn't have a broken ankle, but the severity of his sprained ankle is still unknown. If Driskel cannot play this weekend, and Brissett has a good game against Jacksonville State, does Muschamp have a tough decision to make heading into Florida's game against FSU?
You hate to see a quarterback lose his job because of an injury, but if Brissett can get the offense moving and into a rhythm, you need to at least have the discussion.