West Virginia vs. Oklahoma State: Live Scores, Analysis and Results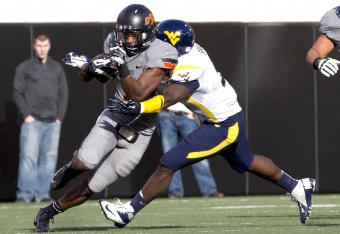 Final Score: Oklahoma State 55, West Virginia 34

Oklahoma State took advantage of West Virginia's defensive deficiencies and special teams mistakes to beat the Mountaineers 55-34 in Stillwater.

The two teams combined for 89 total points and 926 yards of total offense in a game that turned out to be the type of offensive shootout that many were expecting.

The victory improves the Cowboys' record to 6-3, while it marks the fourth straight loss for West Virginia.
As promised, here's a look at the 10 lessons we learned from today's game.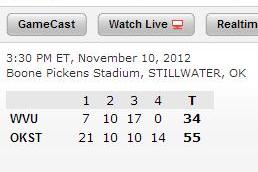 Here's a look at the final scoreboard, courtesy of ESPN.
And that will do it.
Oklahoma State and West Virginia combine for 89 points and 922 yards of offense in an offensive shootout that turned out to be one-sided in the 4th quarter.
Stay tuned for my wrap-up article about the lessons we learned from today's game.
Oklahoma State showing zero class by chop-blocking during a victory formation.
There's no need for that.
Geno Smith gets drilled and misses an open receiver for a touchdown on his final play of the game.
It's a fitting way to end a disappointing day.
Great play on the ball by Oklahoma State CB Justin Gilbert.
Gilbert's still a bit raw but he's definitely got NFL skills.
Stedman Bailey now has 13 catches for 212 yards today.
If he didn't play today, there's no telling how bad Geno Smith would have looked.
Down by 21, and West Virginia is still throwing screens.
Ridiculous.
At least try to get the ball down the field.
West Virginia's special teams finally does something right by partially blocking that Quinn Sharp punt.
It's just too little, too late, though.
Geno Smith has 0.0 interest in running.

— Jimmie Tramel (@JimmieTramel) November 10, 2012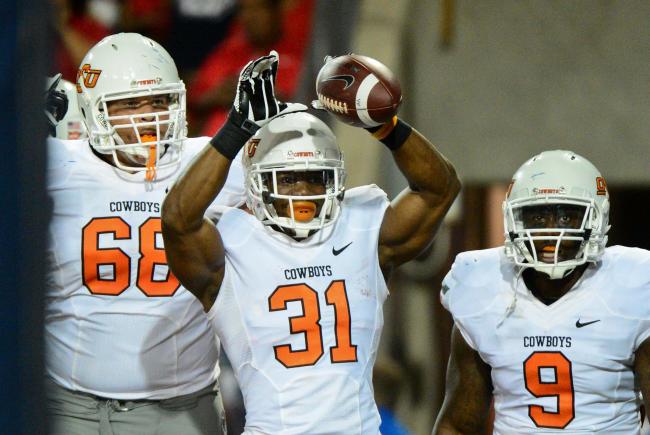 Score Update: Oklahoma State 55, West Virginia 34. 9:50 Left in the 4th Quarter.
Jeremy Smith took his fourth carry of the game 21 yards into the end zone for the touchdown.
That looks like it could be the death blow.
Geno Smith misses a wide-open receiver on 3rd and 6.
Smith's inconsistency lately is definitely concerning.
He's certainly not impressing NFL scouts with his performance today.
Score Update: Oklahoma State 48, West Virginia 34. 12:05 left in the 4th Quarter
Josh Stewart took his 13th catch of the day into the end zone for his third touchdown of the game to put Oklahoma State up by two scores.
Great throw by Clint Chelf on that deep pass down the sideline. That was perfect touch and placement on that pass.
Admittedly, though, it helped that CB Pat Miller decided not to look back and find the ball.
Absolutely terrible job by West Virginia's punt coverage team.
Four Mountaineers surrounded the ball and simply watched it roll into the end zone.
Huge Mistake.
It's the end of the third quarter and this game has already gone over the total of 74 that the Las Vegas sportsbooks set for this matchup.
West Virginia and Oklahoma State have combined to total 732 yards of offense in the first three quarters.
There's a chance we may see 1,000 yards of total offense today.
Ohh!
Geno Smith overthrows a wide open Jordan Thompson by about two feet.
If you want to be a top-10 NFL draft pick, you've got to hit those types of passes.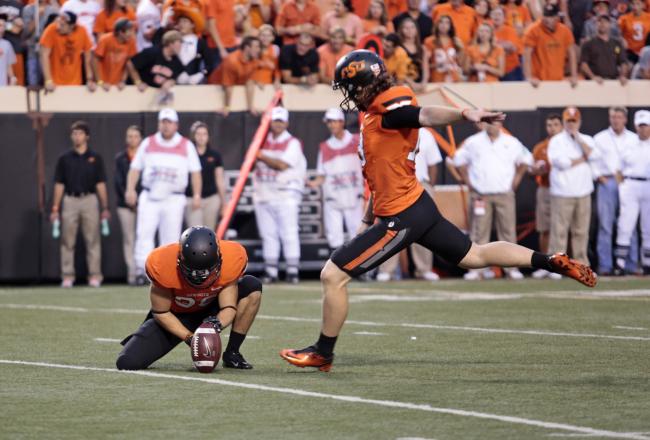 Score Update: Oklahoma State 41, West Virginia 34. 2:22 left in the 3rd Quarter.
Quinn Sharp booted through a 32-yard field goal to put the Cowboys back up by a touchdown.
West Virginia's defense has really stepped up when it's needed to in this second half. Great job by the unit holding the Cowboys out of the end zone.
Another play, another great catch by Josh Stewart.
West Virginia's defense might want to think about tightening up the coverage on No. 5.
Outstanding catch by Josh Stewart.
Stewart's got a bright future ahead of him in Stillwater. He's clearly got star potential.
Like I said before, weak arm-tackles aren't going to cut it against a running back like Joseph Randle.
Score Update: Oklahoma State 38, West Virginia 34. 5:20 left in the 3rd Quarter.
Geno Smith powered his way in from one-yard out to cut Oklahoma State's lead down to four.
The energy has definitely been sucked out of the stadium after that big turn in events.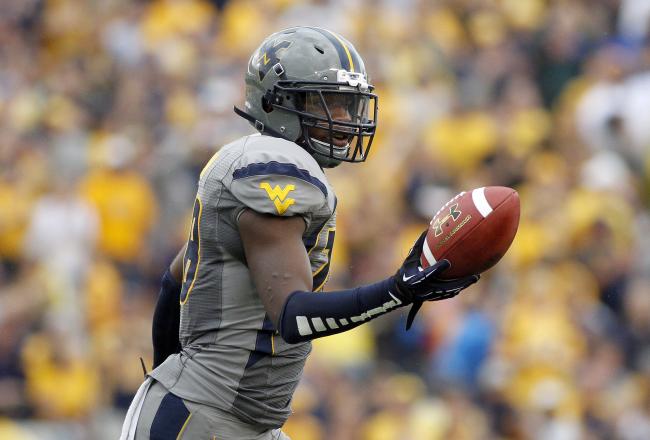 Terence Garvin comes up with a huge interception on a tipped pass and returns it 43 yards to the Oklahoma State 1-yard line.
It looked like Garvin was in at first, but judging by the replay, it's clear that he stepped out at the one.
That's the type of game-changing play that really swings the momentum in the Mountaineers' favor.
Now they have to punch it in.
Score Update: Oklahoma State 38, West Virginia 27. 5:58 left in the 3rd Quarter
The holding call on Quinton Spain proved to be a killer, as West Virginia had to settle for 37-yard field goal by Tyler Bitancurt.
How do the officials miss a clear facemask on Tavon Austin near the goal line?
Austin's head was completely sideways.
This article is
What is the duplicate article?
Why is this article offensive?
Where is this article plagiarized from?
Why is this article poorly edited?

WVU Football: Like this team?