Penn State vs. Nebraska: Live Scores, Analysis and Results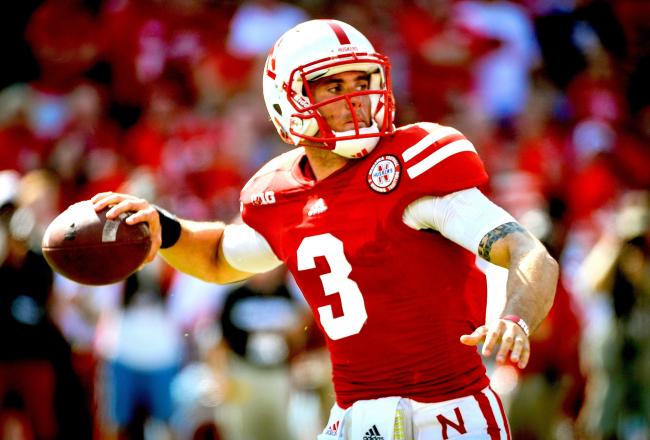 Final Score, Nebraska 32 Penn State 23
The Nebraska Cornhuskers trailed the Penn State Nittany Lions 20-6 at halftime, but the Big Red eventually wore down Bill O'Brien's team in the second half for their fourth comeback victory of 10 points or more this season.
The win keeps Nebraska atop the Big Ten Conference Legends Division with the Michigan Wolverines, while the Nittany Lions simply came up short in their opportunity to play the role of the spoiler for the Cornhuskers' Rose Bowl aspirations.
Ameer Abdullah and Taylor Martinez combined for 220 rushing yards and freshman running back Amani Cross scored both of Nebraska's rushing touchdowns.
Even with a 21 carry and 141-yard effort by Zach Zwinak, the Nittany Lions could not overcome three turnovers and a safety late in the game.
The Cornhuskers improved the 8-2 overall and 5-1 in Big Ten play, while the Nittany Lions fell to 6-4 on the year and 4-2 in conference games.
Be sure to check out the 10 things we learned from Nebraska's victory over Penn State!
Today looked very familiar for Nebraska fans:
#Huskers came back from a 20-6 hole today. Also came back from 17 vs. Wisconsin, 12 at Northwestern and 10 at Michigan State. #B1G

— Tom Dienhart (@BTNTomDienhart) November 11, 2012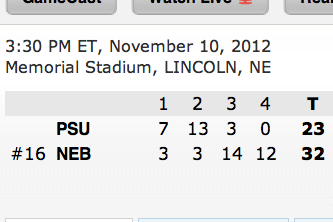 Here is a look at the box score from today's game courtesy of ESPN.com.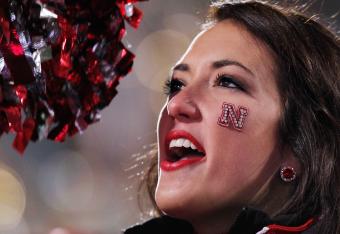 End of Game.
McGloin throws the ball into the ground on the final play of the game and Penn State's bid for an upset comes up short.
Michigan fans will be hoping the Cornhuskers stumble against either Iowa or Minnesota:
Maher hits FG, Huskers up 32-23 with :23 seconds left. That's the game, Nebraska maintains Legends Division lead.

— CBSSportsBigTen (@CBSSportsBigTen) November 11, 2012
Nebraska Field Goal Good! Nebraska 32 Penn State 23, 0:23 remaining in the 4th Quarter.
Maher splits the uprights from 33 yards out and the Cornhuskers are one step closer to winning the Legends Division title.
Maher comes out for the field goal.
Some have chosen not to comment on the Penn State fumble controversy:
I have no comment to make regarding the PSU & Nebraska game.

— Adam Ruff (@Spartan_Radio) November 10, 2012
Cross gets stuffed on third-and-two. Bo Pelini will call a timeout and let the clock run down.
Field goal or running play?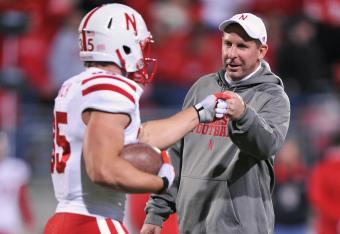 Penn State Turnover on Downs!
The Nittany Lions knew their chances of stopping the Cornhuskers with enough time left to score were going to be slim, so Bill O'Brien elects to go for it on fourth down.
Nebraska's secondary comes up with yet another pass deflection.
Matt McGloin scrambled and tried to get to the first down marker, but came up six yards short. Just not athletic enough to beat Nebraska's defenders to the sticks.
By burning their final timeout, Penn State is going to have to pick up a first down to stay in this one, otherwise a first down by the Cornhuskers will end this one.
Great job by Nebraska's secondary once again. The Cornhuskers have not allowed Penn State's receivers to get separation on too many occasions tonight.
Penn State takes over at their own 20-yard line with a chance to win the game.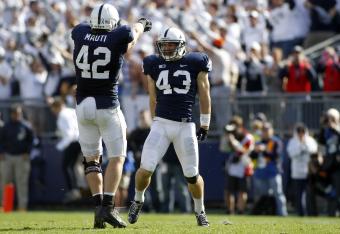 Penn State sent extra defenders to rush Martinez, who was flushed out of the pocket and Mike Hull made a shoe string tackle to stop T-Magic short of the first down.
Nebraska's offense might have just bailed out Penn State. False-start penalty on third-and-nine.
The Penn State fumble (or touchdown depending on your interpretation of the play) has become the story of the game:
Penn State commits a safety with 5 minutes left, and then McDonough and Spielman go RIGHT back to the review from earlier.

— Adam Jacobi (@Adam_Jacobi) November 10, 2012
Nebraska Safety! Nebraska 29 Penn State 23, 5:02 remaining.
Penn State's offensive line gets beat and McGloin throws the ball away inside the tackle box for intentional grounding. Nebraska gets two points for the safety and will get the ball back with a chance to run out the final five minutes of the game.
Even with the wind that was a heck of a boot by Maher. Well placed too:
Maher's 69 yard punt is season long and ties career long #Huskers

— Nebraska Huskers (@Huskers) November 10, 2012
Not everyone liked that decision by the replay booth to uphold the fumble and touchback:
Disagree with that call #PSU got screwed, ball broke the plain
— Bob Lichtenfels (@BobLichtenfels) November 10, 2012
McDonough and Spielman are HAMMERING the replay crew for that call. Can't really blame them.

— Adam Jacobi (@Adam_Jacobi) November 10, 2012
Penn State put nine men in the box and stopped Cross for the first time tonight on a third-and-one play.
Nittany Lions force a three and out to get the ball back in the hands of their offense with close to five minutes left in the game.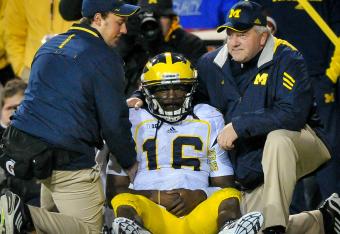 Michigan fans everywhere dropped their heads in disappointment after that fumble.
Play stands! Nebraska ball.
All of the replays looked like Lehman got the ball across the line before losing control of it, but the officials must not have felt that angle was enough to overturn it.
Penn State Fumble!
Matt Lehman caught an abbreviated screen out of the backfield and fumbled the ball reaching out for the goal line. Nebraska recovers.
Play is under review.
McGloin kept the third-and-six play alive with his legs and got dragged down by Eric Martin, but the tackle was all facemask. Automatic first down for Penn State inside the 10-yard line.
Allen Robinson beats his man with a double move and McGloin finds him down the field for a gain of 38 yards and a first down inside Nebraska's 20-yard line.
This article is
What is the duplicate article?
Why is this article offensive?
Where is this article plagiarized from?
Why is this article poorly edited?