How Andrew Bynum Will Stack Up Against Eastern Conference Starting Centers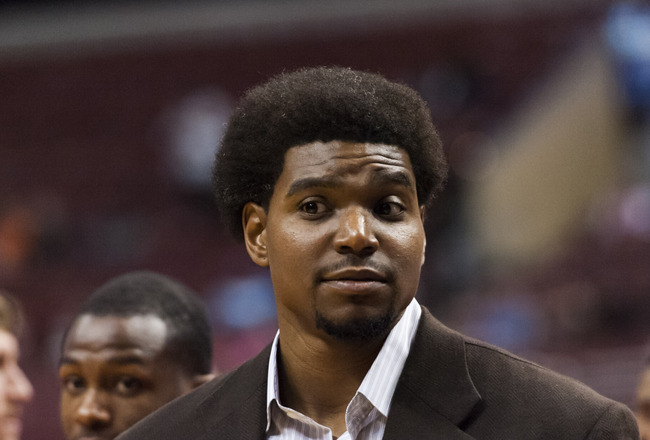 Howard Smith-US PRESSWIRE
The hype around Philadelphia's newly acquired center Andrew Bynum is getting a little too trite, but the longer wait yields even higher anticipation. The fans cannot wait to see how he will stack up against the rest of the Eastern Conference.
The big question that comes along with this is, "How will Bynum fare against the rest of the centers?" Lucky for you, there are reasonable explanations for this broad question.
In order to truly examine how well he can play and to assess this question, it is vital to establish the top tier set of centers that will compete with him. I narrowed them to this list: Roy Hibbert, Kevin Garnett, Tyson Chandler, Brook Lopez, Andrea Bargnani, Greg Monroe, and Nene.
All of these guys are definitely their own players, but I grouped some of them together because the pros and cons were very similar in certain cases.
Greg Monroe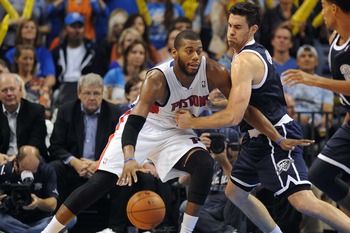 Mark D. Smith-US PRESSWIRE
Greg Monroe is arguably the most underrated player in the league.
Monroe, who is just 22 years old, averaged 15.4 points and nearly 10 rebounds per game in just the second year of his career last season. He will only improve from here.
Unlike most big men, Monroe has a unique ability to distribute the ball. Therefore Bynum needs to take an aggressive defensive approach when faced against him.
Despite these strengths, Bynum will establish supremacy solely from his athleticism. Monroe is not the most athletic big man out there, and he will have a difficult time guarding Bynum.
Andrea Bargnani and Brook Lopez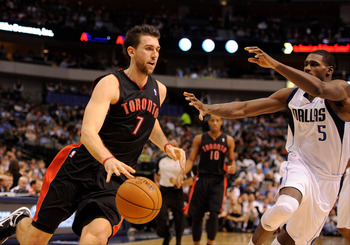 Jerome Miron-US PRESSWIRE
Andrea Bargnani and Brook Lopez are regarded as quality centers primarily because of their offensive abilities.
Furthermore, these guys are criticized for not utilizing their size as much as they should. Despite the fact that they are both seven footers, Lopez has never averaged more than 8.1 rebounds per game while Bargnani's career high is 6.1 rebounds per game.
Obviously they are more scoring-minded, which is not necessarily a bad thing. It just shows that these guys have a glaring hole in their game, and a player of Bynum's caliber will take advantage of it.
However, at the same time this style of play for Bargnani and Lopez can just as easily work against Bynum because of one thing: speed. Each of these guys are potential threats from anywhere on the court, especially Bargnani.
Nevertheless, the soft, scoring-minded big men have proven they are not nearly as effective as a traditional big man like Bynum.
Kevin Garnett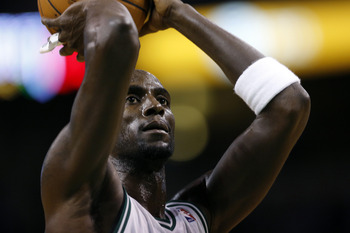 Greg M. Cooper-US PRESSWIRE
Garnett on the other hand is a very intriguing matchup and provides the highest pedigree out of anyone on the list.
Although naturally more of a power forward, Garnett has the ability to post-up against any big man. His mid-range jumper is nearly an automatic bucket, so he poses a threat anywhere in and outside the paint.
That said, Bynum's size should still be able to handle the aging Garnett.
More important, though, is Garnett's attitude, as that can both match up or instigate Bynum's sensitive attitude in the game. This aspect in particular is where Bynum's youth can be exposed as a bad thing.
Tyson Chandler and Nene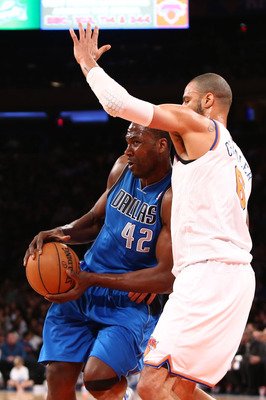 Debby Wong-US PRESSWIRE
Chandler draws an obstacle along with Nene because they are each a legit defensive presence. Despite their lack of offensive skill sets, they will definitely test Bynum's offensive abilities the most.
Chandler has already done a more than effective job at stopping the Sixers' other big men as seen in their last two games. In fact, no big man on the Sixers recorded more than eight points in either game.
Nene may or may not have the same impact, but both of these guys are established big men known for their defense. These are strengths that Bynum must be able to overcome.
Roy Hibbert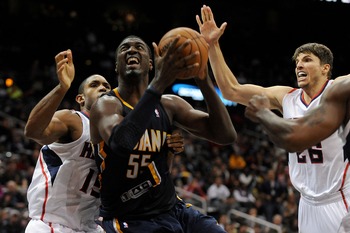 Kevin Liles-US PRESSWIRE
Aside from Chandler, Hibbert is the only one on the list who can effectively match Bynum's size and rebounding skills.
Last season the 7' 2" Hibbert averaged nearly nine rebounds per game. Since his rookie season, this number has increased every year and nothing suggests that trend will change.
However, similar in the way that Monroe is inferior to Bynum, athleticism will take a toll yet again. Hibbert tends to struggle against opposing athletic big men because he is not as quick in the post.
Plus, Hibbert is not necessarily known for his scoring abilities considering he averaged 12.8 points per game last year.
Hibbert provides an even matchup physically and skill-wise, but the athleticism is where the margin is made by Bynum.
Conclusion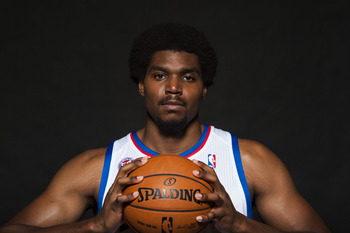 Howard Smith-US PRESSWIRE
Fortunately for Sixers fans, Bynum is the best of both worlds. He has the size and strength to defend any big man in the league and the offensive skill set to score at will in the paint.
But as we can conclude from the analysis, Bynum's athleticism is what can usually separate him from other big men.
Bynum's injury-plagued past definitely attracts some doubt from fans, but it is comforting to know that, when healthy, he will be the most dominant center in the Eastern Conference.
Keep Reading

Philadelphia 76ers: Like this team?