Top 6 Shane Mosley Victories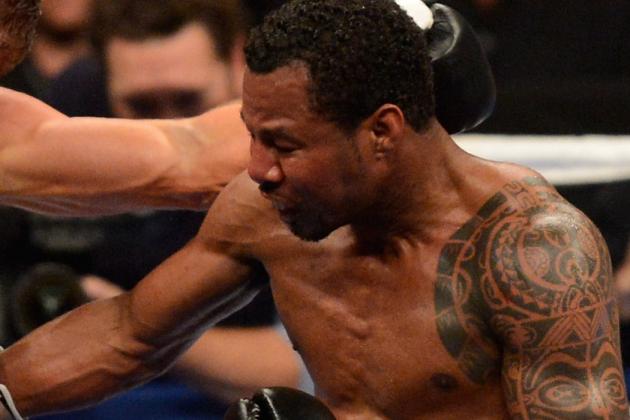 Ethan Miller/Getty Images
Shane Mosley has had a brilliant career in the ring.
Shane Mosley announced his retirement from the ring less than a month after losing to Canelo Alvarez in May 2012. He finished his career with a 46-8 record.
Mosley had a dramatic career, winning his first championship at the age of 26 as a lightweight when he defeated Philip Holiday. While that victory was not a famous triumph, it made Mosley a boxing champion and pushed him into the spotlight.
Mosley was a workmanlike fighter who knew how to take advantage of his opponents' mistakes. He lost some big fights to Floyd Mayweather, Manny Pacquiao, Vernon Forrest and Miguel Cotto, but he also had a number of well-earned and dramatic wins.
Mosley's name was tainted by a performance-enhancing drug scandal (source: New York Daily News), but he was a hard-working and solid fighter.
Begin Slideshow

»
Philip Holiday? Who?
Mosley gained his first title when he fought Holiday for the IBF lightweight title in 1997.
Holiday was a solid fighter who brought a 31-0-0 record in the ring for this title fight. He gave a good account of himself and pushed Mosley for 12 rounds.
Mosley won a unanimous decision.
It may not have been as famous as some of his other bouts, but a championship belt is nothing to gloss over.
Mosley knew he was going to have to be at his best when he defended his lightweight title against John John Molina in 1998.
One of the best words to describe Molina's fighting style was rugged. He certainly fit that description in this bout.
Mosley had a sharp jab, a good straight right and threw his combinations effectively. He moved well, and he beat Molina to the punch consistently in this title fight.
Mosley defended his title with an eighth-round technical knockout over Molina.
Mosley and Oscar De La Hoya met for the first time in June 2000.
At that time, De La Hoya lived up to his "Golden Boy" nickname and was one of the most well-known, popular and effective boxers.
Those who didn't like De La Hoya were turned off by his pretty-boy reputation, but he was actually a very hard hitter who could also take a solid punch.
Both of those characteristics were on display in this fight, but Mosley was able to put forth a solid effort. Mosley was at his best in the late rounds of the fight.
Mosley won a split decision, and while De La Hoya did not like the decision, most ringside observers thought Mosley deserved the win.
This was another tremendous fight for Mosley.
It came shortly after he dropped consecutive decisions to Vernon Forrest, so he needed a win over De La Hoya to steady himself.
It was another great showing by De La Hoya, but it wasn't quite good enough. Mosley won a unanimous decision this time, and he earned De La Hoya's grudging respect.
Getting into the ring with Fernando Vargas in 2006 was a major challenge for Mosley.
While he had won his two previous fights before squaring off with Vargas, Mosley had lost consecutive decisions to Winky Wright before those two wins.
Vargas brought a 26-2 record into the ring, and Mosley knew he would need his best effort to beat him. It was a very close fight, and Mosley had a one-point lead on two scorecards and trailed by one point on the third heading into the 10th round.
That's when Mosley took charge and registered a technical knockout.
Mosley and Ricardo Mayorga met in 2008 for the vacant Inter-Continental light middleweight title in 2008.
The two battled each other with fervor and viciousness for 12 rounds.
Going into the final round, Mosley led on two judges' scorecards but trailed by one point on the third scorecard.
In the 12th round, Mosley asserted himself at the midway point with a hard straight right hand that hurt Mayorga. He continued to fire shots and registered a late knockdown in the round.
Mayorga made it up before the count of 10, but he got hit with a smashing left hook that dropped him again just before the final bell. That punch gave Mosley had a dramatic knockout.