Georgia vs. Auburn: Postgame Grades from Bulldogs' Win vs. Tigers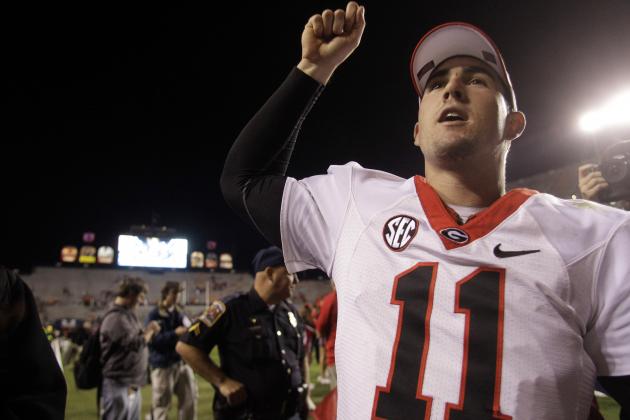 John Reed-US PRESSWIRE

The Georgia Bulldogs ran over the Auburn Tigers 38-0 and have won the SEC East for the second consecutive season. They Bulldogs are now 9-1, (7-1) on the year while the Tigers drop to 2-8, (0-7) on the year and have still yet to win an SEC game.
Let's take a look at the Bulldogs final postgame grades and evaluations.
Begin Slideshow

»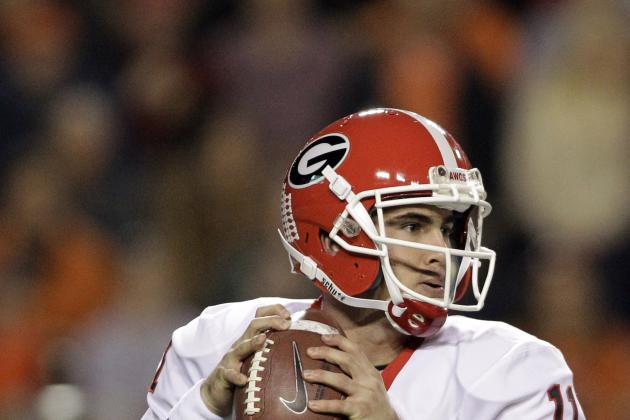 John Reed-US PRESSWIRE

Aaron Murray was efficient from start to finish.His final numbers were 18-of-24 for 208 yards, three touchdowns and zero interceptions.
He was poised, calm and comfortable in the pocket all game long. Once he gets into a rhythm, he is hard to stop and that was the case against Auburn. He is playing his best football at the right time.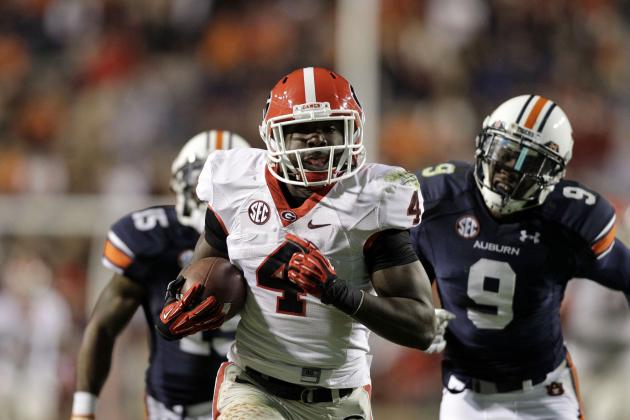 John Reed-US PRESSWIRE

What was able to help Murray was the running game was able to get going early.
Todd Gurley started the attack as he rushed for 116 yards and one score, while Keith Marshall did him damage in the second half, rushing for 105 yards and one touchdown.
In order for the Bulldogs to be SEC champions, Gurley and Marshall will have to play like they did against the Tigers.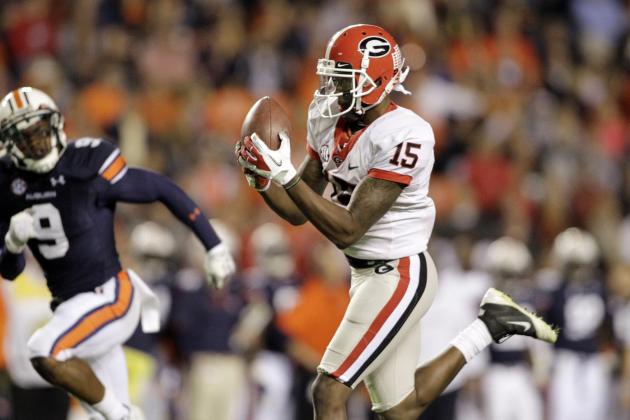 John Reed-US PRESSWIRE

The receivers did not have a lot of yards, but they made some big plays when they needed to.
Tavarres King, Malcolm Mitchell and Chris Conley all had touchdown catches and they all had at least three receptions.
The Bulldogs may have lost Michael Bennett and Marlon Brown, but Murray always finds a way to get his receivers in position to make plays and they do not disappoint.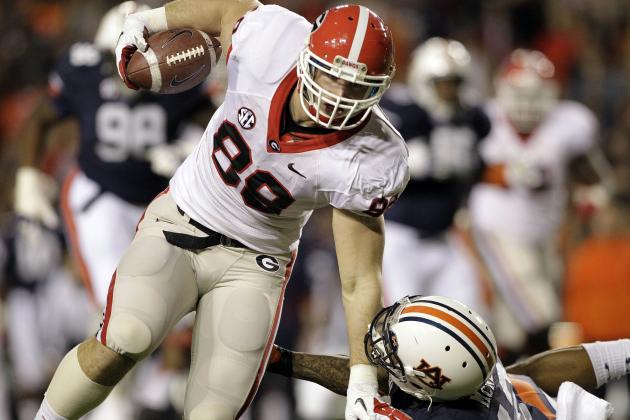 John Reed-US PRESSWIRE

Arthur Lynch and Jay Rome were able to come up with some catches as Lynch had three receptions for 29 yards and Rome had two catches for 17 yards.
Because of the depth at the receiver position, Lynch and Rome will not have a lot of opportunities to make plays in the passing game. But when their number is called, they tend to make a play.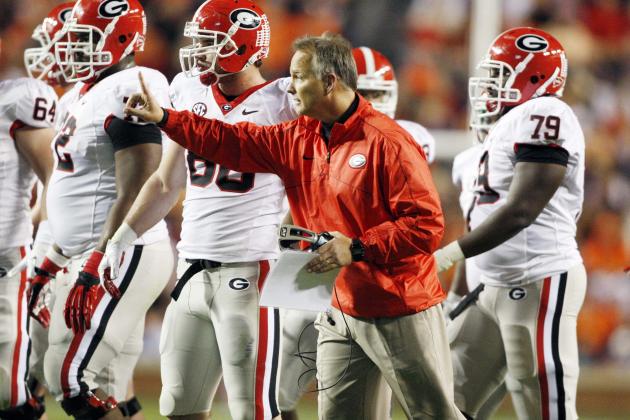 John Reed-US PRESSWIRE

The Bulldogs were without Chris Burnette because of an injury, but that did not matter because the offensive line for the Bulldogs dismantled the Auburn front seven.
Led by Dallas Lee and Kenarious Gates, the Bulldogs were able to push the pile which led to a big night for Murray, Marshall and Gurley. This was one of their best efforts of the 2012 season.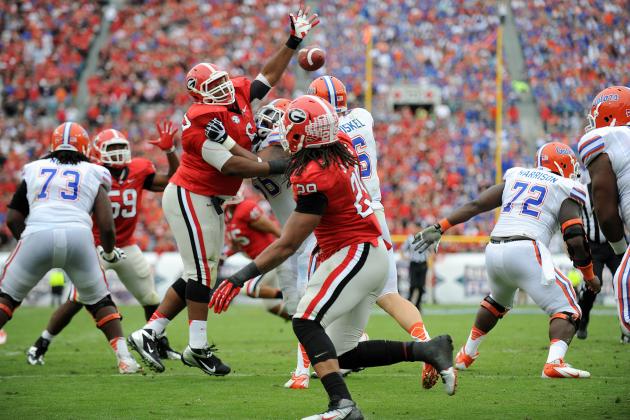 Kevin Liles-US PRESSWIRE

While the Georgia offensive line was pushing the pile, the Georgia defensive line was disrupting the Auburn backfield.
Cornelius Washington, John Jenkins, Kwame Geathers and Garrison Smith were able to maintain their gaps, which led to the linebackers making plays in the backfield.
Jenkins and Smith each had two tackles. Jenkins also had two quarterback hurries on Auburn quarterback Johnathan Wallace.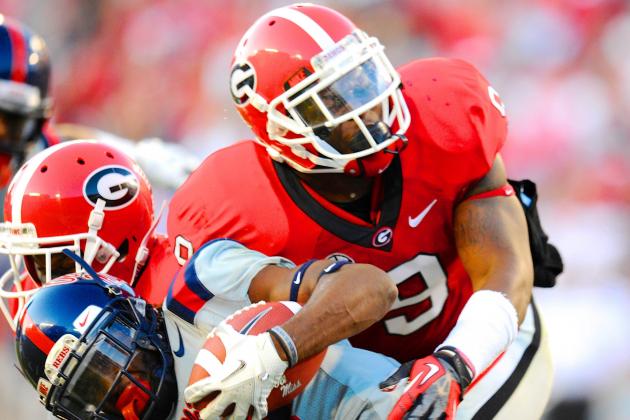 Dale Zanine-US PRESSWIRE

If there is one reason the Tigers did not get any points on the board, it would have to be the play of the linebackers for the Bulldogs.
Alec Ogletree led all defenders with 10 tackles, two tackles for loss and one sack. Jarvis Jones had four tackles, two tackles for loss and two sacks. Jordan Jenkins also had a sack and Michael Gilliard had four tackles and one fumble recovery.
Yeah, it was just another day at the office for the Georgia linebackers.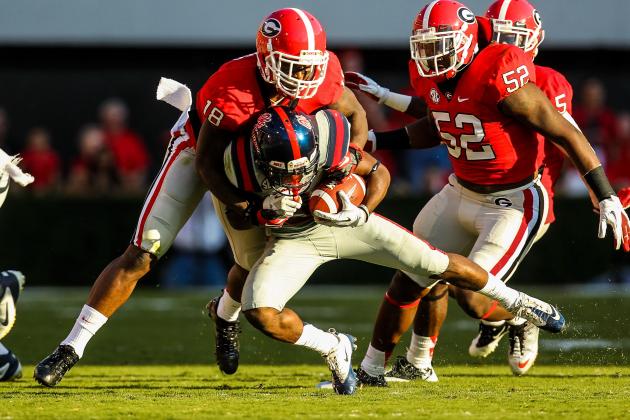 Daniel Shirey-US PRESSWIRE

Because of the sound play of the front seven, the secondary had an easy night.
Baccari Rambo had eight tackles and one pick. Shawn Williams had four tackles and one forced fumble. Sanders Commings had three tackles and Damian Swann had a pass break-up.
Wallace only had 181 yards passing thanks in large part to the secondary playing sound, fundametal football from start to finish.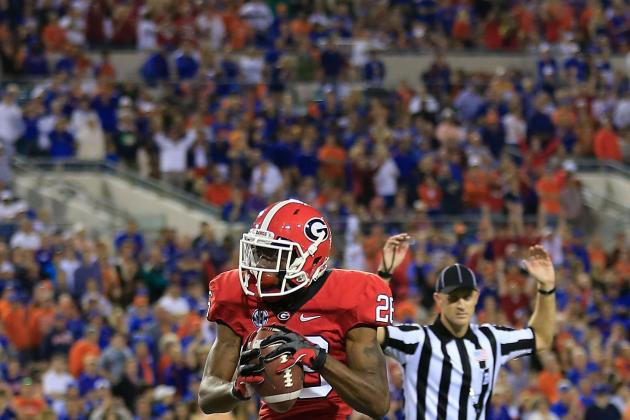 Sam Greenwood/Getty Images

The kickoff and punt coverage did their job and Marshall Morgan made his extra points and field goals. That's all you can ask for from you special teams.
It would have been nice to see a punt of kick return for a touchdown, but the Bulldogs special teams was sharp all game long, which is something that has to be constant the rest of the season.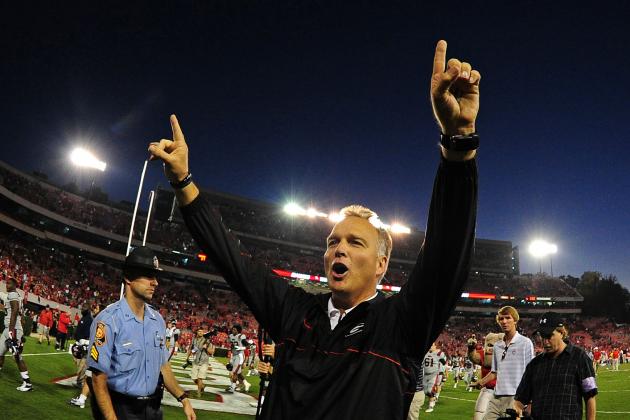 Scott Cunningham/Getty Images

Mark Richt had a very nice gameplan coming into the contest, and it worked to perfection.
They mixed things up on offense and they were aggressive on defense from start to finish.
This is the second straight season Richt has beaten the Tigers in dominating fashion, so he has a good idea how to have his players more than ready for this rivalry game.
Let's hope he had an even better gameplan for the SEC championship.