Missouri vs. Tennessee: Live Scores, Analysis and Results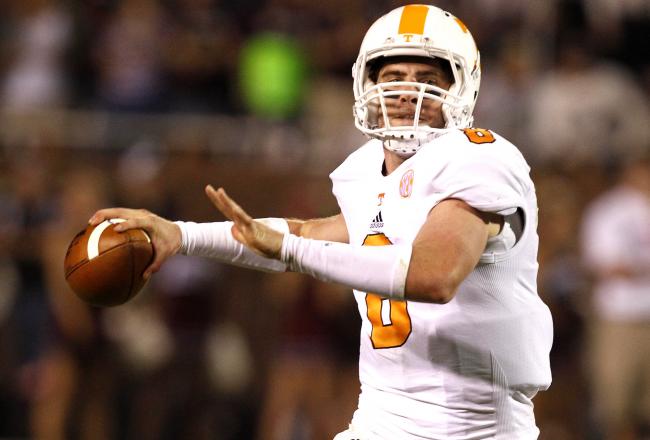 Butch Dill/Getty Images
Final: Mizzou 51, Tennessee 48, 4 OT.
In the first-ever showdown between these two future rivals, the Volunteers and Tigers made it an epic one. It took four overtimes, but Mizzou prevailed. Read below to see how all the action unfolded.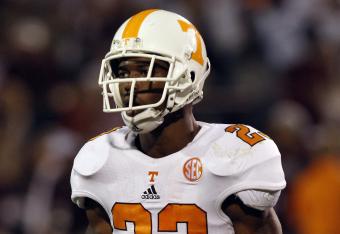 Defensive MVP: Prentiss Waggner. There wasn't much defensive prowess in this game as you can tell by the score.
But his second half interception was incredible, as he pulled it in with a one-handed effort.
Though, like I said, that was about the only bright spot defensively in this one.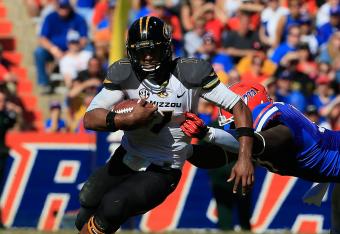 Offensive MVP: James Franklin. The Missouri quarterback wouldn't let his team roll over and die, and converted multiple touchdown throws that likely would've resulted in his team's defeat if they weren't made.
He finished with four touchdowns and a pick on 19-for-32 passing, to go along with 226 yards. He also rushed for 43 yards.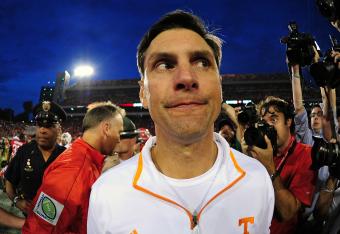 There's not much you can say from Tennessee's standpoint after this one. They did just about all they could offensively, and no defense should put their offense in a position where they have to score four or five straight touchdowns just to stay alive.
The Vols simply have too much talent on the offensive end to be 4-6 at this point in the season. We saw early on how dominant their defense could be, but it obviously has some major issues.
At this point, there's not much of an argument you can give toward keeping Derek Dooley past this year. He was given every opportunity possible to show improvement this season, even after losing all of the games they were expected to, and this loss is the nail in the coffin.
For Missouri, they'll be able to hang their hat on a big road win in a hostile environment. Their offense has been scrutinized as well as their quarterback, but both came up big and showed their electric nature.
At least Vol fans are never bored with their team's performance.
Vols had too many chances to win that game and no business losing it. There's not much else you can say. Just a bad loss.

— Wes Rucker (@wesrucker247) November 10, 2012
Mizzou wins at Tenn 51-48 in 4 OT. It's not just that Dooley can't beat good teams. He now can't beat mediocre ones either

— Bruce Feldman (@BFeldmanCBS) November 10, 2012
That's absolute rock bottom for Tennessee. Changes are coming.

— Dan Wolken (@DanWolken) November 10, 2012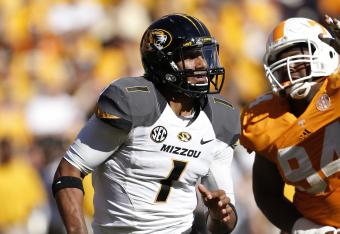 MISSOURI WINS! FIELD GOAL IS GOOD! FINAL: 51-48
The first ever meeting between Missouri and Tennessee lived up to its expectations and then some, and it ends in disappointment for the Vols.
Momentum swung back and forth ever since the start of the third quarter, and spectacular plays from players on both sides kept the game going. But it was Missouri who executed down the stretch and kept from making any detrimental mistakes that cost them the game.
Missouri runs two straight options and now face a third-and-two, easily in field goal range.
VOLS TURNOVER ON DOWNS!
Dooley decided to roll the dice, and Bray hits Rogers, but the pass is broken up at the last second and the Vols will turn the ball over.
Missouri is any sort of score away from victory. Absolutely crushing blow to Dooley's job security if they can't come back from this.
Bray throws an incredible throw on second down to Hunter, who nearly pulls down the catch but is broken up at the last second. That was one for the highlight reel.
On third down, Bray's pass is batted down at the line of scrimmage.
Now, Dooley calls a timeout and ponders whether to go for it on fourth-and-three or to kick the field goal. Tough decision, but they haven't been able to stop the Tigers as of late and you can't like your chances only up three.
TWO-POINT CONVERSION NO GOOD! 48-48, START OF 4TH OVERTIME
It's like the Vols and Tigers are going shot-for-shot at the bar, and you're just waiting for one to fall down too drunk to continue.
Right now, both teams are stumbling around, somehow still able to function and pulling out incredible feats in order to keep this one going.
This one enters the fourth overtime...
TOUCHDOWN TENNESSEE! 48-48
On third-and-11, Bray hits a wide-open Hunter down the middle and he extends the ball through multiple defenders to get the score.
The Vols are a two-point conversion away from victory.
Bray's 2nd-and-11 pass goes over Justin Hunter's head, and the Vols are down to their final two plays. Time for Bray to prove his clutch gene.
Missouri shoots themselves in the foot with an offsides call, and Bray throws a first down to Rogers to put the Vols at the 12-yard-line. The ensuing first down goes backwards, and the Vols are pinned back.
TWO-POINT CONVERSION NO GOOD! 48-42
Franklin throws it into the back of the end zone and they nearly come down with another incredible catch, but they rule it incomplete.
The Vols now take over and will have to get into the end zone to keep the game going. A two-point conversion wins the game.
TOUCHDOWN MISSOURI! 48-42
Franklin delivers an incredible throw to Green-Beckham, but he's unable to come down with it after a solid defensive performance. But third down was a different story.
He went to DGB yet again, and he delivers with the touchdown. Wow.
Now, Missouri is forced to go for two.
Missouri takes the ball to start the third overtime, and quickly gets down to the 10-yard-line. A stifled Franklin run brings about second-and-goal.
TOUCHDOWN MISSOURI! 42-42, START OF 3RD OVERTIME
James Franklin had his back against the wall yet again, and he delivered... yet again.
Franklin hits Lucas near the front end zone pylon for another incredible catch that extends the game into its third overtime.
I don't even know what to think right now. There are no words. Incredible football on both sides, and absolute unpredictability on both sides.
You could feel some trickeration coming from Dooley. Great play call.

— Austin Bornheim (@ABornheim) November 10, 2012
Missouri starts out slow on their second-OT drive, and now faces a third-and-four from the 19-yard-line. Can Franklin become clutch yet again in this one?
This article is
What is the duplicate article?
Why is this article offensive?
Where is this article plagiarized from?
Why is this article poorly edited?

Tennessee Volunteers Football: Like this team?