Maryland vs. Clemson: Live Scores, Analysis and Results
Grant Halverson/Getty Images
Clemson wins it, 45-10.
Tajh Boyd and the Clemson offense rack up 436 yards and Corey Crawford returns a fumble for a TD to help the Tigers win their sixth straight. Clemson is now 9-1 with a 6-1 in-conference.
Maryland drops their fourth game in a row to fall to 4-6. They need to win out to remain playoff-eligible.
Check out our 10 Things We Learned from Clemson's Win Against Maryland recap!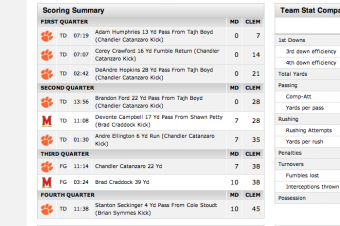 Here's the quarter-by-quarter box score of Clemson's 45-10 victory against Maryland, per ESPN.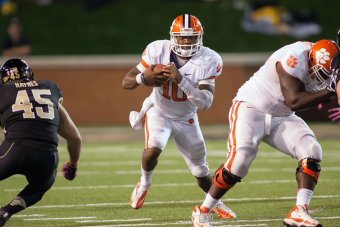 Jeremy Brevard-US PRESSWIRE
It's not quite 720, but Clemson puts up 430 yards against one of the ACC's top defenses. Clemson gets dinged for that road loss to FSU, but don't sleep on them.
And a Chik Fil-A bowl matchup of Clemson and LSU would be a fantastic game.
Clemson takes over on downs with less than five minutes remaining in the fourth quarter. The fat lady has sung, signed autographs, sold merch at the table by the front entrance, and left for a nearby diner to scarf a chicken quesadilla.
Announcers talking about Brent Venables' future career as Mike Bloomberg's sign-language interpreter. They're also dropping some Malcolm Gladwell references.
Such is life in the fourth quarter of a 45-10 game.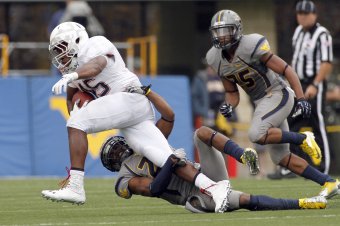 Justin K. Aller/Getty Images
Brandon Ross— the biggest bright spot for Maryland, with 100 yards on 14 attempts with 5:40 to play in the fourth quarter.
Maryland's vaunted D getting gashed today. Looks like the injuries are catching up to them the last couple weeks. Understandable, and you have to commend this team's fight.
This is the most points Maryland has allowed this season. The previous high was 33 last week vs. Georgia Tech.

— Greg Wallace (@aimclemson) November 10, 2012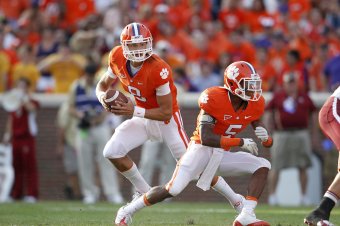 Joe Robbins/Getty Images
Stoudt goes down (the field) smooth.
Yep, that was a beer joke. I know, it's spelled "stout."
Oh, and touchdown, Clemson. First career TD for Stanton Seckinger, who's got a name like a 1930s film noir detective. 45-10, Tigers.
Good news for the Tigers.
The good news for #Clemson is Watkinshas no walking boot or crutches. It doesn't appear to be a serious injury

— Travis Sawchik (@travis_sawchik) November 10, 2012
Gotta give credit to Maryland DBs—they mirror routes well, don't blow too many coverages and make things tough on opposing QBs. Clemson just has too many weapons and too good a QB.
Cole Stout in for Clemson.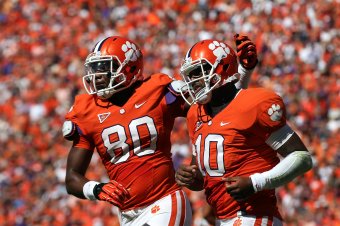 Streeter Lecka/Getty Images
We're through three quarters in Death Valley, with Clemson up 38-10.
Maryland actually holds a slight TOP advantage, 23:27 to 21:32, but that's largely a function of Clemson's blazing hurry-up.
The Tigers have run 60 plays to the Terps' 42. Clemson has dominated in all phases, racking up almost as many rushing yards (117) as Maryland has total yards (117).
Clemson will look to finish strong and put a stamp on this convincing conference victory.
Here's the highlight of that missed FG return.
Maryland will not go gently into that good night, hitting a field goal to make it 38-10 Clemson. Yes, I'm quoting Dylan Thomas on a college football blog. I figure all you college students are poetry minors like I was.
McDougle catches a missed FG and returns it all the way to the Clemson 30. Hilarious, shades of Antonio Cromartie, and a heads-up play.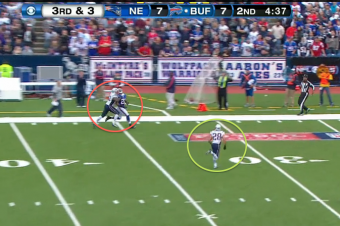 On the ensuing play, Martavis Bryant stretches the field and draws a PI call on Jeremiah Johnson.
As a Patriots FC, I've seen that call before. Defender mirrors the route well and blankets the receiver but doesn't get his head around on the ball.
Here's a picture of Jerod Mayo (red circle) doing that.
Shawn Petty, fighting for extra yards, gets stood up and stripped. Clemson recovers Petty's second fumble of the game.
That stat about Maryland's torn ACLs is chilling. I counted 23 in the last six years.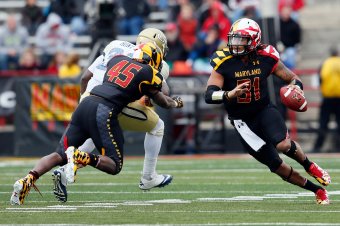 Rob Carr/Getty Images
Of course, as soon as I publish that stat, Petty picks up nine yards to make that last statement incorrect.
There's such a thing as karma.
I'd like to point out that Shawn Petty has fewer passing yards (17) than Tajh Boyd has completions (18). One is a Heisman candidate and one is a converted linebacker, sure, but still.
Strange no-call on what looked like a Maryland offsides on 3rd and Goal forces Clemson to settle for a field goal. Coach Dabo Swinney comes down to argue the no-call, but to no avail. 38-7, Clemson.
Doesn't look like the Tigers need Watkins too badly—Boyd completes a 48 yard pass to Martavis Bryant to set Clemson up at the Maryland 7.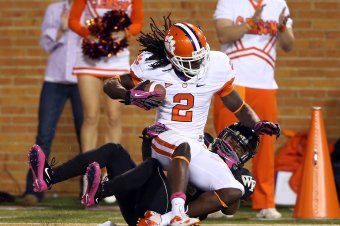 Streeter Lecka/Getty Images
Per ESPN ACC, it sounds like Sammy Watkins has a "lower-leg" injury and wont return this game.
I guess playing mistake-free offense isn't so important when your offense is better than anyone else's.
Clemson has scored 91 points despite seven turnovers in its last six quarters

— Travis Sawchik (@travis_sawchik) November 10, 2012
And we're off! Maryland gets the ball for the second half, and their drive promptly flames out. Terps punt, and Humphries brings it up near midfield.
Clemson held the ball for only 15:36, but outgained Maryland 310-90 in the first half.

— Greg Wallace (@aimclemson) November 10, 2012
This article is
What is the duplicate article?
Why is this article offensive?
Where is this article plagiarized from?
Why is this article poorly edited?

Clemson Football: Like this team?