NFL Week 11's Biggest Individual Matchups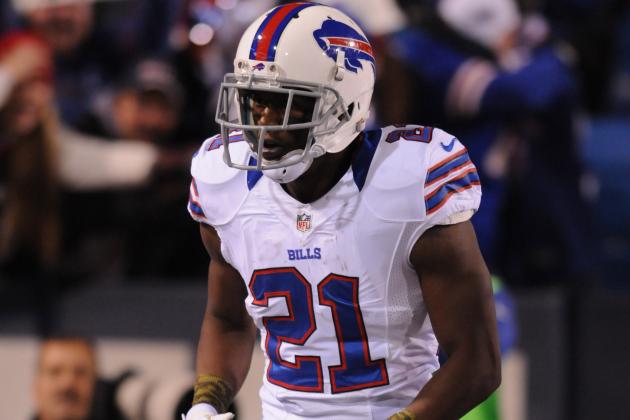 Mark Konezny-US PRESSWIRE
Leodis McKelvin's 79-yard punt return for a touchdown sparked the Bills' 19-14 win over the Dolphins
We're about to get to the real stretch run when it comes to the 2012 NFL season.
This week, the Vikings, Giants, Seahawks and Titans all take a mini-vacation. And that also means that starting on Thanksgiving (is it already mid-November?), all 32 teams will be playing each week.
You can insert any cliché you'd like here, but there's still plenty of football to be played. And if you've taken care of business to date, you should be in prime position to grab one of those 12 invitations to the postseason tournament.
But as we all know, one or two of these clubs that we already have earmarked for the playoffs may stumble. And another team or two is getting ready to make a strong run, and grab one of those postseason bids.
Despite what you may hear on occasion, the season doesn't end today…
Begin Slideshow

»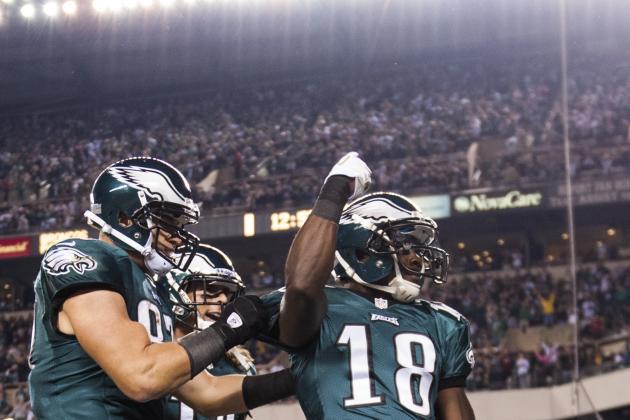 Howard Smith-US PRESSWIRE

By all indications, Philadelphia Eagles rookie quarterback Nick Foles will be taking the helm Sunday afternoon against the Washington Redskins.
And by all indications, the Birds are hoping the young signal-caller can help them snap their five-game losing streak.
In the past, head coach Andy Reid has adopted a different kind of game plan when he was forced to go with his backup quarterback. The Eagles relied on more of a balanced attack when Donovan McNabb or Michael Vick was unavailable.
But don't be surprised if the Birds throw caution to the wind when facing a Washington defense that has already given up 20 touchdown passes in only nine games.
Redskins cornerback Josh Wilson, as well as teammate DeAngelo Hall, will try to keep the Philadelphia receivers under wraps. And wideout Jeremy Maclin, who leads the club with four touchdown receptions, may be able to take advantage of Wilson while Hall preoccupies himself with speedy DeSean Jackson.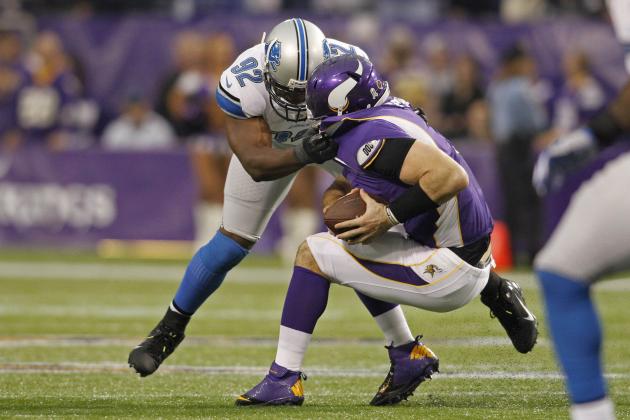 Bruce Kluckhohn-US PRESSWIRE

Following a sluggish start, there's no team hotter than the Green Bay Packers.
And after a so-so start, there's arguably no quarterback playing better these days than Aaron Rodgers.
Mike McCarthy's team has won four straight games following a 2-3 start and the reigning NFL Most Valuable Player continues to produce, throwing for 15 scores and only one interception in his last four outings.
For the season, Rodgers is tied for the NFL lead with 25 touchdown passes and been picked off only five times. That means dating back to last season, the Green Bay field general has thrown for an astounding 70 scores compared to just 11 interceptions.
Rodgers has faced the Lions seven times as a starter and won six times, the lone loss coming in 2010 when he was knocked out of the game at Ford Field with a concussion. In those seven contests, Rodgers has thrown 16 touchdown passes and only four interceptions.
Still, facing the Detroit Lions' pass rush without your offensive line intact is no picnic. With right tackle Bryan Bulaga out for the season, T.J. Lang moves over to take that spot.
While the Lions haven't set the world on fire in terms of sacks (19), defensive end Cliff Avril, limited in practice this week, has a team-high 4.5 of them (zero in his last three games) and is certainly capable of many more. And when you consider that the Packers have allowed 29 sacks in their nine contests, don't be surprised if Rodgers is under siege.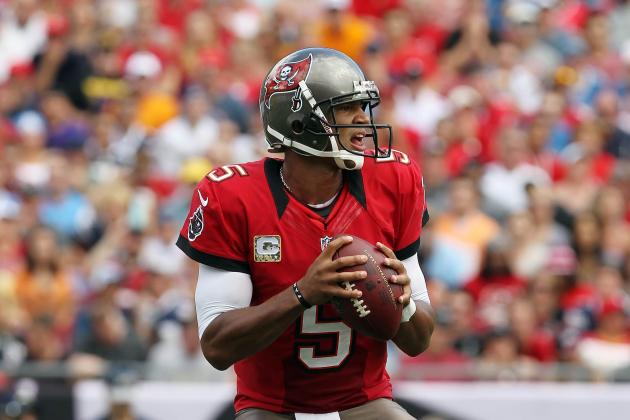 Kim Klement-US PRESSWIRE

Contrary to popular perception, the Tampa Bay Buccaneers are in second place in the NFC South.
And much of that has to do with the performance of the Greg Schiano's offense. This isn't to slight the other side of the ball because the Buccaneers' defense and special teams have put their share of points on the board.
With rookie running back Doug Martin and wideout Vincent Jackson making big-time contributions in their first seasons with the team, quarterback Josh Freeman now has plenty of options at his disposal.
During Tampa's current 4-1 stretch (in which the Buccaneers have scored 28 or more points in all five games), the fourth-year signal-caller has thrown for 13 scores and been picked off just once. And his 18 touchdown passes in nine games is already two more than a season ago.
It has been far from a banner year in Carolina but defensive end Charles Johnson has had another solid season to date, leading the team with 8.5 sacks. Of course, Freeman has only been sacked six times in his last five games.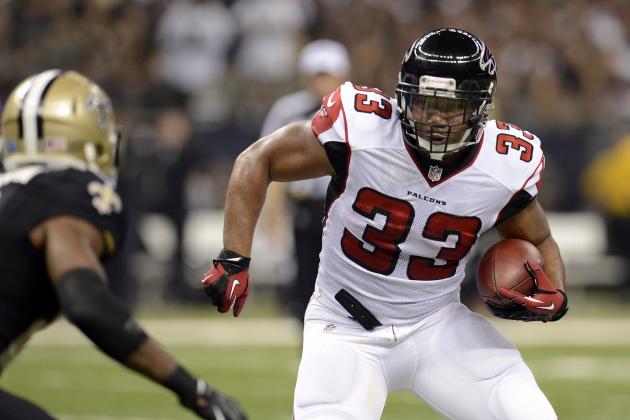 John David Mercer-US PRESSWIRE

Once upon a time, the Atlanta Falcons used to have quite the ground attack.
Now may be a good time for Mike Smith's team to get that running game cranked up once again.
Last week vs. the Saints, the Falcons were handed their first loss of the 2012 season, 31-27, but had their chances in the fourth quarter to pull out the win. Their failure to punch in the ball near the end zone proved to be extremely costly.
Atlanta ranks sixth in the league in total offense but only six teams are averaging fewer rushing yards per game. And former workhorse running back Michael Turner has fewer yards rushing than Roddy White (823), Julio Jones (703) and Tony Gonzalez (617) have receiving.
Arizona Cardinals linebacker Daryl Washington continues to lead his team in tackles and sacks. And he may be getting ready to get a heavy dose of Turner and company should the Falcons opt to attempt to get their ground game back on track.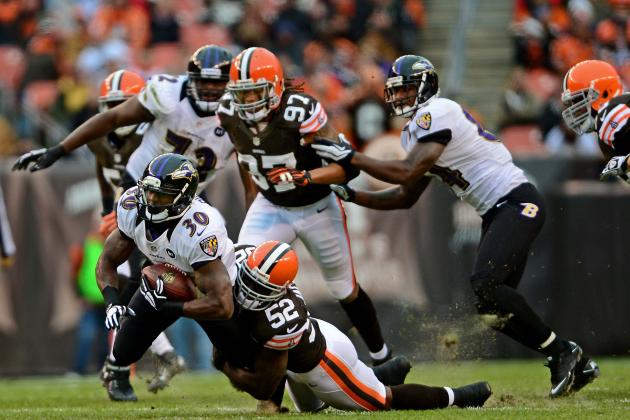 Andrew Weber-US PRESSWIRE

Unfortunately for fans of the Cleveland Browns, who are coming off their midseason vacation, it has been another long season to date.
At 2-7, even a remarkable turnaround this season may not be enough to ensure a winning campaign. They've showed some promise at times, but climbing out of the AFC North basement is a daunting task.
Now ponder the Dallas Cowboys. Jason Garrett's team looks to build off last week's 38-23 win at Philadelphia in which the team's defense and special teams scored 21 fourth-quarter points.
But now the Pokes return to Dallas for a three-game homestand. And Cowboys Stadium has not been kind to its tenants, as the 'Boys are just 1-2 in their three home contests and have turned over the football 14 times.
Home has been particularly unkind to Cowboys quarterback Tony Romo, who has committed 12 of those turnovers. And that includes three of his 10 interceptions returned for touchdowns.
Browns linebacker D'Qwell Jackson is having a banner year, leading the team in tackles, sacks and tied for the top spot with a pair of interceptions, returning one of those picks for a score.
Just the kind of numbers that should pique Romo's interest.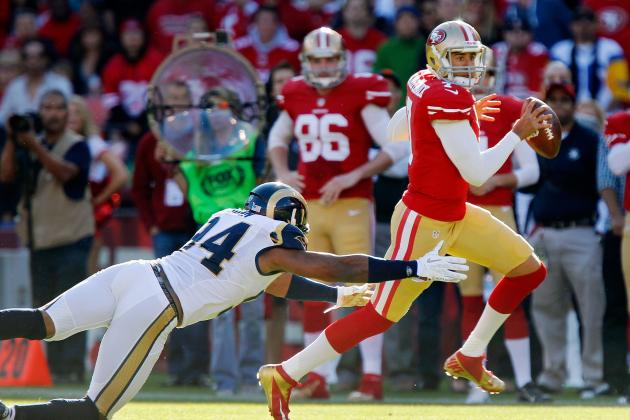 Brian Bahr/Getty Images

It has been a rough stretch for Jets quarterback Mark Sanchez, who during the team's current three-game losing streak has thrown an interception and lost a fumble in each of those contests. The much-maligned pro has been sacked 11 times in his last three outings.
The St. Louis Rams have not won a game in their last four outings (0-3-1). For the most part, Jeff Fisher's defense has been respectable, although his club has allowed 99 points in its last three games.
Rams defensive end Robert Quinn continues to lead his team with 8.5 sacks. And the second-year performer would be more than happy to make life miserable for Sanchez and company for another Sunday.
His battle with premier tackle D'Brickashaw Ferguson in the trenches should be front and center.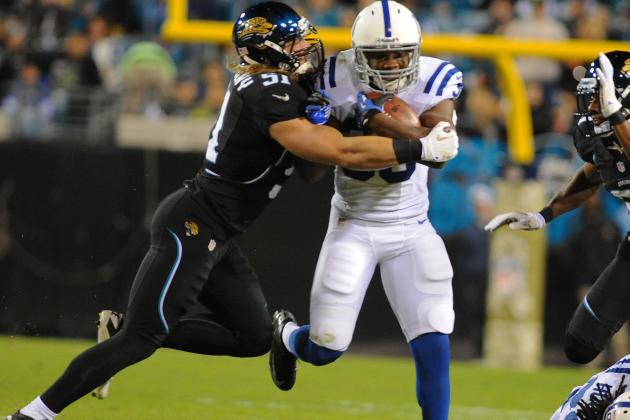 Al Messerschmidt/Getty Images

Trying to find a silver lining for the Jacksonville Jaguars these days is a lot easier said than done.
Head coach Mike Mularkey's debut season with the franchise has been anything but memorable. The Jaguars are co-owners of the league's worst record at 1-8 and are currently riding a six-game losing streak.
Way on the other side of the ledger are the 8-1 Houston Texans, who are currently tied with the Atlanta Falcons for the best record in the NFL.
It's a winning formula for Gary Kubiak's team. Combine solid defense with a run-oriented attack and the makings are there for a championship. Especially when you have a back like Arian Foster, whose 102 yards rushing on 29 carries last Sunday night (along with a touchdown reception) were a vital part of the Texans' 13-6 win over the Chicago Bears.
Jaguars middle linebacker Paul Posluszny should be a busy man on Sunday. The team's co-leader with 70 tackles, the one-time Buffalo Bills defender knows that Foster has totaled at least 20 carries in seven of his nine games this season. That means you are likely looking at a double-digit afternoon for Posluszny in terms of tackles.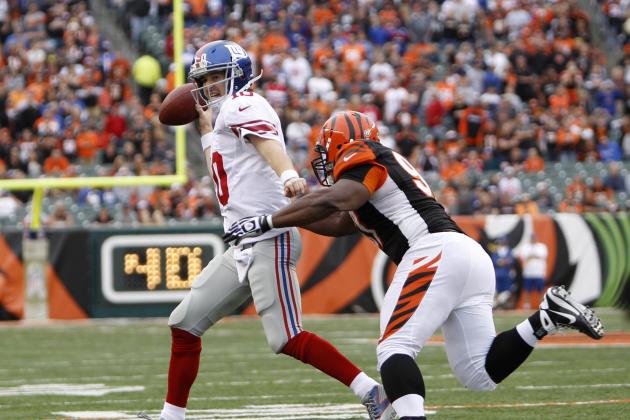 Frank Victores-US PRESSWIRE

The Cincinnati Bengals are still alive and kicking.
Off a four-game losing streak, Marvin Lewis' team ended that miserable skid with a 31-13 home victory last week over the defending Super Bowl champion Giants.
While second-year quarterback Andy Dalton was busy throwing four touchdown passes, Lewis' club was forcing four turnovers.
Still, the Giants managed to run for 129 yards in their loss. And unfortunately for Cincinnati, it marked the fifth time in nine games this season that an opponent rushed for 120-plus yards. The Bengals are ranked just 20th in the league in rushing defense in 2012.
Led by Jamaal Charles, the Kansas City Chiefs are ranked fourth in the NFL in rushing offense. The former Pro Bowl back has totaled 734 yards and three scores on the ground and was pretty impressive in the team's overtime loss to the Steelers.
Bengals defensive tackle Geno Atkins leads his team with 7.0 sacks, and on Sunday he will attempt to teach Chiefs rookie left guard Jeff Allen, the club's second-round pick from Illinois, a little lesson or two.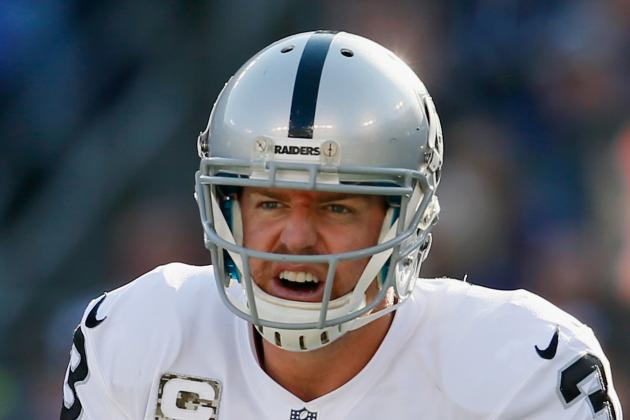 Rob Carr/Getty Images

There's the obvious and the not-so-obvious.
It's hardly a shocker that New Orleans quarterback Drew Brees, who set an NFL record last season by throwing for 5,476 yards, once again leads the league in passing yardage (2,847). And Matt Ryan (2,771) of the Atlanta Falcons isn't too far behind his NFC South rival.
But how many out there knew that Oakland Raiders signal-caller Carson Palmer is third in the NFL with 2,723 yards through the air? Most would be a little surprised, to say the least.
Not that the former No. 1 overall pick isn't capable, but with the Silver and Black looking bleak most of the season, Palmer has piled up the yards.
Consider that this week we have one team that has easily allowed the most total yards in the league (Saints) and another that has given up 97 points in its last two games (Raiders) and the possibilities for Brees and Palmer are endless.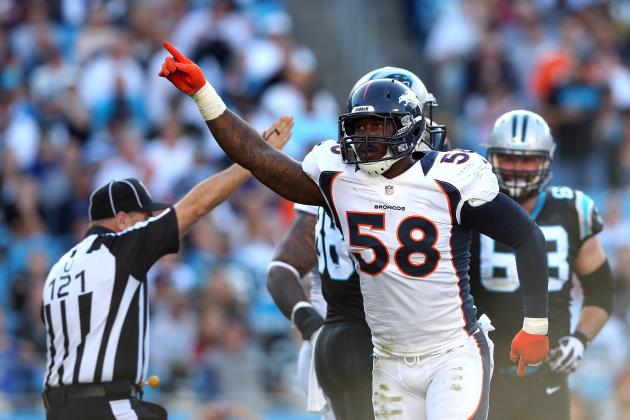 Streeter Lecka/Getty Images

It's safe to say no member of the San Diego Chargers will forget what happened to him on a Monday night five weeks ago in the team's own backyard.
With a 24-0 halftime lead over the visiting Denver Broncos, Norv Turner's team made it easy for a Peyton Manning comeback. Chargers quarterback Philip Rivers committed all of his team's six turnovers on the evening, including five in the second half (two returned for touchdowns), as Manning and company came all the way back for a 35-24 victory.
Now it's time for the rematch and Rivers and Turner know that, with a 4-5 record and Denver winners of four straight and a 6-3 mark, they need to get the split here if they are to perhaps prevent the Broncos from pulling away in the AFC West.
Rivers will be trying to pull away from Broncos outside linebacker Von Miller, who suddenly finds himself second in the NFL with 10.0 sacks. In this season's first encounter, Miller had one of the four sacks of Rivers and will look to add to that total on Sunday.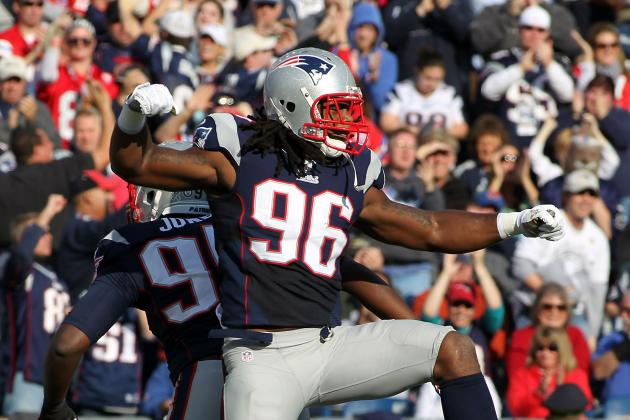 Stew Milne-US PRESSWIRE

We've become used to these showdowns between the Indianapolis Colts and the New England Patriots.
As these franchises prepare to meet in the regular season for the 10th consecutive year dating back to 2003, we've seen our share of showdowns between quarterbacks Peyton Manning and Tom Brady.
But due to a number of circumstances, this will be the third time in five seasons that either Manning or Brady won't be around for this showdown.
This time it's because rookie Andrew Luck is at the helm of the Colts. And you can't underestimate the impact the former Stanford product has had on his club.
Yes, Luck has had his ups and downs and has actually committed 13 turnovers in nine games. But not only has he thrown more touchdown passes (10) than interceptions (nine), Luck leads the Colts with five rushing touchdowns. Last Thursday night at Jacksonville, the rookie passer ran for two touchdowns for the second time in four weeks.
But along comes Patriots defensive end Chandler Jones, who hopes to keep Luck in the pocket. The first-round pick from Syracuse leads the team with 6.0 sacks and hopes to make life miserable for the elusive quarterback.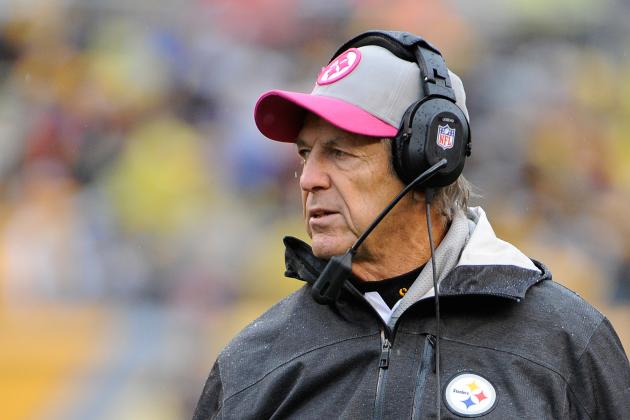 Joe Sargent/Getty Images

Although they fell one game short of Super Bowl XLVI, it's hard to forget what Baltimore Ravens quarterback Joe Flacco managed to accomplish in 2011.
The fifth-year signal-caller, who has led his team to the playoffs in each of his first four seasons, helped the Ravens win their first AFC North title since 2006. That was also the last season the club managed to sweep the Pittsburgh Steelers. And the Ravens closed the deal on that feat at Pittsburgh last November when Flacco drove his team 92 yards in the final two-plus minutes to the game-winning touchdown.
In two games vs. Dick LeBeau's defense last season, the Baltimore quarterback threw for 524 yards and four touchdowns without an interception, although he lost one fumble, and was sacked only four times.
In eight previous meetings vs. Pittsburgh (including playoffs), Flacco was just 2-6, throwing for seven scores while committing a total of 13 turnovers (eight interceptions, five lost fumbles). And Pittsburgh defenders managed to sack Flacco a combined 29 times.
Who gets the best of this key meeting between the arm and the mind? Stay tuned.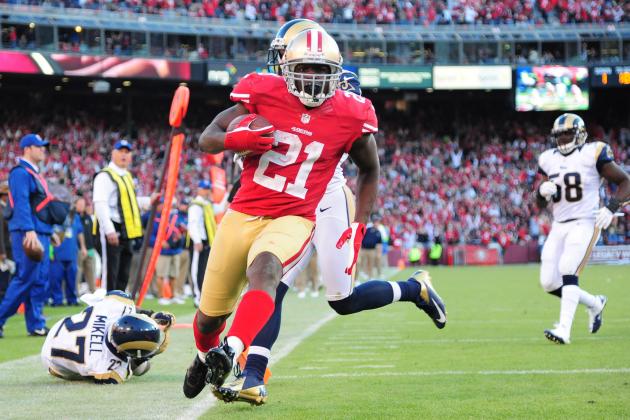 Kyle Terada-US PRESSWIRE

It's the game of the irresistible force vs...the irresistible force.
Only two teams in the league have surrendered fewer yards per game than the San Francisco 49ers. And only four clubs in the NFL have allowed fewer yards per game than the Chicago Bears.
Still, we saw a few cracks in both teams' armor last week. Last Sunday night, some may have been surprised by the success Houston Texans running back Arian Foster had against the Bears defense, carrying the ball 29 times for 102 yards in Houston's 13-6 win.
Others may have been even more surprised by the fact that the St. Louis Rams rolled up 159 yards rushing against the San Francisco defense, including 101 by running back Steven Jackson, as Jim Harbaugh's team rallied for a tie against St. Louis.
Versatile Bears running back Matt Forte might be called on even more this week due to the team's quarterback situation. It will be even more interesting to see if 49ers running back Frank Gore can wear down Chicago middle linebacker Brian Urlacher and a Bears unit that was pounded by Foster last week at Soldier Field.