San Diego Chargers vs. Tampa Bay Buccaneers: Live Score, Highlights and Analysis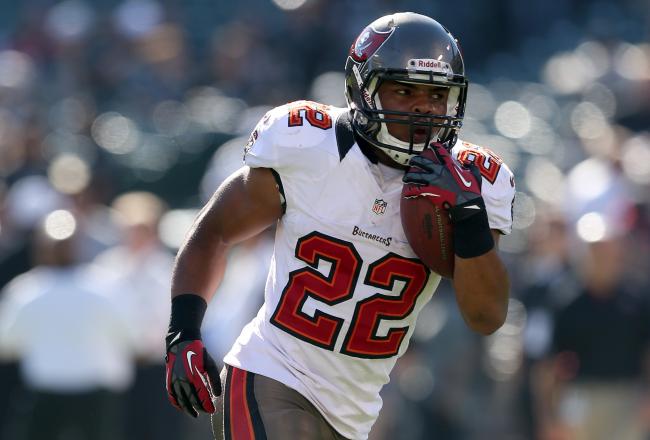 Ezra Shaw/Getty Images
TB 34 SD 24 Final

The San Diego Chargers gave away another halftime lead, this time to the Tampa Bay Buccaneers. After trailing 21-17 at the half, the Bucs came back to put away the Chargers.
Philip Rivers had a great first half, throwing three TD passes to Denario Alexander, Antonio Gates and Malcom Floyd. It looked almost as if Rivers couldn't miss in the first half, but that theme didn't last too long as the Chargers headed out of the locker room for the second half.
With his team playing catch-up, Rivers threw two interceptions as he attempted to bring his team back in the second half. His first interception came as he was running out of bounds and tried to force a pass inside. The second interception came off a poorly thrown pass down the sideline which was picked off by Lequan Lewis.
Rivers finished the game with 337 yards passing, three TDs and two interceptions. A big day statistically for the San Diego QB, but turnovers killed his team's chances.
Josh Freeman had a better day than his San Diego counterpart, throwing for 210 yards, two TDs and no interceptions. Freeman and the Tampa Bay offense managed to keep stride with the Chargers for most of the game despite Dough Martin only rushing for 68 yards. However, it was the Bucs' defense that really sealed the deal in the end.
The Bucs scored off two turnovers in the game, including a blocked punt which was returned by Adam Hayward and an interception return by Leonard Johnson. While the defense had trouble defending the pass, they did shut down Ryan Mathews, limiting him to just 54 yards on the ground.
The Bucs pick up their fifth win of the season and improve to 5-4 on the season. This win was their third straight after picking up wins against Minnesota and Oakland.
With the loss, the Chargers fall to 4-5 on the season and continue to fade in the AFC West standings. The Chargers will now head to Denver for a pivotal road matchup with their AFC West rivals, the Denver Broncos.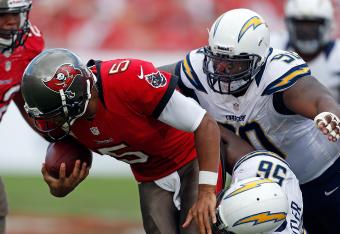 That's all folks! Tampa bay takes this one for their fifth win of the season.
TB 34 SD 24 Final
FG Good by Buccaneers!
TB 34 SD 24 Late 4th Qtr
Connor Barth hits a 45-yard field goal to increase Tampa Bay's lead as this game winds down.

Norv Turner is livid with the refs right now about the game clock. I'm no lip reader but he gave them quite a mouthful.
That should do it. In typical fashion, Philip Rivers throws an interception on the second play of the drive to end any hope of a comeback. I would be stunned if Chargers can get the ball back now. Tampa Bay's defense has been phenomenal.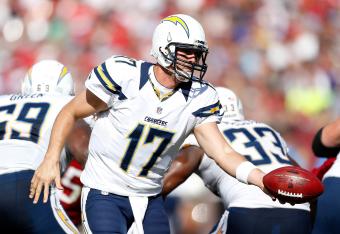 Chargers force a punt. Now, the real work begins as Philip Rivers finds himself in an all too familiar scenario as he attempts to lead a game-winning comeback with just about four minutes left.
FG Good by Chargers!
TB 31 SD 24 Late 4th Qtr
Nick Novak hits a 34-yard field goal to narrow the gap but San Diego is losing time. The Chargers need a defensive stop here and then they need to get the ball in the end zone. That's a lot to ask for with about seven minutes left.

Philip Rivers has to punch this one in the end zone to keep San Diego in the game. Can't afford a turnover.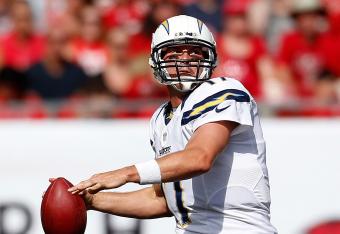 What a lucky catch by Eddie Royal. That pass was tipped and it landed right in his hands as he was lying on the ground. Big break for Philip Rivers, who looks extremely frustrated with himself.
Leonard Johnson is one of best stories I've covered in a long time. Undrafted rook takes INT to the house vs Phillip Rivers. Hometown kid

— Stephen Holder (@HolderStephen) November 11, 2012
Touchdown Buccaneers!
TB 31 SD 21
The Buccaneers get a huge lift from Leonard Johnson, who picks off Philip Rivers for a pick six. Very stupid throw by Rivers, who looked like he was trying to force a pass inside as he was running out of bounds.

End of the third quarter. Scoreless quarter but Chargers are driving.
TB 24 SD 21 End of 3rd Qtr
Bucs LB Quincy Black just gave the thumbs up to the crowd at @rjstadium. Fans are giving him a standing ovation as he heads to the tunnel.

— JennaLaineBucs (@JennaLaineBucs) November 11, 2012
Real quiet here in Tampa, where cart and stretcher are out for Buccaneers linebacker Quincy Black. Made helmet-to-helmet tackle on Mathews.

— Michael Gehlken (@UTgehlken) November 11, 2012
That was a scary collision between Ryan Mathews and Quincy Black. Hope Black is ok. He's down and the training staff is taking all the necessary precautions with a stretcher on site.
Touchdown Buccaneers!
TB 24 SD 21 Late 3rd Qtr
Josh Freeman took the ball in his hands and drove his team all the way down the field with some accurate passing. Tampa Bay is still very alive in this game.

I could have sworn Martin reached the first-down marker as well:
That little Muscle Hampster keeps on running ... I thought he got that. Fourth-and-one. TB challenging the spot.

— UTKevinAcee (@UTKevinAcee) November 11, 2012
Mike Scifres looks like he's in a world of pain right now. The moment he punted that ball he started limping around.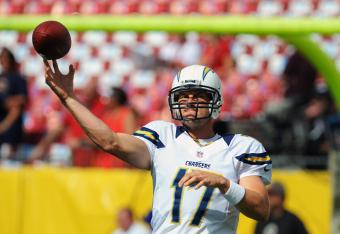 The Chargers continue to run Mathews even though he isn't picking up much of anything. It does, however, open up the passing game for Philip Rivers. Norv Turner is calling a good game so far.
San Diego losing two defenders at the half:
Melvin Ingram (knee) questionable to return. Chargers down to Shaun Phillips, Jarret Johnson, Larry English if he doesn't.

— Michael Gehlken (@UTgehlken) November 11, 2012
That last pass should have been an interception by Antoine Cason but Vincent Jackson ripped it right out of the defender's hands. Like taking candy from a baby.
and we're back to start the third quarter!
Tampa Bay will receive the ball to get things started.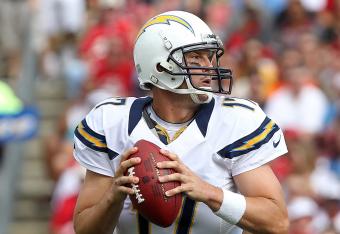 and that's halftime folks!
SD 21 TB 17
Philip Rivers is 16-of-18 for 218 yards and has three TD passes. Meanwhile, Josh Freeman is 6-of-18 for 118 yards and one TD pass.

Touchdown Chargers!
SD 21 TB 17 Late 2nd Qtr
Philip Rivers completes a perfect drive, going 8-for-8 passing. That's his third TD pass of the game. He's certainly making fantasy owners quite happy today.

Philip Rivers is a perfect 5-for-5 on this drive. This is usually around the time he throws a pick. His team is in the red zone with the opportunity to score before the half.
This article is
What is the duplicate article?
Why is this article offensive?
Where is this article plagiarized from?
Why is this article poorly edited?