The 20 Worst Songs Played at Sporting Events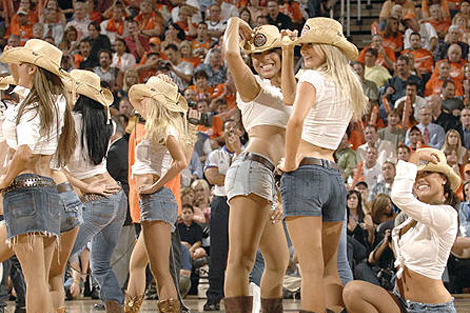 lebrondajameson.com
Don't you hate some of the music played at sports games?
Sporting events are very exciting, and pumping music plays a huge part in that, but some songs are just overplayed. Once in a while, I just sit and think, "I can't hear this again!"
Many songs played at sporting events don't fit the setting or are just not with the times.
Here are the worst songs played at sporting events.
Begin Slideshow

»
A long-time favorite in danger of becoming cliche.
Sports DJs, please don't make great hard-rock music predictable.
This song is more bankrupt than MC Hammer.
Love the song. Hate the people jiggling to it on the fan cam.
It's not the 1950s anymore.
Let's keep this song in Mamma Mia.
I saw this at an indoor soccer match and it just felt so out of place.
Please don't ask why I went to an indoor soccer match. We all make mistakes.
Usually played when a football player drills the ball-carrying opponent.
Just try not to air it when they have a concussion, guys. It's poor form.
Unless I'm related to everyone in the stadium, I don't want to hear it.
And I'm not Mormon.
You have to love Will Smith's acting talent.
His singing? Not so much.
It's not enough to not have real "Loud-meter" measurement, they have to play this gem?
The fact that this song still gets played is shocking by itself.
It should be relegated to the trash bin, like the Cold War and bell-bottom jeans.
The song repeats the word "Tequila" almost as many times as stadiums play the song.
RIP, please.
Love the song, actually.
But it feels like every time I hear it at a sports event, my team starts to lose. It's like a jinx.
I love Space Jam because it reminds me of His Airness.
But, objectively, that movie was bad in the '90s. Why are we still playing its songs?
Is this the best the Millennium generation has to offer?
I think not.
It's a great tradition, but just once a game, please.
I went to a basketball game last year where the fans were so bored during the blowout, they played it four times.
I guess having fans make a "Y" can distract them from wondering "Why" their team sucks.
Maybe it's just me, but this song actually quiets the crowd.
It's not really pump-up music, so what's the point?
Does it get stuck in your head for months afterword, too?
My friend heard this at a Charlotte Bobcat's game last year.
He texted me, "well, no all-stars here."
Except for the million timeouts that stretch the game out for another half-hour.