Studs and Duds from the Miami Heat's First Slate of Games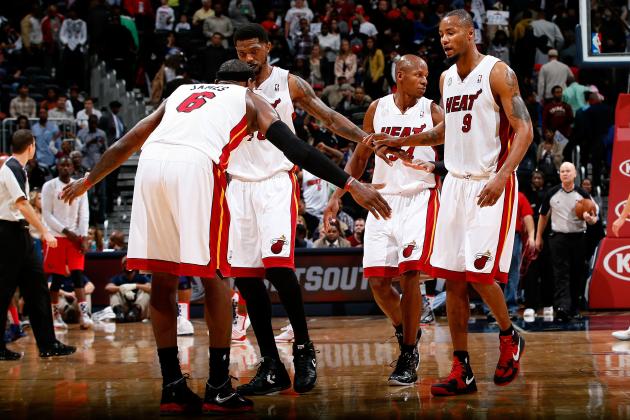 Kevin C. Cox/Getty Images

There are a lot of positives to take away from the Miami Heat's first six games.
The defending champions are off to a strong 5–1 start, having taken down several teams who are expected to be contenders.
Even on the best of teams, though, there is room for improvement. The Heat are no exception.
Sure, they're putting up big numbers, averaging 110.0 PPG (as of Thursday, Nov. 8), but they're opponents are also scoring at an average rate of 99.8 PPG.
So far in the 2012–13 season, the Heat have also given up more steals than they've made—a stat they dominated last year.
The team's lack of an experienced center also has their offensive rebound numbers down quite a bit to 34 per game, or 26th among the league's 30 teams.
You can bet that plenty of other teams would kill for the kinds of problems the Heat have in 2012.
Among the highs and lows are the players who have stepped up to the challenge and the ones who have fallen flat on their faces. Every team has some of both, and following are the Heat's studs and duds.
Begin Slideshow

»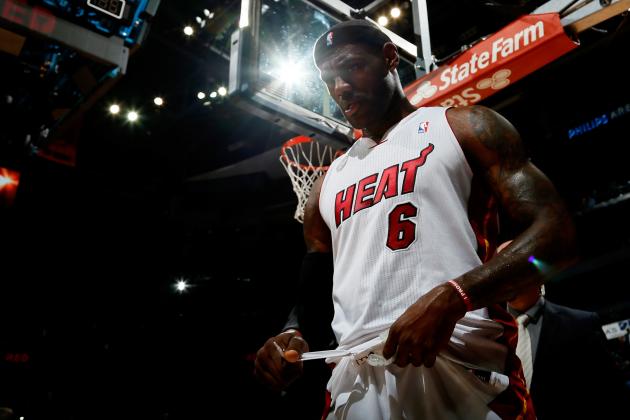 Kevin C. Cox/Getty Images

This one needs little introduction.
LeBron James is averaging a double-double only six games into the season. His 22.5 PPG combined with 10 total rebounds per game are just a little piece of why he is ready to make another MVP run in 2012.
James understands what it takes to win. Sometimes that means taking a shot and sometimes that means getting the ball outside, but he's far from being a selfish player. He understands the concept of getting the ball to the guy who's making shots tonight. That's a characteristic that wins titles.
So far this season he leads the team in MPG, APG, defensive rebounds and has the lowest personal foul total among the team's starters.
Dominant on both ends of the court, James is poised to again be the cornerstone of a team capable of another Finals trip.
Dwyane Wade, one of the most impressive fundamental players in the NBA, is showing his stuff again in 2012.
Wade has seen a dip in his averages this season, but his shooting percentages are all on the rise. While the sample size is small, his 2012 totals in FG percent (.569), three-point percent (.333) and FT percent (.826) are all higher than the previous season.
He, James and Chris Bosh are still growing together as a team and the results continue to show nightly when they take the court.
Assuming he can keep his knee up to snuff, he should post another D-Wade style season. He had arthroscopic surgery July 9 after playing through pain in the knee during the Heat's title run last season.
Despite missing a game in Atlanta due to a cold, Wade has looked like his old self in 2012 and has the ability to carry this team throughout the season.
I would expect to see more rest for him in 2012 in an effort to keep him in form for another potential playoff run.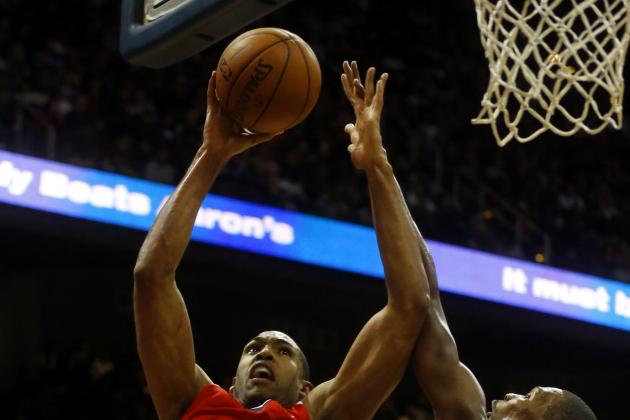 Josh D. Weiss-US PRESSWIRE

There are plenty of arguments for why Bosh is a stud in 2012—not the least of which is his impressive 40-point outing against the Denver Nuggets on Saturday, Nov. 3.
Bosh may be the most often forgotten of the Big Three, but don't underestimate his role and potential impact. There's a reason he's played in seven NBA All-Star games and is well on his way to No. 8—he comes through in the clutch.
His defensive numbers have taken a slight dip early in 2012, specifically his rebounds. Bosh's offense, on the other hand, is his story this year.
His FG percent and FT percent are both up from 2011, and he's posting an average of 20.2 PPG through the first six games of the season.
Bosh leads the team in blocks (eight), FTM (32) and is second in FGM (44), total rebounds (41), steals (eight) and points (121).
If Coach Erik Spoelstra can continue to get that type of production out of him, the sky is the limit in 2012.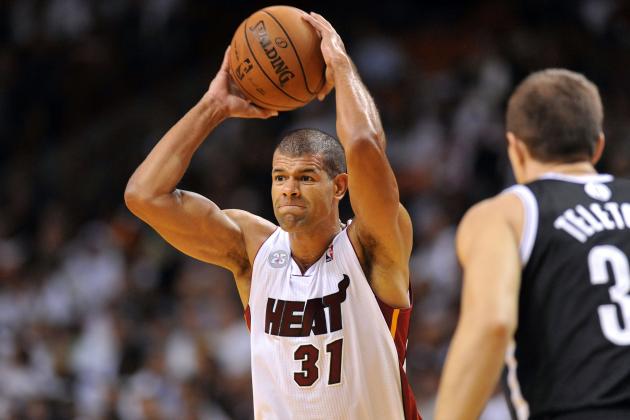 Steve Mitchell-US PRESSWIRE

Now a starter, more is expected of Shane Battier in 2012, but so far he hasn't stepped up.
The decision to start Battier against much younger power forwards is unconventional at best, but may still work out in the long run.
His FG percent (.355) has taken a hit in 2012, as was evident against the Hawks when he went 1-of-4 from inside the arc.
Now 34, he's not the defensive force he once was and his flaws can show against some of the younger power forwards in the league. His steals and blocks are at this point on pace with last year, but his rebounds have taken a slight slide.
If he can step up the defense a bit and get his shooting percentage up closer to his 2010-11 levels, he'll be able to make a big contribution to this team.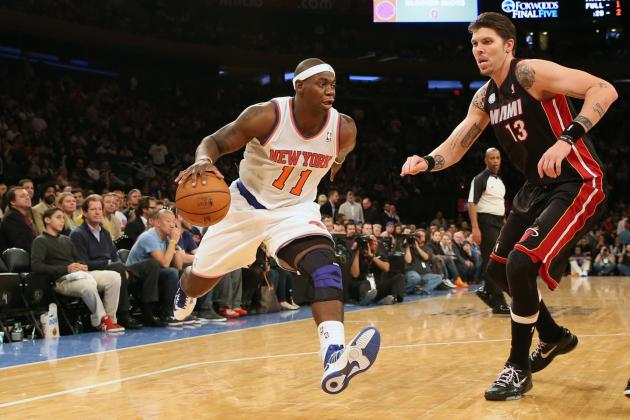 Anthony Gruppuso-US PRESSWIRE

Given his 2011-12 performance, big things were hoped for from Mike Miller this year.
With Ray Allen coming on board, it was clear his responsibilities would be scaled back and it's possible that the huge decrease in playing time has hurt him overall.
While his totals are down in PPG, RPG and steals, a lot of that goes back to the fact that he is averaging only seven minutes per game at this point.
His dud status comes predominantly from the fact that he played such a huge role during the playoffs as the Heat's go-to guy for threes, and in 2012 is so far doing little more than filling space on the roster.
After posting a nice six-rebound night against the Hawks, it's possible he could see a bit more time and have a chance to prove his continued value to the team.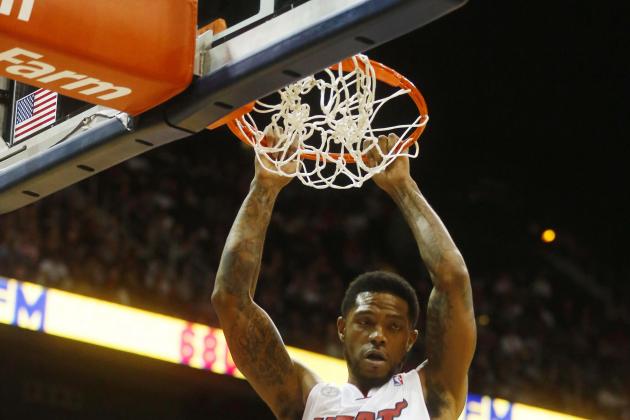 Josh D. Weiss-US PRESSWIRE

Haslem, a rebound machine in 2012, is still doing well on the defensive boards, but his offense has taken a hit in 2012. Averaging only 3.3 PPG early this season, he averaged six PPG in 2011.
A large portion of this may be due to the fact that the Heat have brought in big shooters in Ray Allen and Rashard Lewis who have all but taken his place.
While his minutes are down and he is yet to start a game, Haslem has the ability to add much greater depth to the Heat bench. Without adequate playing time, though, the chances of that are slim.
He posted 10 rebounds Friday night for the first time of the season, but has still sunk only 20 points on the season.
The key to moving Haslem from dud to stud is to get him playing time, but with both Bosh on top of his game and Lewis playing well, Spoelstra may have trouble making that happen.