2013 NFL Draft: Biggest Need for Every NFL Team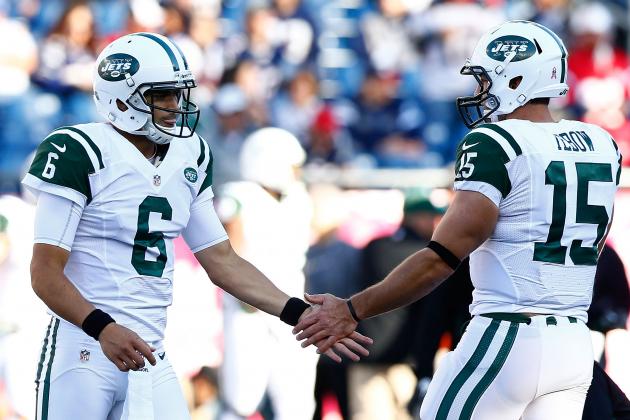 Jared Wickerham/Getty Images

As we pass the mid-season mark for the 2012 NFL season and the playoff picture becomes a bit more clear, fans of teams with their post-season hopes diminishing will begin to look towards next season.
Different areas of weakness will emerge towards the end of the season, and free agency will certainly have a big effect on how teams approach the 2013 NFL Draft.
With that in mind, let's take a look how every NFL team would begin their off-season strategy if the season ended today.
Begin Slideshow

»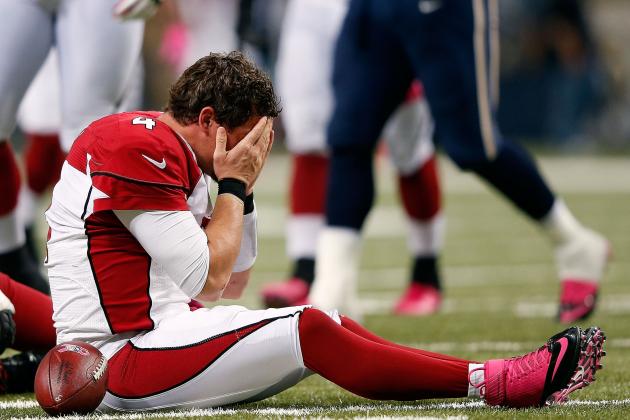 Jamie Squire/Getty Images

Quarterback
After starting 4-0 this year, the Cardinals have dropped five straight. Inconsistent play at the quarterback position has been the Achilles heel of an otherwise talented team, as the seemingly endless controversy between Kevin Kolb and John Skelton has proven to be a disaster.
Injuries along an already questionable offensive line haven't exactly helped matters, but left tackle Levi Brown should be healthy next season. Even so, don't expect the offensive line to be ignored come draft day.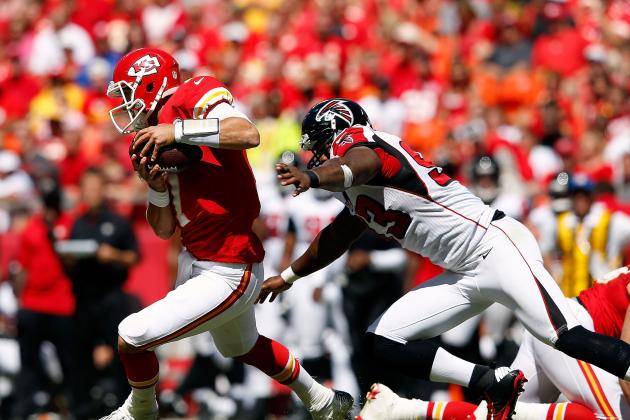 Jamie Squire/Getty Images

Defensive End
Unsurprisingly, it was tough to find holes on the 8-1 Atlanta Falcons' roster.
If there is an area that could be upgraded, it's probably on defense. Even with their 21 sacks on the season and stable of young pass rushers on the depth chart, the Falcons could use an upgrade opposite John Abraham. Abraham, who will be 35 next season, will also soon need to be replaced despite the fact that he is still performing at a high level.
This could change if a guy like Jonathan Massaquoi, Lawrence Sidbury, or Cliff Matthews can emerge as a reliable option for the future at the position, but so far we haven't seen much evidence to support that.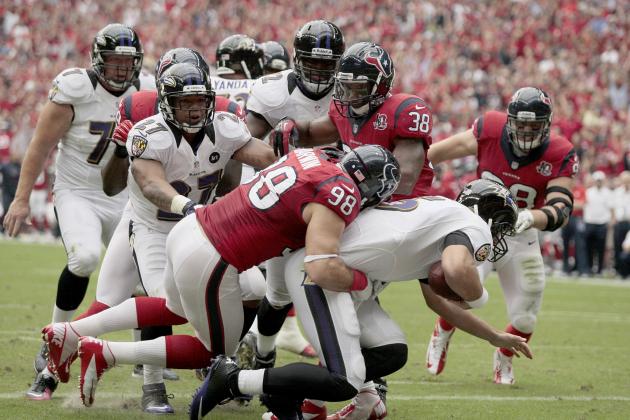 Thomas B. Shea/Getty Images

Left Tackle
With injuries to some players whose age is already becoming a factor, it may seem easy to point out several areas in need of an injection of both youth and talent along the Ravens' roster. It is difficult, however, to identify their single greatest need.
At this point there are just too many questions that need to be answered. Will Michael Oher get a contract extension? Will Bryant McKinnie be back in 2013? Will he play in 2012? Is this Matt Birk's final season? Is this Ray Lewis' final season? Ed Reed's?
Until we can answer at least some of these questions, the Ravens' greatest area of need for the 2013 season remains unclear.
However, considering the struggles of the offensive line this season and the question marks Baltimore has at the tackle position, left tackle could certainly end up being it.
For one thing it's becoming increasingly obvious that Michael Oher is better suited at right tackle. For reasons unknown, the Ravens' best option at left tackle, Bryant McKinnie, continues to ride the bench, as rookie Kelechi Osemele goes through growing pains as the Ravens' current starting right tackle.
The Ravens would be much better off with McKinnie in the starting rotation at left tackle, Oher on the right side, and Osemele moved inside to left guard. But whether or not McKinnie is still in the dog house for showing up at training camp overweight and putting up a fight about his contract, or the Ravens coaching staff truly believes their best lineman are on the field, something has to change.
If this trend continues it's hard to imagine McKinnie back in Baltimore next season. With Michael Oher's rookie contract up in 2014, it seems like it's time to find a franchise left tackle. That will be easier said than done, as the the Ravens will likely be picking in the second half of the first round yet again.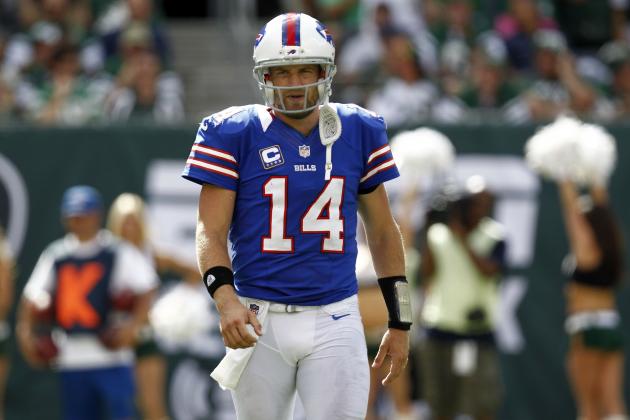 Jeff Zelevansky/Getty Images

Quarterback
Franchise quarterbacks are few and far between. So it's not surprising that Buffalo offered Ryan Fitzpatrick, the former seventh-round pick out of Harvard, a contract extension worth $24 million guaranteed after a 4-2 start last season.
Since then the Bills are 5-13, and owner Ralph Wilson is 94 years old. As you can imagine, he would probably like to win now.
After the Bills' 3-4 start, General Manager Buddy Nix publicly announced that Buffalo would look to bring in a young quarterback next season to compete with Fitzpatrick. Make of this what you will, but if a general manger is talking about a quarterback of the future midway through the season, it should raise some red flags.
Streeter Lecka/Getty Images

Defensive Tackle
Free safety should also be a concern for the Panthers this off-season, as Haruki Nakamura has shown that he is probably better as a special teamer rather than a full time starter.
However, considering where the Panthers will likely be drafting, and the age of their current starting defensive tackles, it is likely that this will be the first issue they address in the 2013 NFL Draft.
Dwan Edwards has stepped up and played well as of late, but at 31, may not be able to continue his current level of production for long. The Panthers could use a big stop gap defensive tackle to anchor their defensive line and demand multiple blockers, freeing up their play makers to...make plays.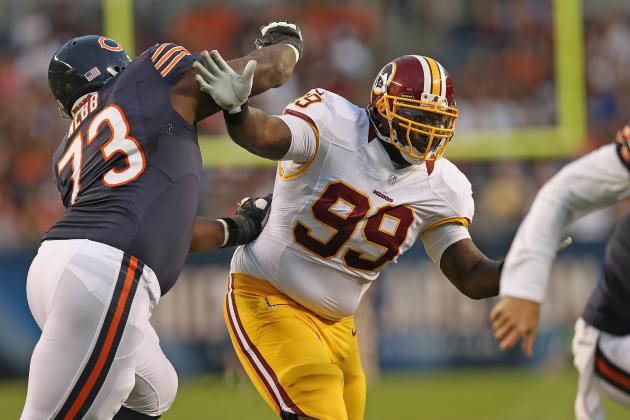 Jonathan Daniel/Getty Images

Left Tackle
To the Bears' disappointment, J'Marcus Webb will never be a franchise left tackle. Jay Cutler made that painstakingly obvious by publicly humiliating Webb earlier this season on Thursday Night Football. Lucky for Webb, some people still refuse to pay the extra five dollars a month for NFL Network, although I'm pretty sure it made Sportscenter a few times.
Gabe Carimi still has a chance to solidify himself as the starter at right tackle for years to come, but the Bears have to find a franchise left tackle if they want to keep Jay Cutler healthy and effective. If they can do that, Webb will make a solid backup and swing tackle and is worth keeping.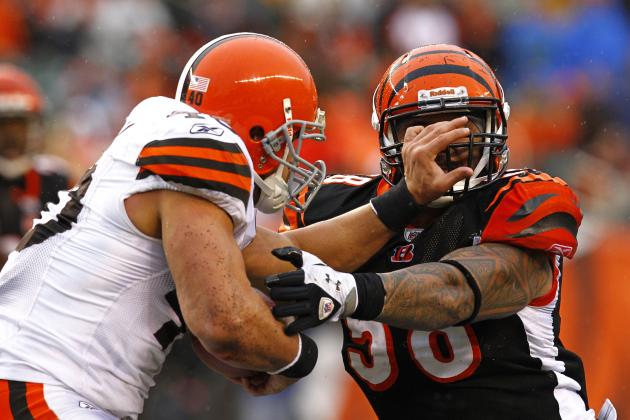 Tyler Barrick/Getty Images

Linebacker
Linebacker seems to constantly be a position of need for the Cincinnati Bengals and this year will be no different. Undrafted rookie free agent Vontaze Burfict seems to be working well in the starting rotation and his questioned character has yet to cause any problems, as far as we know.
Adding another running back to compliment BenJarvus Green-Ellis and a safety to compete with the disappointing Taylor Mays will also be high on the Bengals list, but Rey Maualuga has been a huge letdown this season and may not even be the starter throughout the rest of the season.
Finding a middle linebacker to at least compete with Maualuga for the starting role gets the edge as the Bengals' biggest need at this point in the season.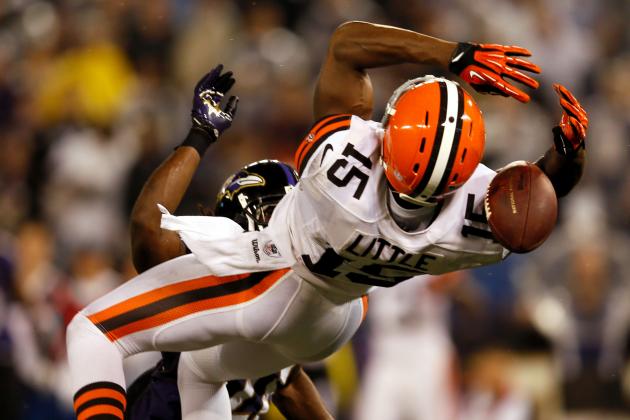 Rob Carr/Getty Images

Wide Receiver
The Browns finally seem like they have some pieces to build around. Brandon Weeden seems to look better every week, Trent Richardson is panning out as expected, and they even struck gold in the supplemental draft when they landed deep threat Josh Gordon out of Baylor.
Gordon is still raw however, and with Greg Little continuing to struggle, the Browns need to bring in a reliable target for their not-so-young franchise quarterback.
It's not going to be easy to fill this need in the 2013 NFL Draft, as the Browns will likely be picking in the top five and don't possess a second round pick this year after using it on Gordon in the supplemental draft. However there could be some receivers that fall into early round three that may be able to fill the void.
Don't rule out Cleveland trading down to pick up an extra draft pick either.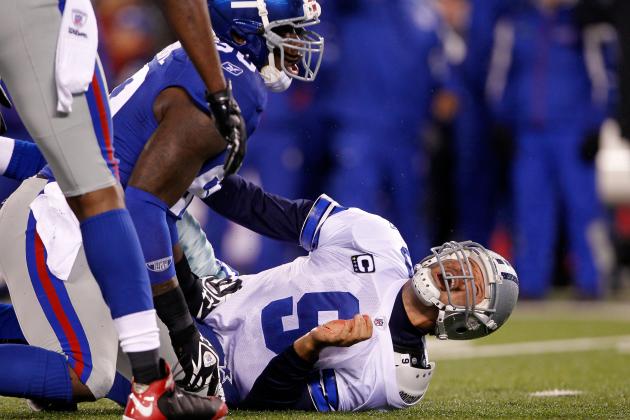 Rich Schultz/Getty Images

Offensive Line
The Cowboys have a ton of talent, but they also have a ton of needs to address. They could stand to upgrade at safety, add a pass rusher in case Anthony Spencer does not return in 2013, and even add a block-eating nose tackle to allow Jay Ratliff to bump out to end where he could be more productive.
However considering how well their defense played last Sunday against the Eagles, the offensive line appears to be their most glaring need.
Tyron Smith has played well at left tackle and will only get better, and Doug Free has been serviceable at right tackle, but the interior of the offensive line is in need of an overhaul.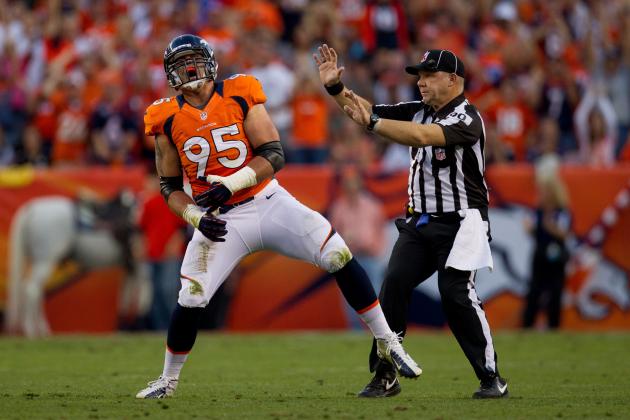 Justin Edmonds/Getty Images

Defensive Tackle
Upgrading the defensive tackle position continues to remain an issue for the Broncos every year it seems. They drafted Derek Wolfe last season, but have been playing him outside at defensive end.
You could consider a future replacement for Champ Bailey as their biggest need, but adding a big run-stuffing nose tackle to free up Von Miller to wreak havoc should be a notch higher on the Broncos wish list.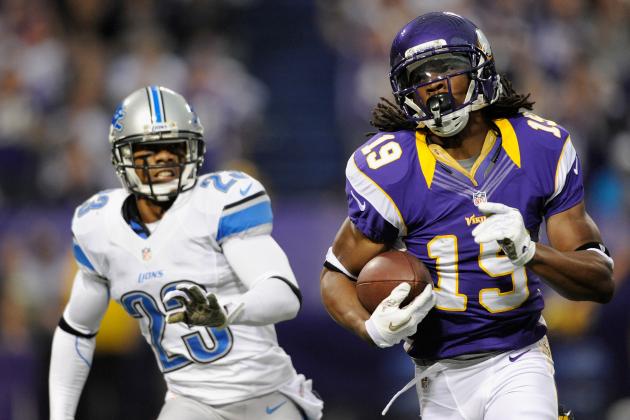 Hannah Foslien/Getty Images

Cornerback
The Lions have a ton of issues to address this off-season, but cornerback is probably the most pressing.
The secondary has been plagued by injury this season, and Chris Houston will be coming up on free agency. With a few other notable free agents that they'll likely try to retain, there's no guarantee that he'll be back in Detroit in 2013.
The Lions could also look to add a few linebackers and pass rushers, depending on how many of their own guys they're able to retain. They'll also look to address the interior offensive line, but given the importance of the cornerback position, it looks to be their top need.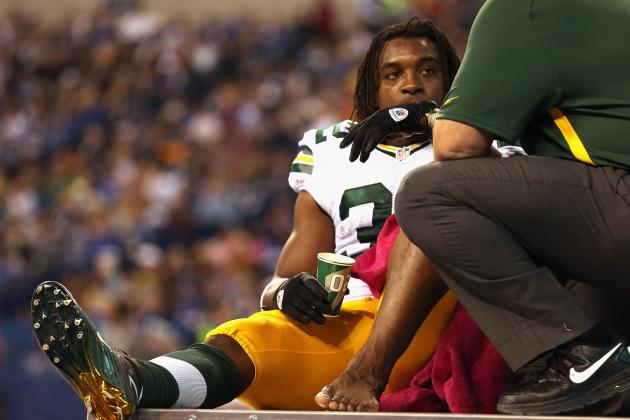 Jonathan Daniel/Getty Images

Running Back
Diagnosing the Packers' greatest need is difficult because Aaron Rodgers can mask a lot of the teams' weaknesses with a nearly unstoppable aerial attack.
They certainly have a few areas to address on defense, and with Jeff Saturday turning 38 this summer you could easily make a case for center here as well. However even before Cedric Benson's season-ending injury the Packers were in need of a running back that better fit their offensive scheme.
Benson will be a free agent again next season and probably won't be back in Green Bay. Instead the Packers will likely look to the draft for a back that will be more suitable for what they want to do on offense.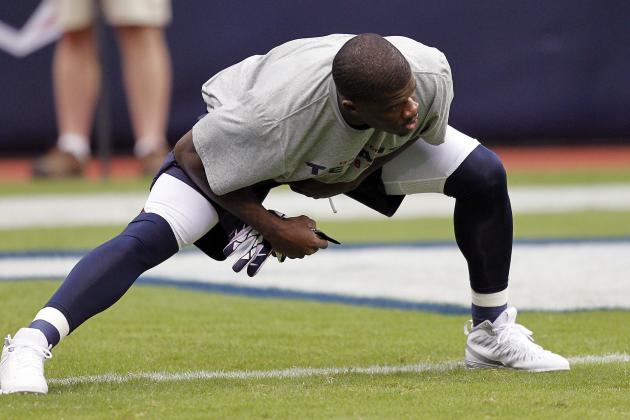 Bob Levey/Getty Images

Wide Receiver
Even 8-1 teams can have weaknesses, and the Houston Texans are no exception.
Andre Johnson is still their leading receiver, but at 31 years old, it seems as his best days are behind him. Even with Johnson likely to play a few more years, the team could stand to upgrade at the wide receiver position opposite him.
They drafted DeVier Posey in last year's draft, but the rookie has only managed one catch in five games.
Likely picking near the bottom of the first round in the 2013 NFL Draft, look for Houston to take advantage of a number of receivers being valued in the same area.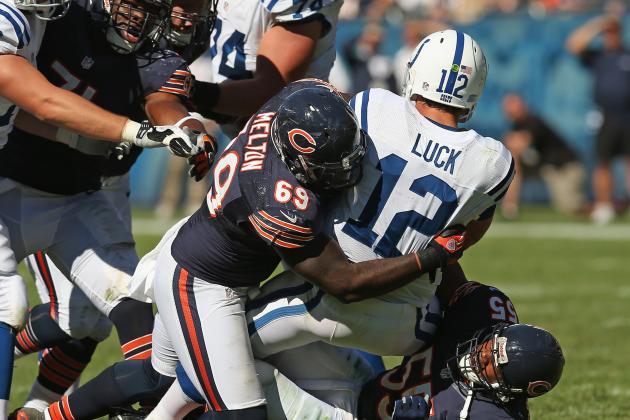 Jonathan Daniel/Getty Images

Offensive Line
The Colts are an overachieving team thanks to a fantastic rookie performance and the impressive pocket presence of Andrew Luck.
However, despite how Luck's ability has skewed the stats, the Colts have a very below-average offensive line.
They certainly still have key needs on defense, not even a year removed from transitioning to a 3-4 defense, but keeping the future of their franchise and only chance to win healthy should be priority one.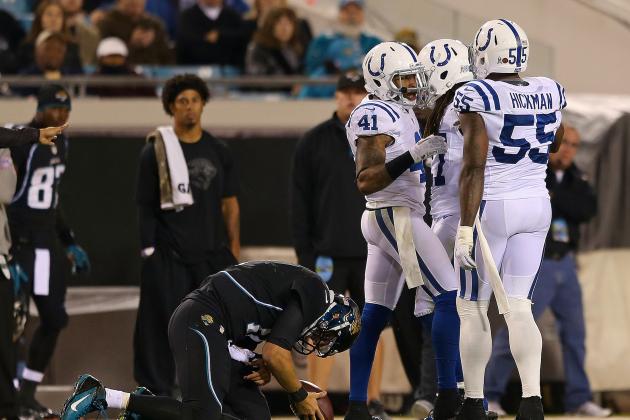 Mike Ehrmann/Getty Images

Quarterback
After seeming to take a step forward in the preseason, Blaine Gabbert has only managed to win one game so far when it really counts.
While all the blame can't be placed on Gabbert, there are young quarterbacks out there doing more with just as little.
Gabbert still has a chance to turn his season around, and if he can win some games by the end of the season he may buy himself another year as the starter. But from what he's shown so far this season, that seems unlikely.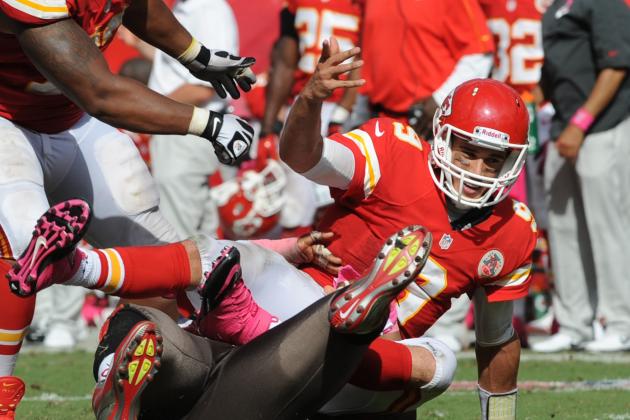 Al Messerschmidt/Getty Images

Quarterback
Like the Cardinals, the Chiefs have enough talent to be a winning team, but are hindered by their quarterbacks. Unfortunately for both teams, that's kind of the most important position on the field.
As horrible as it was to hear Chiefs fans cheering at a possible Matt Cassel injury earlier this season, the fact that they wanted to see Brady Quinn taking snaps instead should tell you how desperate Kansas City is for a legitimate franchise QB.
The Chiefs could end up with the number one overall pick in the 2013 NFL Draft at this rate, and considering that no college quarterback prospect has made much of a case for himself as the pick, it will be interesting to see who they select.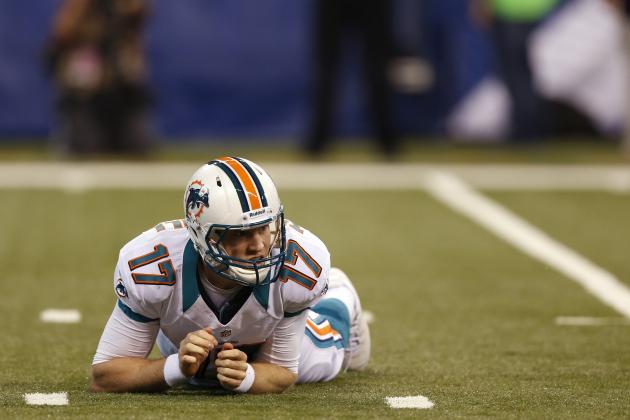 Joe Robbins/Getty Images

Wide Receiver
The Dolphins wide receiver situation has been a popular talking point since trading Brandon Marshall to the Bears this off-season. Releasing Chad Johnson was probably for the best, and Brian Hartline has shown flashes of a legitimate number one wide receiver.
If they were to add another receiver on the outside, it would allow Davone Bess to work the slot where he is most effective. It would also take some of the focus off Hartline, allowing him to be more productive as well.
The Dolphins should also look to add another tight end to act as a security blanket for their young developing quarterback.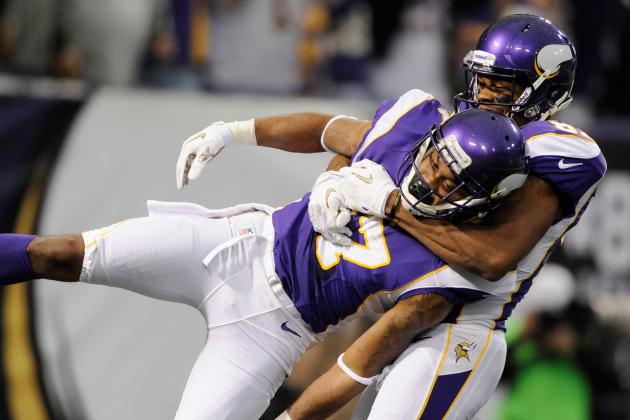 Hannah Foslien/Getty Images

Wide Receiver
The Vikings may be the most surprising team in football, as they stay in the playoff hunt after many projected them as one of the worst teams in the league heading into the 2012 season.
Percy Harvin is one of the main reasons for their success, playing as well as any offensive player in the league this year.
However, Jerome Simpson, who was supposed to sure up the wide receiver position, has struggled to be a factor in the Minnesota offense.
If the Vikings want to help Christian Ponder take the next step in his development as a franchise quarterback, they need to upgrade at wide receiver opposite Harvin.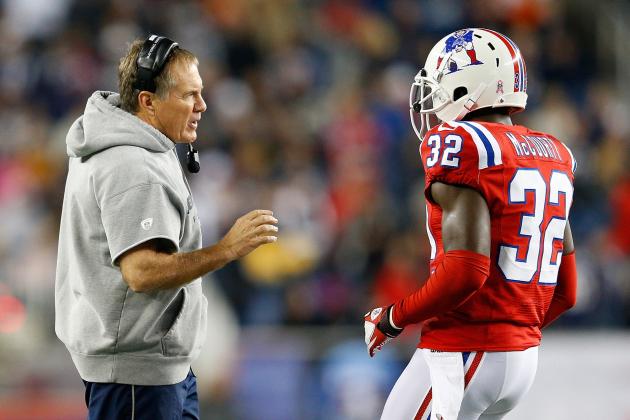 Jim Rogash/Getty Images

Cornerback
Essentially "renting" troubled cornerback Aqib Talib for the rest of the season by trading for the upcoming unrestricted free agent before the deadline is very telling about the Patriots' secondary concerns.
Bill Belichick has been known to take chances on troubled talents in hopes of re-focusing them on football before, and more often than not it's been effective. So if this experiment ends up working out, you could probably move cornerback down the needs list a few notches.
However, at this point the secondary play is easily the biggest concern in New England and seems to be the Achilles heel of an otherwise Super Bowl-caliber team.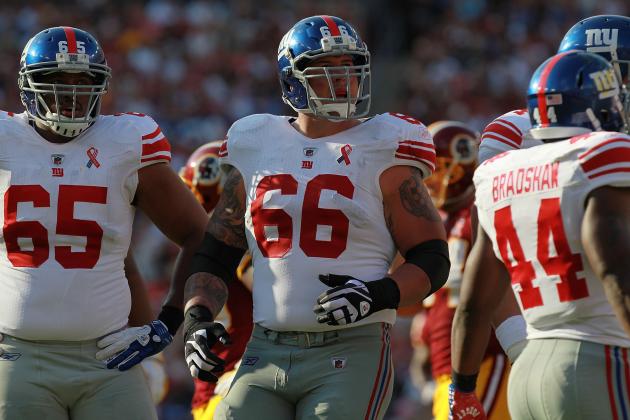 Ronald Martinez/Getty Images

Offensive Tackle
The Giants' offensive line is certainly one of the better units in the entire NFL this season. However, current left tackle Will Beatty is set to become an unrestricted free agent for 2013.
With stars like Victor Cruz, Martellus Bennett and Osi Umenyiora also set to become free agents, they may not be able to retain all of them.
If Beatty is one of the odd men out for a contract, the Giants will need to look elsewhere for a left tackle.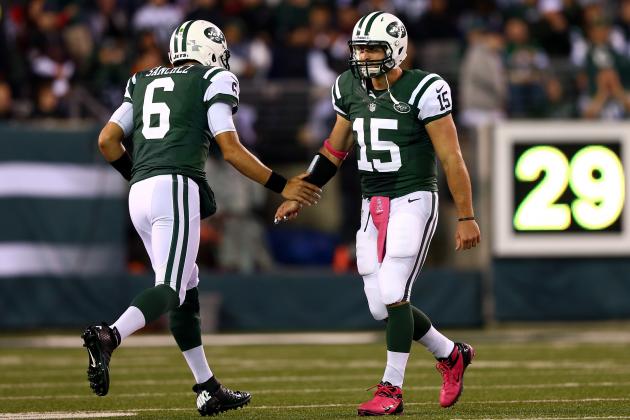 Elsa/Getty Images

Quarterback
Believe it or not, it's actually debatable that the Jets have less talent at other positions on the roster than they do at quarterback.
They need to add a pass rusher, could use an upgrade at inside linebacker and right tackle, need to add another running back, and depending on what Stephen Hill shows by the end of the year and the status of Santonio Holmes could also use another wide receiver.
However none of these shortcomings can be overshadowed by the team's desperate need for a legitimate franchise quarterback.
At 3-6, you would think that it would be time for a regime change in New York. But Rex Ryan and company will probably get a pardon for this year on the basis of losing two of their best players in Darrelle Revis and Santonio Holmes to injury.
Ryan and even general manager Mike Tannenbaum should be feeling the heat at this point, and could view next season as their last chance in New York.
Desperate times call for desperate measures, so don't be surprised to see a new signal caller for the Jets next season.
Jeff Gross/Getty Images

Defensive End
As poorly as the Saints' defense has played throughout the 2012 season, you could probably list any defensive position as their top need for 2013.
However, it all starts in the trenches, and developing a more potent pass rush can improve nearly every other area on defense.
Current starting defensive ends Cameron Jordan and Will Smith have combined for ten sacks between the two of them, which isn't terrible, but could certainly be improved.
Factor in Smith's age, and it wouldn't be surprising to see the Saints take a defensive end with their first-round pick this April.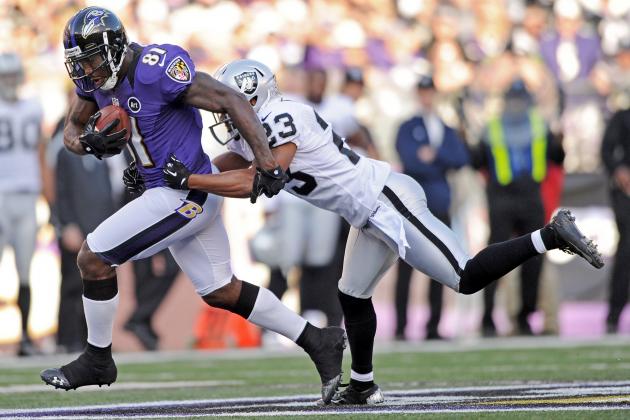 Patrick Smith/Getty Images

Cornerback
The Raiders lost two starting cornerbacks in two years to free agency in Nnamdi Asomugha and Stanford Routt, leaving their secondary depleted.
As a result, Oakland is now ranked 24th in pass yards allowed per game, and need to bring in a young talented corner above all else.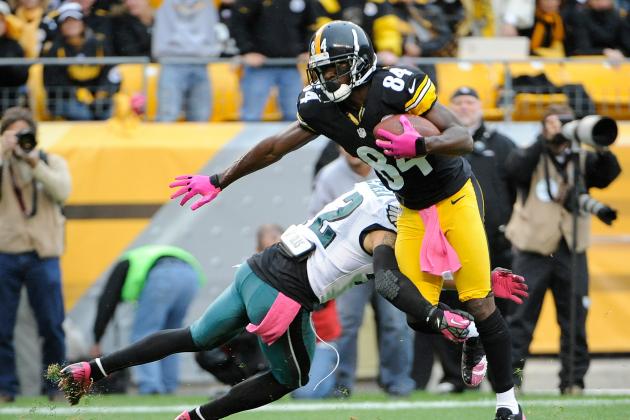 Joe Sargent/Getty Images

Safety
The Eagles have a ton of issues for a talented squad as their current 3-6 record would suggest.
The offensive line has been a huge liability, but after injuries sustained to four of the five starters, that isn't surprising. Obviously adding depth along the offensive line will be a priority next season, but considering the starters will be back eventually it won't be considered Philadelphia's greatest need.
The Eagles could also look to upgrade at outside linebacker opposite rookie Mychal Kendricks, add a bigger wide receiver target, and possibly add another cornerback. But safety stands out as the team's weakest position.
Nate Allen and Kurt Coleman have been serviceable, but Philly could take advantage of a talented and deep safety class in this year's NFL Draft.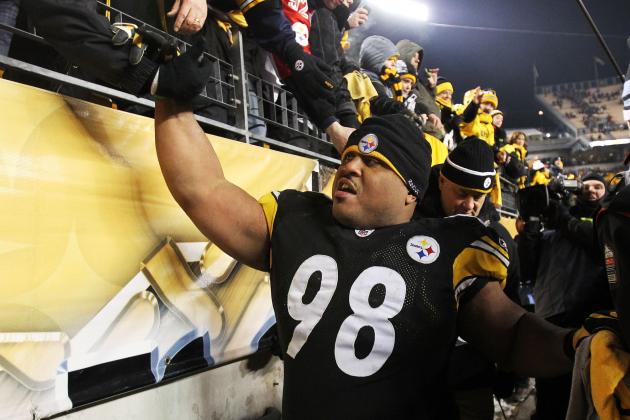 Ronald Martinez/Getty Images

Nose Tackle
The Steelers are well known to draft players to sit for a year or two while they are groomed behind the current starter to become his eventual replacement. It is that strategy that has made them a Super Bowl contender year in and year out, so don't expect them to change it any time soon.
Pittsburgh drafted Washington's Alameda Ta'amu in the fourth round of the 2012 NFL Draft in the hopes that he would one day be the replacement for 35-year-old nose tackle Casey Hampton. However Ta'amu has since been released and signed to the practice squad and has run into some legal trouble as well.
There's a chance that Ta'amu could still one day be a contributor and possible starter for the Steelers, but right now it's doubtful that they're banking on it.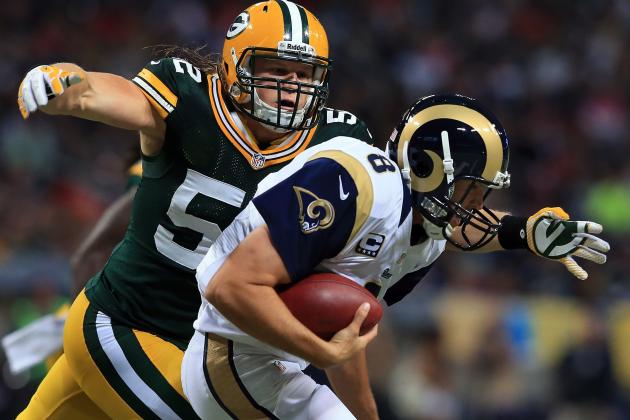 Doug Pensinger/Getty Images

Left Tackle
The offensive line has been an issue for the Rams since Orlando Pace left the team in 2008.
Since then failed high draft picks at the position like Jason Smith and Alex Barron have set the team back considerably.
Rodger Saffold has been serviceable at left tackle and Wayne Hunter hasn't been terrible, but moving Saffold inside to guard, Hunter to right tackle and drafting a more talented left tackle would really solidify a struggling offensive line.
With two first round draft picks this year, it wouldn't be crazy to see the Rams use them both on offensive linemen, although one of them will probably end up being used on a defensive player.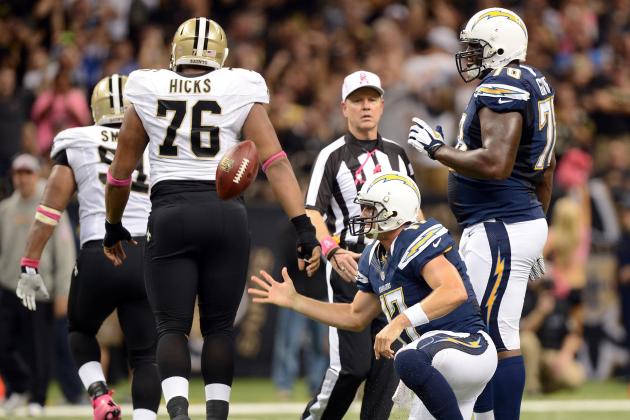 Harry How/Getty Images

Offensive Tackle
If head coach could be considered a team's greatest need for this article's purposes, it would be. However the Chargers will undoubtedly have a new one next season, and will probably have a new general manager as well.
For such a struggling team, the Chargers have surprisingly few needs heading into next season. If there is an area that needs an upgrade, it would be the offensive line.
Jared Gaither is a good player when healthy, but his inability to stay on the field is concerning to say the least. Drafting a left tackle to take over for Gaither when ready and provide depth in the meantime is a must in this year's NFL Draft.
Brian Bahr/Getty Images

Defensive Line or Safety
Let's be clear. This is not a performance-based need, it's a free agency-based need.
The 49ers have several key players set to hit free agency in 2013, including nose tackle Isaac Sopoaga and safety Dashon Goldson. If they can get deals done with both of them, then wide receiver would probably become their biggest need.
However, considering how highly sought after both players will be, it's likely that the 49ers will lose one of them. If they do, that position will become their first priority in this year's NFL Draft.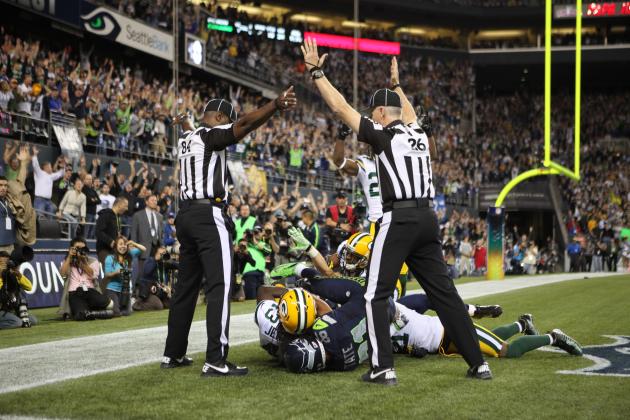 Otto Greule Jr/Getty Images

Wide Receiver
Golden Tate and Sydney Rice have come on pretty strong in recent weeks, but the Seahawks could still stand to add another receiver to aid in the development of rookie quarterback Russell Wilson.
If Tate continues to play well, this could easily be switched to right tackle, as current starter Breno Giacomini doesn't seem to be the answer at the position.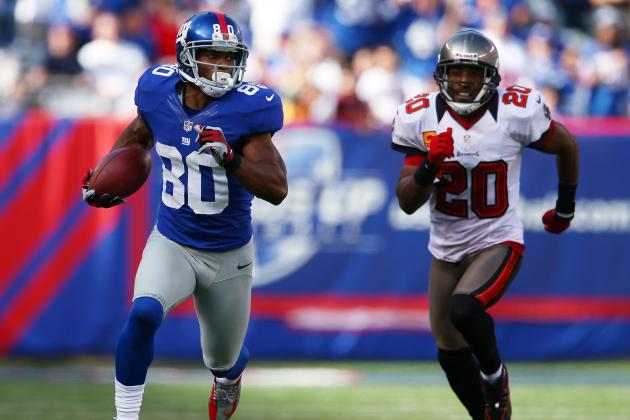 Elsa/Getty Images

Cornerback
The Bucs are moving away from a strictly Tampa two defense which will increase their already glaring need for talent at the cornerback position.
Trading Aqib Talib was probably a good move, but it undoubtedly leaves them even more vulnerable at the position.
Look for Tampa Bay to either sign another cornerback in free agency or draft a cornerback with a high pick this offseason.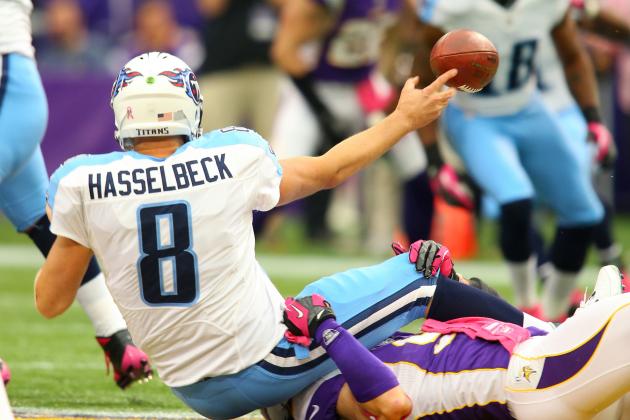 Adam Bettcher/Getty Images

Offensive Guard
The Titans could certainly use an upgrade at defensive end as Kamerion Wimbley has not been able to generate the impact as a pass rusher as they had hoped and Derrick Morgan is about ready to be a labeled a bust.
However, the interior offensive line is arguably an even bigger issue. Current starter at left guard Steve Hutchinson is very much past his prime, and right guard Leroy Harris is better served as backup.
The Titans have to address this issue before the start of next season if they want to keep their promising young franchise quarterback healthy.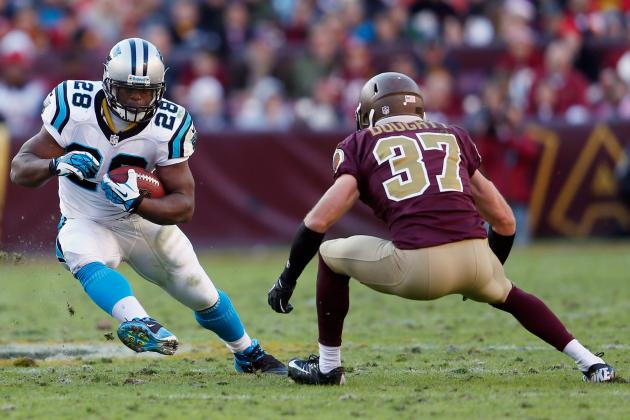 Rob Carr/Getty Images

Safety
The Redskins need to continue to surround RGIII with weapons and protection, but it will be tough to ignore glaring defensive needs next season before they continue to build upon their offense.
Safety has appeared to be one of the weaker positions on one of the league's worst defenses.
Adding a playmaker in the secondary along with a few key players returning from injury should vastly improve a struggling defensive squad.