Houston Rockets vs. Memphis Grizzlies: Postgame Grades and Analysis for Houston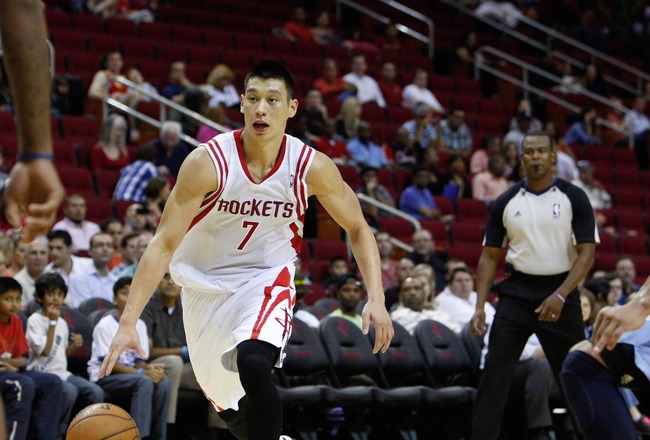 Thomas Campbell-US PRESSWIRE
The Houston Rockets traveled to Memphis to take on the Grizzlies Friday night, and they fell to the Grizzlies, 93-85, for their first home loss of the season, as well as their third consecutive loss overall after their surprising 2-0 start.
It was a frustrating loss for the Rockets mostly because all three losses have had the same formula, double Harden and/or Lin on the pick-and-roll and let James Harden and Jeremy Lin beat you by passing the ball.
The Rockets just don't have enough weapons right now.
They did get some help until the final stretch when virtually all the shots were taken by the backcourt tandem, and that was the difference in the game. They just didn't have enough down the stretch to secure the win.
Point Guard, Jeremy Lin
Grade: B-
Jeremy Lin had some good moments and some bad moments. On the positive side, he had 15 points on only 10 attempts, and that includes the Rockets' last seven points of the game. Lin was the player that was keeping them in it until the 2:21 mark when he tied the game at 85 with a layup.
Unfortunately, that was the last two points of the game for the Rockets, and therein lies the not so good with Lin. He didn't generate much offense for his teammates and had only three assists.
Lin is still learning the system, but he needs to learn to facilitate the offense better and create points for his teammates if the Rockets are going to be around for the postseason.
Also, he loses points defensively as the Rockets were outscored by 14 points while he was on the court.
Shooting Guard, James Harden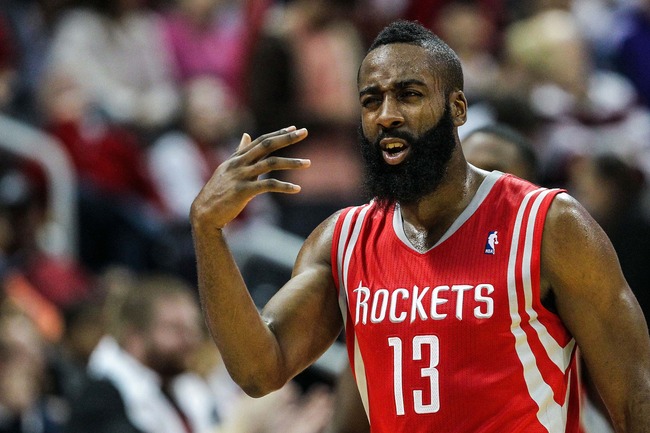 Daniel Shirey-US PRESSWIRE
Grade: C
James Harden struggled for the third game in a row, hitting on only four of his 18 field-goal attempts. He made up for it to a degree, though, by hitting on nine of his 10 free-throw attempts.
He also had a team-high four assists.
His bad shooting can somewhat be forgiven by the free-throw shooting as well as the fact he was being guarded by one of the premier perimeter defenders in the NBA, Tony Allen.
The idea of Harden winning the scoring title seems less and less realistic with each passing game.
Small Forward, Chandler Parsons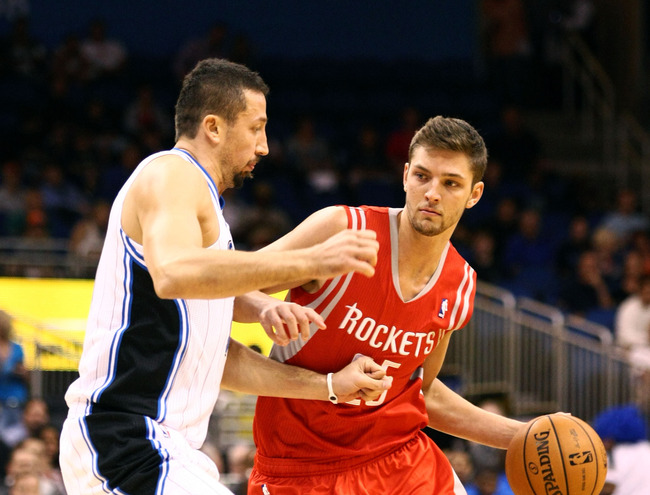 Douglas Jones-US PRESSWIRE
Grade: B+
Chandler Parsons had his best game of the season, scoring 19 points on 13 field goals. He grabbed five boards and dished out two assists. All around that's a pretty solid game, and it's good to see another Rocket besides Lin and Harden step up and score.
However, he gets knocked down for his fourth-quarter disappearing act.
Defensively, he did a decent job even though Rudy Gay scored 21 points. Parsons was only a minus-one on the night while Gay was a minus-six, indicating that Gay did a chunk of his scoring with Parsons on the bench. Aside from that, Gay only having two points on Parsons is a win for Houston.
Power Forward, Patrick Patterson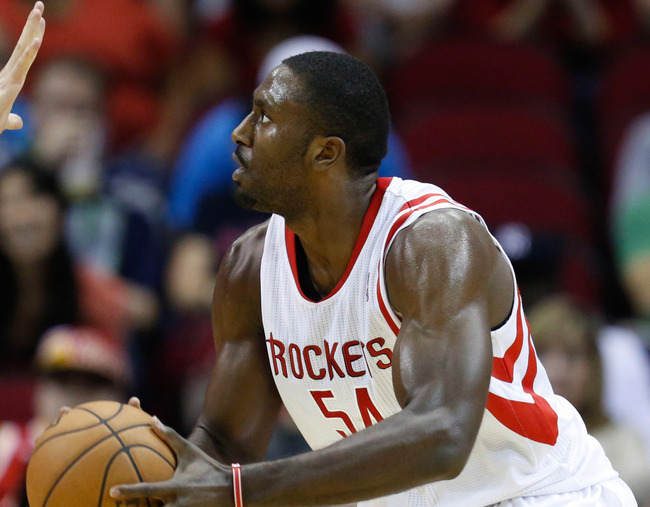 Thomas Campbell-US PRESSWIRE
Grade: D
Patrick Patterson was utterly outplayed by Zach Randolph on the night. He scored eight points on 10 shots, and had four points and four boards. Randolph had 15 points on 13 attempts, 14 rebounds and three blocks.
And while Patterson was a minus-three on the night, Randolph was a plus-14.
He gets a D instead of an F because he's Patrick Patterson and Randolph is Randolph. It's not like he could have been expected to win this matchup, and while he was dominated, it could have actually been worse. The four assists are nice.
Center, Omer Asik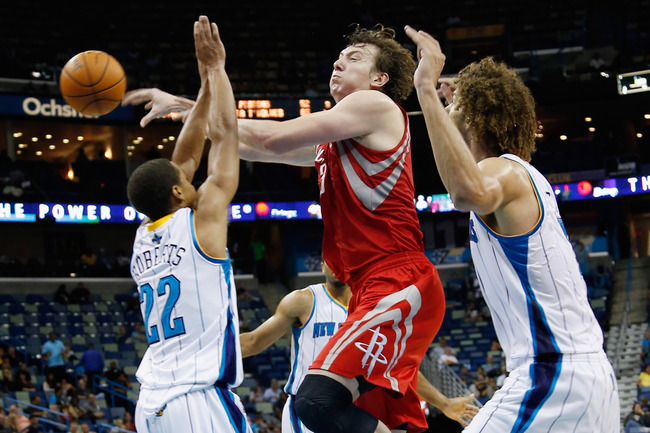 Chris Graythen/Getty Images
Grade: C
This is becoming the standard for Omer Asik, He gets a massive number of rebounds, 13. He barely gets 10 points. His next biggest number is turnovers with five.
Asik has two signature offensive moves. Bowl over the defender by taking too long to post up is one. That cost him three turnovers. Hold the ball down too low so that a guard can strip it out of his hands when he should be taking it to the rim. That cost him two more.
Asik needs to learn to post up without fouling, and he needs to learn to stop trying to touch his knee with the ball every time he gets it. Once he does those two things he could be an incredible player.
His defense, as you expect, was exceptional Friday night, as he held Marc Gasol to just six points.
He gets a C because this is average for him.
6th Man, Carlos Delfino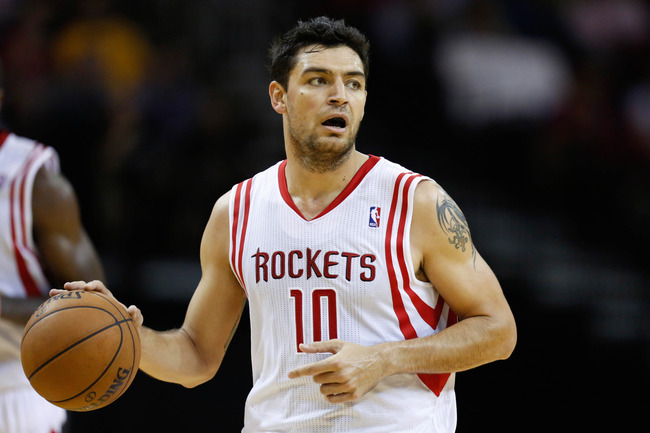 Thomas Campbell-US PRESSWIRE
Grade: D
Carlos Delfino gets a D because he did manage to score eight points, but he barely gets a D because six of those points came in the second quarter and the other two came in the first half of the third quarter.
After that shot, Delfino did almost nothing good. He missed five shots. That's not good. He turned the ball over twice, which isn't good.
He did get an assist, though, to be fair.
A team needs their sixth man to be a spark off the bench when the offense is struggling. Delfino provided all the spark of a wet flint, and you can't even launch a bottle rocket with that kind of spark.
Rest of Bench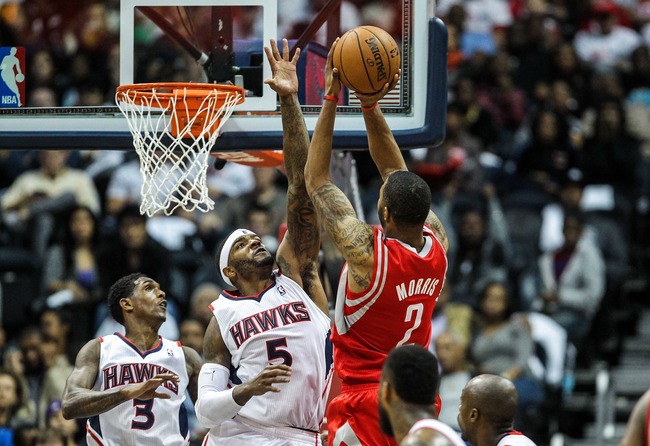 Daniel Shirey-US PRESSWIRE
Grade: F
Delfino might have had only eight points, but that's more than the rest of the bench had combined, and they took one more shot.
The dunce cap goes to Marcus Morris, who was positively dominated on the night, finishing up at minus-12. He could have been the Grizzlies' MVP.
Clearly the Rockets need more help on their bench. They were ranked 20th in net efficiency going into the night, according to hoopsstats.com, and after Friday night's game that's likely to get even worse. The Grizzlies' bench combined for a total of 26 points, rebounds and assists.
The Grizzlies bench combine for 48.
You can't give away that much production and expect the starters to make up for it.
Keep Reading

Houston Rockets: Like this team?