Studs and Duds from the Chicago Bulls' 1st Slate of Games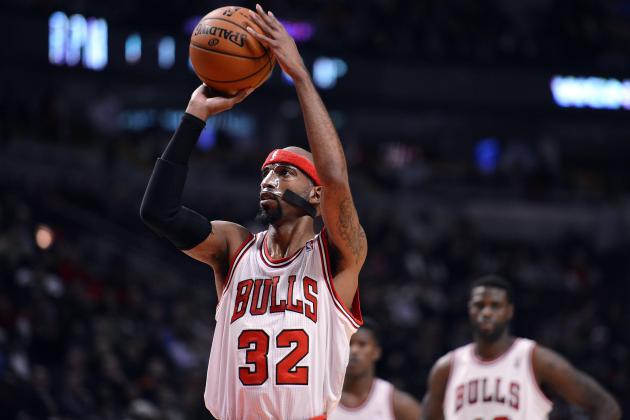 Mike DiNovo-US PRESSWIRE

The Chicago Bulls' first five games have given fans reasons for optimism, but there have also been some negative signs which present concerns.
The 3-2 Bulls have played four of their first five games at home, only netting victories against subpar opponents (Sacramento Kings, Cleveland Cavaliers and Orlando Magic).
One of their losses came against a depleted New Orleans Hornets team, which was unquestionably disappointing.
The other loss was more understandable, at the hands of the defending Western Conference champion Oklahoma City Thunder. The Bulls battled admirably against OKC, but a late scoring burst by Kevin Durant doomed them.
Their first slate of games have featured both "stud" and "dud" performances. We will unpack those here while seeking to draw some implications as the season progresses.
Begin Slideshow

»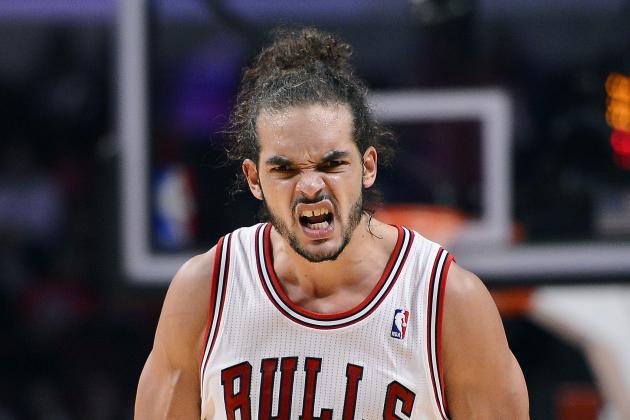 Mike DiNovo-US PRESSWIRE
Noah is off to a blistering start.
If Joakim Noah continues playing at such a high level, he will make his first All-Star appearance this season. Mark my words.
Through five games, Noah is averaging 14.6 points per game, 9.6 rebounds per game, 3.4 assists per game, 2.2 blocks per game and 1.8 steals per game.
Needless to say, his fantasy owners are happy.
Noah has been filling up the stat sheet, contributing in an array of ways while also supplying his ever-present emotional leadership.
He has been instrumental in a couple of their victories, notching 23 points, 10 rebounds, three assists, three blocks and five steals against Sacramento and 20 points, nine rebounds, four assists and five blocks against Orlando.
These beastly performances exclaim his value.
This value is being amplified this season partly because he's receiving more minutes. Since former Bull Omer Asik departed for Houston, Noah is now no longer losing minutes to a stellar backup big man.
He is currently averaging 39 minutes per outing (last year he only averaged around 30).
Noah appears to have the stamina to log the major minutes and the Bulls are clearly going to need him. He has been a stud thus far, and they need his play to continue if they want to contend in the Eastern Conference.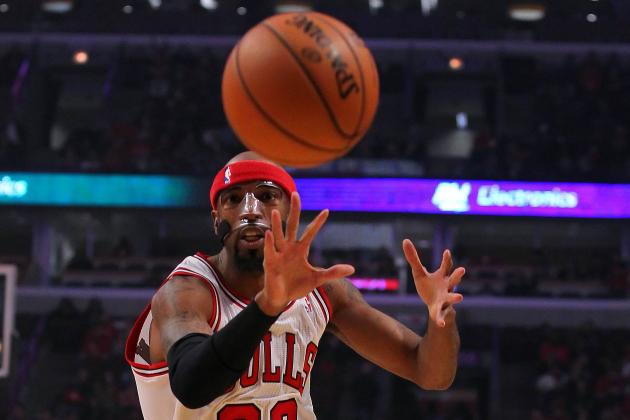 Dennis Wierzbicki-US PRESSWIRE

Carlos Boozer, Richard Hamilton and Kirk Hinrich are three core members of the 2012-13 Bulls, and their efforts are particularly needed while Derrick Rose remains sidelined.
When the three of them all disappear in one game, it's going to be very hard for Chicago to win. This was evidenced in their inexplicable loss to the Hornets, who were playing without both Eric Gordon and rookie No. 1 pick Anthony Davis.
Boozer, Hamilton and Hinrich went a combined 4-of-26 in this ballgame. This is beyond unacceptable.
It's especially unacceptable from Boozer (who went 1-of-8 in this game), who needs to be their primary scorer without Rose in the rotation.
Hamilton's scoring ability, as well, is pivotal at this stage. The Bulls can't afford him to have games like this, where he looks like a fragile old man who lacks confidence.
The baffling thing about Hamilton's performance in this game is that the night before he tallied 19 points on 8-of-12 field goals in Cleveland. The Bulls are going to need consistency from "Rip," because they need the "Detroit Rip" to show up much more than the "Old Rip."
The bottom line in this dud of a game is that the Bulls learned the hard way how Rose's absence hurts. With him, they can overcome poor performances from other core players. Without him, these three need to play effectively on a game-to-game basis.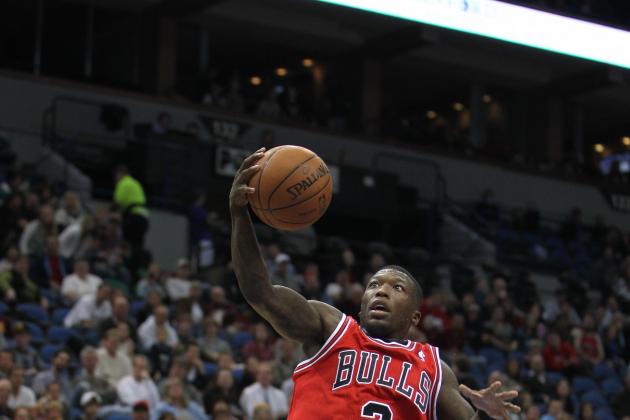 Brace Hemmelgarn-US PRESSWIRE
Robinson has caught fire in numerous games this season.
Nate Robinson has had both superb and subpar performances thus far. This is the kind of player he is. He can light up the scoreboard and spark the offense in an instant, but he can also kill possessions with questionable shot selection.
In the Bulls' win on the road at Cleveland, Robinson was the catalyst, pouring in 16 points (on 7-of-9 FG) and dishing out 12 dimes.
He revealed how valuable he is in this outing and displayed that he's more than capable of replacing C.J. Watson as a point guard off the bench.
What's more, Robinson is an emotional leader, and while "Kryptonate" may be annoying to some, he's definitely a player that his teammates will look to for energy.
Robinson has shown this emotion not only against the Cavs, but in every game this season. He's going to have his ups and downs offensively (just recently had a down against OKC, going 1-of-6 from the field).
But his impressive early season performance against Cleveland shows that he has a great deal in his repertoire. You can expect him to play a crucial role for the Bulls throughout this season.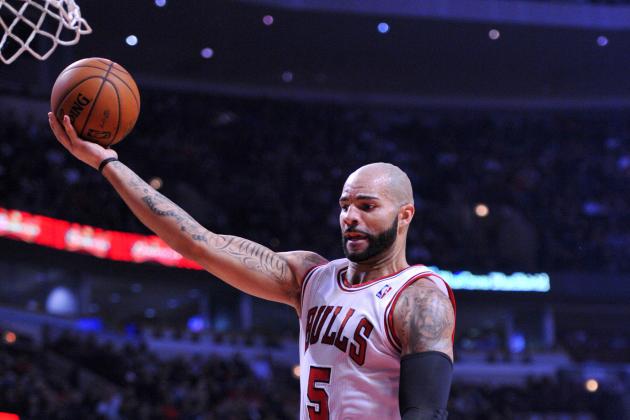 Rob Grabowski-US PRESSWIRE
Boozer struggled mightily against the Thunder.
Boozer's scoring ability is desperately needed when the Bulls play against an elite opponent.
If the Bulls are going to beat teams like Oklahoma City, Miami or Boston, they need Boozer to sufficiently contribute (especially while Rose is out).
Against the Thunder, this did not happen.
Boozer went 3-of-9 from the field and finished with a mere nine points. To make matters worse, he compiled five turnovers.
At this point, it's safe to say that Boozer is never going to be dominant on a consistent basis. Despite making a hefty chunk of money, he's clearly not a top-notch big man.
However, he does still have skills and flashes them at times, but they simply need to be seen on a regular basis. These skills are especially needed against high-quality opponents. Quite frankly, if Boozer would've just performed adequately against the Thunder, the Bulls likely would've came away with the victory.
Bulls fans are surely disappointed when they witness "dud" outings from Boozer. Much is expected from him, and much is needed from him if the Bulls hope to make noise this season.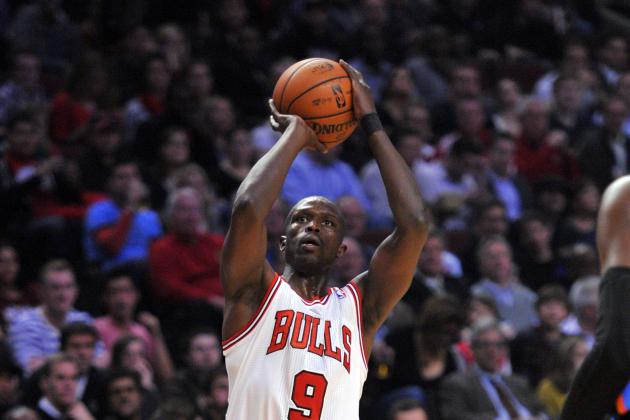 Rob Grabowski-US PRESSWIRE
Deng scored in a bevy of ways against OKC.
While the Bulls lost a tight one to the Thunder, a major bright spot was the play of Luol Deng.
Deng poured in 27 points on 11-of-21 shooting, scoring in a handful of ways. He knocked in three from long range, hit a handful of mid-range jumpers and also showed some versatility by scoring some out of the post.
It is encouraging for Bulls fans to see Deng's scoring output increase in Chicago's first five games. He averaged 15.3 points per game last season (on 41.2 percent from the field). Through five games this year, he's notching 18 points per game (on 46.6 percent shooting).
At times, Deng looked like the best player on the floor against the Thunder. They didn't have an answer for him (especially with his newfound post game) and he looked like a legitimate All-Star. If he continues this high-level offensive play, he will likely find himself on the All-Star squad for the second straight season.
Deng's defense is among the best, but when his offense is also a potent threat, he becomes one of the most versatile players in the league. This was all on display in the Bulls' loss to OKC.
Mike DiNovo-US PRESSWIRE
Gibson was ineffective against the Thunder.
Taj Gibson rarely receives criticism (it's almost always directed at Boozer), but after the Bulls' loss to the Thunder, he deserved it as well.
He played 25 minutes and only snagged four points and a measly two rebounds.
He recently signed a lucrative contract extension, revealing that he's a significant part of the Bulls' future.
But against OKC, he looked like a rather average big man off the bench. He is by no means this, but if you were just judging by this outing, you would've surely thought this.
Gibson often rebounds and blocks shots at quite a rate, and this should be seen all the more consistently since he just notched his extension. His beastly outings are no longer just a bonus when the Bulls win, but they are something that the Bulls are counting on and need to be successful.
There are certainly Bulls fans out there who wish Gibson was starting over Boozer. But on this evening, neither of them looked worthy to play the bulk of the minutes. For the amount of minutes Gibson played, more points and rebounds were needed to warrant the role he now inhabits.