Ranking the Top 2013 NFL Draft Quarterback Prospects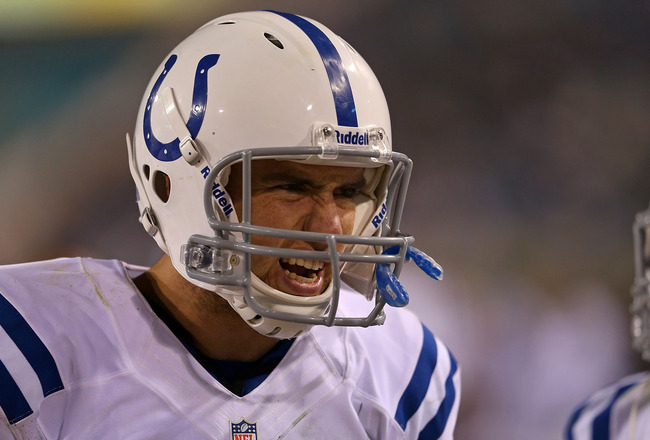 Andrew Luck is proving why he was the number one pick in the 2012 NFL Draft.
Mike Ehrmann/Getty Images
As everyone knows, the most important position on a football team is the quarterback position. It is the quarterback who is in charge of getting the ball to wherever it needs to go. It is his job to command the huddle and fire his team up.
He is the one who must read the opposing defense and audible at the line of scrimmage. In some cases, he also needs to take off and run for the first down or the scoring pylon. Most importantly, he must be able to do all of this week in and week out.
It is no wonder why teams constantly search for ways to improve play at the quarterback position. Often, that search begins and ends with the NFL Draft. Whether a team needs to replace an aging veteran or a clueless youngster, it will most likely look for the solution on draft day.
The Colts hit the jackpot with their selection of Andrew Luck last season. Of course, at the other end of the spectrum lies Brandon Weeden of the Cleveland Browns.The 2013 NFL Draft will be no different, as there are plenty of talented signal-callers who will begin their quest for NFL glory. Some are obvious talents, while others are flying under the radar.
Here is my current ranking of the top quarterback prospects.
#8: Ryan Nassib, Syracuse
Rich Schultz/Getty Images
Projected Round: late third
Ryan Nassib is quietly putting together one of the best statistical seasons in college football. His 2,773 passing yards this season are a Syracuse school record. He has thrown 18 touchdowns and rushed for two scores.
His strength is his...well...his strength. I am referring to both his arm strength and his physical build. At 6'2" and about 230 pounds, Nassib is tough to bring down and he can see the field very well. He has an absolute cannon for an arm.
In fact, his biggest weakness is a tendency to zip the football to his receivers like a projectile bullet. He throws a pretty good deep ball, however, and he is also mobile. He is definitely a draftable prospect.
Unfortunately for Nassib, he plays for a poor team and isn't getting the attention he deserves. If given a shot in the NFL, however, he has the chance to become a household name.
#7: EJ Manuel, Florida State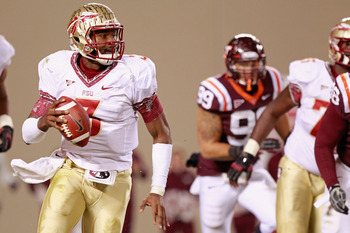 Geoff Burke/Getty Images
Projected Round: early third
As expected, EJ Manuel is putting together a solid campaign for the Seminoles.
He has already topped his passing touchdown total from last season, and he is only 26 yards away from posting a personal best in passing yards. Manuel is big: 6'5" and about 250 pounds to be exact. His height allows him to see the field really well. This is probably the main reason why his completion percentage is nearly 70 percent this season.
Like Nassib, he is also mobile and very athletic. Unlike Nassib, however, Manuel has consistently shown that he can grind out victories in a tough conference. If his football IQ can improve before draft day, his stock could skyrocket.
After sitting behind Christian Ponder on the depth chart, Manuel is showing that he also has the tools to be an NFL quarterback. A strong finish to the season and a potential BCS game would help his stock dramatically.
#6: Aaron Murray, Georgia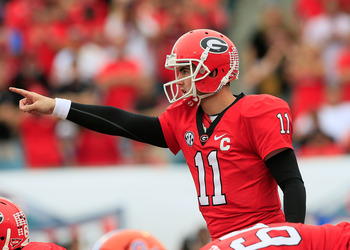 Sam Greenwood/Getty Images
Projected Round: late second
Entering this season, Aaron Murray had the opportunity to establish himself as one of the top five quarterback prospects for the NFL Draft. After a sub-par season, however, I believe he has fallen a little bit.
Simply put, Murray has been hit-or-miss this season. Four of his starts resulted in a rating of 190 or higher, but three of his other starts resulting in ratings of 143.5 or lower. Against the two best defenses he has faced all season, Murray threw only one touchdown and four interceptions.
His 6'1" height remains a question mark. What is not questioned is Murray's arm strength and athleticism. Furthermore, his 80 career touchdowns through the air show that he has a knack of finding the end zone.
Still, his decision making leaves something to be desired at times. His performance against Florida was a great example. Still, he is a solid option.
It is possible that Murray stays at Georgia for his senior season. Should he decide to declare for next year's draft, however, he will find a home in the NFL.
#5: Landry Jones, Oklahoma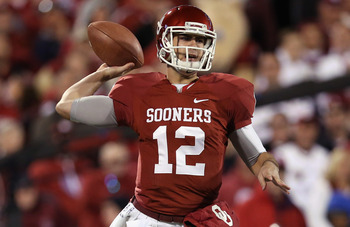 Ronald Martinez/Getty Images
Projected Round: mid second
Since blossoming during the 2010 season, Landry Jones has fallen off in terms of production. If he could rekindle the magic, he has the tools to be a potential NFL starter.
Jones puts up a lot of yards. This is a result of his good accuracy. He is especially accurate with his mid-range passes, and he is a decent thrower while on the run. His deep ball can use a little bit of work. In addition, he has looked easily rattled at times. Obviously, the pass rush in the NFL is even stronger than that of the college game.
If he can't find a way to deal with pressure, he will struggle mightily. If he can keep his composure, however, he is one of the best.
Right now, he is more than likely a valuable NFL backup. If he works on his intangibles, however, he could start at some point.
#4: Tyler Bray, Tennessee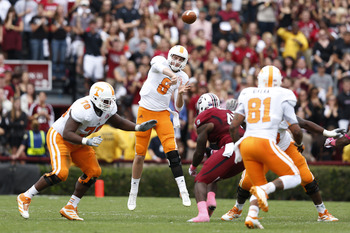 Joe Robbins/Getty Images
Projected Round: early second
Tyler Bray may only be a junior, but he has the qualities of a polished NFL passer.
At 6'6," Bray can see the entire field with ease. He is a prototypical pocket passer. He has terrific arm strength and decent accuracy on short to mid-range bullet passes.
Perhaps his biggest drawback is his willingness to throw the deep ball. He is almost too confident in his ability to squeeze the ball into small windows. This can not only lend itself to more interceptions, but also lower accuracy numbers.
Overall, though, he is a solid passer and prospect.
He is not quite at the level of the top prospects. Should he declare for the NFL Draft, however, Bray will go sooner rather than later.
#3: Tyler Wilson, Arkansas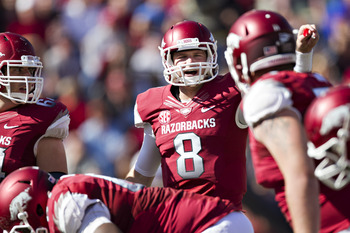 Wesley Hitt/Getty Images
Projected Round: late first
The Arkansas Razorbacks have had an absolute disaster of a season. Tyler Wilson, however, has performed at a superior level.
Even after missing the team's game against Alabama, Wilson has still managed to throw for over 2,500 yards this season. He has excellent arm strength and is able to move around to make plays.
Unlike Landry Jones, Wilson seems like he welcomes pressure at times. He's not afraid to take hits if it will help the Razorbacks move the ball. Of course, these occasions of reckless abandon can potentially result in injuries down the road. He has been battle tested in the toughest conference in the country and has repeatedly passed the eye test.
He is a superior talent, plain and simple.
While he doesn't garner the same amount of hype as Matt Barkley, Wilson has the chance to be just as effective as USC's signal caller. He is, no doubt, a first-round pick.
#2: Geno Smith, West Virginia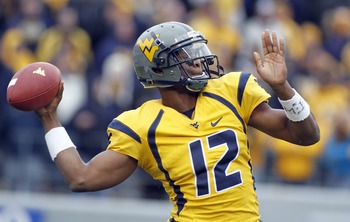 Justin K. Aller/Getty Images
Projected Round: mid first
Geno Smith looked like he was destined for a magical season. Unfortunately for him, the Mountaineers' lack of defense has destroyed not only the team's BCS hopes but also Smith's Heisman chances.
That doesn't mean that Smith will fall down the draft board, however. He is an offensive juggernaut. After all, he threw for eight touchdowns against the Baylor Bears. Granted, Baylor has no defense either, but only someone like Smith could have accomplished that feat. He is very athletic, but he is still a "pass first" quarterback.
He is the prototypical gunslinger. He has a good arm and solid accuracy. He could be hindered by the fact that he plays in a non-NFL offensive system that relies on shotgun snaps. Still, he has the work ethic to correlate his skills with the NFL game.
He is a gifted athlete and definite first-rounder.
Smith is a terrific option for any desperate NFL team. He has the skills and intangibles to be a star with the proper development.
#1: Matt Barkley, USC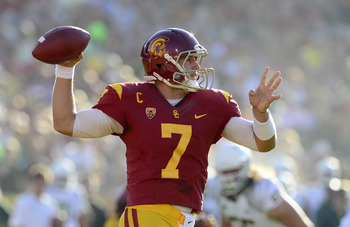 Robert Laberge/Getty Images
Projected Round: early first
He was the Heisman favorite and leader of the No.1 ranked Trojans entering this season. While the team has had its share of struggles, Matt Barkley is still a top flight NFL talent.
With weapons such as Marqise Lee and Robert Woods around him, Barkley has thrown 30 touchdowns this season. At 6'2" and 230 pounds, his build is very similar to that of Ryan Nassib.
Unlike many of the quarterbacks in this list, however, Barkley is a pure pocket passer. His short to mid-range accuracy is very precise.
While his deep ball could use some improvement, Barkley has the "it" factor that NFL teams look for. He possesses good intangibles and has shown that in running the USC offense. Simply put, he's good. I believe he's the best quarterback available.
With Geno Smith's meteoric run to stardom all but faded out of memory, many now consider Barkley the best prospect in the upcoming draft. While he may not have the hype that Andrew Luck did, he will get an opportunity to start somewhere.
Keep Reading