Oakland Raiders vs. Baltimore Ravens: Final Score, Highlights and Analysis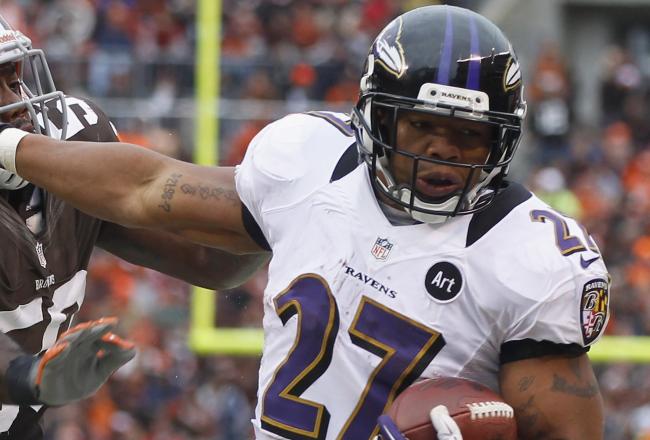 Matt Sullivan/Getty Images
The game is over in Baltimore, with the Baltimore Ravens having defeated the Oakland Raiders 55-20.
The Raiders simply had no prayer in this one. They couldn't stop the Ravens' passing attack, and they made too many stupid mistakes to compete. They were penalized with alarming regularity and made two boneheaded plays on fourth down.
The Ravens, meanwhile, were nearly perfect on offense, while the defense was good enough. Paul Kruger was a monster on defense and deserves special mention.
After this one, the Ravens improve to 7-2 and guarantee they will lead the AFC North for another week. The Raiders, meanwhile, fall to 3-6, putting Dennis Allen firmly on the hot seat.
Here is Anquan Boldin providing today's biggest laugh, which is saying something considering the Raiders' mishaps. Boldin shut up the Raiders' Joselio Hanson by point at the scoreboard.
Here is Sam Koch's touchdown jaunt on a fake field goal.
Here is Jacoby Jones' 105 yard kickoff return touchdown.
You can listen to the Ravens' post-game press conference here.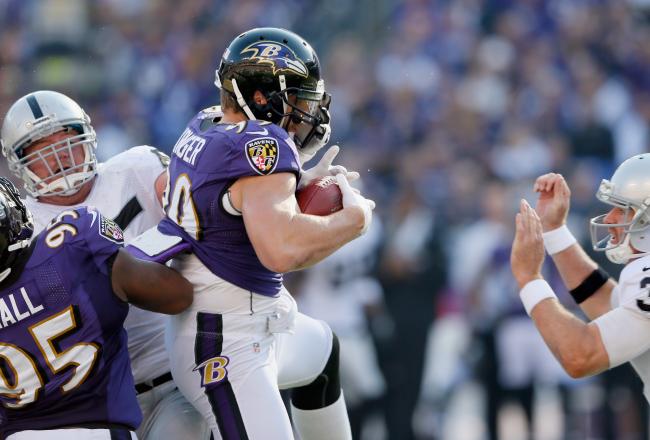 Game Balls for Victorious Ravens:
Offense: Joe Flacco, QB
Flacco dominated today. He wasn't perfect, but he made excellent decisions and made some amazing throws. He constantly attacked the Raiders deep, and it worked.
He made two throws that were poor: an interception to Michael Huff and an errant deep ball to Torrey Smith. Otherwise, he was accurate and confident. If he plays at this level against the Pittsburgh Steelers next week, the Ravens have to like their chances.
Defense: Paul Kruger, OLB
Two sacks and an interception are the numbers, but they only begin to tell the tale for Paul Kruger. He was dominant today, constantly beating the Raiders' offensive line to get pressure.
Kruger has been one of the Ravens' most improved players this season on defense, and he might just be earning a contract in his contract year.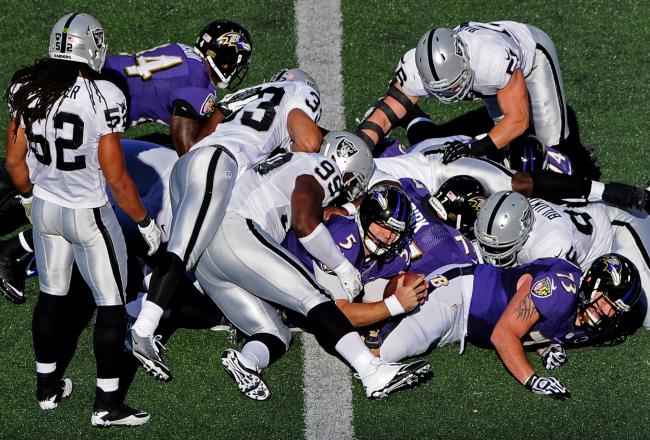 Final: Ravens 55, Raiders 20
4:08 in Fourth Quarter: Too bad the Ravens were guilty of holding on Tandon Doss's punt return, as it was a beauty. He broke tackles and reversed field for a big gain, but he won't see it on the stat line. He might earn more reps going forward though.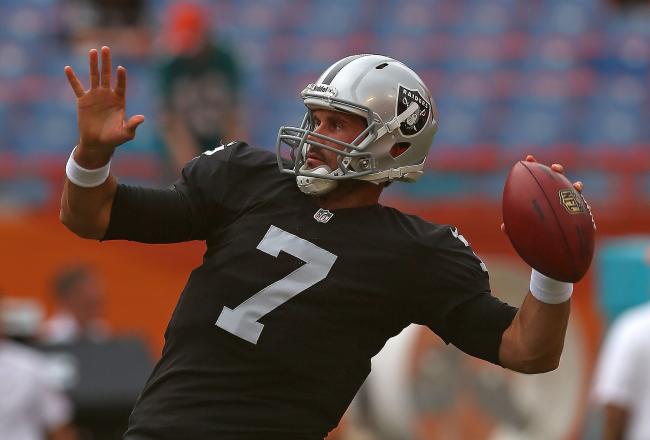 5:59 in Fourth Quarter: This game has become a battle of backup quarterbacks, as Matt Leinart is now in the game for the Raiders.
5:59 in Fourth Quarter: Tyrod Taylor's first drive in a long time was a dud, but Sam Koch's punt was anything but. He blasted it 58 yards, and a Raiders penalty backs them up even further. That's nine penalties for 100 yards for the Raiders.
7:31 in Fourth Quarter: That fumble pretty much summarized the Raiders day. They had a nice drive but embarrassed themselves with a boneheaded play, not capitalizing on the good work they had previously done.
12:20 in Fourth Quarter:
Ravens now lead 55-20 with Tyrod Taylor getting warmed up with Joe Flacco done for the day.

— Aaron Wilson (@RavensInsider) November 11, 2012
12:34 in Fourth Quarter: I wonder if the Ravens have any regrets about signing Jacoby Jones this offseason. That's Jones second touchdown of the season. What makes him so special is his decisiveness. He finds a seam and just blows through it. 55-20, Ravens lead.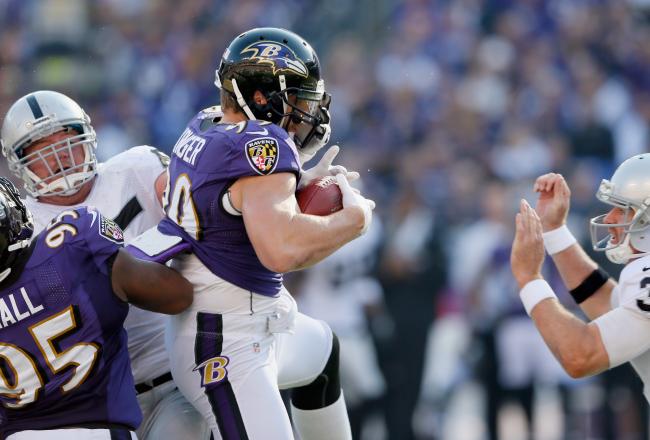 12:47 in Fourth Quarter: The Raiders had a pretty decent drive there, but the Ravens' defense locked down in their own territory. Paul Kruger racked up his second sack of the day, and he has been an absolute monster. The Raiders settled for a field goal, making it 48-20.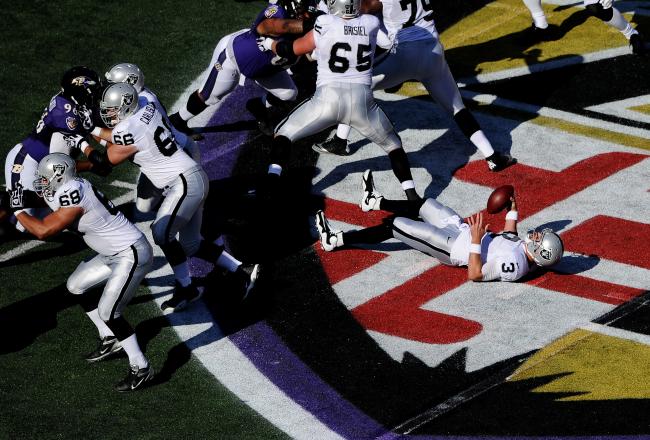 End of Third Quarter: Not much to say about this game anymore, so just enjoy this picture. It summarizes the game pretty well.
1:05 in Third Quarter: If there is one area that the Ravens have struggled with in this game, it's their ability to get to Palmer.
The problem is at defensive tackle: Paul Kruger and Courtney Upshaw are pushing back the tackles, but Palmer can consistently step up and make throws. A better interior pass rush would go a long way for the Ravens.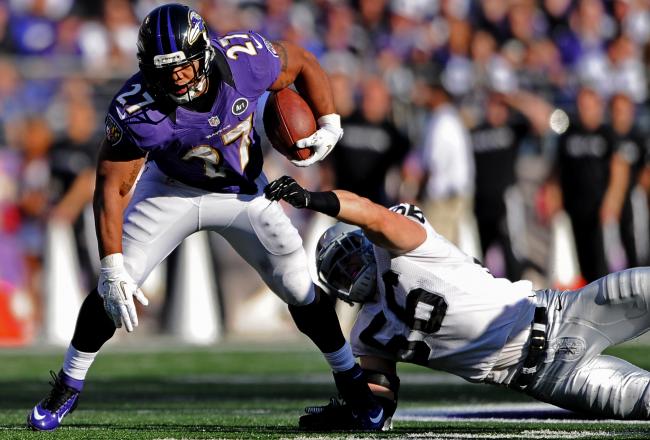 2:43 in Third Quarter: The Ravens running game continues to struggle, but they did at least pick up one first down. Bernard Pierce is tough to bring down, but the Raiders have held up well against the run.
5:40 in Third Quarter: Absolutely classless by the Ravens. Up 41-17 and they fake a field goal. It worked for a touchdown, but that's classless. Ravens lead 48-17.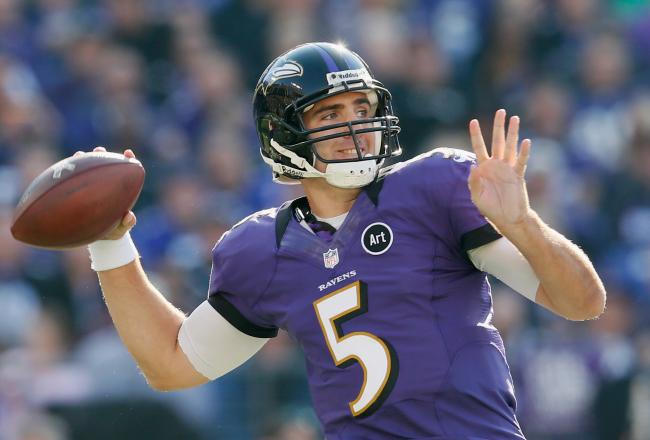 6:55 in Third Quarter: Fun stat: on that third down pass to Anquan Boldin, Joe Flacco goes over 300 yards and has now thrown for more yards today than in the previous two weeks combined.
8:44 in Third Quarter: That was actually the best defensive series of the day for the Ravens' defensive backs. Great coverage by Cary Williams on a deep route, showing once again how much Williams has improved since the beginning of the season. They had good coverage on each of those plays, resulting in three incompletions.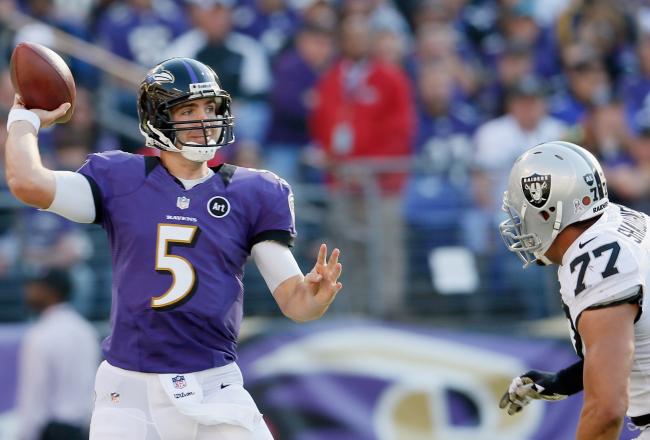 9:20 in Third Quarter: Could the past seven seconds have gone any better for the Ravens? Their drive ended in a three and out, but they recover a muffed punt and then score a touchdown immediately. Torrey Smith made perhaps the best catch of the day in double coverage, and Flacco threw a frozen rope through a very small window.
This is the offensive performance Joe Flacco and the Ravens needed. They needed a jolt of confidence, and this should give them just that.
10:31 in Third Quarter: Denarius Moore just took the top off the Ravens' defense on a touchdown reception. He used his blistering speed to burn Corey Graham and Ed Reed, and Carson Palmer put the ball right where it needed to be. 34-17, Ravens lead.
13:42 in Third Quarter: Touchdown Ravens as Torrey Smith was almost completely uncovered. Flacco put the ball right where it needed to be, and Smith made a nice grab. 34-10 Ravens.
RT @pmgleason: The Ravens' 27 first-half points today tie for the most under John Harbaugh. (It's now been done 3 times.)

— Baltimore Ravens (@Ravens) November 11, 2012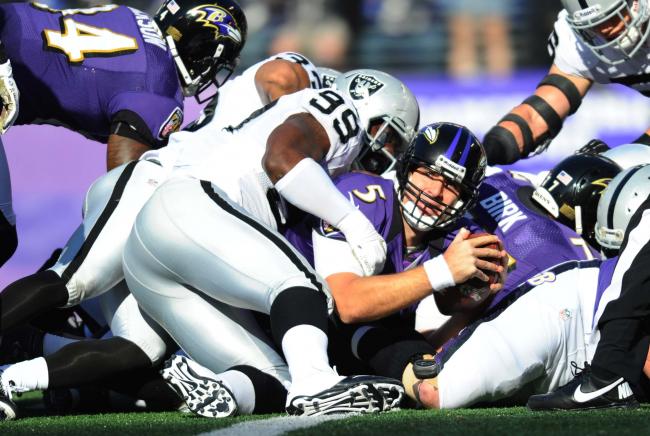 Halftime: The Ravens are dominating this one. Save for two big plays by the Raiders, the Ravens have been in complete control.
On offense, Joe Flacco has been magnificent, as have been his tight ends. Dennis Pitta and Ed Dickson have combined for 126 yards on seven catches, with Pitta reeling in a touchdown as well.
Defensively, the Ravens' front-seven has been borderline dominant. They are shutting down the run and forcing Carson Palmer into some bad passes. The Raiders' receivers are definitely getting open, though, which could prompt some half-time adjustments from the Ravens.
For the Raiders, the defense has struggled badly against the pass. They aren't getting to Joe Flacco, and he's finding plenty of holes in the coverage. They are stopping the run brilliantly, however.
The Raiders' offense has been largely contained, but not shut down. They did, however, break through the defense for a huge touchdown by Darrius Heyward-Bey. They've otherwise been forced to take what the defense has been giving them, which isn't much.
The only question remaining in this game is whether or not the Ravens' can put away an inferior team, something they've struggled to do this season.
0:25 in Second Quarter: Ray Rice finally finds some running room, waltzing in for a seven yard touchdown. Great drive by Rice, Flacco and the Ravens, who extend their lead. This is how the Ravens' offense is supposed to look when it's on its game.
This article is
What is the duplicate article?
Why is this article offensive?
Where is this article plagiarized from?
Why is this article poorly edited?