UFC on Fuel 6 Results: Questions Heading into UFC 154 St-Pierre vs. Condit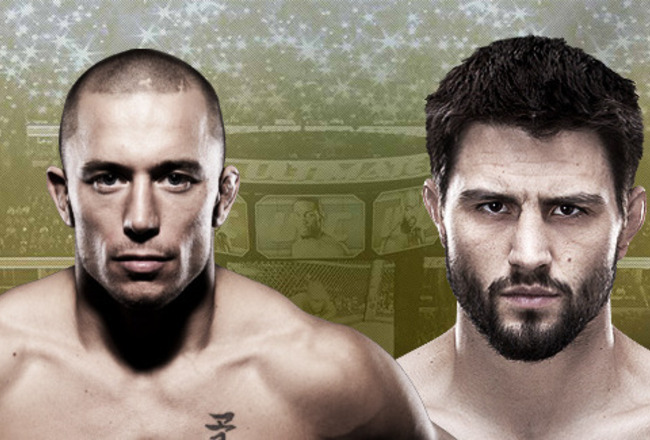 UFC on Fuel 6 is in the books and here are the full results:
Cung Le defeats Rich Franklin via knockout (overhand right) at 2:17 of Round 1
Thiago Silva defeats Stanislav Nedkov via arm triangle submission at 1:45 of Round 3
Dong Hyun Kim defeats Paulo Thiago via unanimous decision (30-26, 30-27, 30-27)
Takanori Gomi defeats Mac Danzig via split decision (29-28, 28-29, 29-28)
Jon Tuck defeats Tiequan Zhang via unanimous decision (29-28, 30-27, 29-28)
Takeya Mizugaki defeats Jeff Hougland via unanimous decision (30-25, 30-27, 30-27)
Alex Caceres defeats Motonobu Tezuka via split decision (28-29, 30-27, 30-27)
John Lineker defeats Yasuhiro Urushitani via unanimous decision (29-28, 30-27, 29-28)
Riki Fukuda defeats Tom DeBlass via unanimous decision (30-27, 29-28, 29-28)
With the UFC's first trip to Macao behind us, we can now begin looking forward to the UFC's return to Montreal on November 17 when Georges St-Pierre and Carlos Condit will meet in the main event to decide who is the undisputed welterweight champion.
What follows are a number of questions we have heading into that event.
Will Darren Elkins Be Able to Capitalize on the Momentum of an Upset Win?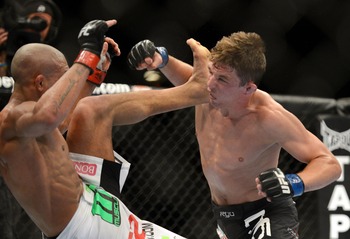 Ron Chenoy-US PRESSWIRE
Diego Brandao had a pretty good run during season 14 of The Ultimate Fighter, never going past the first round on his way to winning himself a featherweight contract with the UFC.

With the momentum he had heading into his UFC 146 bout against Darren Elkins, it wasn't too big of a surprise to see Brandao listed as an almost 73-percent favorite to win the fight.
However, when the fight came to an end, UFC vet Elkins had his hand raised via unanimous decision (29-28 x 3).

The win gave Elkins three straight victories in the UFC and advanced his overall record to 14-2.

The question now is will Elkins be able to capitalize on the upset victory over Brandao when he faces Steven Siler? Like Elkins, Siler enters the fight on a three-fight winning streak.

Who Is Azamat Gashimov?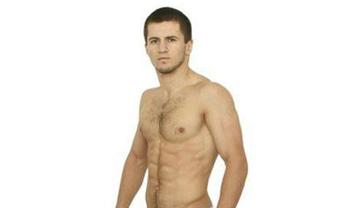 Sherdog.com
Azamat Gashimov enters the UFC with a record of 7-1. In his first fight inside the Octagon, Gashimov, who made his professional MMA debut in 2007, will face longtime pro Ivan Menjivar.

Of Gashimov's seven victories only one has gone to decision. Of his other six wins, Gashimov has finished four fights by submission and two by knockout.

Gashimov has never fought outside of Russia or the Ukraine, and he hasn't been particularly busy as of late, having only fought once in the last three-plus years. That fight, which took place in July 2011, lasted all of 52 seconds.

I'm not saying a win is out of the question for Gashimov at UFC 154, but he will have some significant hurdles to overcome if he wants to be successful in his UFC debut.
Will Mark Bocek or Rafael Dos Anjos Climb the Rankings?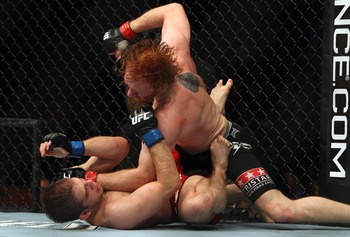 Tom Szczerbowski-US PRESSWIRE
Mark Bocek is 7-4 in the UFC, a decent record, but not one that turns heads. However, if one digs a little deeper, one will see that three of those losses have come at the hands of top-level lightweights (Benson Henderson, Jim Miller and Frankie Edgar). Since the loss to Henderson, Bocek has put together two consecutive unanimous decision wins.

Rafael Dos Anjos is 6-4 in the UFC and also in the midst of a two-fight winning streak, defeating Kamal Shalorus and Anthony Njokuani.

The lightweight division is stacked, and both of these fighters are somewhere in the Top 20-25 in the division. If they come out and deliver a fight that goes to a decision, the winner will probably inch up the rankings, perhaps breaking into the Top 20. However, if the winner delivers a spectacular victory, he has a chance to make a jump and maybe earn a shot at a Top 10 opponent in his next fight.

Both fighters possess black belts in Brazilian jiu-jitsu and have more than one "Fight Night" bonus to their name, so an impressive ending is not out of the question in this one.
Is Sam Stout vs. John Makdessi the Sleeper Pick for "Fight of the Night"?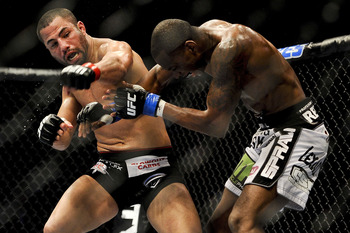 Paul Abell-US PRESSWIRE
Let's look at what this fight has going for it.

It's the only fight on the Montreal card that has a Canadian fighter facing another Canadian fighter.

Sam Stout has six "Fight Night" bonuses to his name, five of which are for "Fight of the Night." His most recent bonus came in his last bout, a unanimous decision win over Spencer Fisher in June 2012.
Stout and Makdessi have combined for 16 knockouts, so you know bungalows will be thrown.

John Makdessi is on a two-fight losing streak. In addition, he missed weight in his last bout. With those two disappointments, Makdessi is probably on the edge of seeing his UFC career come to an end.

Put these things together and you have two motivated fighters who could deliver a "Fight of the Night" performance.
Chad Griggs or Cyrille Diabate: Who Will Have a Bounce-Back Performance?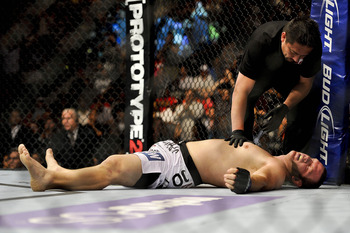 Griggs will look to erase this image from fans' memories
Paul Abell-US PRESSWIRE
Chad Griggs had a nice little streak of six straight knockouts going when he stepped into the Octagon for his UFC debut at UFC 145. Just 2:29 into that fight against Travis Browne, he was forced to tap to an arm-triangle choke.

As for Diabate, he won his last bout, a majority decision over Tom DeBlass on the April UFC on Fuel card, but he was unhappy with his performance, saying after the victory, "My next performance will be much better."

Only one of these light heavyweights will walk out of the cage with his hand raised, and odds are they'll both be looking for the finish. Will Griggs (11-2) add to his 11 stoppage wins or will Diabate (18-8-1) notch a 14th stoppage victory in Montreal?
Is Alessio Sakara vs. Patrick Cote the Chopping Block Fight?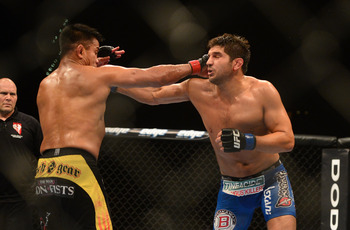 Mark J. Rebilas-US PRESSWIRE
Alessio Sakara has been with the UFC since 2005, racking up a record of 6-6-1. His opponent at UFC 154 will be Patrick Cote, who made his UFC debut in 2004. Cote's tenure with the UFC has been interrupted with some gaps, the most recent being between October 2010 and July 2012.

Entering UFC 154, Sakara is on a two-fight losing streak, while Cote has technically lost his last four fights inside the Octagon. I say technically because during the aforementioned break, he won four fights outside the organization.

Sakara's last two defeats have come at the hands of Brian Stann and Chris Weidman. Cote's latest defeat was to Cung Le at UFC 148, where he was a late replacement for Rich Franklin. Prior to that loss, Cote dropped UFC bouts to Tom Lawlor, Alan Belcher and Anderson Silva.

Most cards have at least one "loser-leaves-town bout." At UFC 154, it may very well be this one.
Can Mark Hominick Get Back on Track?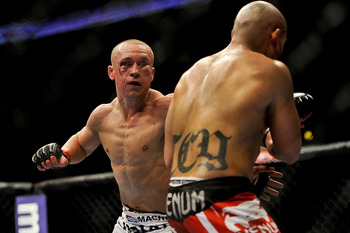 Paul Abell-US PRESSWIRE
Not too long ago Mark Hominick was on a five-fight winning streak, which earned him a shot at UFC featherweight champion Jose Aldo at UFC 129. Hominick dropped a five-round unanimous decision to Aldo that April night in Toronto, but he proved to be a game fighter, earning the respect of the fans who witnessed his performance that evening.

Hominick may have left the cage that night with one of the ugliest hematomas ever seen on a person's head, but he was able to hold his head(s) high. He knew he gave it his all while facing one of the best fighters in the world.

Since that loss, Hominick has had a rough go of things. He had to deal with the passing of his longtime friend and trainer Sean Tompkins, lost to Chan-Sung Jung via seven-second knockout and most recently dropped a split decision to Eddie Yagin in a fight that he was a -600 favorite to win.

Hominick took home a little extra in his pay envelope from the Yagin loss, as the bloody battle was given "Fight of the Night" honors at UFC 145. However, money does not salve all wounds, especially those of a proud fighter such as Mark Hominick.
At UFC 154, he has a chance to get back on track if he can defeat Pablo Garza.
Costa Philippou vs Nick Ring: Who Will Get Loss Number Two in the UFC?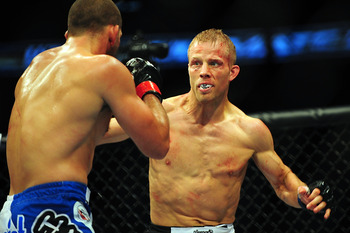 Anne-Marie Sorvin-US PRESSWIRE
After failing to make it into the house during season 11 of The Ultimate Fighter, Costa Philippou kept fighting in New Jersey's Ring of Combat. He received his UFC break at UFC 128 when Dan Miller was bumped up to the main card, leaving an opening for a late replacement. Philippou was that fighter, stepping in to face Nick Catone.

Philippou was unable to secure a victory over Catone, but since that loss he has put together four wins in a row, most recently defeating Riki Fukuda at UFC 148.

His opponent at UFC 154, Nick Ring, did join the cast of season 11 of TUF but was forced from the show due to injury. Ring went on to make his UFC debut in February 2011, defeating Riki Fukuda. Ring is 3-1 in the UFC with his only loss coming to Tim Boetsch at UFC 135.

The question here is who will end up with his second UFC loss when this fight concludes?

It should be noted that while neither fighter found great success during the filming of TUF, they both have wins over McGee since the show wrapped, earning unanimous decision victories over the TUF winner.
Tom Lawlor or Francis Carmont: Whose Momentum Will Hit the Brakes?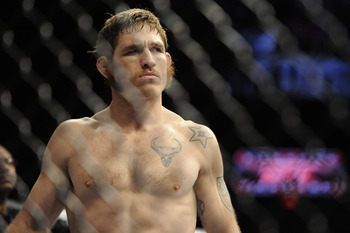 Rafael Suanes-US PRESSWIRE
Following his win over Jason MacDonald in May 2012, Tom Lawlor admitted that he was pretty much broke going into the bout. With the victory he pocketed $24,000 in salary and an extra $40,000 for "Knockout of the Night," perhaps giving him a little bit of financial stability as well as momentum heading into his bout against Francis Carmont at UFC 154.

Carmont is on an eight-fight winning streak heading into the Montreal card, with his last three wins coming in the UFC. The 31-year-old Carmont is riding a solid wave of momentum after two consecutive rear-naked choke submission victories. He will look to notch a win over Lawlor in the town where he trains, Montreal.

This is a big fight for both of these middleweights. For Carmont, a victory over Lawlor could land him a Top 20 opponent in his next bout. For Lawlor, a veteran of seven UFC bouts, a win will allow him to remain relevant in the UFC's middleweight division, as he told Sports Illustrated.
Will Martin Kampmann or Johny Hendricks Earn a Welterweight Title Shot?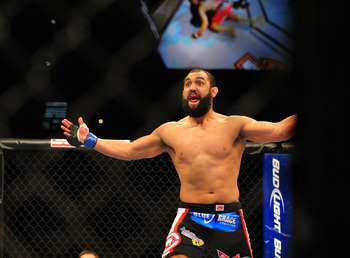 Mark J. Rebilas-US PRESSWIRE
On a recent media call to discuss UFC 154, UFC president Dana White was noncommittal when asked if the winner of the Martin Kampmann versus Johny Hendricks bout would be the next welterweight to compete for the UFC title.

Kampmann (20-5) is on a three-fight winning streak after stopping Jake Ellenberger in the second round of his last fight. As for Hendricks (13-1), he is on a four-fight winning streak, defeating Jon Fitch and Josh Koscheck in his last two fights.

On paper, the winner of this fight should get the title shot. Both fighters have said that they feel that a win at UFC 154 should earn them that shot, but White's hesitance in confirming that fact doesn't bode well for them.

Is this a tactical ploy by White, planting the seed that the two fighters need to come out and force him to name the winner the next challenger to the crown? It may be, but it's doubtful that these two fighters need any more motivation to put on an exciting fight.
Can Carlos Condit pull off the upset?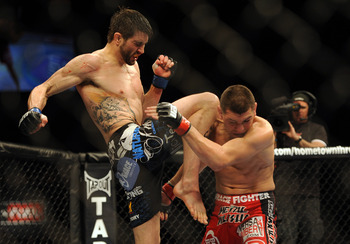 Kelvin Kuo-US PRESSWIRE
Georges St-Pierre is currently a -345 favorite to defeat Carlos Condit and to unify the UFC welterweight crown when he meets the interim champion at UFC 154.

Put into a percentage, that makes St-Pierre a 77.53 percent favorite to extend his title defense streak to seven in a row, but there are some concerns for St-Pierre heading into this bout.
The main worries surround his surgically repaired right knee. Will the knee hold up to the pressure it will be placed under in a title bout? Will St-Pierre experience ring rust? Will he be reluctant to engage, even subconsciously? After all, his last fight did take place quite a while ago—April 30, 2011, to be exact.

St-Pierre also has outside distractions. Hanging over his head is the speculation that if he wins, UFC middleweight champion Anderson Silva will enter the Octagon to challenge him to a superfight, a fight that could draw a huge payday for both fighters as well as decide who is the best pound-for-pound fighter in the UFC.

For Condit, he's in the position where he has nothing to lose. The oddsmakers, a great many fans and maybe even the UFC brass (they did after all announce that Silva would be in Montreal for the potential call-out) are all expecting him to lose.

Condit knows what it's like to be the underdog. He was in the same position in his last bout and he won, putting together the perfect game plan to defeat Nick Diaz at UFC 143.

In my opinion, St-Pierre is the ultimate professional in MMA. I believe he'll be able to focus on the task at hand. I also believe that he wouldn't have returned to the UFC unless he was confident that his knee could handle the stress.

With that being said, I also believed that Diaz would beat Condit, so maybe you shouldn't listen to me.

Will Anderson Silva Call out Georges St-Pierre with a GSP Win?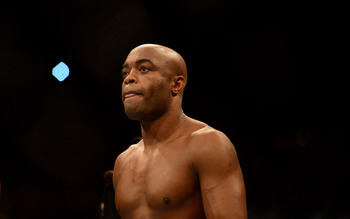 Mark J. Rebilas-US PRESSWIRE
It seems like this has already been decided. On the recent UFC 154 media call, UFC president Dana White said that middleweight champion Anderson Silva would be making the trek to Montreal for UFC 154 with the plan to, more or less, call out St-Pierre.

When asked about the challenge, White said, "There's no doubt Anderson Silva (is) showing up to cheer Georges St-Pierre on, and he wants him to win this fight. He wants to fight him after. So I would say yes."

As for St-Pierre, when he was asked about Silva showing up to watch the main event of the November 17 card, the welterweight champ said, "I don't care about Anderson Silva, he can do whatever he wants, he can go to Florida or stay in Brazil if he wants. I'm focusing on Carlos Condit. That's all that matters to me."

I don't know about you, but knowing that this is going to happen in advance takes something away from the act if it does in fact occur. I know we all expected this fight to happen at some point, but hearing about it in advance is going to make it pretty anticlimactic. Perhaps Silva will save it and pull out a version of St-Pierre's "I'm not impressed by your performance" speech from UFC 63.


Keep Reading