Philadelphia 76ers vs Boston Celtics: Live Score, Results and Game Highlights
Philadelphia beats Boston in a no-nonsense battle. The Celtics kept trying to mount a comeback, but every time their crowd got excited the Sixers would respond with a timely basket.
Boston Celtics 100, Philadelphia 76ers 106 -- Final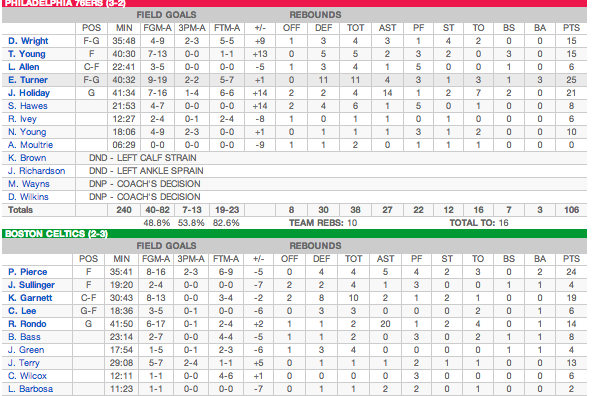 Box Score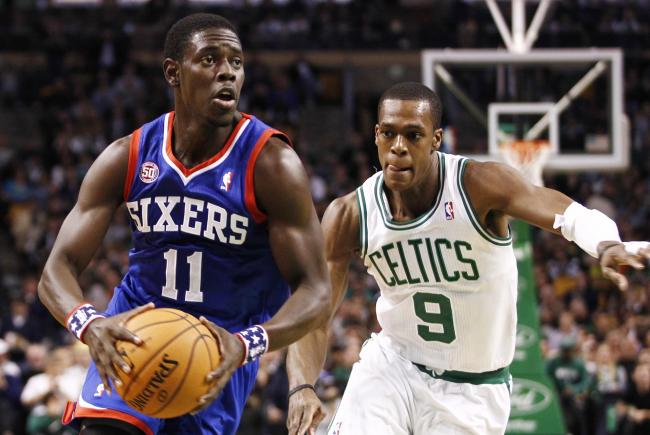 Three Reasons Why Philadelphia Beat Boston
1) Jrue Holiday. The Sixers points guard was everywhere on offense tonight, doing everything. He finished with 21 points on 7-16 shooting and 14 assists. Whenever the Celtics managed to cut Holiday's lead into single digits, he almost immediately came down the floor and made a key play to right the wrong. Rajon Rondo may have had the more impressive statline, but Holiday was the star tonight.
2) Grit. The Sixers out-hustled Boston throughout tonight's game. They had 12 steals that all seemed to happen in timely situations, and they played with poise offensively, not turning the ball over when it looked like the veteran Celtics were primed to make a run. This was a big win for Philadelphia's psyche, and they played like it.
3) Pick-And-Roll Offense. The Celtics had no answer for this. Absolutely none. And this includes when Kevin Garnett was on the court (although when he came off they got substantially worse). The Celtics may have bigger issues with their pick-and-roll defense than at any point in the Garnett era, and the Sixers were more than happy to exploit them.
After giving up a crucial offensive rebound, the Celtics look like they'll drop to 2-3 on the season. The Sixers were scrappy from start to finish, with the holdovers (Holiday, Turner) playing angry throughout the night.
Boston Celtics 98, Philadelphia 76ers 102 -- Fourth Quarter, 25.7 seconds remaining
Rondo and Garnett look to be in mid-season form, as the Celtics point guard gets his 18th assist of the night on a beautiful alley-oop.
Boston Celtics 94, Philadelphia 76ers 100 -- Third Quarter, 2:04 remaining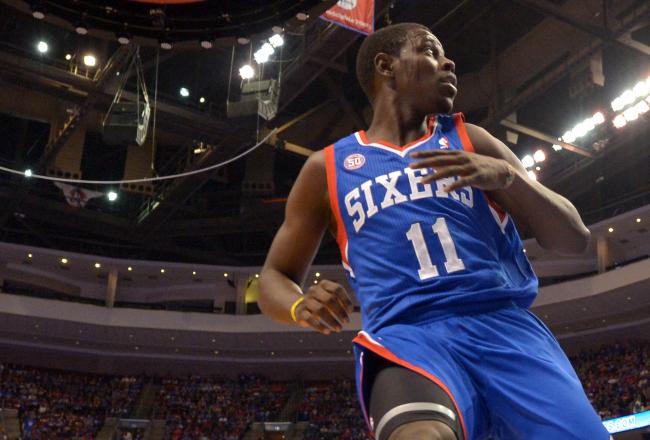 On a quick baseline drive that ends in a successful reverse layup, Jrue Holiday puts some more of his stamp on this game. The four year guard now has 21 points and 13 assists.
Boston Celtics 91, Philadelphia 76ers 100 -- Fourth Quarter, 2:53 remaining
Jeff Green misses on a wild drive to the basket, leading to a five on four Philadelphia fast break, and wide open three-pointer. Another game, another awful performance by Green, who has four points and four rebounds in 16 minutes of play.
Boston Celtics 98, Philadelphia 76ers 88 -- Fourth Quarter, 4:42 remaining
As the Celtics go on a 7-0 run, the Sixers still hold a seven point lead. This one's been gross for both teams. A lot of garbage buckets and broken play opportunities. It feels like whoever makes fewer mistakes from here on out should be in position to win the game.
Boston Celtics 84, Philadelphia 76ers 93 -- Fourth Quarter, 7:02 remaining
Jason Terry finally gets himself going, refusing a screen from Kevin Garnett and stepping confidently into a three-pointer off the right wing. Rondo now has 15 assists and Boston's offense appears to moving in a more structured way.
After seeing their lead dwindle down to four points, the Sixers respond with two quick point blank buckets to force a Celtics time-out.
Boston Celtics 79, Philadelphia 76ers 87 -- Fourth Quarter, 9:27 remaining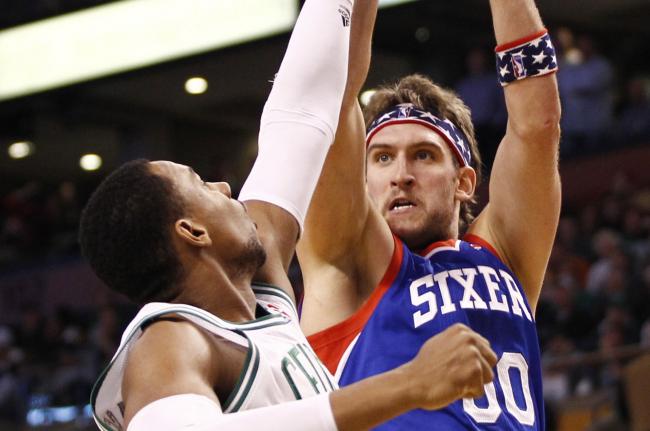 Philadelphia's offense is beginning to look like what we thought it would heading into tonight, but still all of their players are in the positive, with Spencer Hawes leading the way with a plus-16. The Celtics are struggling to form any cohesion on offense.
Boston Celtics 69, Philadelphia 76ers 79 -- Third Quarter, 1:23 remaining
That's 27 straight games of 11+ assists now for @rajonrondo. That equals the @nba record set by John Stockton in 1990-91.

— Sean Grande (@SeanGrandePBP) November 10, 2012
Jared Sullinger breaks basketball's cardinal sin by fouling Dorell Wright behind the three-point line. Boston's offense has been more fluid and active as of late, but the Sixers have made five straight shots.
Boston Celtics 60, Philadelphia 76ers 73 -- Third Quarter, 5:42 remaining
The Sixers burst into the third quarter with the same effective pick-and-roll play they shredded Boston's defense with in the first half. If the Celtics don't tighten things up they'll have an incredibly difficult time winning the ball game.
On the offensive side for Boston, Rondo is beginning to get more aggressive taking the ball to the hole. He has nine points and nine assists.
Boston Celtics 52, Philadelphia 76ers 63 -- 8:37 Remaining in the Third Quarter
Garnett only Celt in double figures with 14. Pierce with 8, Rondo with 4 and 8 assists. Sixers forced 8 TO's by Boston

— Bob Cooney (@BobCooney76) November 10, 2012
The Celtics offensive game plan appears to be "dribble up the court, give the ball to Philadelphia." They now have eight turnovers in the game's first 23 minutes.
Boston Celtics 45, Philadelphia 76ers 57 -- 22.9 Seconds Remain in Second Quarter
Jason Terry fervently clapping in timeout huddle. Down 48-37, Celtics could use boost of energy in last 3 minutes of first half.

— Jessica Camerato (@JCameratoNBA) November 10, 2012
Right now Evan Turner is looking like the second overall pick Philadelphia needs him to be. He's now hit two straight baseline jump shots (one of them behind the three-point line), and has a game-high 11 points.
Boston has absolutely no shot-blocking presence on the court, and if the Sixers continue to hit their shots, that lane should get WIDE open in the second half—not a good thing for Boston's already struggling defense.
Boston Celtics 37, Philadelphia 76ers 48 -- Second Quarter, 2:58 remaining
Lavoy Allen picks up his third foul in about five minutes of play (not good, kids), and effectively removes himself as a factor. A couple plays later, Jeff Green attacks the lane for an acrobatic and-one. And he made his free-throw!
Boston Celtics 28, Philadelphia 76ers 35 -- Second Quarter, 7:17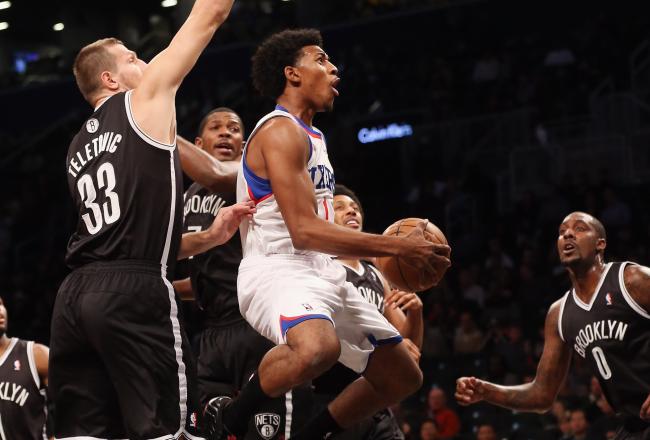 Nick Young is now hitting three-pointers. Celtics announcer Tommy Heinsohn believes punching him in the face might be a possible solution.
Boston Celtics 24, Philadelphia 76ers 33 -- Second Quarter,
Spencer Hawes for some reason has about 4 hecklers each game in Boston that ride him relentlessly, and they're back tonight #celtics
— gary washburn (@GwashNBAGlobe) November 10, 2012
Garnett comes into the game with about two minutes left in the quarter and immediately knocks down a jumper. The struggles this team continues to experience with their center on the bench is officially a growing concern. Pretty sure if we're strictly going off plus/minus numbers, he's the undisputed MVP of the league so far.
Boston Celtics 18, Philadelphia 76ers 23 -- First Quarter, 0:25 remaining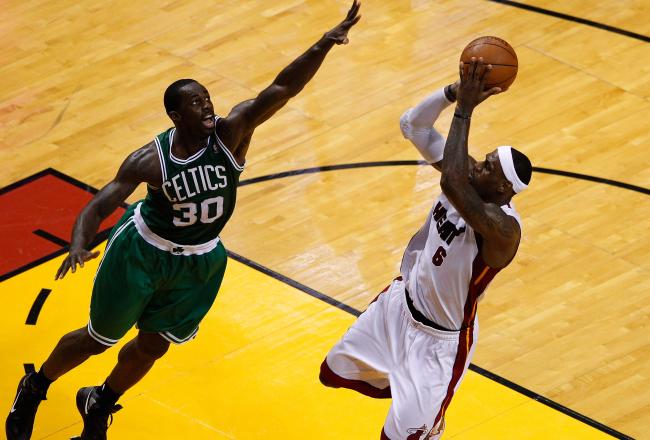 Brandon Bass continues to show an improved ability to attack the basket. He pump fakes and drives by Hawes to draw the foul. His pick-and-roll defense continues to be a work in progress, though. (On the previous possession, Bass miscommunicated on a switch with Jason Terry, and the result was an eventual jumper for Thaddeus Young.
Boston Celtics 13, Philadelphia 76ers 17 -- First Quarter, 2:58 remaining
Heading into the game's first time-out, Courtney Lee is shooting 3-4 from the floor, looking as aggressive in a Celtics jersey as I can remember.
The rest of the team, however, has been terrible shooting the ball, going a combined 1-11 from the floor. The Sixers are currently on a 15-4 run as Jeff Green steps to the free-throw line.
Boston Celtics 10, Philadelphia 76ers 15 -- First Quarter, 3:54 remaining
Doug Collins counters Boston's decision to take out Kevin Garnett by subbing in Spencer Hawes for Lavoy Allen. As has been the case all season, once Garnett leaves the game, Boston severely struggles. As soon as he hit the bench, Sixers guard Jrue Holiday stormed the paint to give Philadelphia their first lead of the game.
Boston Celtics 8, Philadelphia 76ers 9 -- First Quarter, 6:02 remaining
The Celtics have jumped off to a quick start, scoring the game's first three baskets. Of those, a beautiful no-look pass in transition from Rajon Rondo to Kevin Garnett.
Boston Celtics 8, Philadelphia 76ers 3 -- First Quarter, 8:43 remaining
Boston Starting Lineup
PG: Rajon Rondo
SG: Courtney Lee
SF: Paul Pierce
PF: Jared Sullinger
C: Kevin Garnett
Philadelphia Starting Lineup
PG: Jrue Holiday
SG: Evan Turner
SF: Dorell Wright
PF: Thaddeus Young
C: Lavoy Allen
This article is
What is the duplicate article?
Why is this article offensive?
Where is this article plagiarized from?
Why is this article poorly edited?