TNA Turning Point 2012 Preview & Predictions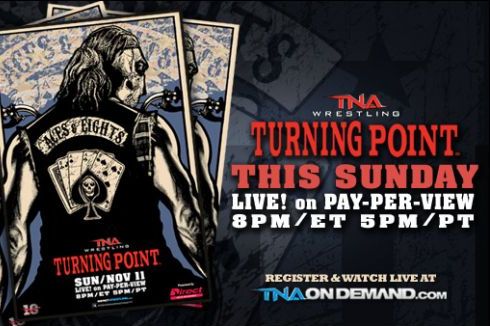 IMPACTWrestling.com
TNA Wrestling and Direct Auto Insurance present Turning Point live on November 11 from Orlando, Fla.
Eight matches have been announced for pay-per-view. Four of those eight will be championship matches. The World Heavyweight, Television, Tag Team, and X-Division Championships will be on the line!
Tune into watch TNA stars such as Jeff Hardy, Austin Aries, Bobby Roode, AJ Styles, James Storm, Kurt Angle, Daniels, Kazarian, Samoa Joe, and many more!
Let's run down that card with my predictions on each and every matchup.
Begin Slideshow

»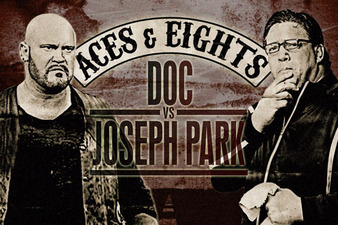 TNAsylum.com
Since being kidnapped by Aces and Eights, Joseph Park has wanted to extract his revenge on the biker gang. He's been begging IMPACT GM, Hulk Hogan for a one-on-one match with the group and his wish has finally been granted.
Park will go one-on-one with the man he unmasked two weeks ago, referred to as DOC (Director of Chaos).
I can't really imagine this match having a clean finish. I do expect to see more members of Aces and Eights as this fight progresses. I'm almost certain that DOC will stand tall over a beaten and battered Joseph Park.
I predict either:
A. DOC beats Park with help of A&8s or
B. A&8s simply beat down Joseph Park which results in a DQ or the match being thrown out.
Bottom line, Joseph Park isn't winning...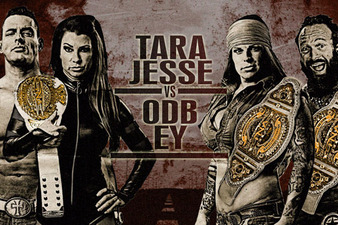 TNAsylum.com
I'm looking forward to this match more than anybody should. I've been a fan of Jessie's since his debut in OVW and I honestly think that he's a future TNA World Heavyweight Champion.
I do, however, wish for two simple things:
1. Please, TNA, call him by his full name!
2. If you're gonna do that, at least spell it right. It's "Jessie", not "Jesse."
It'll be good to see EY back in a TNA ring, but I don't expect him to win. The, "Hollywood couple" of Tara and Jessie will cheat their way out of this one.
Winners: Jessie Godderz & Tara
I'm guessing that one of two things will happen at Final Resolution next month.
1. Tara vs. ODB for the Knockouts Championship or
2. Turning Point rematch with the Knockouts Tag Team Championships on the line. I'm hoping for the first option, as I hate those damned Knockouts Tag belts...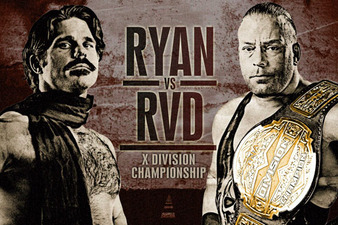 TNAsylum.com
This match could really go either way.
Despite being banned from ringside, I wouldn't be too surprised if Matt Morgan shows up to help his sleazy friend out. Then again, "No Job Rob" is RVD's nickname for a reason.
I think Joey Ryan winning would be best for the storyline aspect of things. Having Morgan help could increase tension between "The Blueprint" and management/Hulk Hogan and also energize the "feud" between Joey Ryan and RVD.
However, I think TNA will keep the belt on RVD for now. Van Dam will defeat Joey Ryan clean and Matt Morgan will show up afterward to lay the champ out.
I wouldn't be too upset if my prediction is wrong. The X-Division title could use some added sleaze in the form of Joey Ryan.
Winner: Still Champion, RVD.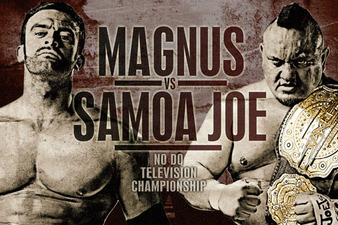 TNAsylum.com
Samoa Joe has been a dominant TV Champion as of late.
He's crushed every challenge put in his way and, with a "No DQ" stipulation, this should be his toughest challenge yet.
Magnus is the type of wrestler who doesn't fight harder, he rather fights smarter.
He pushed the buttons of the, "Samoan Submission Machine" and put this stipulation in place after striking the reigning TV Champion with a wrench weeks ago.
Joe's reign is still pretty fresh, so I'm expecting him to retain. However, if he does lose, you have to wonder what'll happen with Magnus.
Winner: Still Champion, Samoa Joe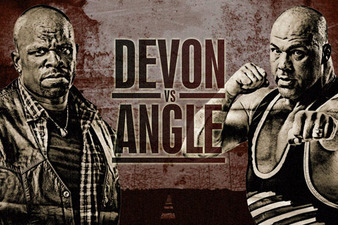 TNAsylum.com
I feel like this match could be a good one. Two wrestling vets in Devon and Angle.
As a prediction, there's no doubt that Devon will win. Having him lose would be a big setback for Aces and Eights as he's one of their top guys.
Devon will win, but it won't be clean.
I expect Wes Brisco to screw Angle out of this match, especially considering the lesson Angle and Sting taught him this past Thursday.
Remember Angle and Sting telling Brisco all about, "timing, timing, and timing."
Winner: Devon
It's time for Brisco to screw Angle over and reveal himself as a man of Aces and Eights.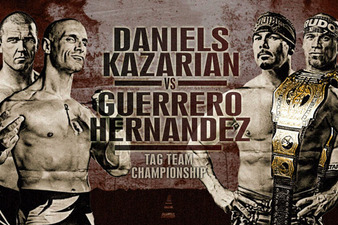 TNAsylum.com
It'd be cool seeing Daniels & Kazarian regain the belts but, at the same time, that'd kill off any credibility and momentum for Chavo and 'Nandez.
I think the team of Chavo and Hernandez will retain because of that.
Maybe Daniels and Kazarian could then take a break from tag teaming and go for singles titles. Daniels could give Hardy a run for his money, while Kazarian could do the same with Samoa Joe.
Winners: Still Champions, Chavo Guerrero & Hernandez
Meanwhile the pairings of Robbie E & Robbie T or Gunner & Kid Kash could step up to the plate by Final Resolution.
I'm hoping it's the Robs.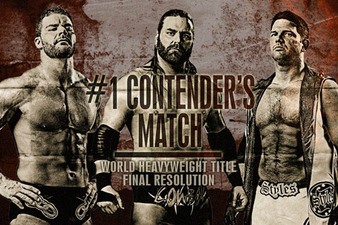 TNAsylum.com
I think James Storm will win and AJ will bite the bullet in this one.
Storm has been ready and deserving of the World title (or a feud over it at the very least) for sometime now.
This is his chance and his time, as he'll pick up the win and re-enter the World title hunt for a face vs. face feud with Hardy going into Final Resolution.
As for AJ it's a matter of wrong time, wrong place.
Having Roode get pinned would be a mistake because that'd kill off any top heels hunting for the title.
Bobby Roode and Austin Aries are the only true main event heels who are chasing the World title. Roode won't get pinned, thus keeping a top heel in title contention.
As I said, AJ will get pinned making him incapable of going for the World title until BFG 13 in October of next year.
A perfect story would have AJ get pinned here, bounce from feud to feud until Slammiversary, then enter and win the 2013 BFG Series; thus bringing him back into the title picture when it matters most: Bound For Glory.
Winner: James Storm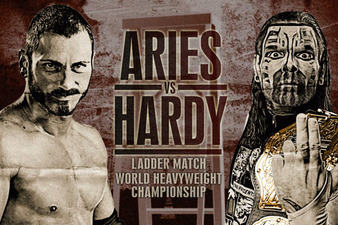 TNAsylum.com
I just think it's much too soon for Jeff Hardy to lose the World Championship, especially after all the time and effort TNA has invested in him (winning the BFG Series and all).
Aries could put up a fight, but he'll fall short. I could see Aries, after Turning Point, complain about the stipulation and want a fair rematch.
Like Aries says, "He's a wrestler, not a ladder climber" and earn his way into the Final Resolution title match.
If not, Austin Aries could get into a feud with a top face in TNA. AJ Styles, Mr. Anderson, etc .
In the meantime, Jeff Hardy moves into Final Resolution looking to defend against, "The Cowboy" James Storm.
Winner: Still Champion, Jeff Hardy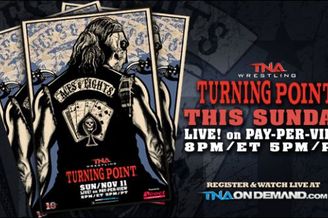 IMPACTWrestling.com
So, that's it.
I predict that it'll be a big, successful night for the Aces and Eights.
Despite not directly predicting it, I could imagine a title change or two on the night.
The X-Division or the TV title have the highest chance of a swap, in my opinion.
Anyway, you've heard my predictions so feel free to let yours be known too.
Go ahead and make use of that comment section below, order Turning Point live on pay-per-view, and visit WrestleEnigma.com.