Thus far, for both the University of Southern California and Arizona State, the 2012 college football season hasn't gone according to plan.
For No. 19 USC, the season started out reasonably well until they fell to Stanford in Week 3, and after rebounding to win four straight, the Trojans have dropped their last two at the hands of Arizona and Oregon, respectively.
At the other end of the field, the Sun Devils started out well, winning five of their first six games, but things have gone downhill in a hurry, as ASU has lost to Oregon, UCLA and Oregon State since then.
Now, with both squads in dire need of a victory, Saturday's matchup in Los Angeles will have serious implications on the race for the Pac-12 South crown, which would be a nice consolation for either team.
Here are they keys to victory for both the Trojans and Sun Devils.
Arizona State
Contain Matt Barkley, and Get More Production Out of the Passing Game
Obviously, the Sun Devils will be taking on one of the most star-studded offenses in the Pac-12, as the Trojans boast a number of talented playmakers both through the air and on the ground.
First and foremost though, ASU cannot let Matt Barkley decide the outcome of the game, because the senior quarterback has been hot as of late despite not coming away with victories.
In his last two games alone, Barkley has thrown for 977 passing yards with 10 touchdowns, though it should be noted that he's been picked off four times during that span.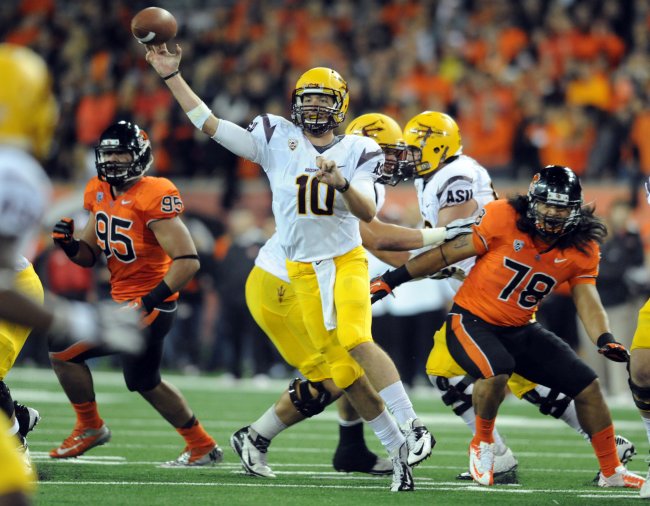 Steve Dykes/Getty Images
If Todd Graham's boys can limit Barkley's ability to find Marqise Lee and Robert Woods on big-yardage plays and force Silas Redd to be the Trojans' catalyst on offense, they'll be in a better position to win.
However, if Taylor Kelly doesn't bounce back after throwing for just 468 yards in ASU's last two losses, Barkley will have a much easier time out-gunning the Sun Devils.
USC
Limit the Turnovers on Offense, Improve Against the Run
Last week, the No. 19 Trojans were in the game against the Ducks, as Barkley's touchdown pass to Randy Telfer with under six minutes to play brought Lane Kiffin's team to within seven of Oregon.
Unfortunately, the Trojans continued to come up empty against Kenjon Barner, as the Ducks back ran for the game-clinching touchdown with roughly a minute-and-a-half to play.
What was even more troubling was the fact that USC gave up five rushing touchdowns and had the worst defensive game in school history.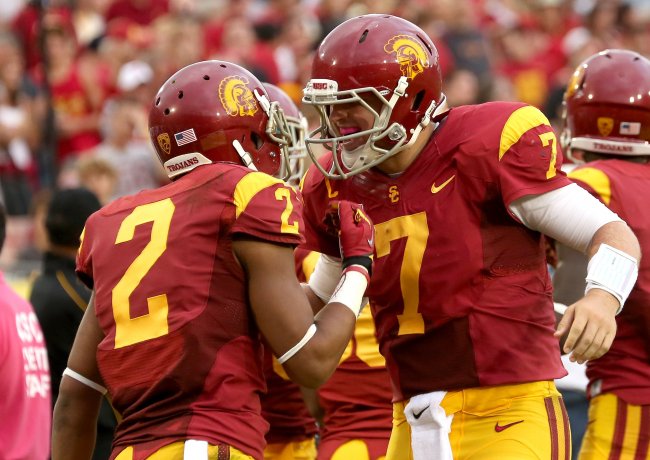 Stephen Dunn/Getty Images
Though the Sun Devils don't have anything on the vaunted Ducks offense, D.J. Foster and Cameron Marshall have a combined eight touchdowns on the season. But if the Trojans can force Taylor Kelly to out-gun Barkley through the air, they'll have a much better chance at coming out of Saturday 7-3.
Besides improving against the run, the Trojans need to cut back on the number of turnovers; Barkley's four interceptions are unacceptable for a quarterback of his caliber.
In addition to Barkley's four picks, the Trojans have turned the ball over another four times their last two losses, including a whopping five against Arizona on October 27.
If USC can take better care of the ball on offense and stand tall on defense, they'll stop their two-game losing skid on Saturday.